See customer feedback from over 100 review sites in one place
Request a demo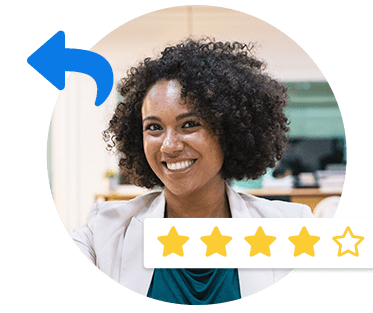 A social deal is defined as a promotion that is extended to your customer via an external website or mobile app requiring additional customer engagement at various levels. Some examples of social deal websites and tools include Groupon, LivingSocial, Foursquare, Amazon Local, Travelzoo, and loyalty-marketing apps like Front Flip, Shopkick, Belly, and Pirq.
As a business owner or manager, chances are you receive a good number of pitches from sales executives with the products mentioned above and smaller local sites. Your primary reason for engagement, and one that the sales executive is likely to emphasize, is increased revenue through expanded reach and enhanced customer loyalty.
Today we want to explore with you a secondary benefit found in the proper and strategic implementation of selected social sites, apps, and programs. A well-implemented social deal can trigger an upward trend in review volume and review quality. If you are a small- or medium-business owner, then please review this case study with care. We have included numerous insights and examples that will equip you to make an educated decision.
Who Benefits the Most from Social Deals?
To better guide you in understanding the cost-benefit relationship for social deals, we will dissect our response into two categories: mature business and new business.
Discount-Based Programs Such as Groupon and LivingSocial
This category has a wide reach and smart marketing strategies that maximize geography and business intelligence generated from social engines such as Facebook. Because new potential customers in your area are likely to see the marketing pieces associated with your deal at a very large scale, this type of deal may be a best fit for a new business trying to expand visibility.
A widely disseminated deal will bring new customers through your doors, allowing you to introduce them to your products and services while reducing the perception of risk associated with trying something new. If handled with great professionalism, running a deal is likely to trigger all manner of positive social buzz and high-score reviews on sites such as Yelp.
Here is a real example of a Groupon-triggered positive review on Yelp:
Sista Sista Nail Spa
★★★★★

I first came here with a Groupon, and it has been almost a year since I have been anywhere else. Both owners are very personable and do a great job on mani/pedis. Always a relaxing experience and a pleasure to chat & laugh with. I am hard on my nails and my mani always lasts two weeks, and it's easy to go for a month or more in between pedis. Street parking is easy at the new location, or you can park on the lot in the back. Done & done.
Loyalty-Based Apps and Sites Such as Front Flip
Loyalty apps are ad-hoc for mature businesses. A loyalty app will improve brand recall, digital engagement, and give the sense of being valued or getting that little extra token of appreciation. When supporting a business becomes part of a customer's routine, it is unlikely that he or she will write a review. On the other hand, if the business is able to go the extra mile to surprise and delight the loyal customer with a perk that conveys value, then the perk itself can serve as the basis for the plot on a customer review.
An example of a review resulting from loyalty-app engagement:
The Allen Wickers Sports Pub & Grill
★★★★★

Allen Wickers is our favorite place. My husband and I come to this pub almost every week, and it is our favorite place for fish and chips. Recently, Mike, the manager, brought to our attention their new app. We basically scanned a code with our Smartphone, entered our email, and voila! I had never taken the time to review them here on Yelp, mainly because we know we love the place and don't see a need to brag. I decided a review was in place mainly because the app gave us the opportunity to try their stuffed chorizo jalapenos for free! We are pretty simple in our tastes and stick to the same favorites. Let me tell you, the stuffed jalapenos are totally worth a brag and a big five-star review. Everyone needs to come in and try them. Thank you, Mike, for being such an awesome manager.  We always look forward to spending time at the bar and chatting with your staff.
Keep in mind as you make your marketing budget allocation decisions that one type of social deal does not exclude you from participating in another type. If your budget permits and it makes sense strategically, then you may opt to run two or three different types of deals all at once. It is best to first do a little data mining and try to identify patterns of engagement from your competitors who have engaged in social deals in the recent past. By following their footsteps on programs that work, you are likely to capture a portion of the wallet share currently in the hands of the competition.
Careful preparation is your best weapon to protect and enhance your online and offline reputation.
Regardless of the age or maturity of your business, take into account the following considerations before you launch a deal or promo:
Is Your Deal Attractive Enough to Gain Traction? When it comes to deals, perception is everything. Make double sure your deal is a buzz generator and conveys true value. A half-hearted deal usually ends as a flop.
Are You Ready to Deal with the Deal? Don't underestimate the power of a social deal. Be ready in terms of staff and inventory to handle whatever volume comes your way, with grace and efficiency. The way you handle a deal will reflect directly on your online customer reviews.
Is Your Technology Ready? Make sure your POS (point of sale) is compatible with the deals you have created.
Is Your Team Ready? It is essential to make the redemption process seamless and customer-friendly. Provide training and education in anticipation of customers cashing in on a deal. If you have several deals active at the same time, then create cheat sheets as a way to facilitate processing.
Social deals can, in fact, help you improve your online reputation qualitatively and quantitatively. If your business reputation needs a boost, then look into your options and consider channeling some funds toward the social app or website that makes the most sense for your business and your market.