This list of free social listening tools can help teams interpret data and gain actionable insights from social media conversations. 
47% of consumers reach out to brands on social because they have a product or service question. (

Sprout Social

)  

Answering a complaint on social media can increase customer advocacy by 25%. (

Convince and Convert

)

Customers who feel engaged by companies on social media will spend up to 40% more with them than other customers. (

Reputation Refinery

)
Why use social listening tools? Apart from enabling your company to monitor social media mentions and comments, social listening also gives you access to the full spectrum of conversation around your brand. 
This, in turn, can help you discover trends and patterns that define the customer experience — helping you achieve a more accurate, complete, and unified view of the customer, as well as implement changes based on feedback. 
Social media listening also creates structured opportunities for companies to identify loyal fans and brand promoters. This can be extremely valuable in driving your word-of-mouth marketing strategy. 
List of 9 Free Social Listening Tools 
We compiled a list of free social listening tools to help your brand stay on top of what potential and existing customers are saying on social media. These tools should help you capitalize on market opportunities, actively monitor your brand reputation, and discover the kind of insights you need to deliver better customer experiences.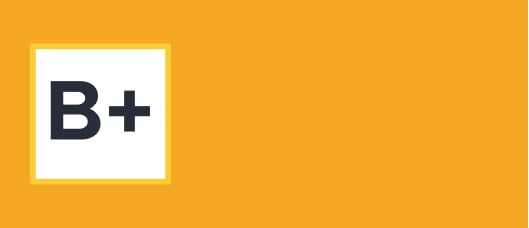 Find out your brand's online reputation score
Take the guesswork out of your strategy. Instantly generate your brand's online Reputation Scorecard, complete with review highlights, ratings, keyword trends and more.
1. Followerwonk
Followerwonk is a free social listening tool and Twitter analytics tool used to find, analyze, and optimize for social growth. With it, you can optimize your brand's social profiles, explore users' social graphs, search Twitter bios with advanced filters and parameters, analyze data, track and sort followers, and more.  
If you're only connecting one profile, Followerwonk is free to use. There are also paid plans available should you need to connect up to 20 social media profiles at once. 
2. TweetDeck
TweetDeck is one of the longest-running free social listening tools available. It's perfect for small business owners who use Twitter to promote their products and services. 
TweetDeck offers a more convenient Twitter experience by letting you view multiple timelines in one easy interface. It includes a host of advanced features to help get the most of Twitter. With it, you can manage multiple Twitter accounts, schedule tweets for posting in the future, build tweet collections, and more. 
TweetDeck is currently available at tweetdeck.com or the Mac app store.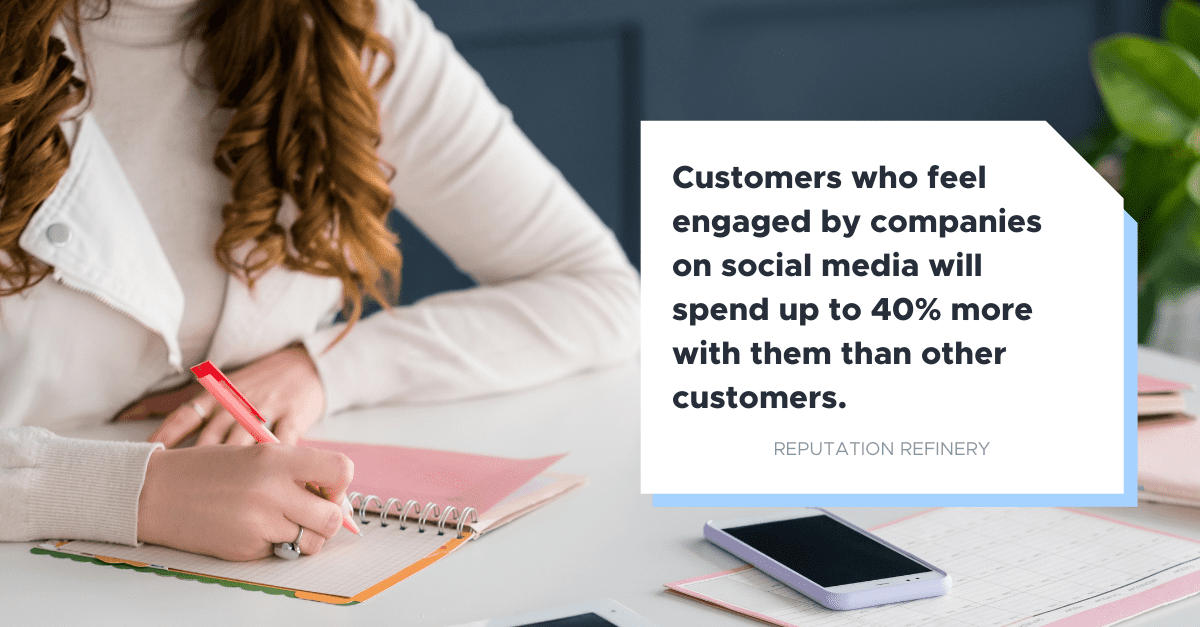 3. Answer the Public
Answer the Public is one of the most popular free social listening tools today. It allows teams to listen to autocomplete data from search engines like Google, so that you can discover useful phrases and questions people are asking around your keyword. 
The free social listening tool can serve as a goldmine of consumer insight, helping your brand create fresh content and deliver better customer experiences. 
Answer the Public offers a Pro subscription for unlimited daily searches, weekly email digests, custom data exports, dedicated workspaces for teams, and an education and training package.
4. Hootsuite
Hootsuite is one of today's most widely used social media listening platforms. It helps brands manage their social media marketing efforts in one place. Hootsuite users also have access to insights, analytics, and real-time results to help them understand and improve their social media performance. 
The free plan on Hootsuite allows users to add up to 3 social profiles.
The platform also has a growing App Directory that lets companies connect existing marketing, content, and other business systems to Hootsuite. To learn more, read about ReviewTrackers + Hootsuite partnership, or click here and fill out the form.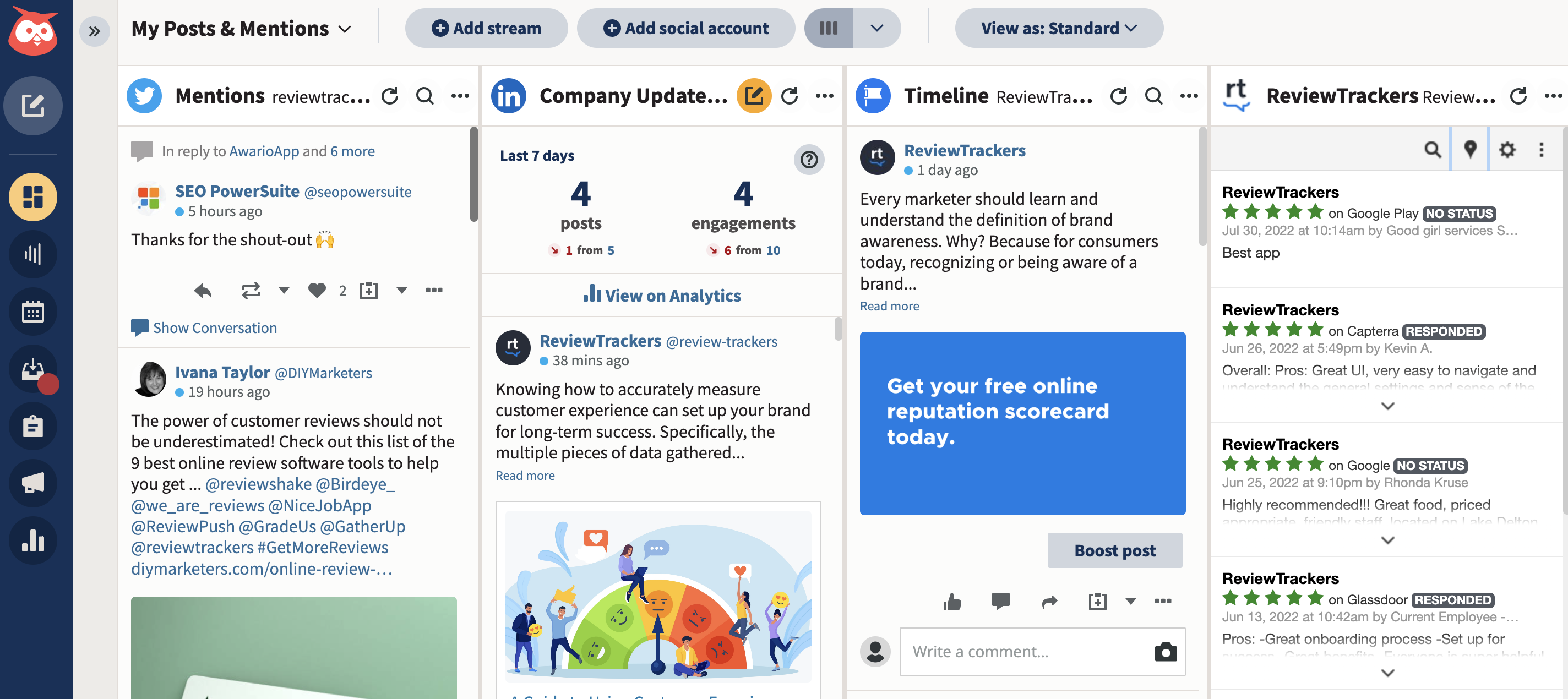 5. Social Mention
Social Mention is an easy-to-use free social listening tool that aggregates user-generated content from across multiple social media sources into a single stream of information. 
It allows you to easily track and measure what people are saying about you, your company, a new product, or any topic across the web's social media landscape in real-time. Social Mention monitors 100+ social media sites, including Twitter, Facebook, FriendFeed, YouTube, Digg, Google etc.
6. Owler
While not a dedicated social listening tool, Owler can provide insights to help your company build a solid foundation for social media listening and monitoring.
The tool answers the question, "What have your competitors been up to?" Owler provides a "Daily Snapshot" or update of your competitors based on multiple online sources, including social media. It also specializes in delivering accurate, real-time community-driven business information, which helps you uncover the latest industry news and alerts. 
You can also use it to get a detailed profile of your rivals and even track their changes in funding, leadership, and acquisitions. You can sign up for Owler with a basic free plan or paid plans.
7. Brandwatch
Brandwatch allows your team to collect data from both social and review platforms and get meaningful insights out of this data. 
With the ReviewTrackers + Brandwatch partnership, you can learn what social media critics and negative reviewers want, fix customer pain points, spot opportunities to improve your brand reputation, and achieve higher ratings. 
As one of today's top social media listening tools, Brandwatch also provides tools and features such as author analysis, page type analysis, topic and sentiment analysis, which help companies analyze and interpret social conversations at scale. You can sign up to get a free demo of Brandwatch.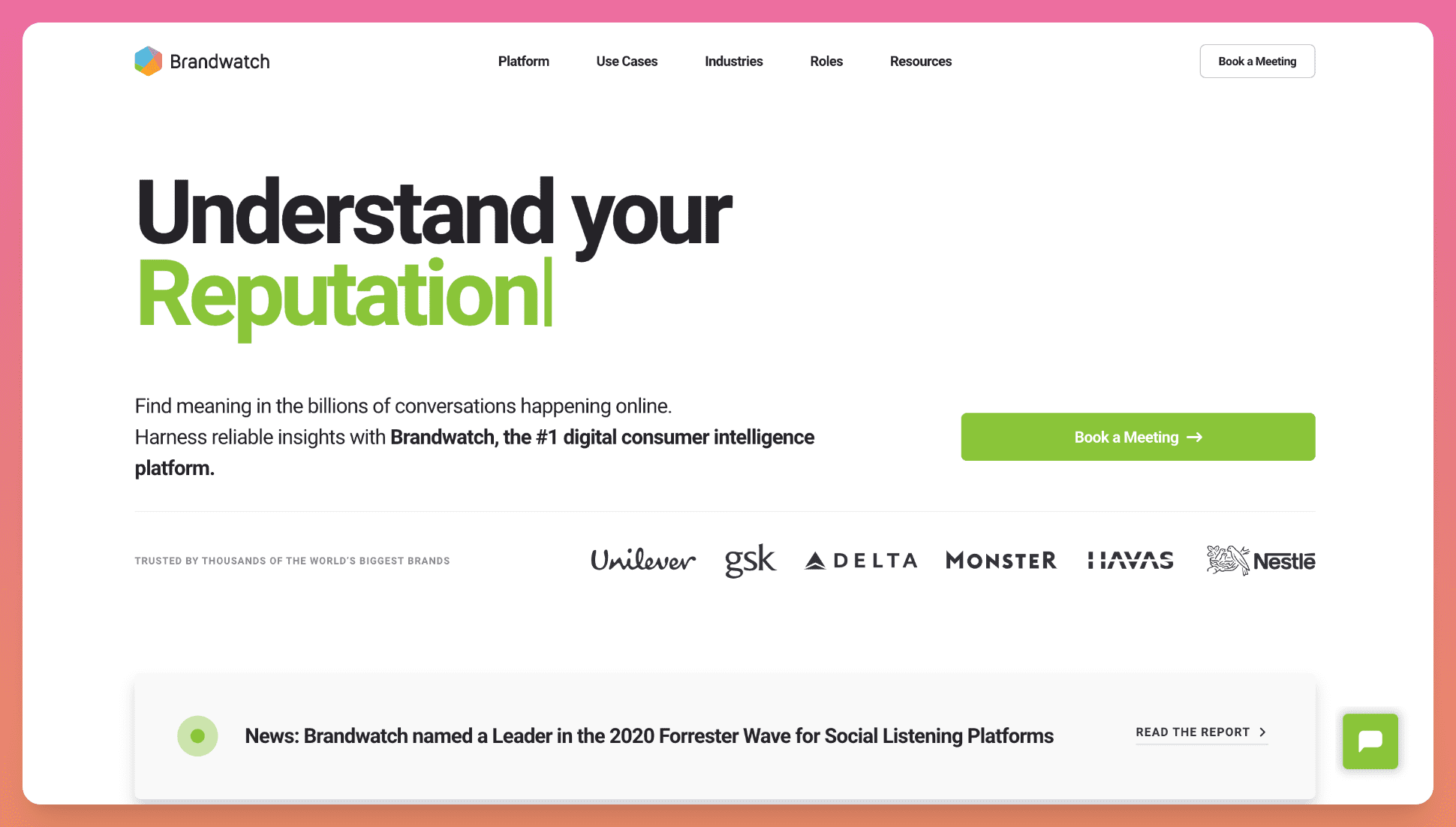 8. BuzzSumo
BuzzSumo is a great social listening tool for identifying the content that performs best. It's extremely useful for marketers looking to generate new ideas, create high-performing content, and engage with influencers on social media.
Once you type in a topic or URL, BuzzSumo's database pulls the social media stats from the most popular channels such as Facebook, Twitter, Pinterest, and even Reddit. This type of data is key when determining which content resonates best with your customers and prospects.
9. Google Alerts
Google Alerts can be valuable in helping you stay on top of consumer trends and insights. It's an essential listening tool that's free and easy to use.  
While you may have already set up alerts for mentions of your brand, you can do the same for mentions of your direct competition, or a broader category of indirect competitors. Don't forget to include company nicknames and alternate spellings.
Simply type in your brand name (or your competitor's names) on Google Alerts and the program will send you notifications when it finds new results on the subject matter. This is extremely useful when you want to easily track product changes, new content, and major news about your market.
Google Alerts can also work alongside Google Trends, which lets you access real-time data in order to gauge consumer search interest in your brand and your competition.