ReviewTrackers reputation management software puts every online review in one place so brands can see what consumers are saying about them. Our Smart Response feature makes it easy to respond faster and take control of your company's reputation.
Be in control
Use review alerts to know when a customer writes a review. Resolve issues fast to develop a positive brand reputation. Make the most out of online customer feedback by knowing when and where customers are writing reviews.
Take action
Be proactive by getting more reviews from your customer base. Establish a positive reputation from the beginning and make sure a few negative experiences don't impact your star rating.
100+ review sites. Greater visibility.
Request reviews from your most loyal customers
Send requests for reviews right from our tool to increase the amount of reviews for each of your locations on sites like Google and Facebook. ReviewTrackers technology can help you direct customers to the review sites that need the most reviews, so that you have strong ratings and reputation anywhere consumers are searching for your business.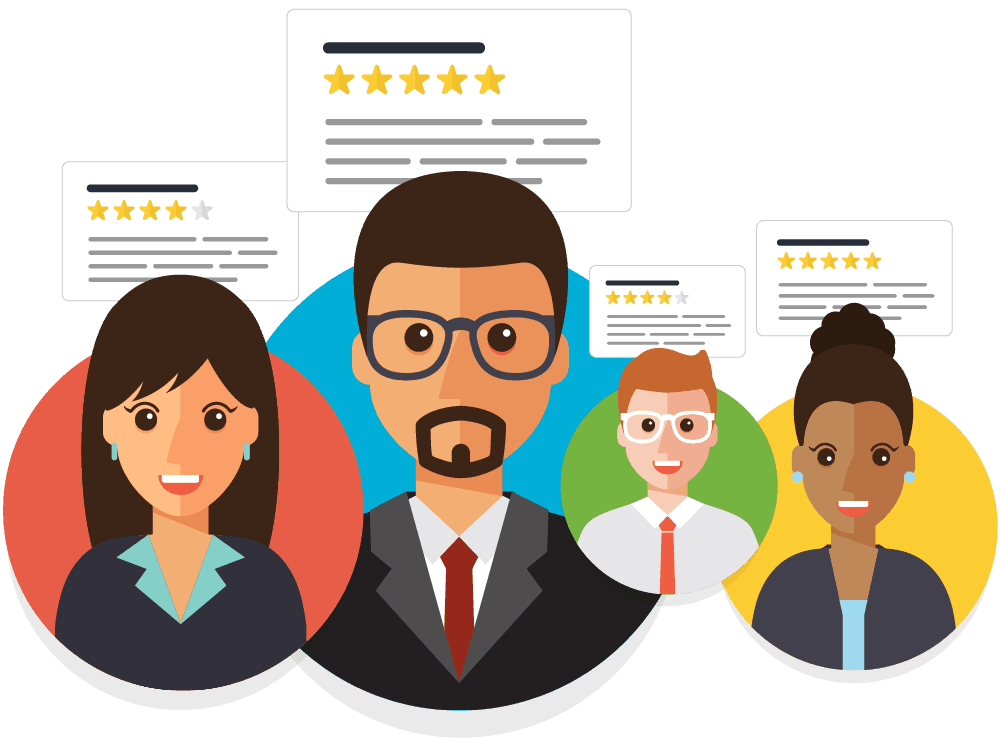 Manage your reputation at a glance
Get a snapshot of each of your locations and see which ones are top-performing based on ReviewTrackers' proprietary algorithm. Our software makes it easy to summarize data and spot trends in your reputation at the national, regional, or local level.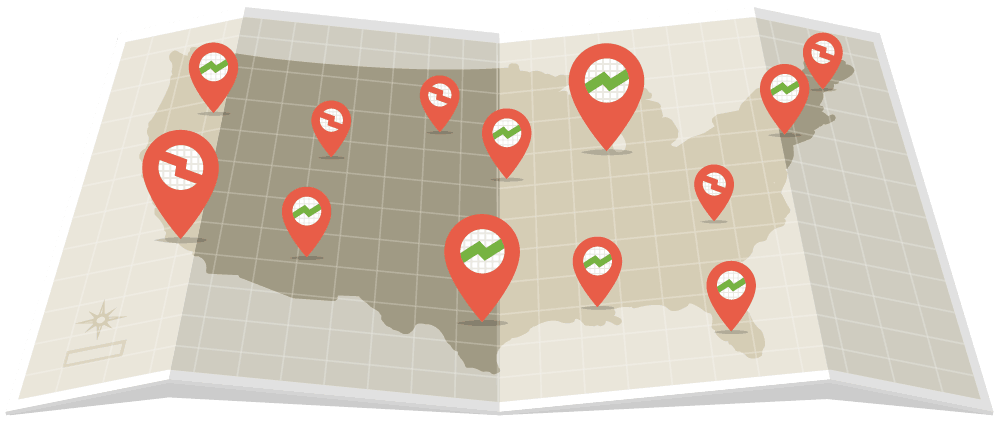 Online reputation management software built for on-the-go
Save time by being able to respond to reviews when you're away from the office. Respond to reviews directly from our mobile app to stay on top of your online reputation.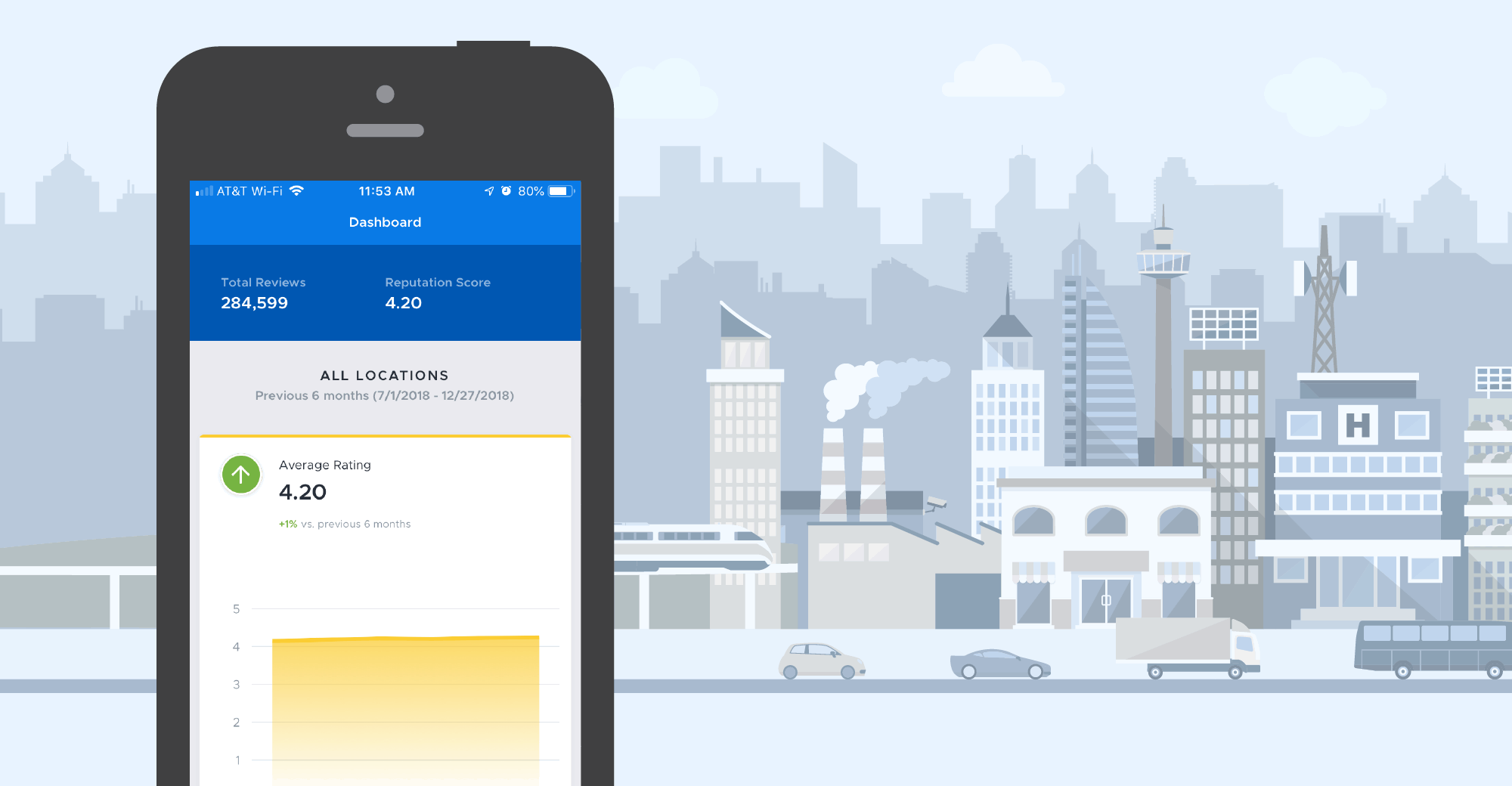 Reviews help customers find you
Online reviews are a big part of your reputation and play a large role in how businesses are found online. Reviews are an essential part of the customer journey.
ReviewTrackers' research shows that more than half of consumers always or often check online reviews before deciding on a local business.
Reviews are also a major factor in local search rankings. Now that roughly 35 percent of all searches are local, having a positive online reputation is crucial for making sure you show up in Google's local search results.
Build customer trust at each location
Build customer relationships with our reputation management software. Show customers you care by responding to every single review. Direct customers offline to have personal conversations with them. Thank reviewers in public for taking the time to write a review, no matter the star rating. Make it clear that customers matter to your business.
Improve the customer experience
Use ReviewTrackers' reporting tool to understand the customer experience and make operational changes at each of your company's locations. Find customer pain points that you might otherwise overlook. Stay ahead of issues before they turn into large-scale complaints. Harness customer feedback to forecast trends and innovate your business as customer expectations evolve.
Why online reviews are important for reputation management
Why should companies have a process in place for managing reviews? Because online customer feedback is here to stay for the long-term future.
The Internet is a medium for consumers to express their opinions about a business in communities, such as social media and online review sites. The way in which a business manages and engages with customers on review sites is crucial to the building and management of a positive reputation.
Our research shows that most consumers expect a response from business owners within a week of posting online reviews. In other words, consumers expect reviews to be a medium of conversation with your brand.
Having a strategy for responding to reviews and engaging with customers is more important than ever.
Why your industry should care about reputation management
Finance
In finance, particularly in retail banking, there's a gap between bank expectations and bank performance. And consumers have sky-high expectations.
The average retail bank has a 2.66 star rating, and consumers are about 4 times more likely to complain about service than complement it.
It's not that retail banks are doing something inherently wrong. It's that finance is simply one of the most demanding industries when it comes to customer experience.
Having a reputation management plan in place is crucial for generating and maintaining trust in such a competitive market.
Restaurants
Your reputation is your source of revenue.
A third of restaurant goers won't eat at a restaurant that has fewer than 4 stars. Restaurant owners need to be proactive in keeping their review ratings high to make sure all consumers have a seat at their table.
Automotive
Consumers are careful about where they buy their car or take it for service. They do a lot of research online beforehand. Consider this:
72.2 percent of consumers say online reviews as "influential" or "highly influential" when choosing a new local auto repair shop.
66.1 percent say reviews are "influential" or "highly influential" when choosing a new local dealership.
Given the influence of reviews, one auto shop location could lose significant amounts of business after a few bad reviews. The same is true for your competition. Keeping a positive online reputation is one of the ways you can distinguish each location of your business.
Healthcare
When patients start their search for a healthcare provider, they look at online reviews. In fact, 65 percent of them think online reviews are influential.
For a healthcare marketer, that means maintaining a positive reputation and actively asking for online reviews from patients should be a key part of your patient acquisition strategy.