The ReviewTrackers API enables brands to extend the power of our online reputation management software platform and build applications that operate on valuable ReviewTrackers data.
From our partner integrations to custom APIs that play nicely with your other technology, you'll gain flexible and scalable ways to manage online reviews and drive revenue. 
By leveraging the ReviewTrackers API, your team can automate review responses, track social + reviews, pull custom reports, file tickets, and simplify your team's workflow. Let's explore some of the specific integrations you can use to get more work done with ReviewTrackers.
Connect ReviewTrackers to 2K+ Apps Using Zapier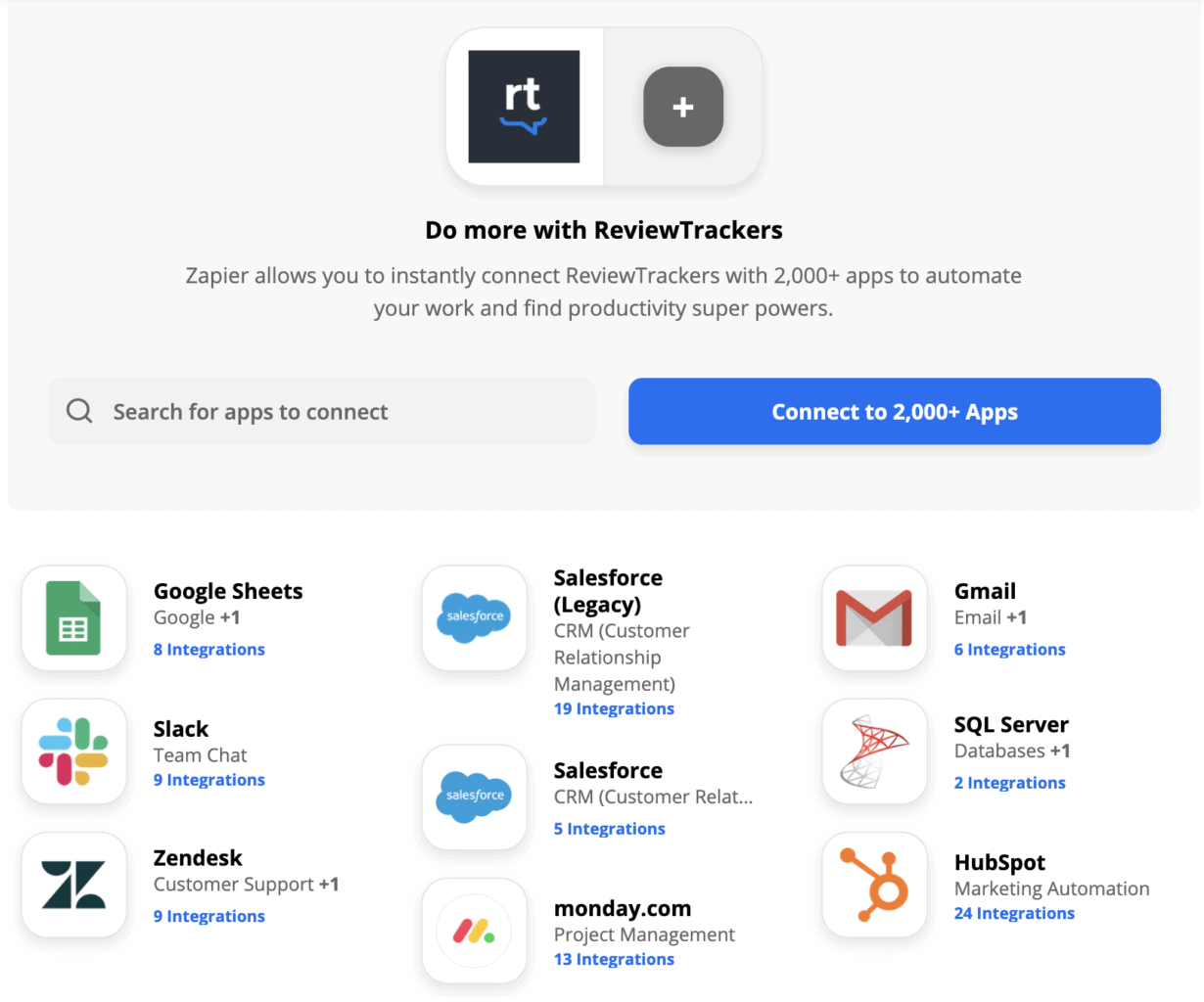 Zapier is one of the easiest ways to automate your work. With our Zapier integration, you can connect ReviewTrackers with over 2,000+ apps and create efficiency-boosting zaps and workflows.
For example, when you receive a new review, you can automate the creation of a new Zendesk ticket or Slack message so your team can respond ASAP. Whenever you close a deal on Salesforce, you can use the Zapier integration to automate the process of asking for reviews shortly after the transaction.
Explore Google and Facebook Integrations
ReviewTrackers features deep integrations with the Google My Business and Facebook platforms, covering all key elements of online review management, including:
Review monitoring, which pulls in and aggregates the reviews;

Review response, which allows companies to

respond to negative reviews

as well as positive comments; and

Review generation, which proactively requests new reviews and customer feedback through campaigns.
With these two integrations, users can respond to online reviews on Google and Facebook directly from their ReviewTrackers dashboard, as well as manage their "Response" status and workflow from within the app, ensuring every review and piece of unsolicited feedback gets a prompt response.
Why respond to reviews? According to research, a company's revenue increases as the number of their responses to reviews increases. Customer reviews research also shows that 45% of consumers are more likely to visit a business if the owner responds to reviews.
Why respond to Google reviews? Based on online reviews statistics report, Google is number one in the list of top business review sites, with 63.6% of consumers saying they're likely to check reviews on Google before visiting a business — more than those consulting any other review site. 
Why respond to Facebook Recommendations and reviews? Facebook is one of the top five sites that consumers check before they visit a business. Moreover, 1 in 3 people on Facebook use the platform to look for Facebook reviews of brands and businesses. 
Supercharge Your Social Listening Strategy with Brandwatch
ReviewTrackers' partnership with social listening platform Brandwatch gives your team the ability to collect data from social media and review platforms and get meaningful insights out of this data.
With the ReviewTrackers-Brandwatch partnership, you can learn what negative reviewers want, fix customer pain points, spot opportunities to improve your reputation and market position, and achieve higher ratings.
Track Social and Reviews with ReviewTrackers and Hootsuite
ReviewTrackers integrates with Hootsuite to enable the monitoring of social + reviews in one central place.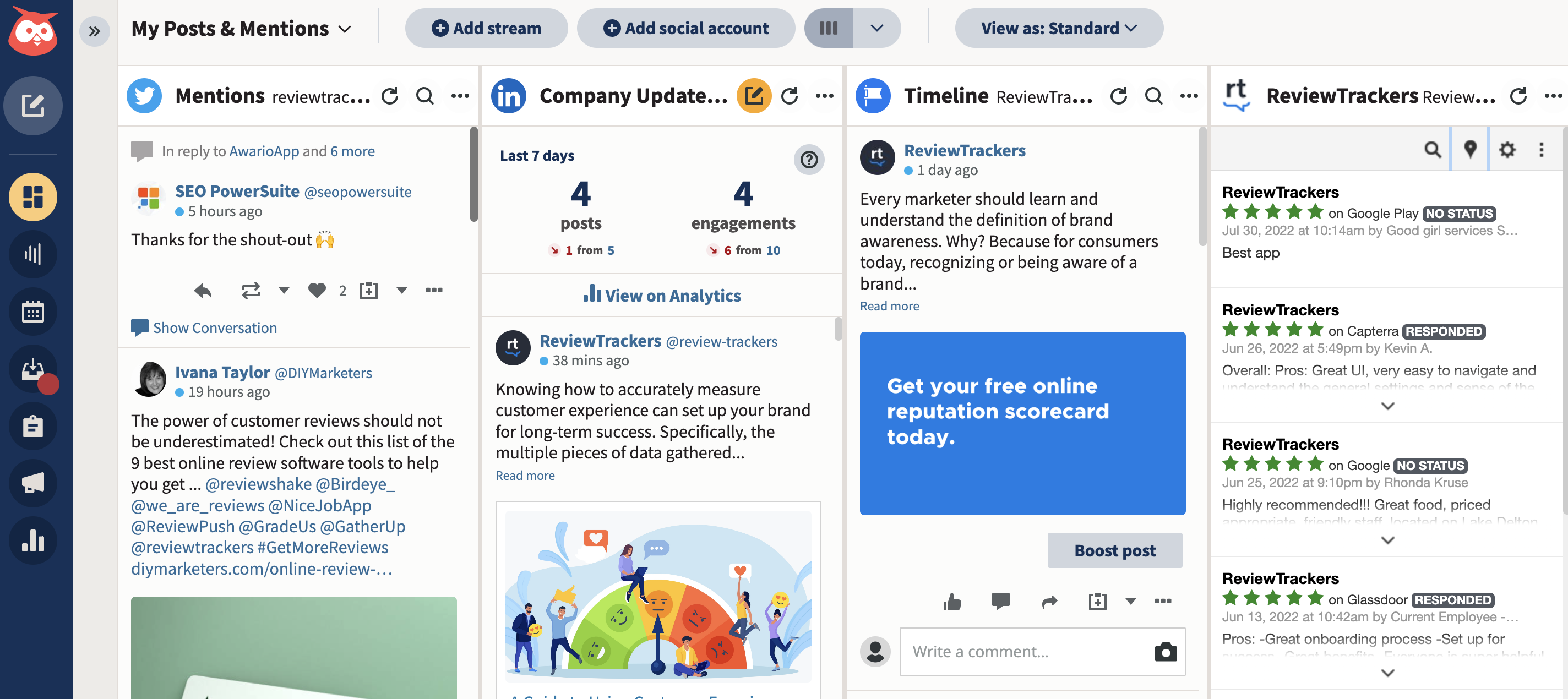 With ReviewTrackers' Hootsuite app integration, you can view online reviews in a Hootsuite stream — with filtering options for organizing and managing customer feedback — alongside social media comments and signals.
The integration also allows you to quickly share your best reviews across your social media pages and profiles, including Twitter, Facebook, LinkedIn, and Google.
Read this blog post on Hootsuite reputation management for advice on managing your brand reputation using Hootsuite.
Leverage the ReviewTrackers API
Your organization can also access the ReviewTrackers API to download review data and sync with whatever reporting structure, CRM (customer relationship management) suite, or POS (point-of-sale) system you use. You can also use it to custom-build your own application and extend the functionality and flexibility of our platform.
Automotive aftermarket service provider Ziebart has found many ways to power up their ReviewTrackers experience and get more work done using app integrations. The company integrated the ReviewTrackers API into its point-of-sale system, enabling automated review and feedback campaigns and driving the entrepreneurial success of Ziebart franchisees.