Part 1. Consumer Trends in Online Reviews
Part 1 of this year's Online Reviews Stats report is based on a consumer survey ReviewTrackers does each year to gauge when, why, and how consumers are using online reviews. The main online reviews stats and trends from this year's survey:
1. Google is the review site of choice. 63.6 percent of consumers say they are likely to check online reviews on Google before visiting a business — more than any other review site.
2. Consumers expect brands to respond to reviews—and are disappointed. 53 percent of customers expect businesses to respond to negative reviews within a week. But 63 percent say that a business has never responded to their review.
3. Negative reviews drive away customers. 94 percent say an online review has convinced them to avoid a business.
4. Customers don't really trust businesses with lower than 4-star ratings. 80 percent of consumers say the star ratings they trust the most are 4.0, 4.5, and 5 stars.
5. Reviews are increasingly at play in financial services and insurance. Last year, only 13 percent of consumers said they were likely to leave a review after a positive experience at a bank. This year, that number jumped up to 19 percent. A similar trend is happening in insurance: last year, only 14 percent said they were likely to leave a review after a positive experience with an insurance agent. This year, that number rose to 18 percent.
Part 2. Meta Trends in Online Reviews Stats
For part 2 of our report, we took a sample of 9 million reviews (unaffiliated with ReviewTrackers' clients), to look for big picture trends in online reviews stats. These trends included:
1. Reviews are getting shorter. Reviewers are writing simpler and more to-the-point reviews. The average review has gotten 65 percent shorter since 2010 and is now roughly the size of a tweet.
2. Google and Facebook have become No. 1 and No. 2 for online reviews. Sites that focus primarily on reviews (like Tripadvisor) are seeing less growth than Facebook and Google.
3. There are more and more positive reviews. Reviews are increasingly shifting from being a place where consumers air their grievances to being a place to recommend businesses after a positive experience.
Introduction: Digging into 2018 Trends in Online Reviews
Online reviews have an incredible power to shape consumer behavior. This will hold especially true in 2018, when more consumers than ever are set to validate their purchase decisions by using social media and real-time feedback from other consumers as their key resources.
But how exactly are consumers going to use online review sites to find and assess businesses? And what kind of impact do reviews and ratings have on consumers' path to purchase?
This is what we set out to explore. The second annual ReviewTrackers Online Reviews Stats Report and Survey expands the scope of last year's report and examines in greater detail the research and decision-making process of today's consumers, with the goal of helping marketers discover strategic approaches to managing online reviews and customer feedback.
Part 1. Consumer Trends in Online Reviews
1. More than 6 in 10 consumers look to Google for reviews
Google has quickly become the major force in online reviews.
Google first began showing review stars with a localized search at the end of 2010. At that time, it was aggregating reviews from other sites: 
In a span of a few short years, it's leaped over Yelp, acquired Zagat, and shifted its focus from aggregating reviews to hosting its own. That shift has paid off tremendously, and affected the entire online review ecosystem.
According to ReviewTrackers' data, 63.6 percent of consumers say they are likely to check reviews on Google before visiting a business — more than any other review site.
Yelp ranks second at 45.18 percent, followed by Tripadvisor and Facebook.
These findings are in line with our 2017 Local Search Report, in which 21 percent of consumers agreed that Google reviews were one of the most important factors in their search for a local business, ranking them as more influential than price estimates, proximity, and SERP.
Of course, what's interesting about Google reviews — and what makes them different — is that consumers see them anytime Google interprets their search as a "local" search. The Google algorithm predicts you're looking for something nearby and shows you businesses and locations in your vicinity. This accounts for a third of all searches.
Seeing as how most website traffic comes through Google, Google effectively preempts other review sites by showing its own star ratings to users before they can click through to their search result. Sneaky, huh? Google has effectively cut in line, jumping ahead of the major players in the review industry.
From these online reviews stats, the takeaway for businesses is clear: almost two-thirds of consumers are saying they're most likely to check Google reviews, so make sure you've claimed your Google My Business listing and are actively watching those reviews for every location of your business.
2. More customers expect businesses to respond to their reviews — and quickly
According to ReviewTrackers' survey findings, 53.3 percent of customers expect businesses to respond to their online review within 7 days. This marks an increase from 51.7 percent in 2017.
More than half of consumers expect a response from a business. That makes sense.
The popularity of third-party review sites like Google, Facebook, Yelp, and Tripadvisor is driven by customers' genuine desire to engage with businesses.
In these digital spaces — just as in traditional feedback channels like post-transaction surveys and support and service phone calls — customers want to be heard individually and addressed personally when something goes wrong.
So consumers want to interact with brands when they leave a review. but there's a problem. There's a gap between review response expectations and reality.
According to survey results, 63.3 percent of consumers have never heard back from a business after leaving a review.
Roughly two-thirds of consumers never hear a word from brands after a review.
But here's the thing: review responses make a real and measurable difference — not just to the consumer who leaves the review, but to everyone else who visits the business's review page. 45 percent of consumers say that they're more likely to visit a business if it responds to negative reviews.
Indeed, when customers do hear back, perceptions immediately improve. Additional research indicates that 80 percent of consumers believe that a business cares more about them when its management responds to their reviews.
This explains why the most successful and highly rated businesses on third-party review sites are typically the ones that are most responsive to customers. They're also usually the ones that can more easily build goodwill, inspire customer loyalty, and extend customer lifetime value.
3. Negative reviews drive away customers
Take note, marketers and customer experience execs: negative reviews have convinced 94 percent of consumers to avoid a business.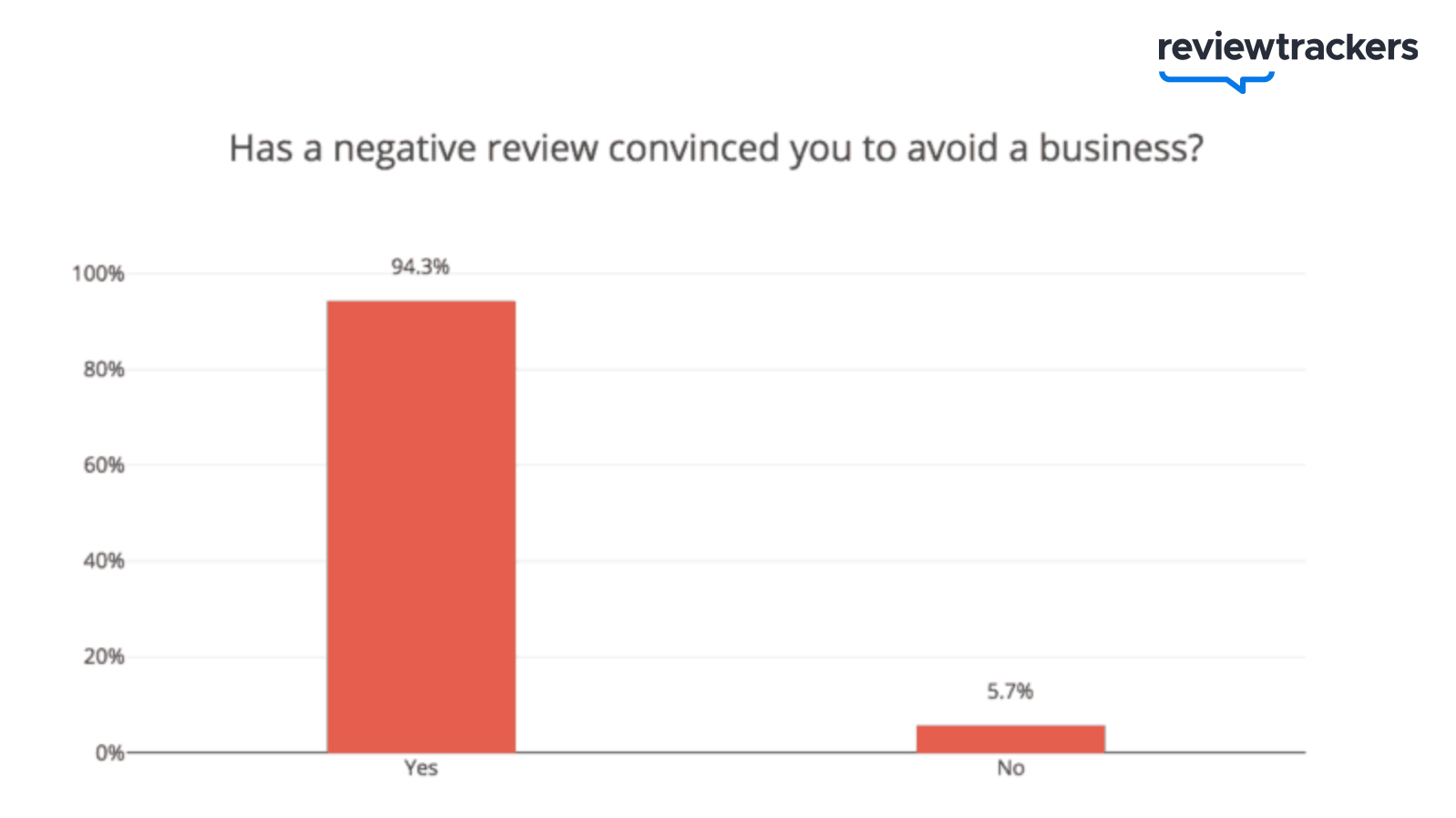 As in previous years, consumers will continue to actively seek information from all types of sources to guide their purchase decisions in 2018, and businesses that are highly visible in search results and on social media enjoy a natural advantage.
But just because a business ranks number one on Google or has 1,000 more Facebook likes and Twitter followers than a competitor does not necessarily mean it has gained the trust of consumers.
To maintain an attractive brand reputation, business have to address customer feedback head on. When the voice of the customer speaks on third-party review sites, be there to listen and respond.
And you're going to get your detractors. A negative experience, according to our online reviews stats and findings, is more likely to produce a review than a positive one.
A consumer is 21 percent more likely to leave a review after a negative experience than a positive one. So businesses need to be proactive about encouraging their brand advocates to actually advocate on their behalf. Otherwise, reviews can skew more negative than reality—this is a key part of your brand's reputation management.
Consumers are also more curious than ever to learn what could go wrong when visiting a business. According to our data, more people are looking at 1-star reviews than last year, and we also saw an increase in consumers claiming that 1-star reviews are the most trustworthy (3.48 percent in 2018 vs. 0.63 percent in 2017).
4. Ratings (still) matter
Star ratings do matter. And they matter a lot more in 2018 than they did last year, when only 4 in 10 admitted to using rating filters in their searches.
This year, as much as 70 percent say that they use rating filters. The most common filter applied is to see only businesses with 4-star ratings and higher (35 percent), which means that if your business doesn't have a rating of at least 4 stars, you could potentially be overlooked in many industries.
It's important to note that consumers specifically seek trustworthy, authentic, and therefore often imperfect reviews and ratings. Shoot for 5 stars, but at the same time, recognize that less-than-perfect reviews and ratings are an important element in consumers' research and decision-making process.
5. Industry trends: big changes in financial services and insurance reviews
As seen in the chart above, the majority of consumers agree that online reviews are influential, no matter the industry.
We saw earlier that consumers are, generally speaking, more likely to leave a review after a negative experience. But consumers are actually shifting to being more positive in their reviews. As a whole, the number of consumers who said they were likely to leave a review after a good experience *increased* from 26 percent in 2017 to 28 percent this year.
We see this almost completely across the board, regardless of industry:
In particular, we see the biggest increase (as a percentage) in financial services.
In 2017, only 13 percent of consumers said they were likely to leave a review after a positive experience at a bank. This year, that number rose to 19 percent.
Ditto for insurance. In 2017, only 14 percent of consumers said they were likely to leave a review after a positive experience with an insurance agent. This year, that number jumped up to 18 percent.
It's a trend that's bound to make a far-reaching impact on those industries: two sectors in which trust is a particularly crucial factor. 
It remains a challenge, though, for financial services organizations to earn positive reviews. It's still only 19 percent of customers who say they're likely to leave a good review after a good experience with a bank, whereas 43 percent of restaurant guests say they are likely to leave a positive review after a good experience with a restaurant. To put it another way: consumers are 2.4 times more likely to leave a positive review after good experience at a restaurant than they are at a bank.
Now, let's look at some industry trends in negative online reviews stats.
Overall, 34 percent of consumers say they are likely to leave a negative review after a bad experience in 2018, where as 36 percent said they were likely to leave critical feedback in 2017.
We basically see the opposite of what we saw with positive reviews. Almost across the board, consumers are less likely to leave a negative review in 2018:
This shift away from negative reviews is fascinating and it's something we'll explore with more data in part 2.
It's also worth looking at the average star rating by industry.
What explains these differences? Consumers have different expectations by industry — and industries deliver varying degrees of customer experience.
We already saw that consumers are increasingly likely to leave positive insurance reviews, but it's still somewhat surprising that insurance ranks so highly. That may be explained by fact that these ratings come from consumer reviews, and most consumer reviews are of insurance agents. Regardless of how people feel about the insurance industry as a whole, people generally like their agents quite a lot.
Part 2. Meta Trends in Online Reviews
Online Reviews Are Getting Shorter, Social, More Positive
In part 2 of our online reviews stats report, we shift to a new data set: nine million reviews. We took a batch of reviews from non-ReviewTrackers customers (to make sure the data isn't skewed) and looked for big-picture trends.
In the last few years, we've seen huge fundamental shifts in how reviews look, where they're appearing, and the sentiment people express in them.
Let's look at each of these changes one at a time.
1. Review length: online reviews are now 65 percent shorter
In 2010, the average length of a review was 600 characters. Eight years later, reviews have gotten 65 percent shorter, with the average review now coming in at just over 200 characters, about the size of the newly expanded tweet.
We've seen this change happening across nearly all the major review sites:
We'll dig into why reviews are getting shorter a little later (it relates to the other big changes we're seeing). For now let's keep looking at some big picture trends.
2. Consumers are leaving more and more reviews on non-review sites
For a brick and mortar business, we've a seen a major shift in the last 3 years: stalwarts like Yelp and Tripadvisor continue to hold a market share, but Google (mostly) and Facebook have grown tremendously.
In the consumer trends section of this report, we've already seen that 60+ percent of consumers now check Google reviews, but what these numbers show us is that reviewers are actually more likely to leave reviews on Google than elsewhere. Here's how the numbers break down for just 2017:
Over half of a business location's reviews were on Google and Facebook in 2017. That's a big behavioral change.
In the span of a few years, reviews have found a bigger home on social media (Facebook) and search (Google) than they had on review-only sites like Yelp or Tripadvisor. From a consumer behavior perspective, that means reviews are migrating to the two most popular websites in the world, making to nearly impossible for consumers to do any research about a brand before immediately running into reviews.
This shift to Google and Facebook reviews is interesting from another, deeper level. It increases a consumer's access to reviews.
Everyone has a Facebook or Google account. Everyone is always logged into theses accounts. There's almost no friction when a user wants to leave a review. they don't have to log in to a new site or take any other steps. They're always plugged into Google or Facebook. No friction = more reviews.
From the business's perspective, the same holds true. Almost every business have a Google My Business account—and every business has a Facebook Page or Facebook Business Manager account. With both businesses and consumers constantly engaged with Google and Facebook, it only makes sense that these platforms become the dominant platforms for customer reviews.
3. Reviews are getting more positive
The average star rating has increased as consumers leave more positive reviews:
Since 2010, the average review has gotten 12 percent more positive.
This lines up with what we saw in the consumer trends section of the report. If you ask consumers, they'll tell you they're more likely to leave positive reviews and less likely to leave negative reviews than they were in the past.
Why are we seeing these changes in online reviews?
1. More mobile.
I know what you're thinking: not another report that explains trends by talking about "mobile" like it's still a buzzword. Putting that aside, as more traffic is mobile, consumers have less patience with typing out long War-and-Peace-style reviews like we saw in the early days of online reviews.
When you're on a phone, a short, 240 character tweet-sized review is just so much more doable. This partially explains why we're seeing a decrease in review length. 
2. The shift to Facebook and Google reviews is changing who leaves reviews.
The shift to Google and Facebook helps to explain two trends.
First, Google reviews are among the shortest reviews. As the whole review landscape is consumed by Google reviews (slight exaggeration), it makes sense that the average length of reviews will also decrease.
Second, Facebook and Google are also two of the most positive review sites.
The average Google and Facebook review is over 4 stars, while the average Yelp review clocks in at 3.65 stars. As Yelp-style review sites lose ground, the average rating will increase.
3. Now that reviews are easier to leave there's more positivity.
What Google and Facebook have going for them: people are always on those sites. That means it's much, much easier for them to leave a review.
Why does that matter?
When you make it hard for consumers to leave a review, they'll tend to leave reviews only when they're really fired up. Usually, this happens after a bad experience.
As it gets easier to leave reviews, you'll get a less negatively skewed representation of the average customer experience. When its easier to leave a review, you'll get more positive reviews.
4. What people understand as a "review" has shifted.
This may be redundant, but it's a point worth making. Five years ago a review was a multi-paragraph thing that you had to leave on sites that specialized in reviews. Now they're everywhere. Everywhere. 
These structural changes have affected when and how people leave reviews. Consumers have started to understand reviews differently. Rather than mini-essays,  they're a few sentences of matter-of-fact description of the goods and services offered. A smart, simple thumbs up / thumbs down for a business.
In addition to the reasons cited above, this change could be driven by the fact that people are used to consulting reviews more and more frequently. They don't want an essay. They want to know what you liked and didn't like. And they want to know that quickly.
People who write reviews now know that they're writing for a larger audience (everyone on Google). They keep it short and to the point.
5. More brands are using online review software.
Another reason for an increase in review scores is that more and more brands are investing in online review software to monitor their reviews, automate review collection from consumers moments after their experience, and responding faster to reviews.
With brands investing more effort into review management, it's only natural that their review ratings are improving, particularly if brands are focused on actually improving the customer experience that underlies those reviews.
Conclusion: 4 biggest trends are Google Reviews, review response, positive reviews, and review length
1. With Google dominating the review ecosystem, more and more consumers will stay in the "Google layer" searching for local businesses, finding information about them, and routing their visit all without leaving Google. It'll be more and more important for businesses to understand how that works and pay close attention to their local search and rating on Google.
2. There's a big gap between what consumers expect and what brands provide when it comes to review response. Consumers expect businesses to respond to their reviews (and even favor the businesses that do), but most say that a business has never responded to their review. While more businesses are paying attention to their reviews, there's a huge opportunity for brands to take the next step and engage with their customers through online review sites.
3. A shift in consumer behavior and the quality of customer experience businesses deliver may lead to more positive reviews on review sites. While consumers are still more likely to leave a review after a negative experience (and not a positive one), the gap is narrowing.
4. Reviews are getting shorter. With a continuing growth in mobile traffic and more and more reviews appearing on Google and social media, reviews have changed from being a multi-paragraph editorial to a pithy, 200-character bullet point.
Online Review Stats and Survey: Methodology
In a period spanning Q4 2017 and Q1 2018, ReviewTrackers reached out to a U.S.-based consumer panel with a 32-item survey of 463 respondents. The survey is primarily concerned with how concerned interact with online reviews of businesses across a number of categories and industries; it does not cover or include consumer-generated product reviews such as those found on Amazon. Survey responses formed the basis of the analysis in part one of the online reviews stats report.
For part 2, ReviewTrackers looked at trends in nine million reviews across 100+ review sites over the last eight years. These reviews were from non-ReviewTrackers customers and represented a sample of businesses across all major industries.