We at ReviewTrackers gathered the latest online reviews statistics and trends to help companies gain a more accurate view of the state of reviews today — and how it reflects the experiences people want to have. 
Here are some of our key findings and notable online reviews statistics:
Introduction
Online reviews published on sites like Google, Yelp, Facebook, and Tripadvisor can be incredibly powerful in shaping consumer behavior.
This holds especially true in the wake of a pandemic that has changed the way consumers discover and choose businesses online. 
Now, people rely more heavily than ever on local business listings to research and validate their purchase decisions — making local listing management a top priority for brands. Consumers also more careful and discerning about where to go and what to buy — in large part because they are looking to assess a company's safety practices and pandemic-friendly services. 
In short: reviews inspire consumer confidence in uncertain times. 
2021 Online Reviews Statistics and Trends
So: how exactly are consumers using reviews to find businesses? And what kind of impact do customer reviews and ratings have on the path to purchase?
This report examines in greater detail the research and decision-making process of today's consumers, as well as key insights into the state of reviews across various industries and business review sites. It also highlights a number of online reviews statistics and trends that should help marketers discover strategic approaches to managing their online reviews, brand reputation, and customer feedback. 
Google is (Still) the Review Site of Choice
According to ReviewTrackers data, 63.6% of consumers say they are likely to check reviews on Google (through Google Maps and Search) before visiting a business location — more than any other review site.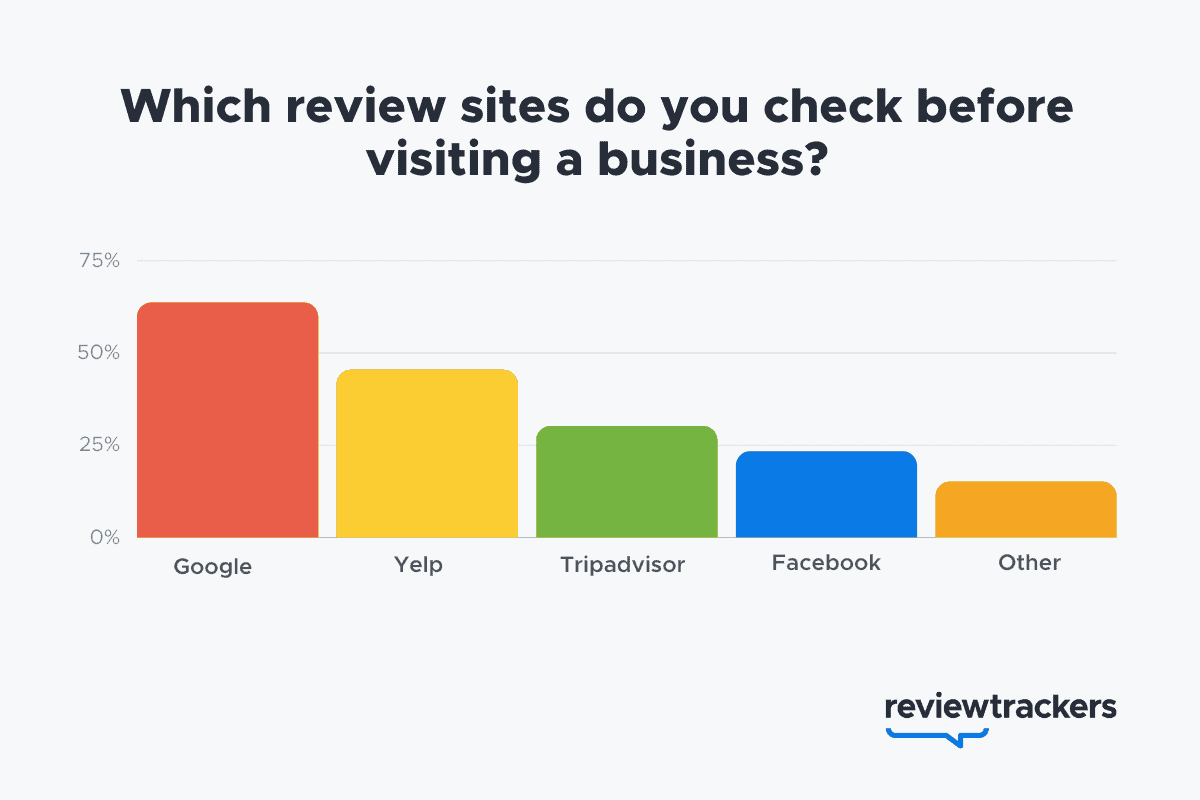 Yelp ranks second at 45.18%, followed by Tripadvisor and Facebook. 
Google's review growth is driven by the volume of zero-click searches, which rose to 65% in 2020. By showing review snippets and star ratings in organic search results without having to send users to a third-party website, Google has effectively cut in line ahead of other websites in the online reviews space.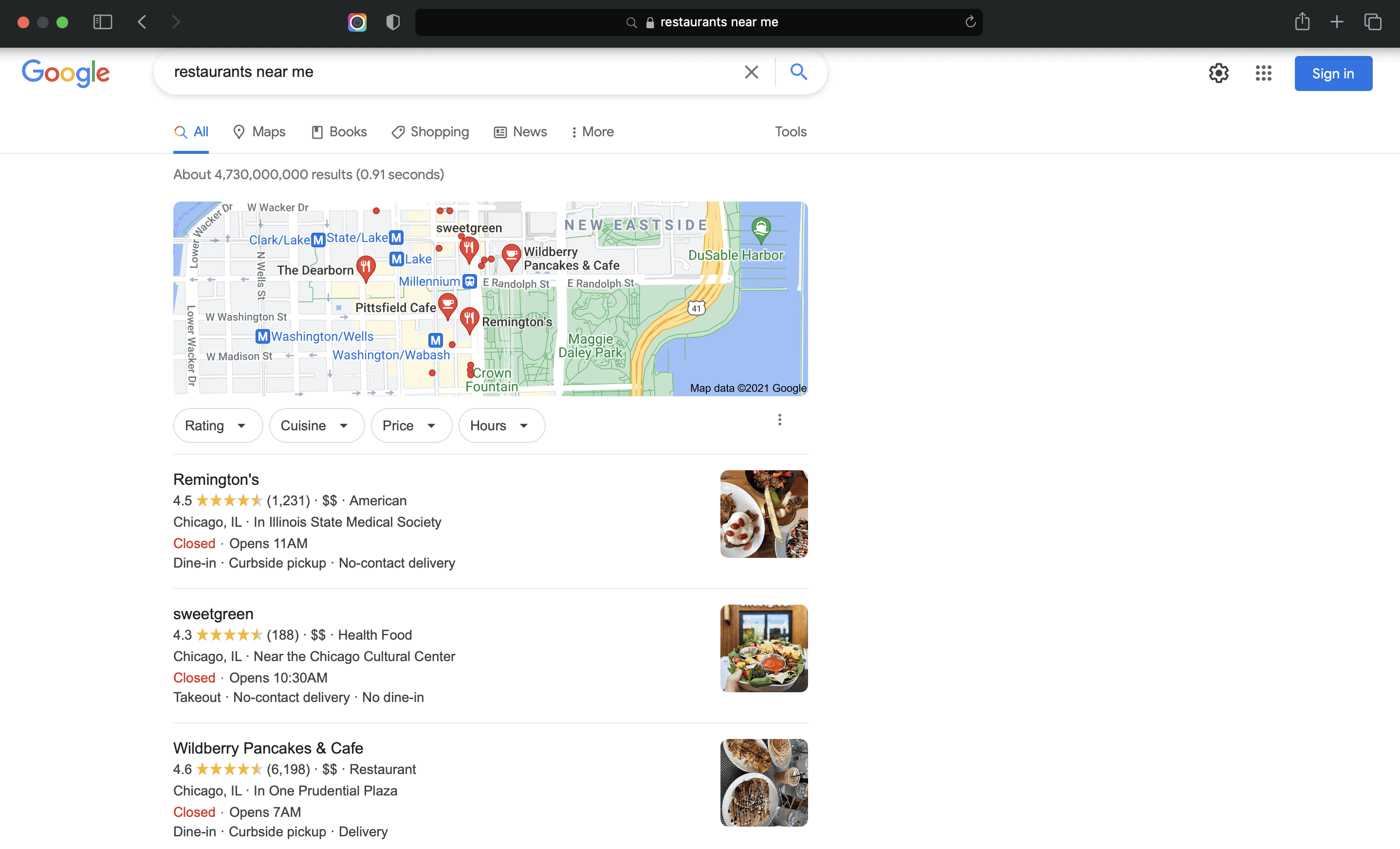 The takeaway is clear: with almost two-thirds of consumers looking at information on Google before visiting a business, marketers must have a firm grasp of best practices in using Google My Business, including: 
88% of All Reviews Come from Only 4 Review Sites
According to online reviews statistics and analysis by ReviewTrackers, only 4 sites are responsible for the distribution of 88% of all reviews. After Google (73%), Yelp (6%), Facebook (3%), and Tripadvisor (3%) follow suit.
Since reviews are so influential in shaping consumer behavior, only a handful of sites also brings in new business. 
Based on top directories analysis by ReviewTrackers, roughly 75% of new business is influenced by only a handful of business review sites and directories: Google, Facebook, Yelp, Tripadvisor, Apple Maps, and Bing Maps.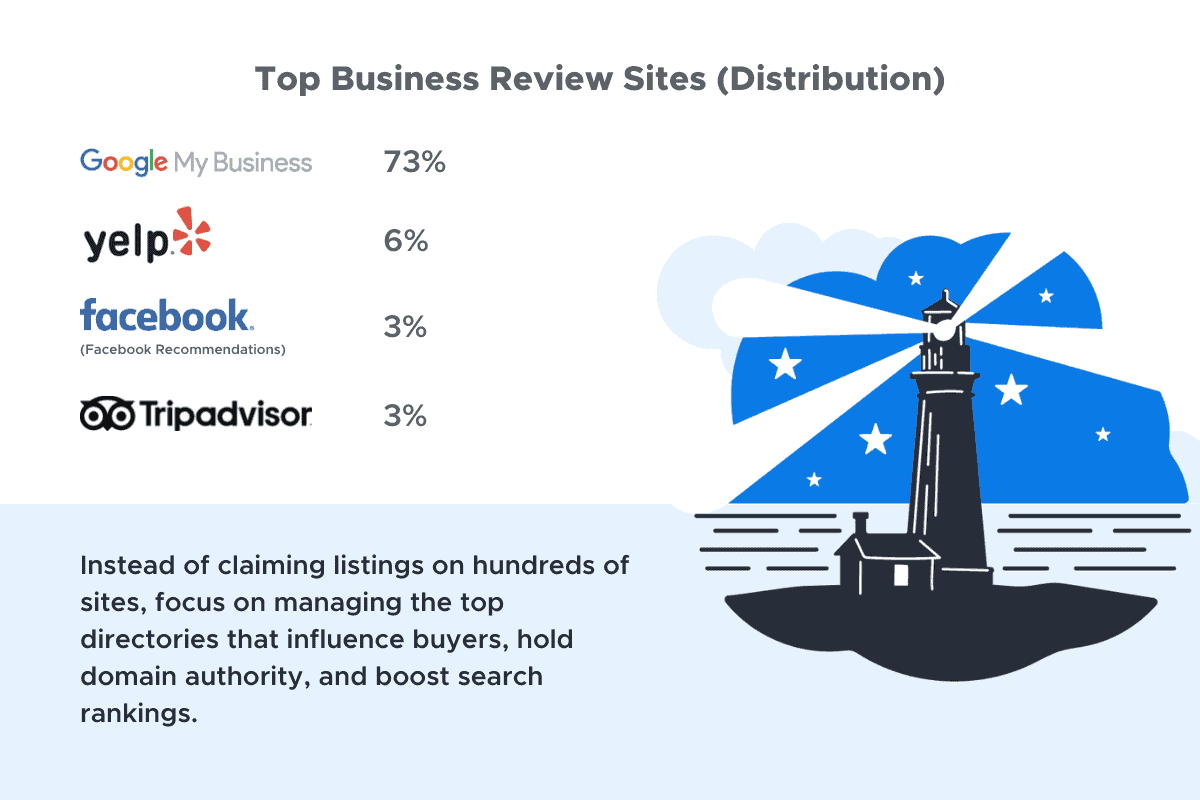 These online reviews statistics have clear implications on local listing management. It used to be that the narrative around local listing management and local citation software products was to ensure correct and consistent listings across as many directories, review sites, and social networks as possible. 
Rather than claiming business profiles on as many sites as possible, marketers should focus their investment priorities on managing the top directories that influence buyers, hold domain authority, and actually boost search rankings.
Larger organizations, enterprise-level brands, and agencies must keep this in mind when deploying a local listing management solution. The long tail doesn't provide as valuable a return as it used to. Plant your flags on the top sites — and invest in getting better consumer insights from these digital properties rather than getting one more supported directory.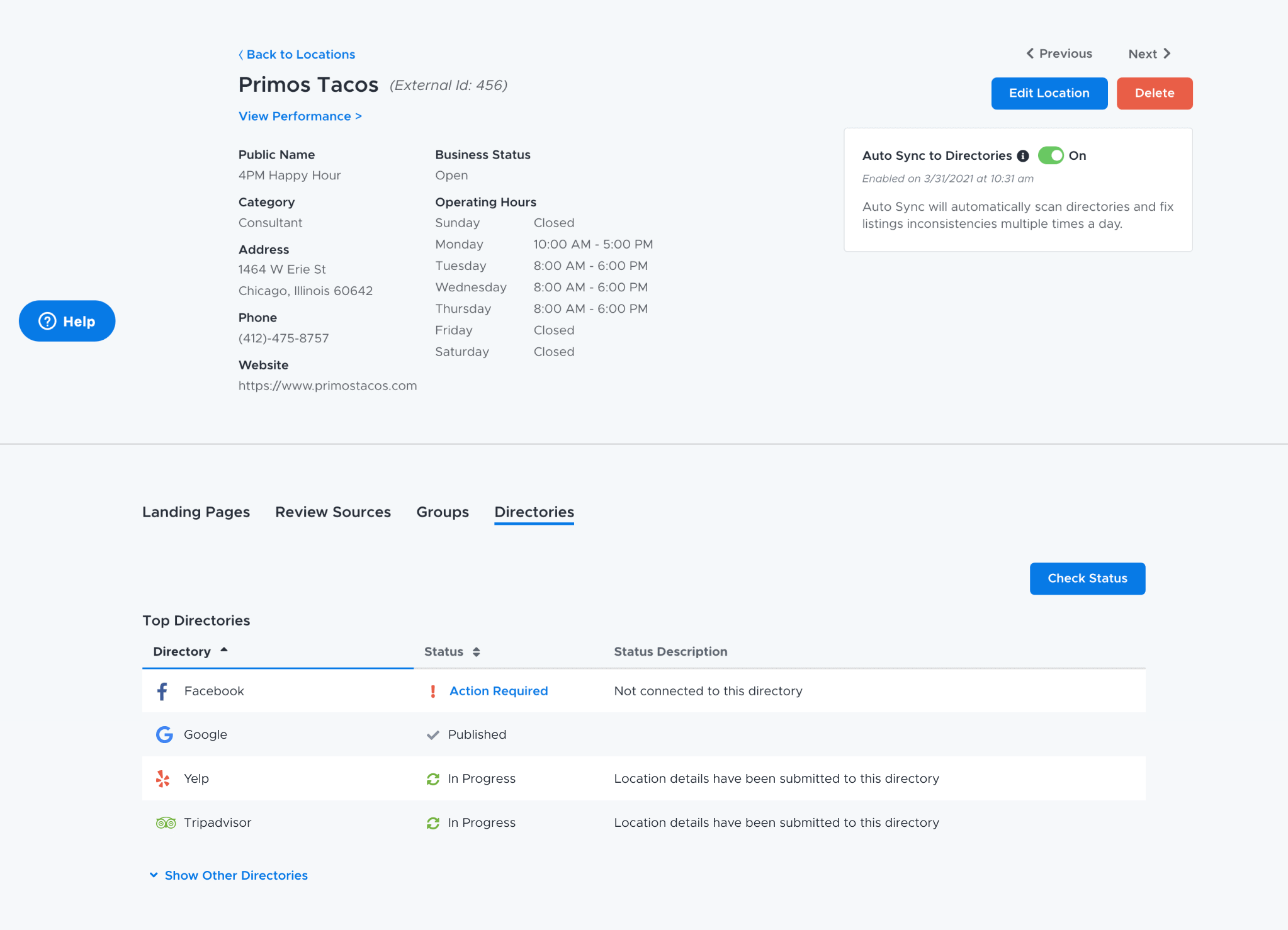 For more information on review distribution in each industry, visit the ReviewTrackers Top Directories Analysis report.
Review Interaction Up by 50% from Pre-Pandemic Levels
Third-party industry research shows that review interaction — which entails actions like searching for or filtering reviews, or clicking to expand and read the entire review — is up by 50% from pre-pandemic levels. 
It's one of the many signs demonstrating consumers' heightened sensitivity about where to go, what to purchase, and which businesses to support in the wake of the pandemic. 
It's true that brands typically don't have control over user-generated content found in reviews. But they can be proactive about ensuring the accuracy of their information across top directories and review sites (Google, Yelp, Facebook, and Tripadvisor). This aids the customer experience and facilitates users' path to purchase.
At the very least, marketers should apply local SEO best practices and publish updated business information on authoritative sites where their business locations are listed. A recurring complaint found in reviews is wrong data: for example, if a customer shows up in a store only to find that it's closed, and that management did not update its hours of operation online. 
Reviews are (A Lot) Shorter
In 2010, the average length of a review was 600 characters. Since then, reviews have gotten 65% shorter, with the average review now coming in at just over 200 characters: about the length of an expanded tweet.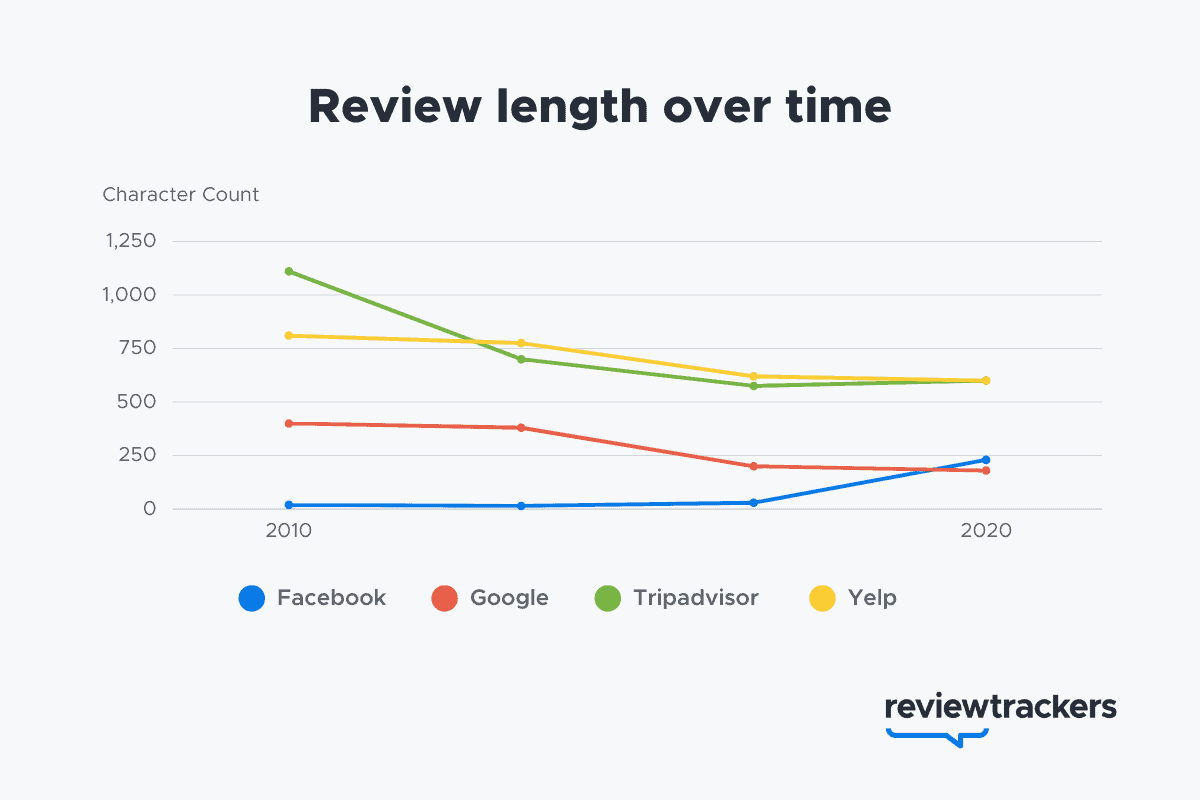 What does this mean?
First: what people understand as a "review" has changed. A few years ago, reviews involved multiple paragraphs of text that customers submitted to websites that specialized in hosting this specific type of content: for example, Yelp and Tripadvisor. 
When Google and Facebook — two websites people spend a lot of time on — introduced their own review platforms, it became easier for customers to leave reviews and voice their opinions.
These structural changes have also affected how reviews are written and read. Now, they're a few sentences' worth of matter-of-fact descriptions of the goods and services offered. A growing number of sites — such as Facebook Reviews — have even started to implement simple thumbs-up / thumbs-down rating systems that allow people to review businesses with one click.
Companies Aren't Responding Fast Enough (or At All) to Reviews
Reviews offer a platform for customers to share their experiences not only with fellow consumers, but with businesses, too. How your organization responds to these reviews can have just as much impact on your brand reputation as what is being said in the first place. 
This makes it extremely important for companies to learn how to respond to negative reviews as well as positive customer feedback. Here's the problem: based on online reviews statistics, there is currently a gap between review response expectations and reality.
Based on ReviewTrackers data:
94% of consumers say a bad review has convinced them to avoid a business.

53% of customers expect businesses to respond to negative reviews within a week. 1 in 3 have a shorter time frame of 3 days or less.

63% say that at least one company they reviewed never even responded.
The pandemic may have accelerated these trends, with managers performing line-staff duties and companies continuing to operate with a limited workforce.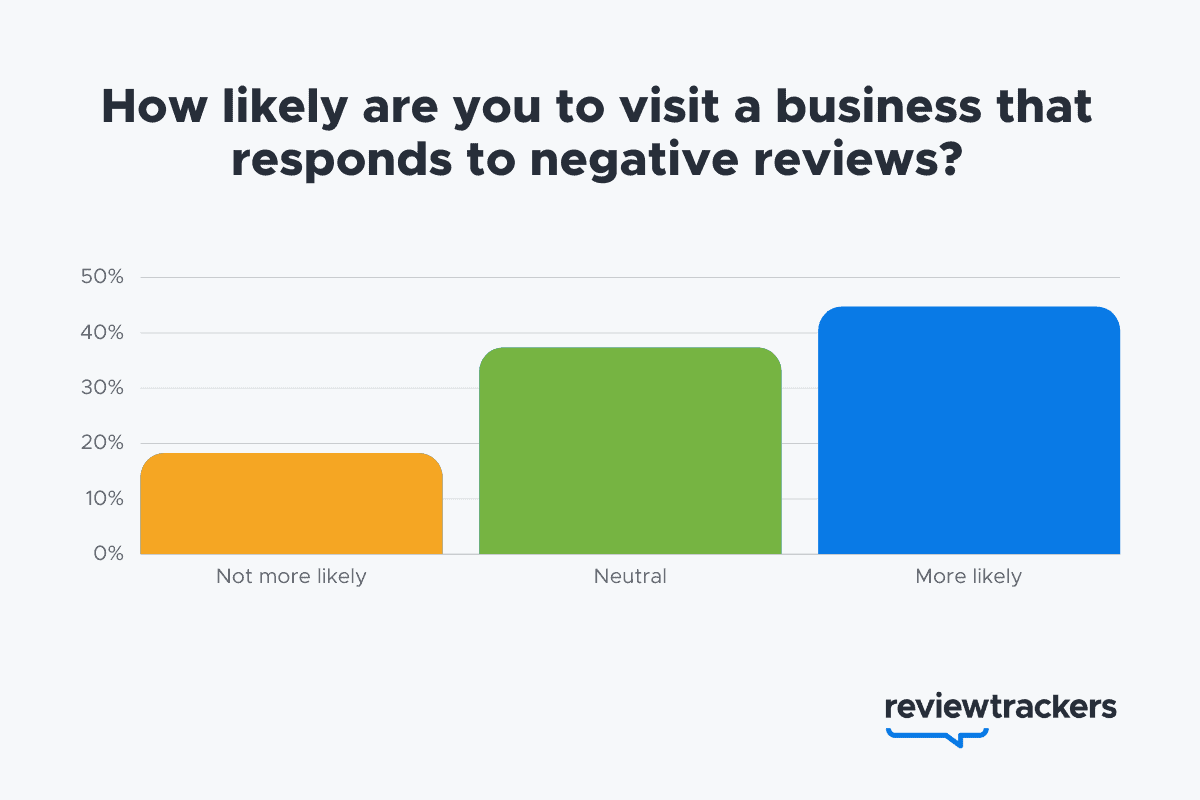 The good news: review responses make a real and measurable difference — not just to the consumer who leaves the review, but to everyone else who sees it. In fact, 45% of consumers say they're more likely to visit a business if it responds to negative reviews.
Using natural language processing technology, ReviewTrackers also analyzed over 200,000 review responses in its database to identify what is most commonly said in review responses.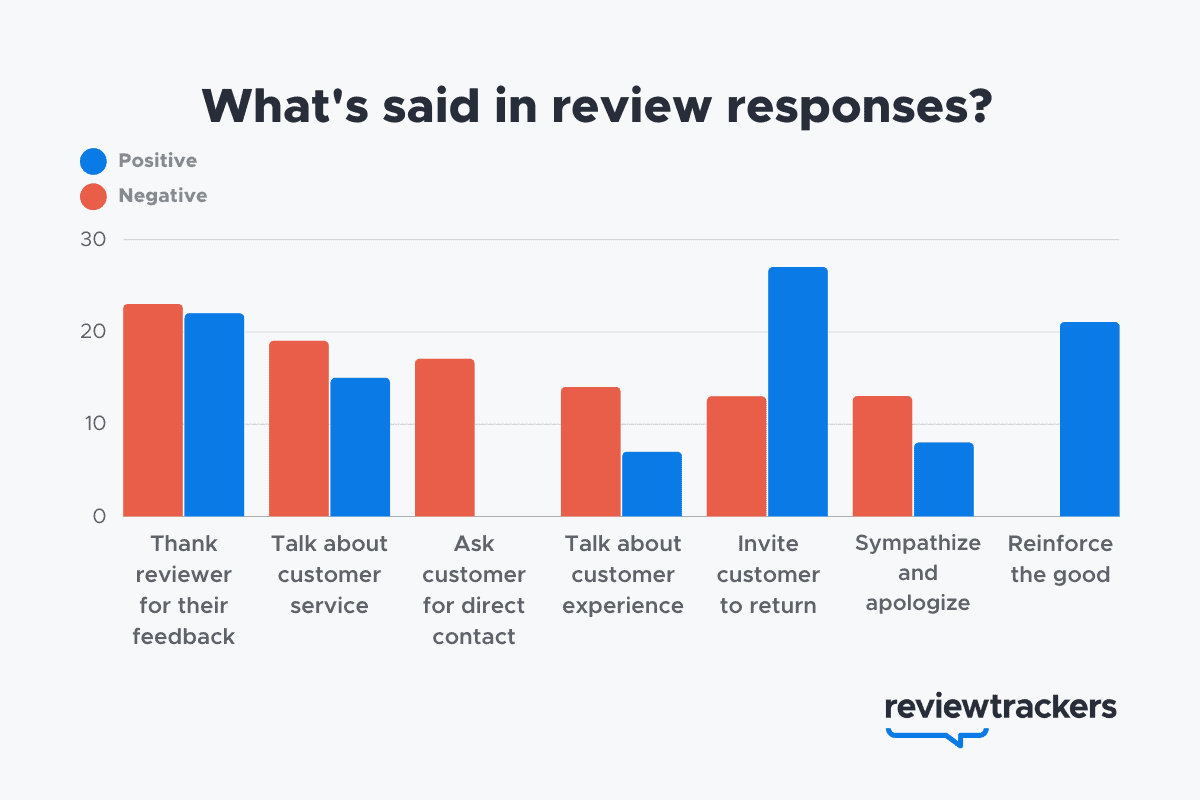 Most responses to positive reviews include an invitation for the customer to return. Meanwhile, responses to negative reviews often come with a "thank you for your feedback" note to the customer. 
Most companies also write responses in a way that expresses their commitment to service, customer experience management, and "next steps" (e.g., how a customer can contact them directly).
Responsive Industry Leaders Get Higher Ratings
Another tangible benefit of responding speedily to reviews is the likelihood of getting higher overall ratings. 
ReviewTrackers collected and analyzed benchmark data covering a 12-month period (from Q2 2020 to Q1 2021) that included online reviews statistics of over 48,000 business locations. Findings showed that the top 10% of brands across all the sampled industries responded faster (response time) and more consistently (response rate).  
For example, leading automotive brands (companies in the 90th percentile) posted an average response time of 1.04 days compared to the industry average of 8.8 days; unsurprisingly, the former enjoyed a higher 4.31 overall rating — well above the industry average of 3.92 stars out of 5.
When it comes to the speed of their responsiveness, the top 10% brands in the hospitality and restaurant industries came in behind automotive leaders as second and third, respectively, with averages of 1.2 and 1.6 days response times and average ratings of 4.32 and 4.19 stars. Contrast this to industry averages of 6.9 days and 5.1 days response times and average ratings of 3.73 stars for both hospitality and restaurant brands.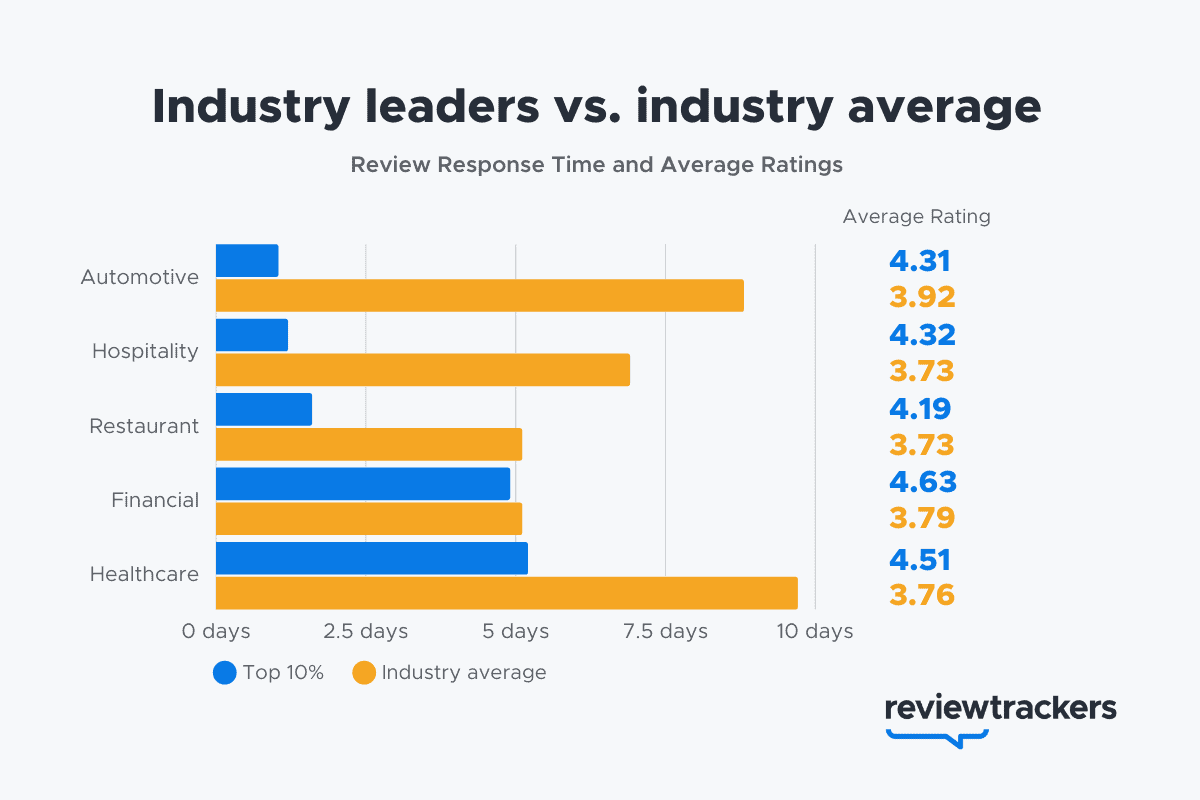 Discover what it takes to be an industry leader and benchmark your own reputation performance by downloading ReviewTrackers' 2021 Industry Benchmarks Report and Online Reputation Analysis.
Customers Don't Trust Companies with Lower than 4-Star Ratings
The previous section has implications on ways brands can stand out. Yes, ratings still matter. 
Again owing to heightened sensitivity since the pandemic started, an increasing number of consumers — as much as 70% — admit to using rating filters when searching for businesses.
Based on the latest online reviews statistics, the most common filter applied is to see only companies with 4-star ratings and higher. If you're not averaging at least 4 stars, you could potentially be overlooked by hundreds or thousands of potential customers.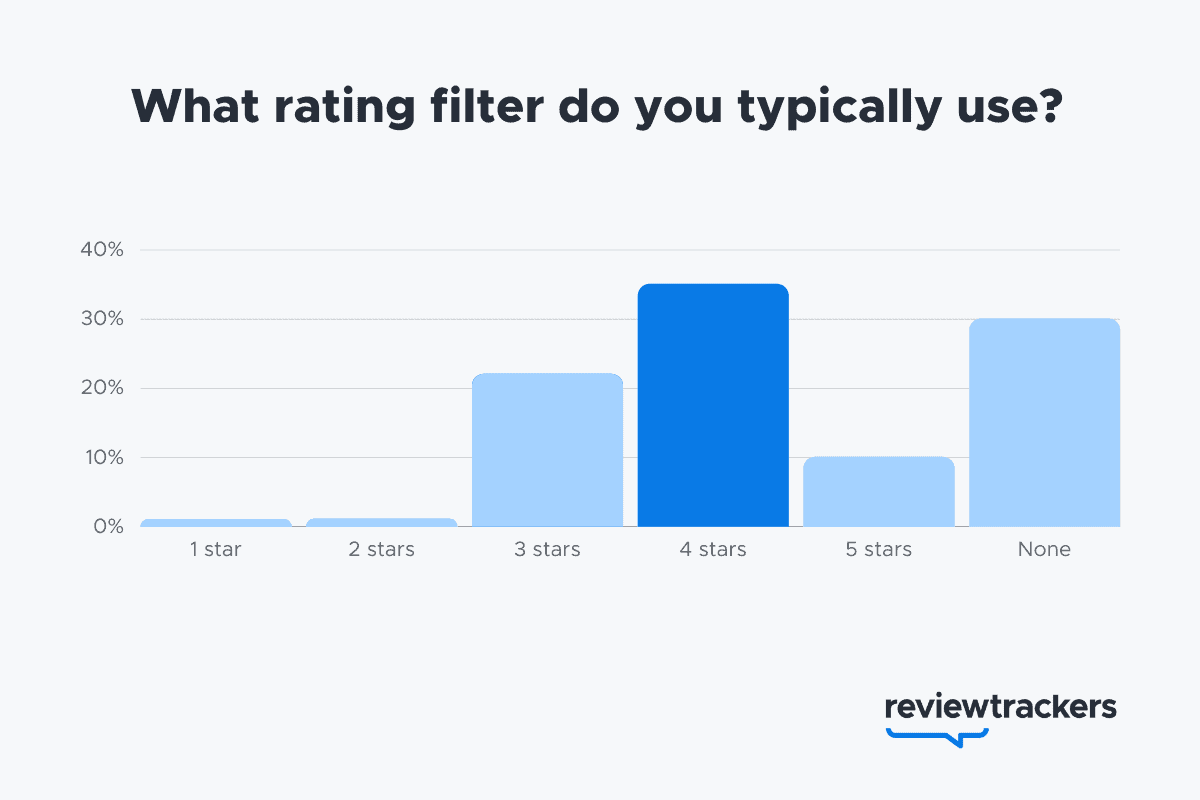 It's important to note that people specifically seek trustworthy, authentic feedback — and therefore often imperfect reviews and ratings. Shoot for 5 stars, but at the same time, recognize that less-than-perfect reviews and ratings are an important element in consumers' research and decision-making process.  
Related reading: Is a 4.5-Star Rating Better than a 5-Star Rating?
Reviewers Demand Greater Value from Businesses
In the past, companies were defined by what they made. Now, customer experience has become the leading business benchmark, and people assess companies based on specific aspects of their experience, such as product, service, location, and value.
Value, in particular — how customers perceive and demand it — offers a telling sign that consumer behavior has become even more nuanced since COVID. 
According to online reputation analysis by ReviewTrackers, reviews that talk about value tend to be more critical than reviews that talk about other aspects of the customer experience (product, service, location).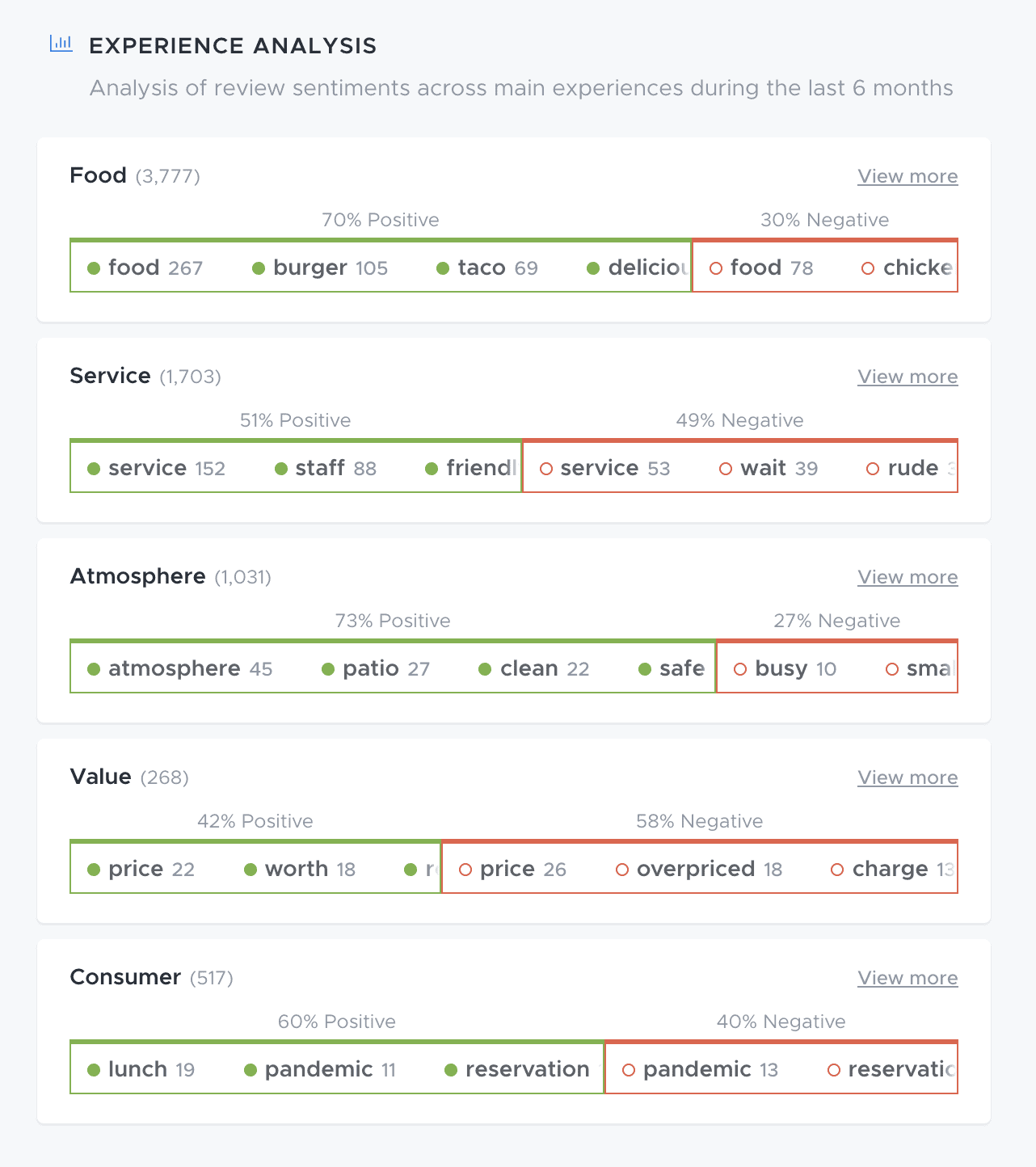 This affects all major business categories with the exception of healthcare. Based on customer experience analytics data by ReviewTrackers, legal services, real estate, education, and financial services brands represent the bottom 4 industries in terms of meeting customer expectations around delivering the best bang for the buck.
Legal services: only 33% of value-based reviews are positive

Real estate: only 35.7% of value-based reviews are positive

Education: only 36.4% of value-based reviews are positive

Financial services: only 40.5% of value-based reviews are positive
Online reviews statistics show that for industry leaders (companies in the 90th percentile), service-based reviews (reviews that talk about service) registered high positive sentiment in the majority of industries, ranging from 81% to 95%. But even these leaders are not exempt from the trend of having negative reviews about value, which represented the lowest percentage of positive reviews among all customer experience categories. 
Final Thoughts
The online reviews statistics and trends highlighted above drive home the importance of adapting to evolving customer needs and expectations. As companies navigate an increasingly complex market in today's post-pandemic setting, part of the challenge is to manage online reviews in ways that reflect the lives of their customers.