Customer experience management is a key growth strategy for organizations across a wide variety of industries. For good reason: delivering great customer experience (CX) leads to increased loyalty, lower churn, more referrals, positive word of mouth, and higher-value customers. 
Companies that earn $1 billion annually can expect to earn, on average,

an additional $700 million

within 3 years of investing in customer experience.

Customer-centric companies are

60% more profitable

than companies that don't focus on customers.

According to

customer reviews

research, 46% of consumers' purchase decisions are still impacted by bad experiences from "two or more years ago."
Introduction to Customer Experience Management
More than ever, consumers rate and judge businesses not by the quality or price of their products and services, but by the experience built around these products and services. Once your entire organization understands this and implements a strong customer experience management strategy, you'll be in a great position to attract customers and keep them coming back.
To get started, here's a guide to getting your customer experience management strategy off the ground. 
Customer Experience Definition
Customer experience is a broad and exhaustive topic, and there is often a lot of confusion about what exactly it is.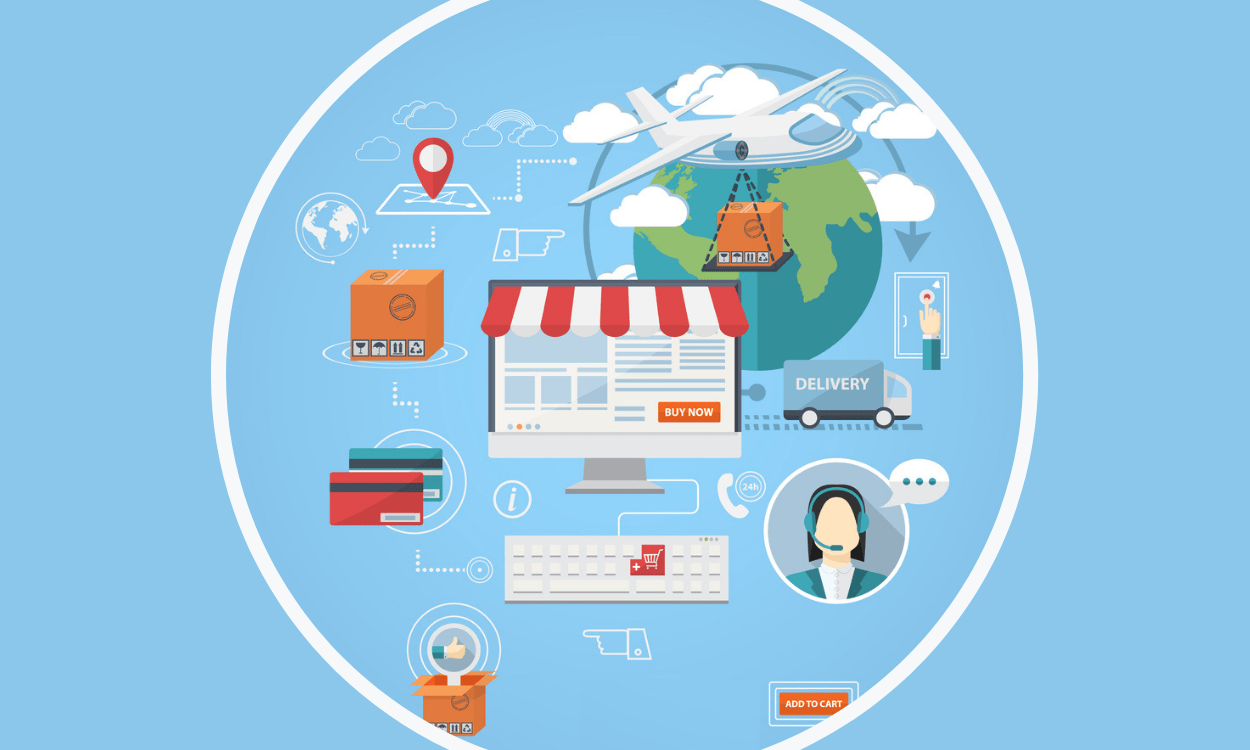 Some companies like to define customer experience as the interactions between a business and a customer over the duration of their relationship. Others see CX as a digital benchmark: a customer's interactions on, say, your website or mobile app. Others still view customer experience as the ability to respond to customer questions and cases.
Given these various interpretations, let's come up with an encompassing, practical definition: 
Customer experience is the cumulative impact of all interactions and experiences between your business and the customer, at every touch point across the entire customer journey, viewed entirely from the customer's perspective.
Customer Experience vs. Customer Service
With a proper definition in place for customer experience, you may be wondering: what is the difference between customer experience and customer service? 
Traditionally defined, customer service is the act of taking care of the customer's needs by providing service and assistance before, during, and after the customer's requirements are met.
Customer service can be delivered by the front office staff at your hotel who checks a guest in upon arrival, or the sommelier who gives detailed advice about the wine for diners at your restaurant, or the voice on the other end of the phone that provides tech support to a new drone owner who ran into a snag.
Many think of customer service as the act of reacting and responding to customers at certain points of contact (hotel check-in, restaurant visit, after-sales telephone call). Meanwhile, customer experience is the larger strategic effort of which customer service plays a crucial part.
Customer Experience Isn't a Department
Customer experience is a core value that should involve everyone in your organization, from the C-suite to the frontline. Every team or department, from marketing and sales to customer support and product development, has a stake in the customer experience.
Customer Experience Isn't Reactive
You don't wait for a phone call, an email, or an online review to resolve the customer's problem or meet their requirements. The premise behind customer experience management is that companies become truly proactive and intuitive, with the goal of seeing through customers' eyes and better understanding their needs, wants, and expectations.
Customer Experience Isn't Determined by a Single Point of Contact
As we define it, CX encompasses the entire customer journey — through processes, policies, and people. It can include a customer's initial awareness or discovery of your company, product, or service, and it can begin long before the customer sets foot in your physical business location.
Customer Experience Management Definition
How do you improve customer experience? The straightforward answer is through customer experience management (CEM or CXM), defined as "the practice of designing and reacting to customer interactions to meet or exceed their expectations, leading to greater customer satisfaction, loyalty and advocacy."
For organizations of any size, CEM can be a complex and challenging process that involves strategy, integration of technology, and executive commitment. Elements of the process range from deploying customer experience management software and capturing customer feedback to developing service training programs and launching strategic sales and outreach efforts. 
The end goal is to achieve a complete and accurate picture (360-degree view) of your customers, with integrated up-to-date customer data, so that your company can monitor, manage, and organize every interaction throughout the entire customer lifecycle. 
Why is Customer Experience Management Important?
An effective customer experience management strategy helps your company see through the customers' eyes and link their experience to your business results. Its effects are often seen in a number of ways:  
CEM strengthens your brand.

Customers expect your brand value proposition to remain consistent across multiple touch points, interactions, and engagements. A good customer experience comes from providing consistency and excellence at every stage.  
CEM reduces churn and fosters loyalty.

If people love the experience they have with your business, they will become your biggest brand promoters. Over time, this leads to greater brand loyalty and higher retention. 
CEM boosts revenue.

Revenue growth is primarily generated by the impact that CEM has on driving customer loyalty, which turns customers into promoters who buy more, stay longer, and make recommendations to their friends.
According to research, 59% of customers switch brands due to poor experience. So while you may be able to capture the interest of your audience with low prices, catchy marketing visuals, bundled services, or free returns, the ultimate differentiator is superior customer experience. This makes CEM the most exciting and rewarding investment priority for any size and type of business.  
How to Create a Great Customer Experience Management Strategy
Your customer experience management strategy should aim to keep the customer front and center across your entire organization. Here's a set of guidelines and best practices to help you build a solid foundation for CEM. 
Know Your Customers
Before you can attempt to understand and improve the customer experience, you have to be able to know who your customers are. This is the first step to achieving true customer centricity. 
Demographic data types such as age, gender, and income bracket are always handy. But you also have to be able to segment your customers, create personas, and understand the situations that your customers face. Tracking customer satisfaction metrics, meanwhile, allows you to collect valuable sentiment data, generate actionable insights, and predict future behavior. 
It's also useful to identify all the touch points at which customers come into contact with your brand — from first contact and awareness, through research and choice reduction, all the way to purchase, product, and service delivery. The idea is to gain a better understanding of where exactly in the journey you can introduce improvements — and to determine what kind of impact these will have on the customer experience.
One of the best customer experience quotes goes, "Until you understand your customers, deeply and genuinely, you cannot truly serve them." Indeed, only when your company knows your customers inside-out will you be able to truly captivate and delight them.
Ensure Brand Consistency
Brand consistency involves more than just placing your logo or tagline on your core web properties and marketing materials. It's also about maintaining the quality of any brand-related content and providing the right information to customers across all channels and touch points, especially in times when they need it and in ways that match their needs and expectations.
Think about these points of frustration:
Example:

A guest uses car navigation to find a downtown hotel based on its indicated location on Google Maps — only to learn that the location information published online isn't correct or hasn't been updated in years.

Example:

A homeowner checks HomeAdvisor reviews to find a local plumber, but as soon as she tries to call one of the highest-rated plumbers on the site, the listed phone number doesn't even work.

Example:

A diner decides to order delivery from a restaurant based on its mouth-watering photos of kumara fries on its website — only to find that the restaurant has since changed its menu and now offers totally different choices of sides.
Make no mistake: missing, incorrect, outdated, or inconsistent information is one of the biggest turnoffs for today's smart, resourceful, and research-intensive consumers. This is bound to have a negative impact on customer experience — even before the customer reaches the purchase or consideration stage.
The solution is to ensure brand consistency. 
Create or claim your business listings on local directories, social media, and

business review sites

. 

Conduct an audit of all the websites, platforms, and pages where your company is listed, and make sure you always publish the correct information. 

Develop a strategy for building citations — mentions of your business name on the web, along with other key information, with or without a link back to your website — and ensure clear and consistent NAP signals (Name, Address, Phone number) across all your digital properties where you plant your business flags. 

If possible, implement a local listings solution to

improve local business SEO

performance. 
One of the simplest ways to improve customer experience is to make the commitment to establishing a strong, memorable, and consistent brand presence for your customers — no matter when or where they may find information about you.
Capture and Analyze Customer Feedback
Using information from customer feedback, companies can gain valuable insights essential to improving their brand, products, services, and overall customer experience. Businesses that are able to monitor and manage customer feedback also often have a more complete understanding of their customers, and can easily measure customer satisfaction and loyalty.
Common sources of customer feedback include:
Customer feedback surveys

Comment cards

Emails and phone calls

Online reviews

and ratings

Social media comments

Focus group discussions

Individual customer interviews and roundtables

Usability tests
The most successful companies listen to and act on feedback in order to understand customers better and deliver improved customer experiences. Through feedback, businesses get to hear customers' stories and experiences through their own words and from their own perspective. 
The challenge is to move beyond simply collecting data. As part of their customer experience management strategy, a number of organizations deploy Voice of the Customer programs and customer feedback systems to ensure they are really hearing their customers and extracting meaningful insights from their feedback.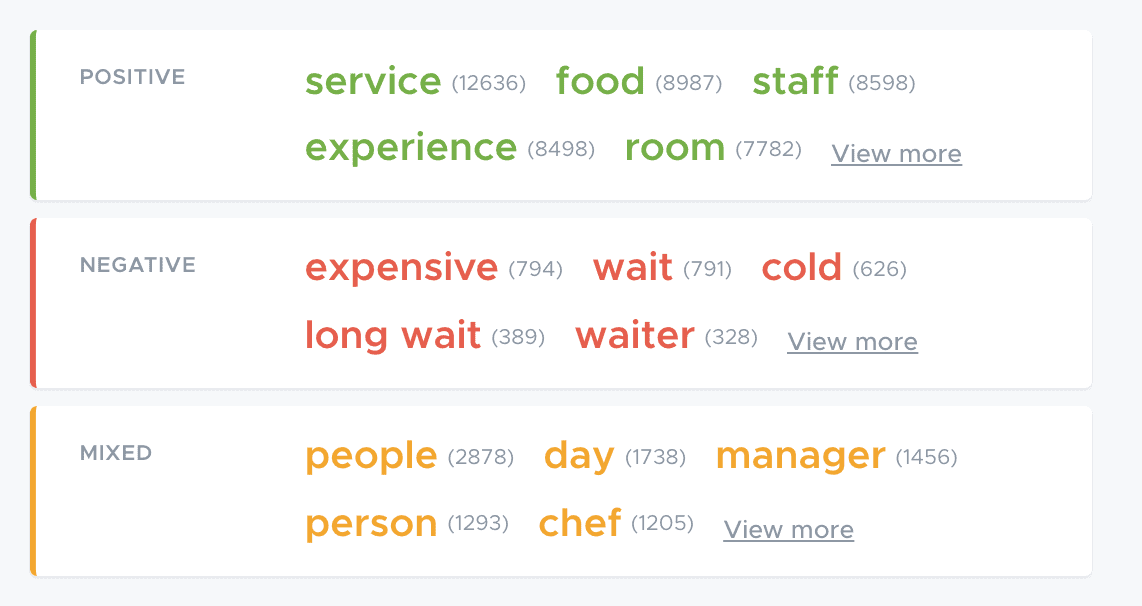 Make sure that you have a mix of both quantitative and qualitative information to drive action and business decisions. Reviews, star ratings and satisfaction scores are obvious quantitative measures that you can start with. But you can also dive into the entire anatomy of these reviews with customer experience analytics, which helps users determine and understand qualitative information like customer sentiment, emotion, and mood.
Attend to Customer Needs and Solve Their Problems
Great customer service is a major component of great CX. 
96% of customers say

customer service is important

in their choice of loyalty to a brand.

Customer reviews

research shows that 52% of consumers said a bad customer service interaction convinced them to tell others not to buy from a business. 
It's crucial that you focus on attending to customer needs and solving their specific problems. Your company's ability to attract and retain customers depends heavily on the quality of service you deliver. 
Customer Experience Example: Nordstrom
Luxury department store chain Nordstrom is known for stories in which the company went above and beyond to provide the best possible customer experience. What stands out from these stories is the company's legendary attention to detail, plus an unwavering commitment to solving customers' problems. 
Nordstrom's employees searched for hours to find a customer's lost diamond, rang up purchases without making customers stand in line, and replaced a customer's rain-sogged boots ruined by a third-party carrier with a brand new pair. The company's customer service staff are also trained to answer calls no later than the second ring, and are available 24/7 via live chat, email, phone, and social media. 
"The number one thing is customer centricity," says Shea Jensen, senior vice president of customer experience for Nordstrom. "All too often, folks in business today get focused on an outcome. I think at Nordstrom we really take all things back to the customer."
Activate Brand Promoters and Advocates
Customers who had a positive experience are all potential brand advocates. According to customer reviews research, 28% of consumers are likely to leave a review after a positive experience.  
Whether it's the customer who shared a 5-star Google review, the Instagram influencer who organically recommended your product to their followers, or the respondent who gave your business a perfect 10 in the Net Promoter Score (NPS) survey, these customers present a unique opportunity for your business to drive greater engagement and improve the customer experience.  
How exactly do you reach out to these promoters and brand advocates? Here are some ideas:
Develop a loyalty program.

Keep it simple and make it rewarding for your customers to be active members and stay loyal to you. 
Give your customers the spotlight.

Sharing your best reviews, talking about customers on social media, and publishing testimonials on your website are examples of how you can show customer appreciation in a public way. 
Deepen the connection.

Remember the birthdays of your most loyal customers. Send them handwritten Thank You notes and holiday cards. You can also offer personalized freebies, advanced releases, or exclusive samples to deepen the connection and reinforce the value of the relationships and experiences these customers have with your business.
Empower them to recommend your business.

Hand out referral cards or brochures

asking for reviews

, create tiered rewards and bonus prizes, and offer incentives for referrals. The key is to motivate your advocates to take action and leverage incentives to create a sense of urgency.
By engaging with brand promoters and advocates, you can inspire customer loyalty, drive positive word of mouth, and promote a sense of community. It also demonstrates that your business is a customer-first organization. This isn't to mention the obvious: businesses that are able to activate brand advocates grow faster.
Read our blog post for more tips and ideas on how to build customer loyalty.
Create an Emotional Connection with Customers
A good customer experience management strategy enables companies to consistently create moments of magic and delight, and deliver experiences that customers love and connect with. 
Customer Experience Example: Southwest Airlines
Southwest Airlines is known for service excellence and moments of magic with customers. The company is also consistently atop the list of airlines in the Temkin Experience Ratings, an annual customer experience benchmark of companies based on a survey of 10,000 US consumers.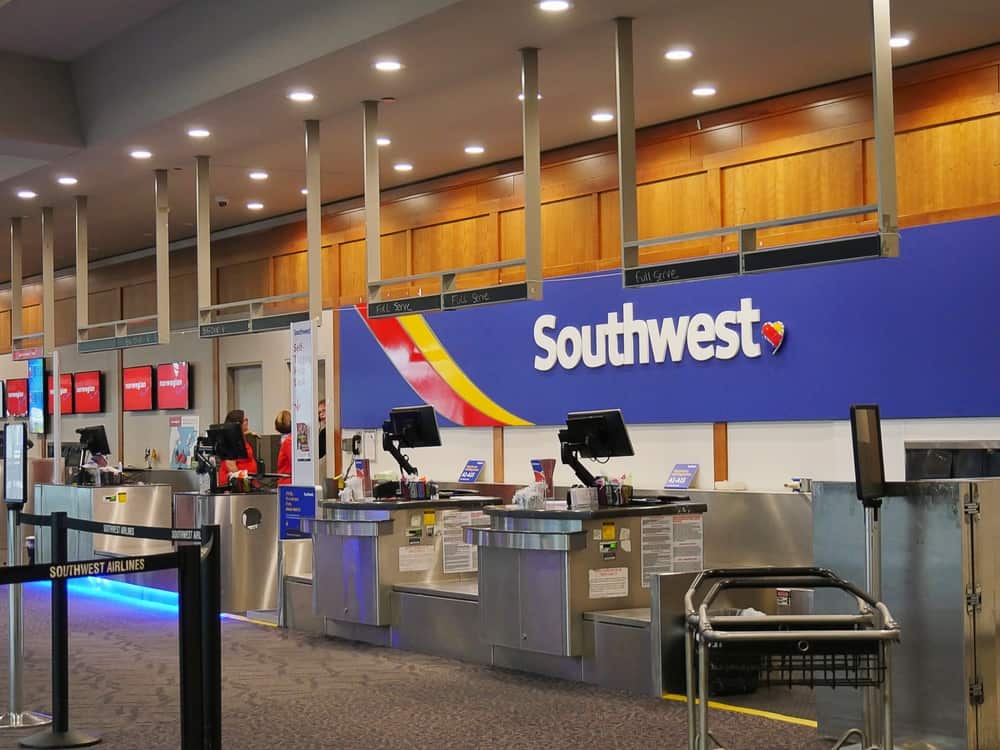 Take this example: a Southwest passenger arrives at her destination and sees that her luggage is damaged due to mishandling. She walks into the Southwest office, expecting long lines and paperwork.
But this doesn't happen. There's only one customer ahead of her, and when it's finally her turn, Southwest offers to either repair the luggage handle or replace the whole thing with a brand new piece — immediately, on the spot.
Southwest's office actually had a room stocked with all types of new luggage. Wrote Shep Hyken: "What started out as a moment of misery turned into my favorite customer service experience: a moment of magic."
"Southwest Airlines has a long-standing reputation as a different kind of airline – in a good way," added Social Media Today's Dan Gingiss. "Whether it's the friendly flight attendants, low prices, or even the cheeky napkins (one of them says, 'I'd be happy to hold your drink'), customers have come to expect a refreshing and fun experience aboard a Southwest plane."
Build a People-First Culture
Similar to promoters and advocates, a happy, engaged, and satisfied workforce can project a better brand experience to customers. Research also suggests there is a strong link between employee engagement and increased customer loyalty and profitability. 
Customer Experience Example: Publix
Florida-based Publix is a family-run supermarket chain and one of the largest employee-owned companies in America. It's also a perennial Temkin Experience Ratings leader.
It may not necessarily have the mythical customer service stories of Zappos or the touted low, low prices of Walmart, but the company's people-first culture proves that transformation into a customer-centric organization doesn't always have to be radical or disruptive.
Instead, the company focuses on creating an environment where all employees (literally) have a stake in meeting customer needs and expectations. Its cashiers, baggers, butchers, and bakers are the company's largest collective shareholders.
The fact that Publix is employee-owned has a major impact on its ability to deliver consistently positive customer experiences. It also helps sustain the company's impressively low full-time employee turnover.
Respond to Online Reviews and Customer Feedback
One of the most important aspects of customer experience management is your company's ability to respond to customer feedback. 
People are drawn to businesses that know how to respond to negative reviews, promptly answer phone calls and emails, and proactively join conversations on social media. Think about it: have you ever applauded a company that doesn't even acknowledge your feedback as a customer?
Online reviews are especially important. Consider these customer reviews stats: 
94% of consumers say a bad review has convinced them to avoid a business.

53% of customers expect businesses to respond to negative reviews within 7 days, but 63% say that a business has never responded to their review. 

45% of consumers are more likely to go to a business that knows

how to respond to negative reviews

. 
If a customer wrote a 5-star review or gave your business a nice compliment via email, take the time to say thank you. If the feedback is negative or the review came with a low rating, acknowledge the customer and work on resolving any issues related to their experience.
Increase Personalization
In a world where consumers are bombarded by thousands of banner ads and email offers every month, personalization holds the key to standing out and cutting through the noise. 
There's a wide range of personalization tactics, both online and offline, that you can apply to improve customer experience — from customer-specific content and personalized packaging to responsive website design and insight into customers' order histories.
The key point to consider is that customers want to be recognized as human beings, not account numbers and transaction IDs. By increasing personalization in interactions, touch points, and engagements, you give customers a sense of identity and can more easily attract their attention that way.
Personalization also serves as a sign of respect for customers' loyalty and business. It signals that your business is interested in strengthening the relationship by providing relevant suggestions, better service, and more informed support. 

Customer Experience Example: Zappos
Online shoe and clothing shop Zappos is, as the company's motto goes, a "service company that happens to sell shoes." Delivering "WOW" through service is listed as its number 1 core value. Zappos is one of the top 5% of brands that scored the highest across industries in Forrester's US Customer Experience Index, and the company has demonstrated this commitment to CX and service time and again. 
For example: Zappos won a customer for life by saving a best man at a wedding from going barefoot. There was also the story about a traveler forgetting to pack a favorite pair of shoes she had bought from Zappos. She called the company's help-desk concierge service, hoping to buy another pair, but the shop no longer had the shoes. 
Here's what the Zappos team did: they found and bought the shoes from a rival store at a nearby mall then hand-delivered the new pair to the customer, free of charge. This speaks volumes about the company's commitment to understanding their customers and personalizing their experiences. 
Conclusion
In today's customer-driven market realities, CX isn't just a buzzword; it's a key competitive differentiator. By delivering great experiences, you separate your brand from the competition and make a positive impact on your bottom line.  
None of this is possible without a good customer experience management strategy. Follow the guidelines and best practices above to put your company on the right track to managing all the interactions between your business and the customer. With effective CEM and a serious commitment to putting customers first, you can improve customer experience and inspire more moments of customer delight.