The best customer experience quotes can inspire your entire organization. It can rouse your team to hear from successful customer-centric companies and read quotes about customer experience from those who truly understand it.
More than ever, consumers are looking for more options, fairer prices, and better interactions across the entire customer journey. This has compelled businesses to adopt a more customer-centric approach. 
It's no longer just about product, pricing, promotions, or place. In order to achieve competitive differentiation and drive growth, businesses must delight customers, exceed expectations, foster consumer trust and loyalty, and deliver experiences that customers love.
The Best Customer Experience Quotes 
To inspire your company's leadership and the rest of your team, here's a list of customer experience quotes (and other bits of wisdom) to think about and maybe even hang in your home and work office.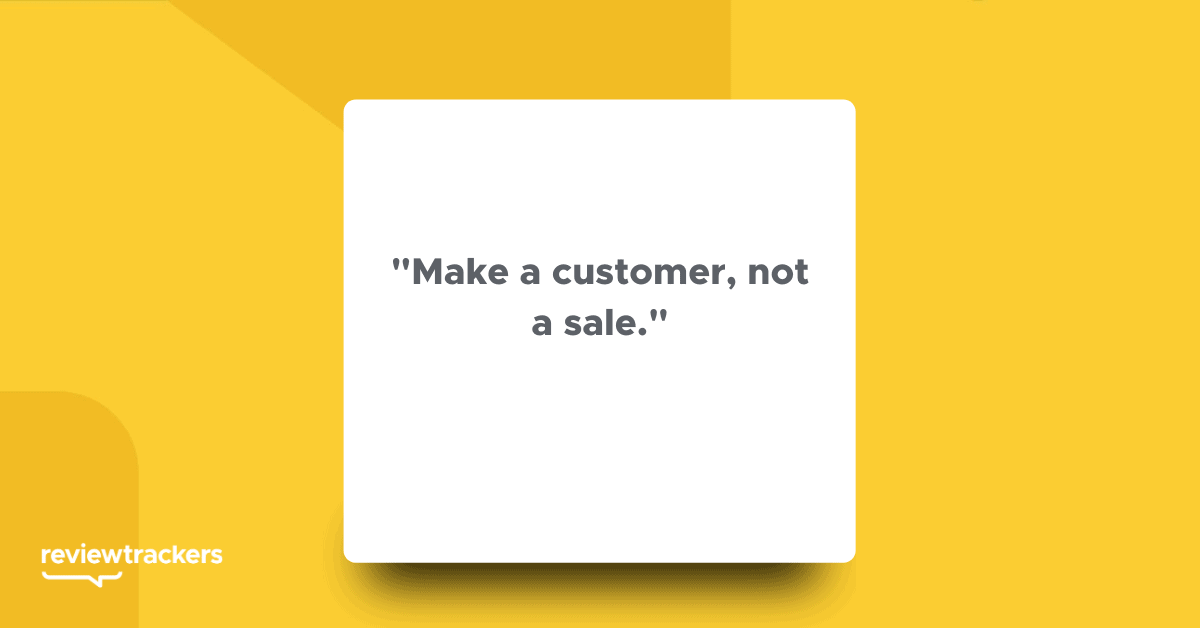 "Make a customer, not a sale."
This old business adage is one of the best customer experience quotes for any company. Some businesses are too focused on making the sale, but don't pay nearly enough attention to satisfying customers' wants and needs. To truly drive growth, companies must manage the entire customer experience and offer next-level support — including at touchpoints after the purchase or transaction.

"Customers who love you will market for you more powerfully than you can possibly market yourself."
This Jeanne Bliss quote about customer experience captures the benefit of being able to turn customers into brand advocates. When you deliver experiences that customers love, they won't hesitate to vouch for you. 
Whether it's through positive online reviews, customer testimonials, or personal recommendations to friends and family, happy customers can speak louder than advertising and promotional content.
"Courteous treatment will make a customer a walking advertisement." 
The customer experience isn't just about the way you develop your products and deliver your services. It's also about the way you treat your customers. 
If your frontline employees are unkind, uncaring, and unresponsive, there is no way customers will engage with your business beyond the initial interaction. Treating customers right, on the other hand, drives loyalty and engenders positive word of mouth.
"Pay attention to the way you talk about the work you're doing. If you design for people, use people language." 
An important part of improving the customer experience is tailoring your messaging and communications so that the voice of your brand speaks the language of your customers. This is a surefire way to build a brand that resonates with your audience.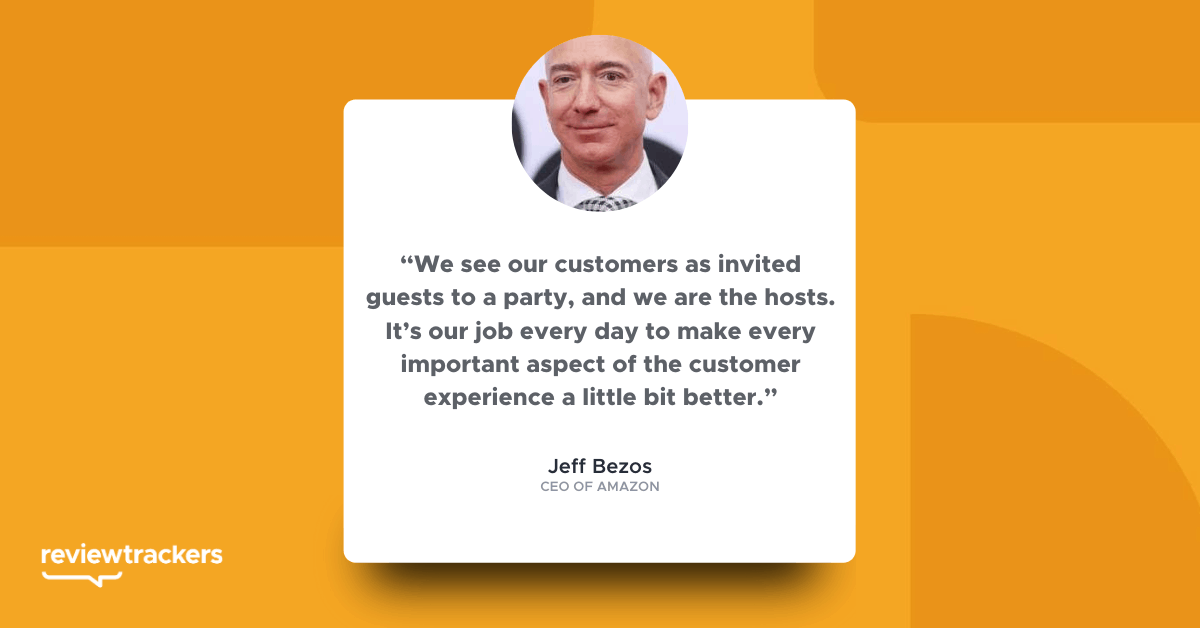 "We see our customers as invited guests to a party, and we are the hosts. It's our job every day to make every important aspect of the customer experience a little bit better."  
Now more than ever, consumers rate and judge businesses not by the quality or price of their products and services, but by the experience the business builds around these products and services. Once your entire organization understands and acts on this, you'll be in a great position to attract customers and keep them coming back.
"The more advocates you have, the fewer ads you have to buy."
According to research, 59% of customers switch brands due to poor experience. So, while you may be able to capture the interest of your audience with catchy copy and click-worthy visuals, the key differentiator and loyalty driver is customer experience. Do this right — and you'll have a community of advocates building hype for your business.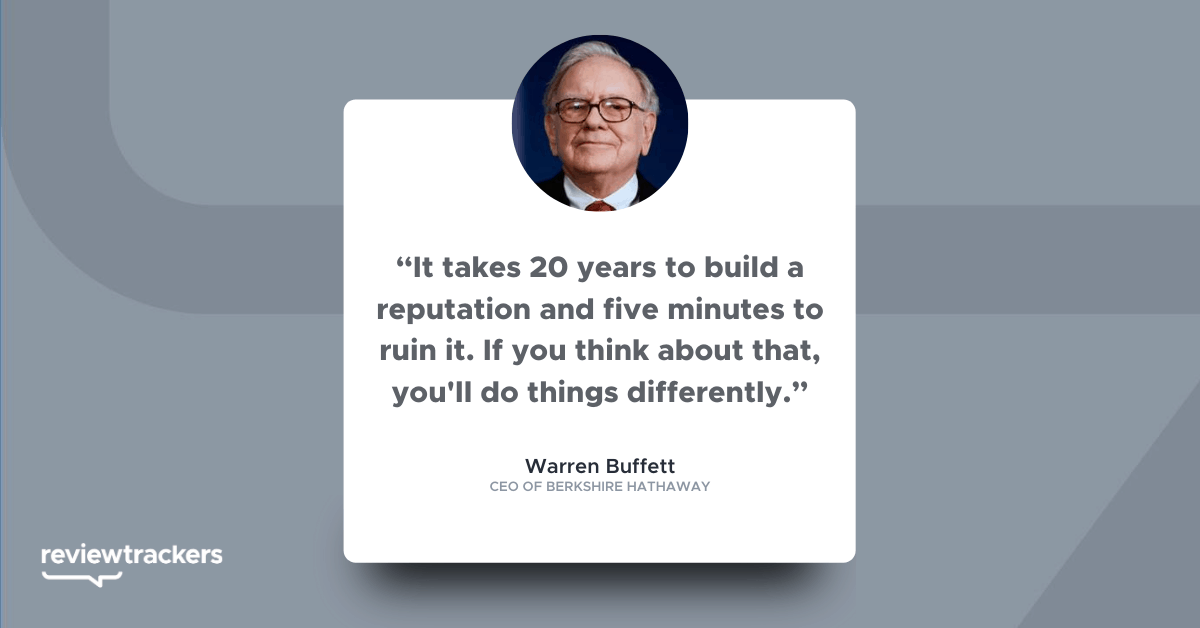 "It takes 20 years to build a reputation and five minutes to ruin it. If you think about that, you'll do things differently." 
This customer experience quote captures how user-generated content (such as online reviews, blog posts, and social media comments) can make or break a business.
With consumers no longer reliant on branded content to guide their purchase decisions, you must monitor, respond to, and stay on top of customer feedback while positively engaging in conversations where your brand reputation is on the line.
"Make the customer the hero of your story." 
In order for your brand to stand out, you must make customer experience — not sales — the priority. This makes customer focus one of the most important brand management skills today. Those who listen to customer feedback and keep their fingers on the pulse of evolving demands and expectations are the ones most poised to succeed.
"I like to listen. I have learned a great deal from listening carefully. Most people never listen."
Many businesses develop their marketing strategies around ways they can push branded content, sales messages, and self-promotional missives to consumers.
But successful customer experience management is founded on a company's ability to listen. Don't allow your brand to become just a loudmouth. Want to know how to build customer loyalty? Take it from Hemingway: listen to the voice of the customer. You'll be surprised by the quality and value of insights they have to share with your business.
"Your most unhappy customers are your greatest source of learning." 
Bill Gates shared one of the simplest and most useful customer feedback quotes. Whenever your business receives negative reviews, one-star ratings, and comments from harsh online critics, it's tempting to fight back, censor customer feedback, or disregard entirely what detractors are saying.
Successful customer-centric companies, however, do the opposite. They consider negative feedback as valuable information, and they listen carefully to their unhappy customers in order to better understand and improve the customer experience.
"Thank your customer for complaining and mean it. Most will never bother to complain. They'll just walk away."
This one takes the Bill Gates quote further by encouraging companies to appreciate and show gratitude to customers who complain.
Don't save all your love for people who write 5-star reviews of your business. Customers who leave any kind of feedback should be acknowledged individually and addressed personally. Make them feel important. At the very least, say thank you, even (or especially) when customers don't exactly have great things to say about their experience.
Read our guide for tips on how to respond to negative reviews. 
"My advice is to answer every customer, in every channel, every time. This is different from how most businesses interact with customers, especially online, which is to answer some complaints, in some channels, some of the time." 
Selective responsiveness isn't really responsiveness. In today's multi-channel landscape, businesses that succeed and businesses that don't are separated by their ability to engage with and respond to customer-driven conversations — wherever these conversations are taking place.
"Until you understand your customers, deeply and genuinely, you cannot truly serve them." 
You cannot effectively manage and optimize the customer experience without first achieving a complete, accurate understanding of your customers. What do they really want? How do they really feel? What do they really think of your products and services?
There are various methods by which you can deeply and genuinely understand customers, like monitoring online reviews and social media, staying on top of key customer touchpoints, implementing a customer feedback system, collecting customer data, and so on. Only when you know your customers inside-out will you be able to captivate and delight them.
"Don't waste customers' time asking them questions unless you are prepared to act on what they say."
Data without insights won't be of much use to your organization. Insights without action are also not practical. 
After you analyze customer feedback and discover high-impact issues and trends affecting the customer experience, it's time to create an action plan. Use what you find to foster operational and service improvements, and harness valuable feedback to create amazing customer experiences.
Act On These Quotes About Customer Experience
Managing the customer experience is an executive decision and requires an organization-wide commitment. Hopefully, these customer experience quotes do more than provide office poster material. Where there is great customer experience, there is margin. By keeping customers' needs at the forefront, your company can build a community of loyal patrons and accelerate the growth of your business.