Reviews Provide Social Proof
People turn to a variety of useful sources to gather social proof that can guide their decisions on how to behave. These sources include credible experts, thought leaders, celebrities and influencers, family and friends, and the wisdom of the crowd.
In today's digital age, online reviews have become one of the most potent forms of social proof as well.
Apart from convincing consumers what is / isn't worth buying, reviews help determine a consumer's perception of the brand before and after their experience. 
For example: a recent guest's opinion about their stay in a hotel with 100 reviews and a 4.8 rating average is less likely to go against the grain and differ from those who shared positive feedback. As they write the review, they will think: "This hotel has great reviews, so I'm going to say I had a great stay, too."
Your business can apply this powerful concept of social proof and leverage online reviews to inspire consumer confidence. 
Share your best online reviews on social media

Use

review widgets

to display online reviews on your website

Create a testimonials page on your website

Place third-party review website assets (Tripadvisor certificates and plaques, Google review stickers and posters, a Yelp sticker, etc.)

Reviews Influence Sales
Online reviews are a form of user-generated content (UGC): original content created by individuals outside your organization or brand. In today's landscape, UGC is often more powerful and effective than promotional brand content and invasive advertising.
This is why more brands are using UGC-driven stories and moments to engage consumers versus simply pushing products or launching traditional sales promotions.
Another example that clearly demonstrates how online reviews influence sales is how healthcare provider ENT and Allergy Associates uses reviews as a tool to attract more patients. (Check out the full case study here.)
By using review widgets to dynamically display reviews on individual doctor profile pages, ENT and Allergy is able to attract more search traffic, improve its website engagement metrics, and generate a record-breaking number of web appointments.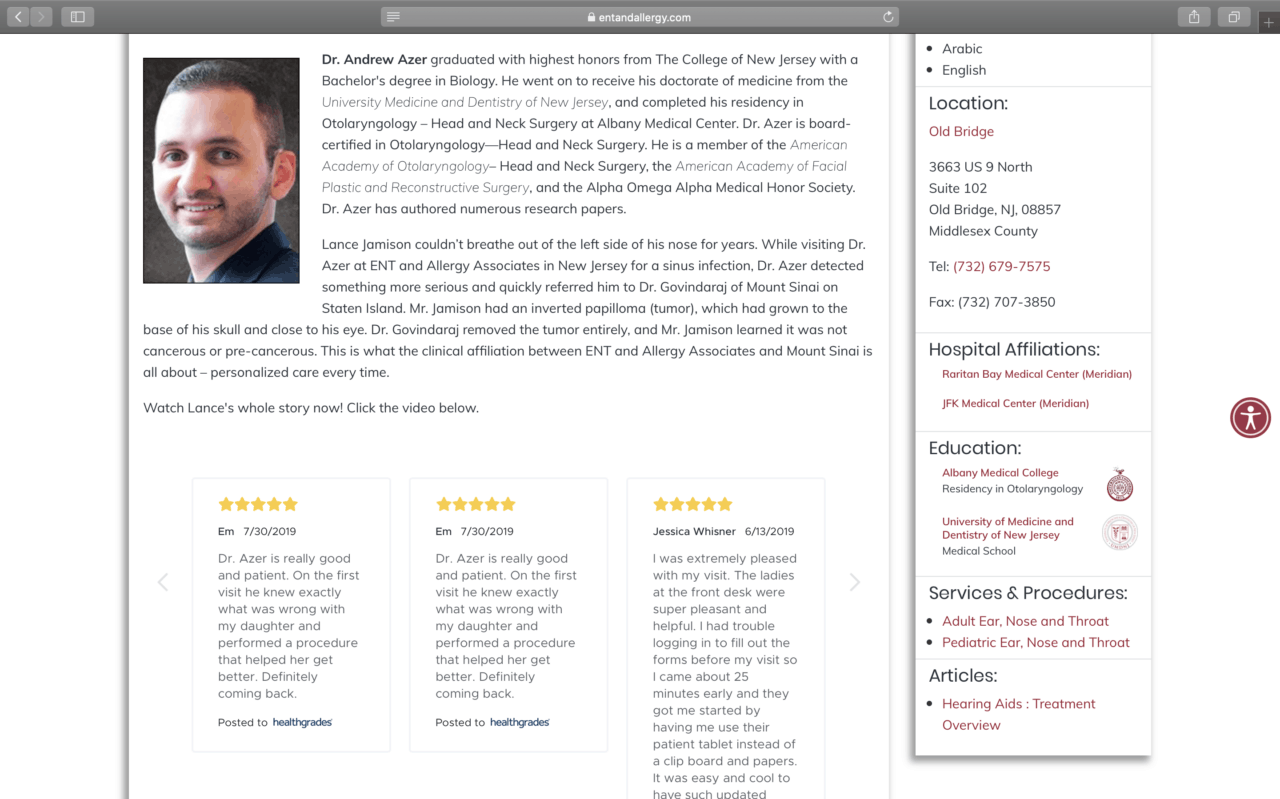 Not only do online reviews expand your business's reach; they also empower your customers, fans, and advocates to be the voice of your brand. You are able to connect with your audience in a more authentic, credible, and personalized way — fostering consumer trust and ultimately driving sales.
Reviews Improve Search Performance and Visibility
Online reviews can work in perfect harmony with your search engine optimization (SEO) efforts. According to a Google help article, "Google review count and score are factored into local search ranking. High-quality, positive reviews from your customers will improve your business's visibility and increase the likelihood that a potential customer will visit your location."
Proactively reaching out to customers and asking for reviews can dramatically improve your SEO performance. If you're able to collect first-party reviews, adding them to your website can be particularly impactful. This helps search engines detect the presence of fresh UGC on your website. Other SEO benefits of first-party online reviews include improved on-site content density, increased triggers for search engines, and improved ranking for long-tail searches. 

Reviews Contain Valuable Customer Feedback
Another one of the benefits of online reviews is that they help you learn what your customers love and care about. They're a great source of information for understanding not only what sells, but also what you can do to improve the customer experience.
If you're managing a small boutique hotel or an Airbnb space, you can read reviews to find out what guests enjoyed most about their stay. If you're running a restaurant, your reviews will tell you which menu items are performing well, and whether or not the discounted starters are something diners actually care about. 
The ReviewTrackers platform allows you easily gather insights from large volumes of data to understand customer feedback and implement changes more quickly.
How Businesses Should Handle Reviews
It's clear that online reviews have a direct impact on business performance. What's not always clear, especially for small business owners and fledgling companies, are the ways to effectively manage these reviews.
As customers share their experiences on online review sites, how do you join and positively shape the conversation? Here are some online review management best practices you can apply:
Actively Monitor Online Reviews
Monitoring online reviews is one of the best ways to achieve an accurate understanding of customers and their satisfaction levels. Reviews, after all, are a major platform for the Voice of the Customer. Monitoring allows your business to tap into this and collect actionable information about the customer experience.
Online review monitoring also helps provide ideas on how you can improve your reputation, engage with potential customers, and boost your online visibility. (Such as: is your limited review count on Google preventing your business from appearing in search results?)
If you don't have time to sit in front of a computer and manually track online reviews across multiple websites, you may look into investing in a review management software platform like ReviewTrackers to drive your efficiency.
Respond to Online Reviews
Oftentimes, how a business responds to reviews and customer feedback matters more than what's being said in the first place. According to the Online Reviews Stats report, 44% of consumers are more likely to visit a business if they see that the owner responds to reviews.
Be sure to thank your customers for taking the time to review your business. If it's a positive online review, write your response in a way that highlights the customer's positive experience.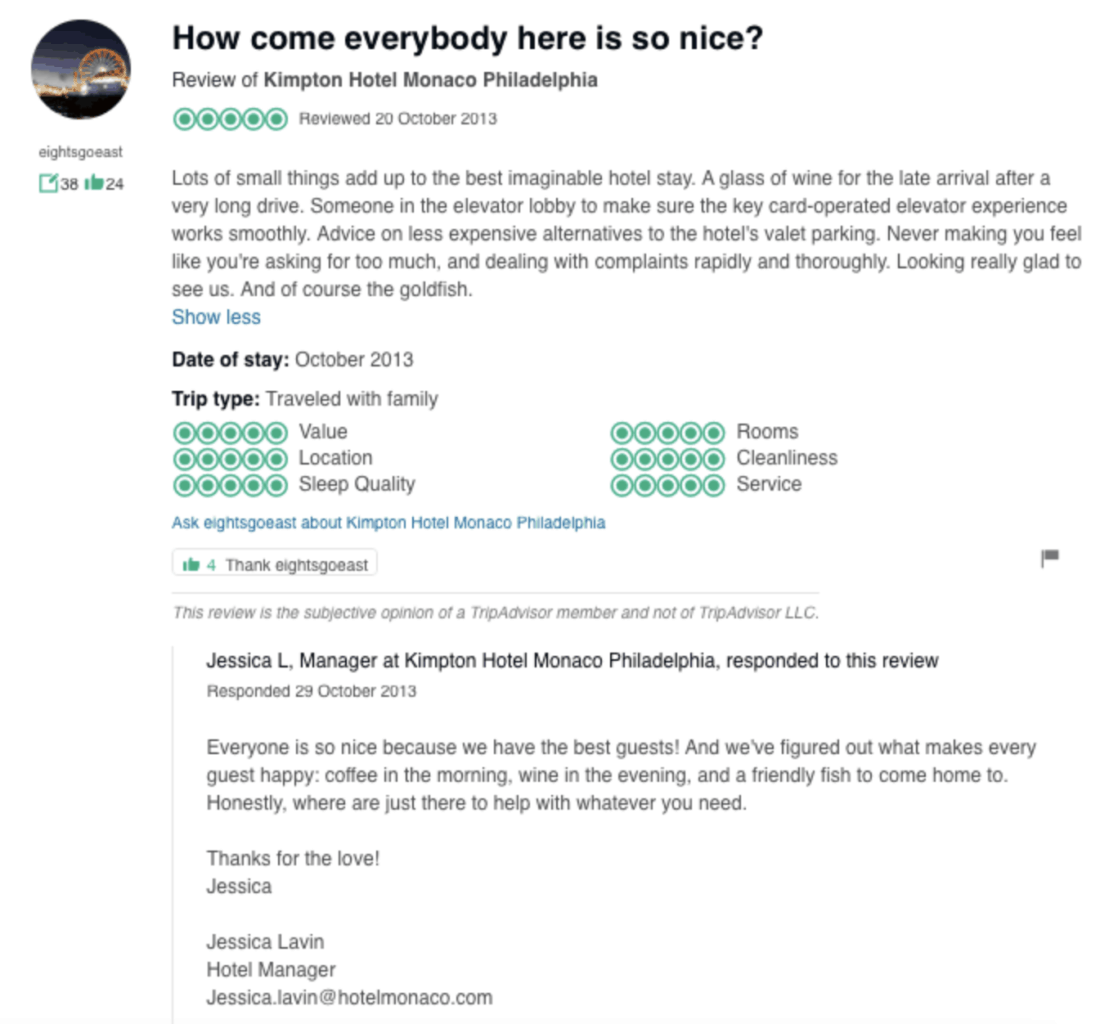 As for how to respond to negative reviews, it's important to show empathy and offer solutions that address the customer's issues. Speed is also crucial: the sooner you get back to the reviewer, the greater your chances are of improving the situation and protecting your business reputation.
Get More Online Reviews
Actively requesting customers for new reviews isn't just a way to drown out any noise from negative reviews. Given the SEO impact of online reviews, it's beneficial to have a steady stream of new reviews. 
Often, the best way to get more online reviews is simply to ask customers. You can do this via email or SMS. You can also set up a system in which customers get review reminders shortly after they complete a transaction.
Here are some useful resources for getting more reviews:
Whatever method you choose for getting more reviews, keep in mind that often the best way to do so is to consistently deliver excellent customer experiences. The 5-star reviews and testimonials may come even without the need for you to ask.
Final Thoughts
The growth and popularity of online reviews have created new opportunities for businesses to develop relationships with customers. While it's easy to be wary of digital spaces where customers can quickly become critics, you have to recognize that online reviews are generally good for business. They're a great source of learning and can help you deliver experiences that delight customers and keep them coming back for more.