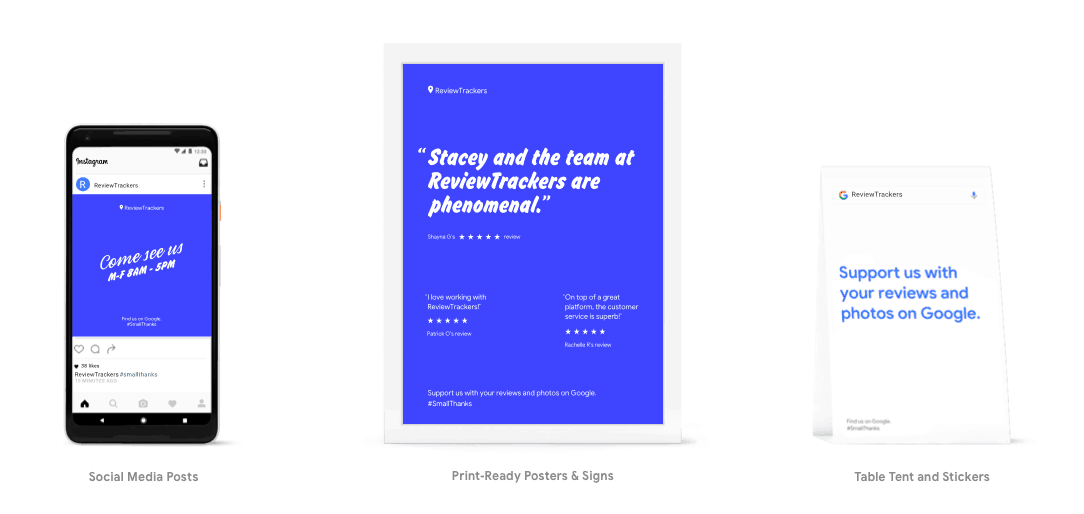 One of the best ways to attract new customers to your business location is to harness user-generated content and customer testimonials.
Not only does this kind of engagement with customers help drive brand awareness; it can also contribute to improved brand reputation and bring to the surface key insights essential to business improvement.
Online, you'll notice top brands adding, say, a Reviews or Testimonials section to their website, sharing 5-star praises from customers across their social media profiles, and even attaching links to their review profiles in email signatures.
They're also proactive in encouraging customer feedback, sending out review requests, and reaching out to customers via SMS, email, or customer satisfaction surveys.
Google Review Window Stickers and Posters
You can apply the same strategy offline and on-location with Google review window stickers or posters—thanks to a campaign from Google My Business.
Not unlike the "Find Us on Yelp" or "Recommended on TripAdvisor" stickers or plaques that you'll see posted on various business storefronts, the Google review stickers and posters are designed to help you build hype for your business, while making it easy for customers to share their experiences online.
The messaging in these materials centers around promoting your business using customer testimonials, or requesting customers to find your business on Google and share their photos and reviews on the site.
To get started, simply visit the Google My Business Marketing Kit website. If your business is already listed on Google, you'll be able to generate personalized marketing materials and turn your reviews and business information into ready-to-use social posts, stickers, posters, and more.
Here are some examples of materials you can use to promote your business using the GMB Marketing Kit:
How to Download Google Review Stickers, Posters, and More
On the Google My Business Marketing Kit website, you'll find a search box where you can enter your business name.
If it's already listed, you'll then be taken to a page with your personalized marketing kit — posters, window stickers, table tents, social media posts, and other creative assets — which you can then request for by mail or download for easy printing and sharing.
(If you aren't yet listed, get started by claiming your business listing on Google.)
There's even an automatically generated YouTube video that features recent business highlights with your customers.
You will be able to add some customization to your stickers and posters by choosing different styles, color themes, sign scripts, and content. The content is all based on Google reviews that your customers recently posted.
Why Download Google Review Stickers and Posters?
One of the most effective ways to improve your search ranking on Google — as well as build your business reputation online and attract more potential customers to your business locations — is to get more and better online reviews.
According to the search engine giant, reviews on Google as well as on other third-party review websites have a major impact on search rankings. Reviews lead to greater online "prominence" — one of the key factors influencing search rankings and results.
Independent research firms have also cited review signals (quantity, velocity, and diversity of reviews) as one of the top factors influencing how and where a business appears in search results.
Apart from the impact that they have on search engine performance, great reviews from your happiest customers also help create powerful social proof for boosting business reputation, inspiring consumer confidence, and driving sales.