Learning how to get Google reviews is vital to improving your brand's presence and visibility online and in search results. It's also a great way to leverage the popularity of Google as a platform for business discovery. Simply put: the search engine giant is dominating the online reviews market.
63% of consumers say they are likely to check Google reviews before visiting a business — more than other business review sites.
Google is also the number one site for online reviews, with a 58% share of all reviews.
By having plenty of positive reviews on your Google Business Profile (formerly called Google My Business), you can boost your local search performance and catch the attention of potential new customers. You can follow these great tips and tactics to get Google reviews quickly and effectively:
Harness the Power of Email

Use a Google Review Link

Respond to Google Reviews
Empower Your Employees

Meet Customer Expectations
5 Ways to Get Google Reviews
Asking for reviews doesn't have to be complicated. By learning how to get Google reviews, you can boost your online footprint, as well as capture the kind of feedback and review data that often leads to positive operational changes and improved customer experiences.
1. Harness the Power of Email
Do you collect customer email addresses at the point of sale or care? If so, then you'll quickly realize that email is one of the most effective tools for collecting customer feedback and reviews.  
ReviewTrackers has a built-in Ask Tool to help businesses easily (and automatically) request feedback and reviews via email. 
You can also integrate your Google review requests into your monthly newsletters. If you're sending a message to your customers, be sure to add a link to your Google Business Profile so that it will only take them a few clicks to share their experience.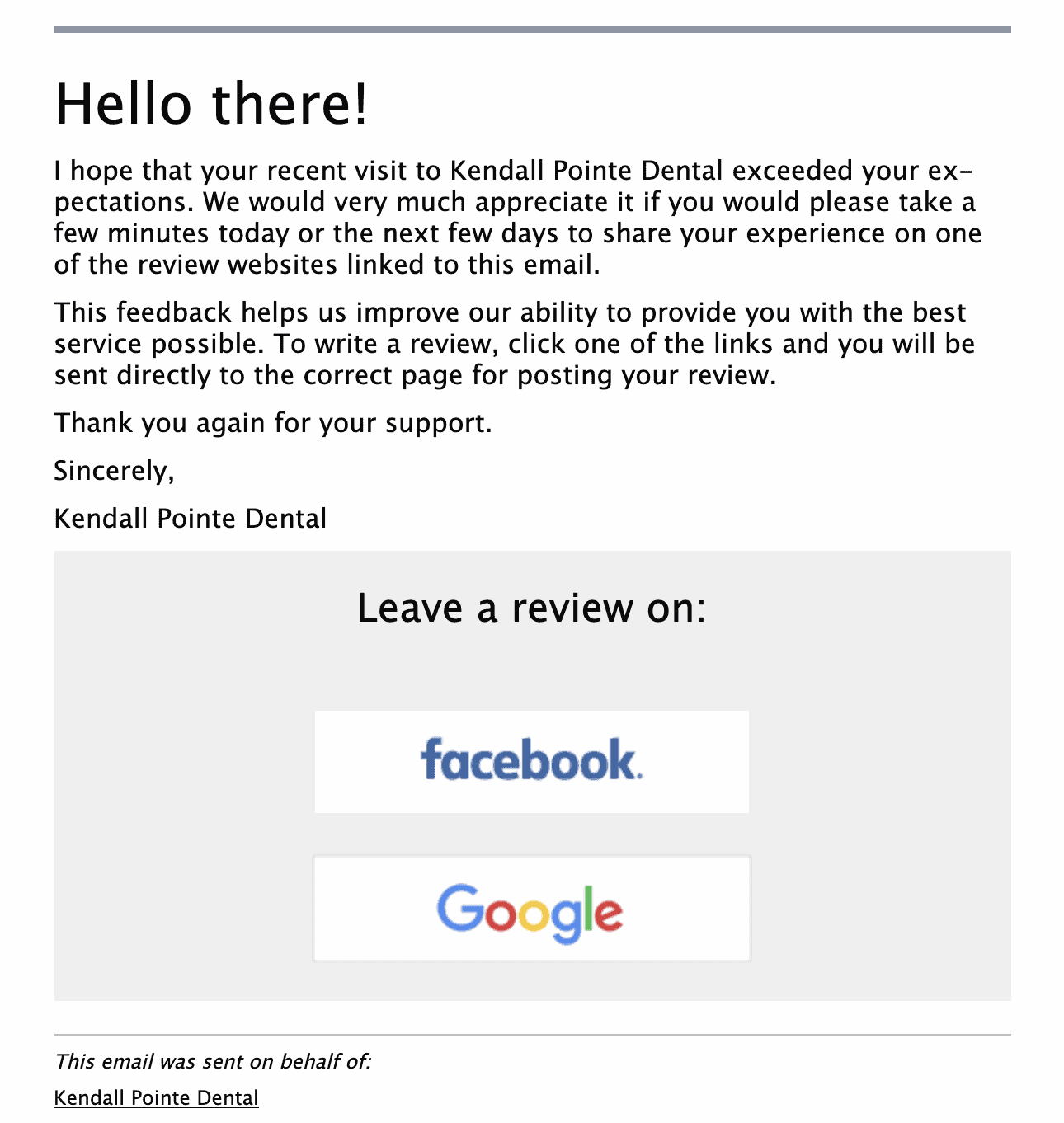 2. Use a Google Reviews Link
Remember that link in your review request email? You can add a special Google reviews link that goes directly to any of your Google listings. You can also use this link for more than just a few emails.
The link also works for your social media profiles, printed receipts, or handouts. Keeping the link short and sweet makes it easy for customers to type it on their computers or mobile devices and leave a review.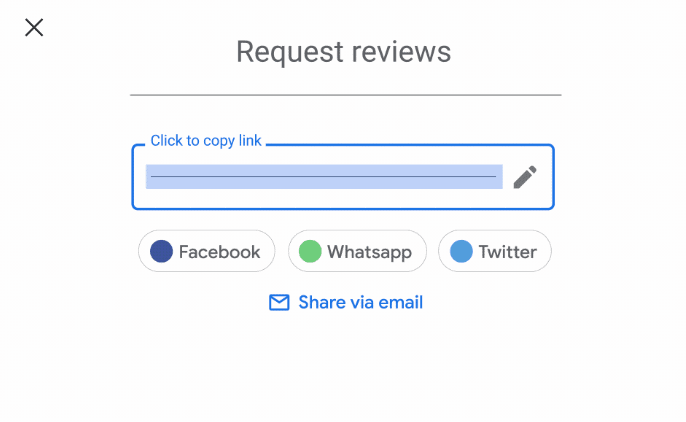 3. Respond to Google Reviews
Customers care about being responded to. In fact, according to ReviewTrackers research, 53% of customers expect a review response within 7 days. But as much as 63% say that they have never heard back from a business after leaving a review.
Your responses can immediately improve consumer perceptions of your business. On the other hand, not responding can increasingly be seen as actively ignoring unsolicited feedback. 
The impact of responding to reviews vs. not responding is even starker with the introduction of Google review response notifications. If your customers don't get notified, they will think that you have ignored their review — the review that your business worked hard to generate.
4. Empower Your Employees
Simply training your current and new employees to remember to request reviews towards the end of a customer's visit to your business can work wonders.
Remember to keep the pitch simple. "We're so glad you came in today. Would you mind reviewing our business on Google? Your feedback helps us know how we did today, and how we can deliver an even better experience for you next time." 
Or: "If you enjoyed your visit today… we love getting reviews on Google." Receptive customers will think about writing a review even if this is one of the few things you train your employees to say in post-transactional situations.
Another point: if you're hoping to encourage your team to request reviews from customers, consider "incentivizing" their efforts. You may incentivize based on overall rating scores, the number of review requests sent, the number of reviews generated, or a combination of all three. 
Offering incentives is a great way to build trust and reward employees' positive behavior. It also helps your business achieve higher adoption rates of the software or technology in which you may have invested.
5. Meet Customer Expectations
Perhaps the easiest, most effective, and most fundamental way to get Google reviews with 5-star ratings is to consistently deliver excellent levels of service and create "wow" moments with customers.
If, on the other hand, you have customers who are not satisfied or happy with their experience, and are therefore likely to post negative reviews instead of positive, then make a point to reach out to them and identify and address issues.
Why Try to Get Google Reviews?
Proactively requesting customers for reviews — on Google or on any other review site — has become a go-to marketing strategy for top brands and businesses.
According to research, businesses that proactively request reviews enjoy higher ratings (an average of 4.34 stars) than those that simply wait for unprompted reviews (3.89 stars).
Of course, not all reviews generated by your "asks" are going to be positive. But that's not necessarily a bad thing. Negative reviews can create structured opportunities for business improvement, while positive reviews can give you better guidance on what you are doing right.
Things to Remember When Requesting Google Reviews
Before your team actively works on trying to get Google reviews, consider these key points:
Claim Your Google Business Profile 
If you haven't yet signed your business up on Google, do so immediately. This should be at the top of your priority list when you're getting started with local listing management.
Without a Google Business Profile or Google My Business listing, you won't be able to manage your business information on Google Maps and Search or respond to the reviews that may come from your review requests. The popularity of Google as a review platform and one of the world's top business review sites makes a well-managed Google Business Profile a must for any brand's online reputation management strategy.
Avoid Review Gating
Google doesn't want businesses to discourage or prohibit negative reviews or selectively solicit positive reviews from customers.
Stay compliant with Google review gating guidelines while also being responsive to the ever-increasing demand for transparency and authenticity in reviews. Make it clear that customers can leave you a negative review if they feel the need to do so.
Use a Google Reviews Widget
You can embed or display your Google reviews on your brand website using a website review widget like Amplify. By specifically using a Google reviews widget on your website pages, you can increase conversion rates and engagement, decrease bounce rates, and even improve your own ad quality scores.
Create Your Own Google Reviews Widget with Google's API
Unfortunately, Google doesn't have a suite of review widgets ready to use. However, if you or someone on your team has some coding experience you can make your own custom widgets with the help of the publicly available Google API documentation.
This route allows you to create widgets that work well with your website in terms of branding and overall functionality.
Use ReviewTrackers' Amplify as a Google Reviews Widget
If you want a ready-to-use widget, the ReviewTrackers platform includes Amplify, which can syndicate reviews on your website.
The Google reviews widget can be set up in minutes — and, more importantly, requires no dev time to maintain. Once the widget is implemented you can hand-pick your own featured testimonials or display a live feed of fresh Google review content.
Don't Incentivize or Buy Reviews
If you want more feedback, don't buy Google reviews or get into the practice of creating incentivized reviews. Both methods violate the Google review policy, and government agencies and regulators like the FTC are cracking down on companies using these methods by handing out massive financial penalties.
If your current strategy isn't working, take time to research how the customer interacts with your brand to find the best methods and time to ask for the feedback you need.