Learning how to get Google reviews is vital to the success of any brand's customer acquisition strategy, largely because of the popularity of Google as a platform. Simply put: the search engine giant is dominating the online reviews market.
63% of consumers say they are likely to check reviews on Google before visiting a business — more than other business review sites.
Google is also the number one site for online reviews, with a 58% share of all reviews.
By having plenty of positive reviews on a Google My Business (GMB) listing, brands can boost their local search performance, which means more attention from new and repeat consumers alike. To effectively get Google reviews, you'll need to employ these 5 methods:
Use the Google My Business Marketing Kit

Create a Landing Page

Harness the Power of Email

Utilize a Google Review Link

Meet Customer Expectations
Watch the video below to see just how it easy it is to get Google reviews and why it's important to have a constant flow of customer feedback.
5 Ways to Get Google Reviews
Asking for reviews doesn't have to be complicated. These simple yet effective methods not only boost your online footprint; they can also lead to operational changes that improve the customer experience.
1. Use the Google My Business Marketing Kit
The Google My Business Marketing Kit website lets you create, download, and print personalized marketing materials that help convince customers to leave a review after they purchase.
Assets include social posts, stickers, and other pieces of collateral to promote your business online and offline. You can take it one step further and customize each asset to comply with your brand guidelines.
2. Create a Landing Page
If consumers are frequently visiting your website, it makes sense to create a dedicated landing page that encourages customers to leave feedback. Once the page is set up, you can have it displayed prominently for visitors to easily see.
To further encourage people to leave reviews, you can use tools like Amplify to show that others provided feedback about their experiences.
3. Harness the Power of Email
Never underestimate the effect of a well-timed and perfectly executed email. If you keep the message short, authentic, and personalized, and include a link to your GMB listing, you save customers time and make it easy for them to leave feedback.
Creating effective review request emails can be time-consuming, but using powerful software features like the Ask Tool can simplify the process.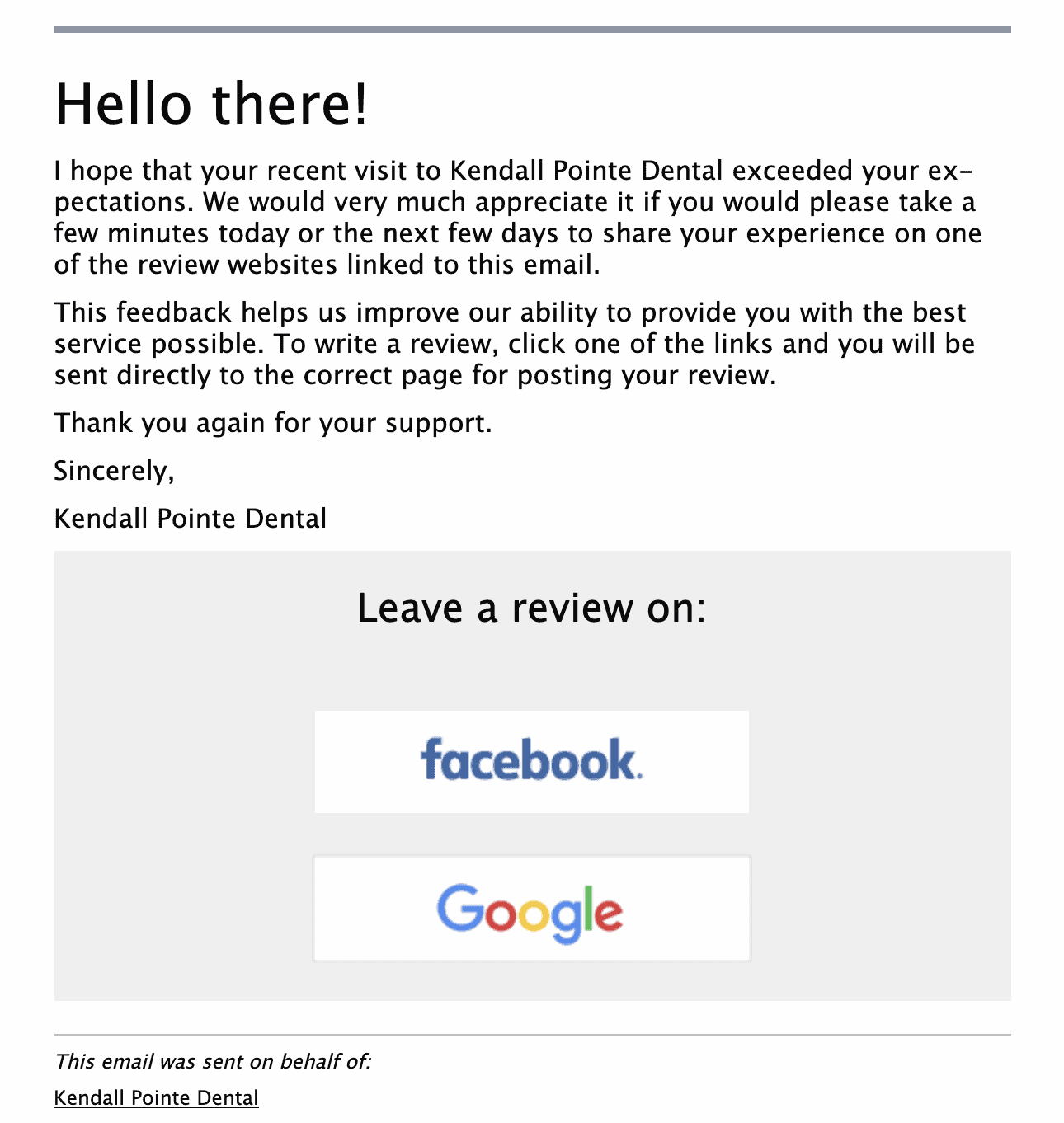 4. Utilize A Google Reviews Link
Remember that link in your review request email? You can add a special Google reviews link that goes directly to any of your Google listings, and you can also use this link for more than just a few emails.
The link also works for your social media profiles, printed receipts, or handouts. Keeping the link short and sweet makes it easy for customers to type it on their computers or mobile devices and leave a review.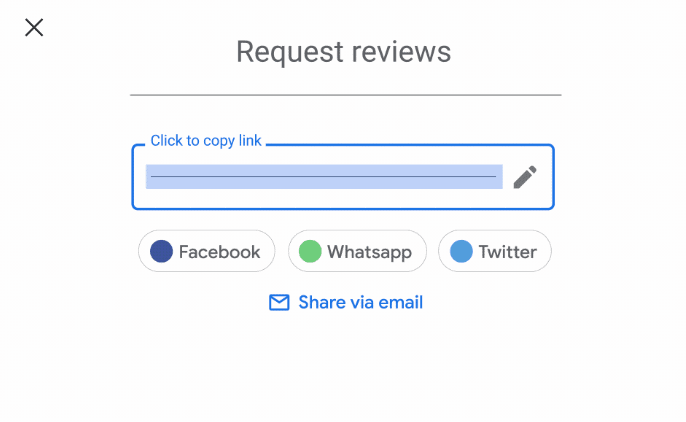 5. Meet Customer Expectations
Perhaps the easiest, most effective, and most fundamental way to get Google reviews with 5-star ratings is to consistently deliver excellent levels of service and create "wow" moments with customers.
New customers hear about the brand from other online reviews, social media comments, your own marketing efforts, or other pieces of social proof, and they're coming in with expectations based on all those sources of information. 
By ensuring that staff members meet the customer's expectations, you're making it easy for people to review your business locations in a positive light. This helps your customer acquisition efforts while also supporting your customer retention strategy.
Things to Remember When Requesting Google Reviews
Before your brand begins a strategy to get Google reviews, consider some key points in the setup phase. Taking time to create a solid online presence ensures that people easily find you online and leave a review. 
Claim Your Google My Business Profile 
If you haven't yet signed your business up on Google, do so immediately. This should be at the top of your priority list when you're getting started with local listing management.
Without a Google My Business (GMB) listing, you won't be able to manage your business information on Google Maps and Search, or respond to the reviews that may come from your review requests. The dominating popularity of Google as a review platform and one of the world's top business review sites makes any GMB listing a vital cog in any brand's online reputation management strategy.
Avoid Review Gating
Google doesn't want businesses to discourage or prohibit negative reviews or selectively solicit positive reviews from customers.
Stay compliant with Google review gating guidelines while also being responsive to the ever-increasing demand for transparency and authenticity in reviews. Make it clear that customers can leave you a negative review if they feel the need to do so.
Respond to Google Reviews
Customer reviews data shows 53% of customers expect a review response within 7 days, but as much as 63% say that they have never even heard back from a business after leaving a review.
Your responses can immediately improve consumer perception of your business, and taking the time to learn how to respond to negative reviews helps repair and improve the online reputation of your brand.
Use a Google Reviews Widget
Integrating a Google reviews widget into your website can be key to the success of your brand online. By specifically using a Google reviews widget on your landing pages, you can increase conversion rates and engagement, decrease bounce rates, and even improve your own ad quality scores.
Create Your Own Google Reviews Widget with Google's API
Unfortunately, Google doesn't have a suite of review widgets ready to use. However, if you or someone on your team has some coding experience you can make your own custom widgets with the help of the publicly available Google API documentation.
This route allows you to create widgets that work well with your website in terms of branding and overall functionality.
Use ReviewTrackers' Amplify as a Google Reviews Widget
If you want a ready-to-use widget, the ReviewTrackers platform includes Amplify, which can syndicate reviews on your website.
The Google reviews widget can be set up in minutes — and, more importantly, requires no dev time to maintain. Once the widget is implemented you can hand-pick your own featured testimonials or display a live feed of fresh Google review content.
Don't Incentivize or Buy Reviews
If you want more feedback, don't buy Google reviews or get into the practice of creating incentivized reviews. Both methods violate the Google review policy, and government agencies and regulators like the FTC are cracking down on companies using these methods by handing out massive financial penalties.
If your current strategy isn't working, take time to research how the customer interacts with your brand after purchase to find the best methods and time to ask for the feedback you need.
Final Thoughts
Learning how to get Google reviews isn't difficult, but getting the results you want out of the online review management methods above takes time.
As long as you keep up with your strategy, and more importantly, take customer feedback seriously and use it to improve your operations, your Google reviews can catch the eyes of more customers. These customers, in turn, can then add to the valuable social proof you need for your brand to stand out among the competition.