The Ask Tool from ReviewTrackers allows you to generate new reviews through email campaigns, SMS, on-site kiosks, and customizable landing pages, giving your brand higher star ratings and a bigger presence on local search.
If you want something, ask for it, right? The same holds true with reviews.
Left on their own, review sites tend to collect reviews from consumers who have had negative experiences. ReviewTrackers' platform allows you to reach out to your brand promoters so you can get more 5-star responses and improve your presence on review sites. In fact, asking for reviews yields higher star ratings (4.3 stars) than unprompted reviews (3.9 stars).
The most powerful customer feedback tool
The Ask Tool is about more than review generation. Asks can be paired with customer surveys to collect actionable quantitative data. Respondents can be routed to review sites where they can leave a review. Synthesize all your feedback — internal and external — with the ReviewTrackers dashboard.
The smartest way to generate new reviews
Use the Smart Suggest feature to identify the review sites where you can benefit from getting more reviews. When you deliver experiences that customers love, they won't hesitate to vouch for you. All you have to do is Ask with ReviewTrackers.
Asking for reviews yields higher star ratings (4.3 stars) than unprompted reviews (3.9 stars).
Say hello to your brand advocates
Take the guesswork out of your strategy.
The Ask Tool generates and analyzes data in order to accurately find your most loyal customers. Get to know them up close and learn about their experiences using built-in survey tools, SMS and email campaign performance metrics, and sentiment analysis features. And with Smart Suggest, you'll discover all the websites where you can benefit from getting more reviews, so you can direct your advocates to sharing their positive experiences there.
Improve your SEO performance and online reputation
Why ask customers? Fresh, positive reviews can dramatically improve your search engine performance, essential to attracting more customers and increasing conversion. Reviews from review requests also produce higher ratings (average of 4.34 stars) than unprompted reviews (3.89 stars). These high ratings showcase your business and create powerful social proof for inspiring shopper confidence.
Connect at the point of sale and care
With Kiosk Mode, you can request reviews in-person to improve the quality of customer feedback you're able to collect. During checkout or towards the end of a customer's visit, hand over your Kiosk Mode device to the customer — and let the Ask Tool do the rest. It's the best way to capture actionable insights just moments after the crucial sales or care experience.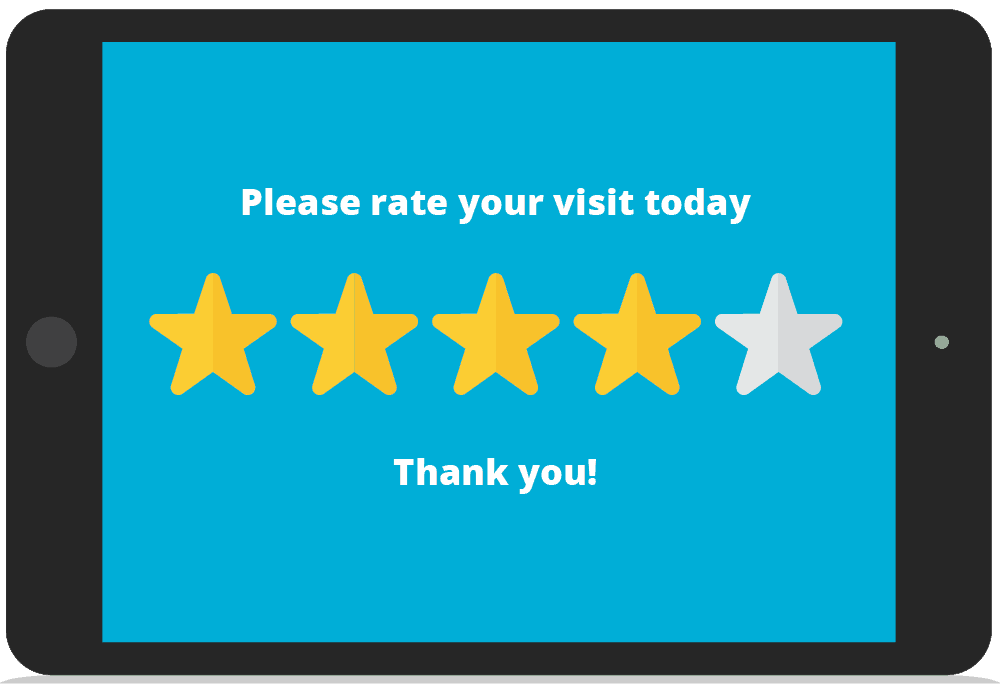 Give voice to the Voice of the Customer
The Ask Tool includes intelligent workflow features designed to make customer feedback management a breeze. Create your own email and SMS campaigns — and even design beautiful (and responsive) feedback landing pages. Looking to optimize results that you need? Automate the follow-up with scheduled reminders and drip campaigns. Don't worry: over-solicitation prevention technology helps you keep your email list clean.
How Concourse Sports Increased Reviews by 2,800 Percent in Two Months