Using a website review widget to display online reviews on your website is a great way to convert your website visitors into customers. 
That's because reviews are a form of social proof that inspires shopper confidence. Using a review widget for your website also helps your brand stand out from the competition, while potentially improving your search performance and visibility in search engines.
To get a better idea of the importance of showing off customer reviews and where to put them for best results, check out the video below.
What is a Review Widget?
A website review widget is a component or independent application added to your website that's designed specifically to display reviews from other sources (Google, Yelp, etc.). The main objective of utilizing website review widgets is to build consumer trust, drive conversions, and improve search engine optimization (SEO) performance.
If your team is wondering, "How do I embed a review on my website?" usually the best way is to syndicate reviews through the use of a customer review widget. 
Here's an example of what a review widget looks like:
"Why Use a Customer Review Widget for My Website?"
You may already have plenty of positive feedback on business review sites like Google, Facebook, Tripadvisor, and Yelp. Showcasing these reviews on your website should help influence your audience's purchase decisions.
According to

online reviews statistics

, 94% of consumers rely on online reviews when deciding on a purchase, but they don't trust companies with lower than 4-star ratings.

According to

local SEO statistics

, 53% of searchers typically visit a business within 48 hours of performing a local search. 

Consumers look for specific trust signals in local searches. The top 3 factors that influence their decision to choose a business are: photos, reviews, and position on the search engine results page (SERP).
Simply put: consumers are more likely to trust content created by fellow consumers than promotional brand content. Sharing reviews on your website also means you get to publicly show appreciation for customers who supported your company with their reviews. 
How to Use Website Review Widgets
You may think that you can do without a widget and simply copy and paste customer reviews onto your website. But this takes a lot of manual work, and you'll have to update your website pages every time you want to display a newly published review or rating.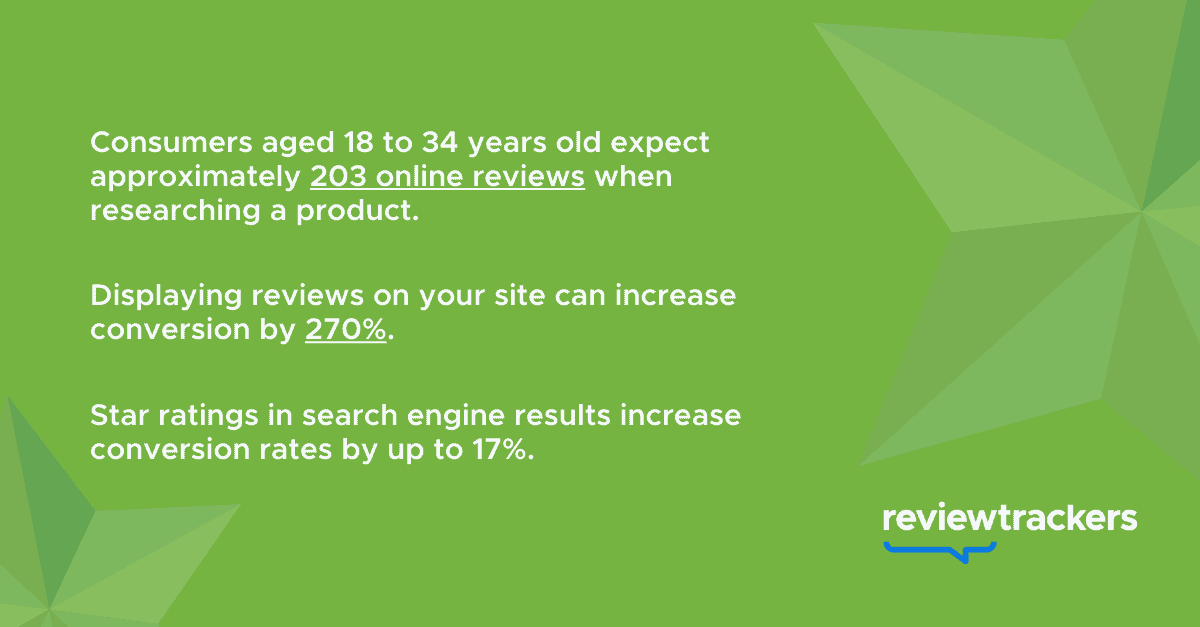 Create or Choose Your Review Widget
If you want a free review widget for your website, you can simply create one. This option is common for teams with their own designers and website developers. 
Alternatively, if your brand website is powered by WordPress, you may opt for the many free and paid review plugins available on the WordPress platform. Other non-WordPress content management systems (CMS) like Squarespace and HubSpot also usually have their own dedicated review plugins. 
Use Amplify by ReviewTrackers
Amplify is the review widget suite from reputation and review management software ReviewTrackers. 
Each widget displays all or a curated set of customer reviews on your website. Amplify is easy to use, can be set up in minutes, only involves copying and pasting a simple code on your website, and requires no dev time to maintain.
With Amplify, you can hand-pick your own featured reviews or display a dynamic feed of fresh review content from your review website profiles. Here are the different types of website review widgets available on Amplify:
Testimonial carousel:

You can place this free review widget anywhere on your website to highlight up to 15 featured reviews. 

Location review feed:

Managing a business with multiple locations? This widget displays reviews of specific locations: perfect for websites with individual store and business location pages. 

Star snapshot:

This review widget displays your average rating (based on a 5-point scale) on your selected review sources.
Display Reviews from Google
Google reviews are important for one reason: your customers look for and trust these reviews. According to online reviews statistics:
Google is the number one website for online reviews. 63.6% of consumers say they are likely to check reviews on Google (through Google Maps and Search) before visiting a business location — more than any other review site.
Google reviews also have a direct impact on where and how prominently companies and brands appear in search engine results. So be sure to include reviews from your Google My Business listing or Google Business Profile when implementing a review widget for your website. 
Is There a Google Review Widget?
Unfortunately, Google doesn't have its own set of review widgets ready to use. However, if you have a developer on your team, you can make your own custom widgets with the help of the publicly available Google API documentation. 
Alternatively, you can also use Amplify to display Google reviews on your website. 
Related reading: Embed Facebook Reviews and Recommendations with a Facebook Review Widget
Provide Extra Social Proof with Testimonials
You can also expand on your review widget efforts by using your best reviews as testimonials. Once you identify a few customers who are happy with their experiences, you can reach out to see if they are willing to be featured in a testimonial or case study. 
When creating a testimonials page, make sure you choose reviews or testimonials that highlight the benefits of your product or service, instead of the ones that offer heaps of praise but no useful information.
At ReviewTrackers, we have an entire section dedicated to customer success stories, where we share both testimonials and case studies. Having a section like this on your website, where it's visible in your main site navigation, is a powerful way to provide additional social proof for visitors.
Final Thoughts
Marketers today should have access to a number of options when it comes to using website review widgets. Regardless of which widgets you choose or create, the number 1 key to success is to own the process. Embrace what your customers have to say and take advantage of all the benefits that having website reviews can bring. This may just be your key to turning searchers into visitors, visitors into customers, and customers into loyal fans.