Online reputation management is the use of multiple strategies to influence and improve the online perception of your brand.
This generally involves managing your business information across search engine results and online listings, monitoring what's being said about your company, and encouraging customers and fans to champion your brand online. In this guide, we'll go over how to get your reputation management strategy up and running.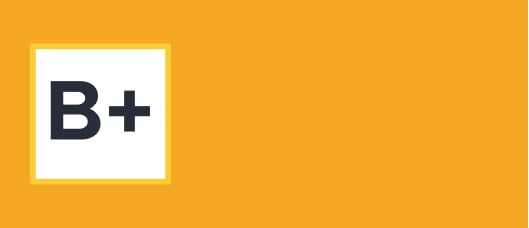 Find out your brand's online reputation score
Take the guesswork out of your strategy. Instantly generate your brand's online Reputation Scorecard, complete with review highlights, ratings, keyword trends and more.
Why is Reputation Management Important?
Reputation management is an important solution for fixing issues with how people perceive your company or brand. For example, you may be experiencing any of the following issues:
An overall low star rating, or a wave of negative reviews.

An overwhelming number of negative reviews are enough to convince customers to avoid a company, which can result in lower revenue. A low overall rating also means that you are easily passed on in favor of the competition.

Low conversion rate.

Taking a hit on one of the most important metrics for any brand means that you miss out on new customers and additional exposure. 

Negative customer sentiment and public perception.

Consistently seeing negative adjectives such as "bad," "terrible," or "disgusting" in

customer reviews

, social media comments and mentions, and

unsolicited feedback

can paint your brand in a poor light to stakeholders and prospects alike.
These issues often point to a need for a serious change in your online reputation.
Reputation Management Strategies
There isn't one definitive reputation management strategy. You'll usually have to implement multiple tactics to be able to effectively manage your brand reputation. 
Several of these tactics will be centered on online reviews, simply because today's consumers heavily depend on reviews to evaluate a brand or business. In fact, according to online reviews statistics, 94% of consumers say they will avoid a company because of negative reviews. 
Respond to and Engage with Reviews
Customers aren't writing their reviews into the void. They want their feedback and opinions to be heard. 
Make sure your team responds to and engages with online reviews. Doing so tells customers that you care about your online reputation, and that you'll use the feedback to improve your company's customer service and experience. 
Knowing how to respond to negative reviews can immediately help your brand reputation. According to online reviews statistics, 45% of consumers are more likely to visit a business if they see a company respond to reviews.
Be sure your team responds in a timely manner. According to customer reviews research, 53% of customers expect a response within a week. Response within 24 hours can yield even better results, helping you increase the likelihood of a customer returning to your business locations.
Generate More Reviews
Managing your online reputation also means having the ability to generate a constant stream of reviews. 
By doing so, you show potential customers that people are frequently visiting your location and that you are engaging with them on a regular basis. 
Asking for reviews is a great skill for business owners and marketers to learn. 
If you're doing it in person, you can ask for reviews through your point of sale system, physical handouts, or just by verbally asking for a review. Most of these methods provide near-immediate feedback on your business's performance, but more importantly, these in-person approaches drive the idea that you really care about each person's feedback.
Your team can also deploy reputation management software that features the ability to send review requests through SMS or email campaigns, or through custom landing pages on your brand website. The benefit of these post-purchase methods is that it lets customers leave feedback when it's convenient for them, and not necessarily during checkout.
Before you go ahead and employ multiple review generation tactics, be aware that these methods can all be simplified with automation. There are multiple solutions available that make it easy for you to write a review request template and automatically send it to customers or create an appealing message for your in-store kiosk that convinces visitors to leave their feedback.
Flag and Dispute Inaccurate Reviews
Online review management also requires looking out for any inaccurate or fake reviews that can negatively affect your brand reputation.
Most business review sites — including the Big Four: Google, Facebook, Yelp, and Tripadvisor — have some form of reporting feature that allows businesses to flag reviews if you find that they are in violation of the site's guidelines.
Flagging reviews is the preferred method as opposed to directly deleting the review. However, if you're looking for a quicker solution, we recommend:
Resolving the customer issue yourself. Responses to negative reviews should be approached carefully. Be as specific as you can about the customer's experience and communicate any changes or improvements you have made as a result of their feedback. Avoid delays in responding. The sooner you can get back to your customer, the greater your chances of improving the situation.
Make sure that you get their contact information during this time and try to take the conversation offline to prevent a potential public escalation in the argument. If and when you manage to resolve the customer's issue, you can then ask them to submit a new review or update their current review to accurately depict what happened after you resolved their issue.
Set Up Local Listings and Social Listening
Managing online reviews is just one of the ways you can actively manage your digital footprint and brand reputation. Here are other tactics that are often considered essential to building a 5-star brand online. 
Step 1. Claim Your Local Listings
Local listing management is a crucial tactic in today's landscape. This means claiming your local listings across top business directories and online review sites. Not only does this improve your brand's foothold; it also makes it easier for your team to see what people are saying about your brand.
Multiple online listings also allow both potential and existing customers to find your business information online, and to share their feedback and reviews on sites where they already have an account or are comfortable using on a regular basis.
Step 2. Set Up Social Listening
Another form of engagement with consumers outside of reviews is through social media. Millions of people use Twitter, Facebook, and Instagram on a daily basis, and they are all worthwhile places where you can engage with current customers while also capturing new ones.
Using paid or free social listening tools like Talkwalker, Google Alerts, Hootsuite, and others, you can set up alerts that let you see when and where people are talking about your brand.
Read more about why social listening is important for your company. 
Step 3. Set Up Review Monitoring
We've already discussed the short lifespan of reviews and how important it is for your reputation to respond to them in a timely manner. You'll need to have an effect review monitoring strategy in place to make sure you see new reviews as they come in.
This can be challenging for big brands. Google My Business, for instance, limits alerts after a business has 100 locations. The bigger your organization is, the harder it is to track dozens of review sites for hundreds of locations. That's the challenge of reputation management when it comes to reviews.
A successful review monitoring plan will have:
Dedicated team member(s).

Alerts for all major review sites.

Defined roles for who responds to reviews and what type of approval they need, if any.

Brand-approved response templates.
Claiming listings, responding to reviews, and tracking new feedback across multiple review sites is no easy task, especially when you're also curating content for social media and your website. Your team may need to consider using reputation management software solutions like ReviewTrackers, making your efforts easier with frequent reports, review alerts, and multi-platform support.
NLP and its Application on Reputation Management
Applying natural language processing methodologies and technology (NLP) on reviews posted by customers online can be a key way for your organization to take action on customer feedback and deliver better customer experiences.
Applying NLP on reviews allows companies to crystalize information from unstructured data into insights, helping teams achieve a more accurate, complete, and unified view of the customer. 
Companies that receive a lot of feedback — retail brands, for example, or enterprise-level organizations with multiple locations — can gain a significant advantage over competitors by implementing an NLP program and analyzing information shared directly by customers.
Easy-to-digest insights. Unlock the potential of that 80% and gain value from the analysis of unstructured review and feedback data. Then take action based on what you learn. 
Sentiment analysis. Pin down sentiment data, emotion, feelings. And see — more clearly than ever — what customers like and dislike about your brand.
High-impact trends and patterns. Capture the Voice of the Customer and discover the trends and patterns that define their experience. Simply put: using NLP on reviews helps your entire team — from the C-suite to the frontline — find meaning in online reviews and customer feedback. 
With natural language processing, you can "mine" unstructured data from customer feedback and make sense of it. ReviewTrackers' Customer Experience Analytics dashboard, for example, is powered by a proprietary NLP engine, which identifies trends and sentiment across feedback and reviews. Automatic categorization organizes large amounts of feedback from your customers and helps brands build proactive strategies to meet and exceed customer expectations.
Restaurant chain Hwy 55 Burgers, Shakes, and Fries sets a great example of how the application of NLP can support a company's reputation management efforts. The company initially thought its waitstaff was performing well when it came to welcoming guests when they entered the restaurant. However, sentiment analysis discovered that the word "waitress" was used in plenty of negative reviews. This alerted the company to the fact that its waitstaff was actually performing below expectations, with waitstaff taking longer than usual to greet customers after they sat down.
Hwy 55 was able to retrain staff and set up a process to make sure customers were being greeted in a timely manner. Without sentiment analysis and NLP, Hwy 55 wouldn't have been able to spot trends that were scattered in text-based data (reviews). However, with the right tool, the company was able to act quickly, improve its customer service, and protect its brand reputation.
Measuring the ROI of Reputation Management
With multiple tactics in place, you'll need a way to accurately measure your reputation metrics. Proper reputation measurement allows you to immediately gain valuable insights into actionable items and areas of improvement in your strategy.
Star Rating
The most obvious online reputation metric is your star rating. That is actually how your consumers search for, filter, and decide between brands.
According to online reviews statistics, 70% of consumers use rating filters when looking to discover great local businesses. Furthermore, 35% of that group are only looking at businesses with four-star ratings or higher.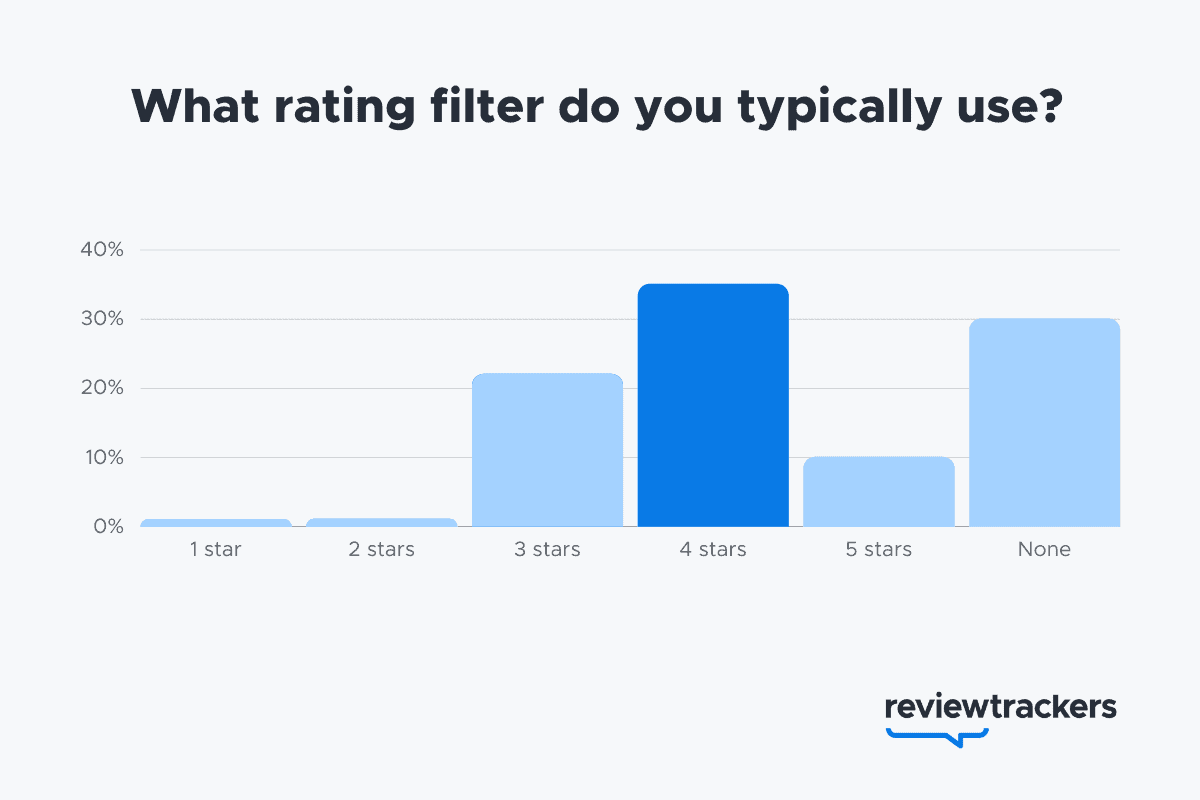 Social Mentions
We previously mentioned the importance of driving your brand's engagement on social media. This is another crucial reputation metric that you can monitor closely. 
Use a social listening dashboard to not only track the amount of mentions you have, but also to see the full spectrum of social media conversation around your brand, and to understand the context of this conversation.  
Social media comments and mentions also help you recognize the best platform for your audience. Most brands have a presence on Facebook, Twitter, and Instagram. By looking at mentions, you can see which channel works best for your brand, and learn where you can boost your social media marketing and engagement efforts to attract more customers and improve your online reputation.
NPS Score
For a more analytical look at your reputation, you can calculate your brand's Net Promoter Score (NPS). Specifically, the NPS survey is useful for gauging the loyalty of a customer to a business.
Based on global NPS standards, any score above 0 is good, because this means you have more NPS promoters than detractors; however, a score below 30 means there is plenty of room for progress. A score of 50 and above is excellent and anything above 70 is world-class. 
The best way to know where your business stands is to look at other businesses in your industry. You can download this Satmetric report to find out which companies have the highest NPS in their industry this year.
Local Search Rank
Local search rank has quickly become one of the most important reputation metrics today. Your local search rank determines where you appear in local search results whenever consumers search for a business or place near their location.
For example, users will find local results if they search for "Vietnamese restaurant" from their phones. Your local search rank is where your business appears in the list of search results that Google displays when it tries to show the kind of nearby restaurant that the user would like to visit.
Local SEO software solutions will typically include a local search rank checker to help you keep an eye on this reputation metric. By knowing exactly where your company or brand ranks online, you can fuel your online reputation management strategy and find or create opportunities to claim local traffic.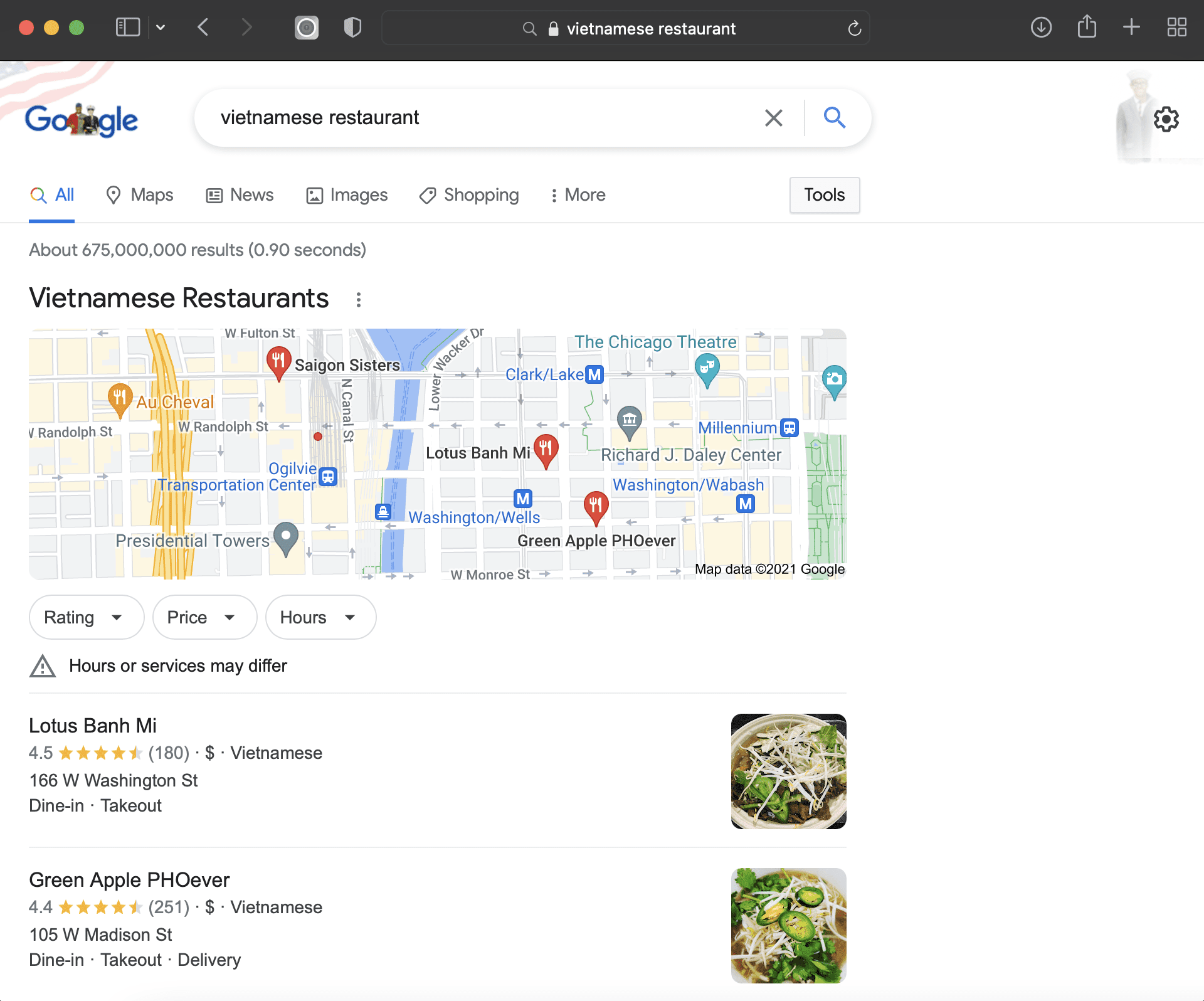 Reputation Management Tips and Examples by Industry
There are different audiences for each industry, which means that some online reputation management strategies might be more effective in one sector than others. It usually takes time to find which methods work best for your industry, but we took the guesswork out of that with our own research.
Restaurant Reputation Management
The key to online reputation management for restaurants is visibility.
This starts by claiming listings on popular restaurant review sites like Yelp, OpenTable, Google, and Facebook. Not only does this give you a solid foothold in terms of online presence, but it even gives you an advantage on the competition. Research revealed that only 46% of its partners claimed their listings on Yelp, which attracted over 100 million unique visitors in Q3 2018.
That's plenty of eyes that could be looking at your restaurant. To keep them hooked on your restaurant, make sure that you continue to accrue reviews and respond because over 55% of consumers view online reviews as influential when it comes to choosing a new restaurant. The right review along with your response can mean the difference between a massive party of patrons or an empty service on Friday night.
You can even boost your online reputation outside of review sites, specifically on social media. Use it to show off review, deals, special events, and behind-the-scenes content. But don't forget to also engage with customers.
Constant engagement, even if it's about the simplest question can be a deciding factor for a customer. If they mention you on social media as part of a positive review make sure you direct them to your listings so that their feedback influences the purchase decisions of future customers.
Healthcare Reputation Management
Survey data revealed that 80.3% of providers know of the importance of a strong online reputation, but many miss the first steps for effective reputation management for doctors.
A basic outline for healthcare reputation management involves improving the overall patient experience and driving an increase in patient engagement.
Doctors and hospitals alike can use HCAHPS or custom patient satisfaction surveys to gauge the current level of patient satisfaction and use it to improve various parts of their daily operation.
Doing so creates loyal patients, and a 10% increase of loyal patrons means that a hospital can see an increased revenue of $22 million.
Review responses are also especially important for providers, but they will need to adhere to HIPAA guidelines when responding to avoid legal and financial penalties. Fortunately, we have a guide that should help you create a caring and professional response that fits well within HIPAA rules.
Financial Services Reputation Management
Reputation risk management for any financial institution can be the difference between a successful business and one that doesn't serve its customers well.
In fact, the idea of damage to the overall brand and reputation to any financial business is a top concern according to a 2017 global risk management survey. Fortunately, there are a few ways to safeguard a financial institution's reputation.
You can and should leverage online customer feedback as a way to improve not only operations, but the customer experience as well.
People trust your business with their finances and you need to provide a service and experience that is worthy of their patronage. Anything less means that you'll lose customers faster than you can acquire them, and it costs over $300 to get new customers through the door.
This also means that you need to engage with customers in person, on reviews, and through social media. People need to see the business as more than just a place where they put their money so that it's the first thing on their mind when they have financial issues or questions.
None of these initiatives are possible without a foundation of trust. That can be through a strong and secure system to prevent data breaches, philanthropic events, or eco-friendly processes.
These all show that each customer is not just a number but rather an integral part of your financial institution's success, and that you're keeping their interests and concerns in mind even while they do business with you.
Dentists Reputation Management
Dental reputation management is the key to bringing in more patients. In fact, survey data reveals that 87% of U.S. respondents view reviews as a trusted recommendation source for dentists.
The first steps to getting a healthy dental reputation management is to distribute patient surveys, which can show any crucial issues in your dental operation. With those changes made, you can then start asking patients to write reviews about the practice on multiple review sites (where you claimed your listing) or even on your own website.
Make sure that you respond to these reviews as well, but be mindful of HIPAA guidelines when creating a response. If you're unsure about how to respond, you can check out our list of sample responses. You can also try and take the conversation offline by providing an email address or phone number where patients can leave more valuable and detailed feedback.  
Automotive Reputation Management
Reputation management for car dealers is vital to their success because an overwhelming 95% of those buying a car will use digital channels as their main source of information. With a notable online presence, you can have a strong auto dealer reputation management strategy that can convert online prospects into actual customers.
If your dealership website already has significant user traffic you can use it to your advantage, specifically in the form of video content. Google research shows that 40% of shoppers who watch video content about cars or trucks end up visiting a dealership afterwards. Just make sure that the video you produce is appealing and compelling enough to convince customers to make that purchase as soon as possible.
Reviews are also important to dealerships because they heavily influence 65% of consumers, which makes it the third-most influential industry for reviews. Encourage customers during and after the sale to leave a review on one of your many claimed online listings, and continue to stay engaged with them by responding with their review.
Hotel Reputation Management
The percentage of consumers who would leave a review after a positive experience at a hotel is now over 40%. That makes hotels the second-most likely business where customers will leave a positive review after their stay. This recent jump in the likelihood of leaving a positive review is because hotels are taking charge of their online reputation.
One of the most important hotel reputation management tools is Tripadvisor, specifically the photos displayed on your listing. Research data shows that hotels with at least one photo on their Tripadvisor page will get 225% more booking inquiries than a listing no photos at all. That number goes up to 238% for listings with more than 100 photos.
Once a guest books their stay, make sure that your staff and managers are engaging with them in a friendly and professional manner during their visit. An unforgettable experience and excellent staff service are key drivers for customer reviews.
When those reviews pour in, make sure that you do spend enough time writing a high-quality response because it helps you out in the long run. A Tripadvisor study revealed that a hotel responding to at least one review saw a 17% boost in customer engagement, and that engagement level only goes higher if hotel management responds to more reviews.
More importantly, review responses also contribute to your overall rating. The same study found that hotels with a 5 to 40% response rate had an average rating of 4.0 out of 5, and those with a 65% response rate or higher had an average 4.15 out of 5 rating. On the other hand, hotels that didn't respond at all had a lower average rating of 3.8 out of 5.
Employer / Employee Reputation Management
Job seekers are using sites like Glassdoor to gauge a company's reputation. Specifically, Glassdoor shows that 84% percent of job seekers place high importance on the company's employer reputation. That's on top of the 83% of people who are likely to check out employee reviews and ratings when looking for a new job.
But you shouldn't just rely on employee reviews alone to get candidates. Effective employer reputation management requires you to be actively pushing the employer brand. This means listening to feedback from current employees on how to improve conditions in the office to being active on the company's social media channels.
You shouldn't just answer questions but also extend your network and find the perfect candidates for open positions. Doing so not only increases the likelihood of applications to 94%, but it also leads to a 28% increase in retention and a 50% decrease in the cost per hire.
Social Media Reputation Management
Social media reputation management is easier said than done. Manually monitoring multiple channels and platforms, answering questions, and responding to feedback and comments can put a strain on the person or people handling those accounts.
These tasks can take hours out of your busy day, but there are a handful of social reputation management tools available that can reduce the amount of required to effectively monitor and manage your social media presence.
Hootsuite
Hootsuite's social media management platform allows you to schedule, monitor, and analyze your social media content across multiple channels.
This platform allows you to properly gauge your brand's social media footprint while also finding the right tone for your customer base. However, it also features integrations with other services that can make reputation management easier on Hootsuite.
For instance, you can add online reviews by getting the ReviewTrackers integration. This allows you to see online reviews in real-time alongside your social media posts and responses. With this combination, you can effectively manage a business's entire online reputation from a single platform.
Talkwalker
Another comprehensive social media management platform is Talkwalker. One of its major features is the ability to cover mentions of your brand across a plethora of languages and websites. Its dashboard allows you to get real-time updates on your business's social media presence, and you can integrate with Hootsuite to handle social media responses.
Talkwalker also features a "virtual listening" program that will help you find your brand in any user-generated images. You can also use Talkwalker to capitalize on new and upcoming trends so that your brand finds ways to stand out and connect to more customers.
Google Reputation Management
One of the most important parts of your digital footprint is your Google My Business listing. Consumers use Google on a daily basis to discover new brands, products, and services. This makes it critical to develop a Google reputation management strategy. 
Claim Your Google My Business Listings
You can create or claim your business listings on Google with Google My Business, a dashboard that streamlines the management of business information across multiple Google sites, services, and products. 
Make sure that general information such as the business's name, address, operating hours, and phone number are correct. Search result information will send 70% of consumers to a physical store, and having the right information on all of your listings helps people make an informed purchase decision.
To claim your listings, follow the instructions on our Google My Business guide. If your company has more than 10 locations, you can use the Google My Business bulk location management feature. 
Here are other ways to supercharge your Google listing:
Manage Google Reviews Effectively
Google is the world's No. 1 review site, with 64% of consumers saying they are likely to check online reviews on Google before visiting a business — more than any other site.
A sound Google reputation management strategy requires business leaders to stay on top of their reviews. This means:
Take the Ask Tool for a test driving by signing up for a free demo of ReviewTrackers.
Key Takeaway: Climb the Rankings with Google Reputation Management 
A proactive approach to Google reputation management not only attracts more consumers; it also puts Google on notice. Correct and updated information, highly-rated online reviews, and engagement from management should be your foundational components. By having these in place, Google should reward your brand with greater presence in search rankings, which means more views, clicks, and conversions from your online audience.
Facebook Reputation Management
One of the world's most popular social media sites also double as another place where you can claim a business listing. With a Facebook business Page, you can easily market to customers with attractive photos, compelling posts, and even live video.
These Pages allow customers to leave Facebook reviews or Recommendations. Take time to respond to both positive and negative feedback to show your engaging nature to potential customers.
Because of the casual nature of Facebook you can be a bit more informal on the site, but it's still important to have a professional tone when talking to customers.
Like Google, Facebook is a popular starting point for consumers looking for new businesses. Every week, 2 out of every 3 users visit the Page of a local business. How you present your business through posts and comments will dictate if these people will visit your location or go somewhere else for their needs.
Yelp Reputation Management
A Yelp listing can mean more visitors and revenue for any business.
A survey revealed that 92% of its respondents make a purchase whenever they sometimes, frequently, or almost always visit Yelp.
Similar to how you update your data on Google, you should also make your Yelp business information – name, address, and phone number (NAP) information – correct and updated to make it easier for customers to find you. Make sure that you spend some time uploading attractive, high-quality images that easily showcase your business's offerings.
However, the most important part of your Yelp listing is still the reviews. Ensuring that you get a steady flow of feedback and taking the time to respond to reviews can help raise your Yelp reputation. It's worth noting that it's against Yelp guidelines to ask customers to leave a review. Instead, you should focus on providing an excellent customer experience that compels patrons to leave rave reviews on the site.
Tripadvisor Reputation Management
Data from Tripadvisor showed that 97% of respondents see the importance of Tripadvisor reputation management.
It's important to market your business's features to customers on Tripadvisor by adding things like attractions, type of cuisine, cost, amenities, etc. But make sure that you correctly set and meet those customer expectations. Too often, customers are let down by the actual business experience.
You can mitigate this by setting reasonable expectations levels or even going above and beyond in terms of service. Both options are viable and can convince customers to leave rave reviews.
Speaking of reviews, make sure that you take time to make appropriate responses to customer feedback. Positive reviews should get a "Thank You" message while negative reviews will take more time and finesses to uncover and fix lingering issues. However, it's important to address both review types to show that you actively look at your online brand. 
Reputation Management and Customer Service
The way you help out customers also contributes to how your brand is perceived. The relationship between reputation and customer service is a tight one.
Even though most people perceive customer service as a phone call or email, data shows that 35% of consumers prefer to use social media for customer service, and you can be sure that customers who receive poor customer service will air their grievances on social media.
Because of how closely social media is linked with customer service, your reputation management plan has to involve your operations and customer support teams.
When customers express frustration about an experience with your brand, it's important that you:
Understand what really happened.

Work quickly to resolve the complaint.

Respond quickly to the customer.
To do so, you'll need to get include your customer support teams in any social media response. Customer support might have details about this customer's experience that will be extremely helpful and impact how your craft your response.
Customer support may also be able to reach out directly to the customer and resolve their complaints faster than a social media team can.
Because of how interwoven customer support and social media have become, make sure your reputation management team collaborates with your customer support team.
Reputation Management Is a Massive Undertaking
Running a successful reputation management strategy is a challenge because it includes so many different people and customer touchpoints. It requires:
Collaboration between marketing and customer service teams.

An organized plan for monitoring social media and review channels.

Timely responses to customer issues.

Monitoring employer brand channels like Glassdoor.

Leveraging the right technology to empower your teams with better data and reporting.
But given the increasing importance of brand reputation and increasing visibility of online reviews, reputation management has to be a priority for brands going forward.
If your team hasn't done so already, take some time to outline your reputation management strategy, set its goals, and get started!