Through Google My Business (GMB), you can update your business information on Google, appear on Google Maps and Search, manage your online presence, and engage directly with customers.
If your business has ten or more locations, there are GMB tools you can use to add, verify, and manage multiple locations in bulk.  
Location Groups and Bulk Location Management
Google My Business location groups and bulk location management are for businesses with 10 or more locations. By creating a location group on Google My Business, you can manage and update your business information across all locations in bulk. Having a GMB location group also allows you to share management of all your business locations with multiple team members or users. 
Please note that location groups are only available for locations that have the same category and the same name (unless the business's real-world representation consistently varies from location to location). 
How to Create and Use a Location Group
To create a location group, you have to make sure that all the locations in your group meet the following quality standards:
The business must make in-person contact with customers during its stated hours.

The business must be open to the public. You may not enter locations that are under construction or not yet opened.

You must be the owner of the business or an authorized marketing representative.

Your listing name must match your real name, as represented by your offline marketing material, such as signage, etc.
While you can use your regular Google account to get this process started, we highly recommend you create a new GMB account that reflects the domain of the business to be managed. This will reduce the time and steps required to complete the Google verification process.
To create a location group, follow these steps:
Create or sign into your

Google My Business account

.

Click "Manage locations" from the menu. Then click the "Create location group" button in the top right corner of the page. 

Choose a name that clearly identifies your location group.

Click "Done."
After creating your location group, you can now organize and upload business information for multiple locations to GMB. You don't have to do this manually. To bulk upload the data, you can use the bulk upload spreadsheet.
Bulk Upload Spreadsheet: What It Is and How to Use It
The bulk upload spreadsheet is the most efficient way to organize, consolidate, and upload business information for all of your locations and get them verified by Google all at once. 
When adding your locations to GMB, you can choose "Import locations" to add multiple locations at once using your bulk upload spreadsheet, instead of adding them one by one.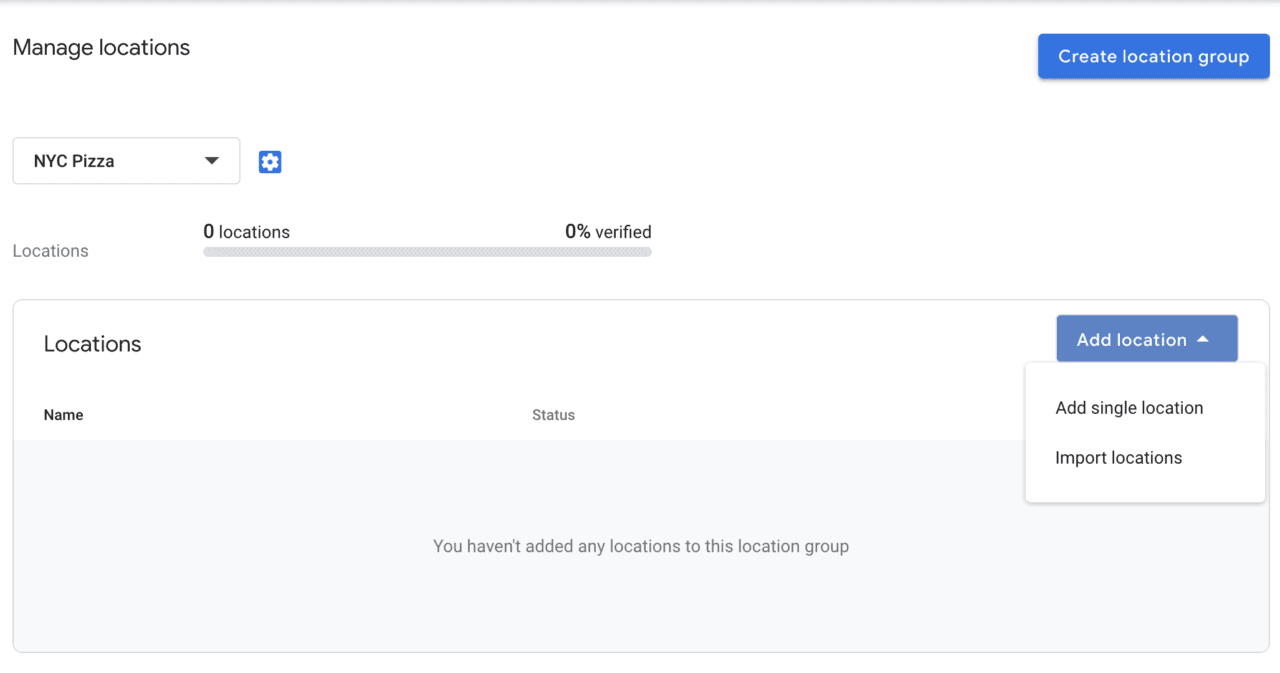 When you click "Import locations," you have several options:
You can download the template and create a blank bulk upload spreadsheet to fill out. 

You can download a sample spreadsheet to see an example of a completed spreadsheet.

You can download an attributes reference spreadsheet to learn what details you can use to describe your location. 

You can "select file" and upload your completed bulk upload spreadsheet.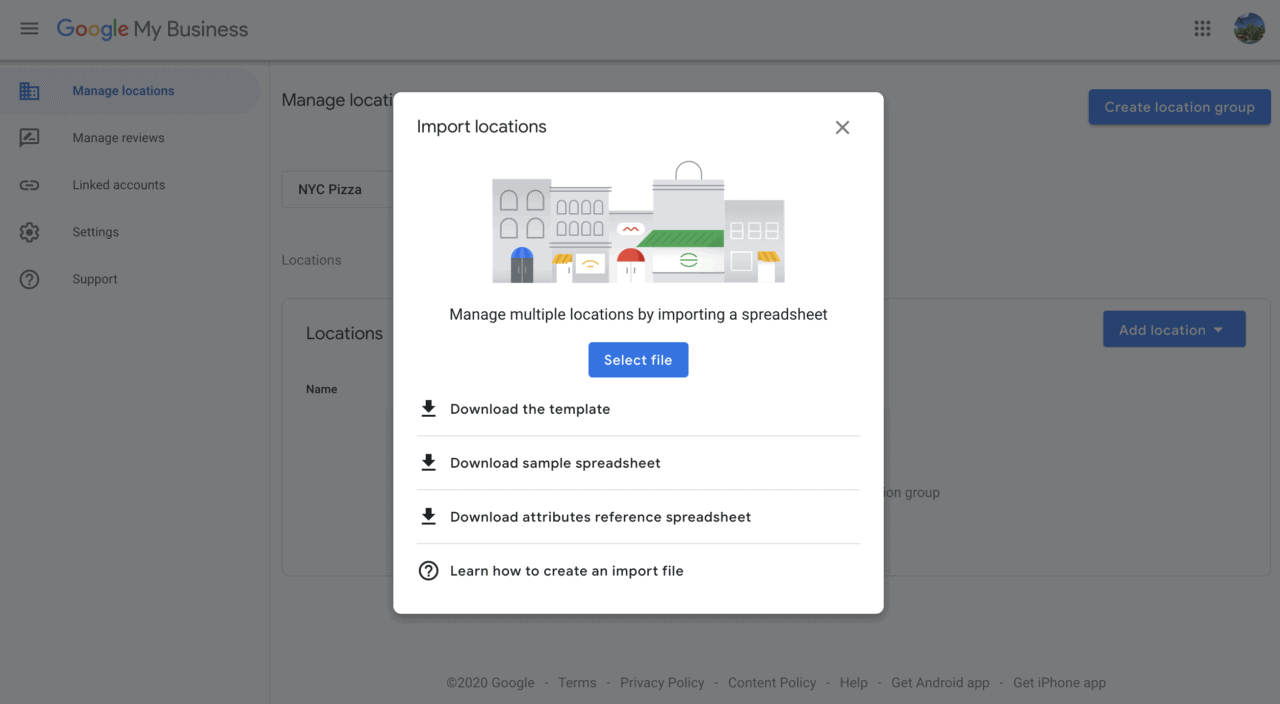 Error Verification
Once you upload your bulk upload spreadsheet containing data for all your locations, you can check for errors and make changes to individual line items. This is important because errors and quality guideline violations can delay the bulk verification process.
You can find Google's comprehensive guide of potential errors and how to fix them on this support page.
Request Bulk Verification
After uploading your spreadsheet and correcting any errors, you may then request bulk verification. Bulk verification establishes your ability to manage information for 10 or more locations of the same business across Google products, like Maps and Search — without having to go through the same verification process one location at a time. 
To request bulk verification:
Click "Get verified" next to one of your locations.

Click "Chain."

Fill out the verification form with your business name, countries and regions, and contact details.

Submit the form.
It may take up to a week for your bulk verification request to be processed. Once your locations are verified, you can add more locations, either manually for single locations or via a second spreadsheet. Keep in mind that Google will merge duplicates to ensure there is only one listing per location.
If you have multiple locations that were manually uploaded, take time to verify consistency in content as well as quality and accuracy on location-specific details such as address, contact info, and hours of operation.
How to Make Bulk Edits to Your GMB Location Group
In times of uncertainty and change, such as the current COVID-19 pandemic, businesses may need to make changes that impact internal operations and customer experience.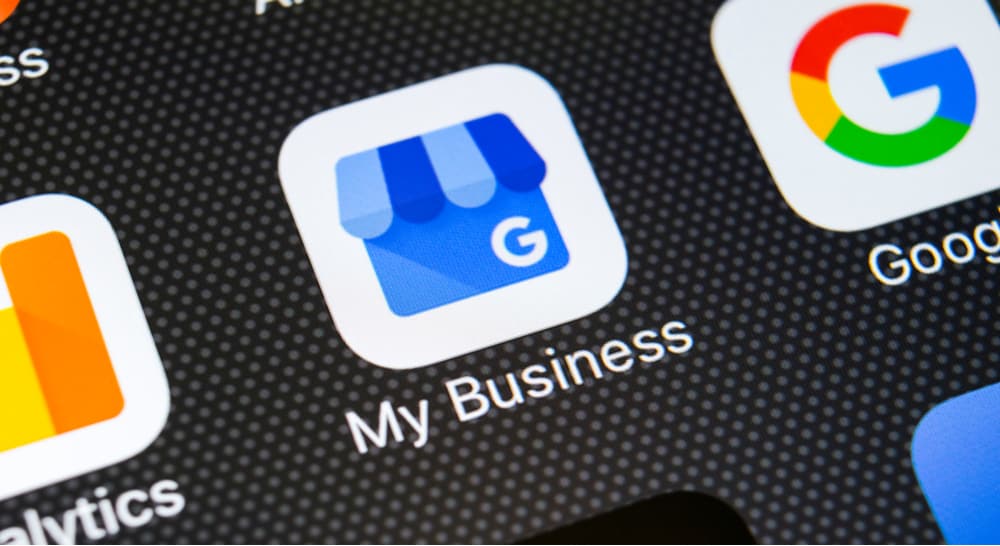 If you need to make bulk edits to the locations in your Google My Business location group, you can do so with a few steps:. 
Sign into Google My Business and click "Manage locations" from the menu. 

Choose the location group where you'd like to make bulk edits.

Select the locations you'd like to edit. To edit multiple locations, use the checkboxes to select the location, then click the pencil icon that appears in the top right corner of the page.

Click the information field that you'd like to update, then make changes in the window that appears.

Click "Apply."
Your bulk edits may be reviewed before being published on Google. Initially, you will see a "Pending" status within the field on your GMB account.
For more information on managing your online business listings, check out our guides for Google My Business, Facebook Business Manager, Yelp Business, and Tripadvisor for Business.