How to Claim Your Tripadvisor Business Listing
Claiming your Tripadvisor business listing lets you to capitalize on more traffic and generate unique opportunities to build your brand.
Add or Claim Your Tripadvisor Business Listing
There are a couple of ways to put your business on Tripadvisor. You can either claim an already existing listing or create a new one for yourself.
Often, a business will already be listed on the site because Tripadvisor's community of users can initiate the creation of a listing by simply reviewing a business. You can check if the business is already listed by visiting http://www.tripadvisor.com/owners.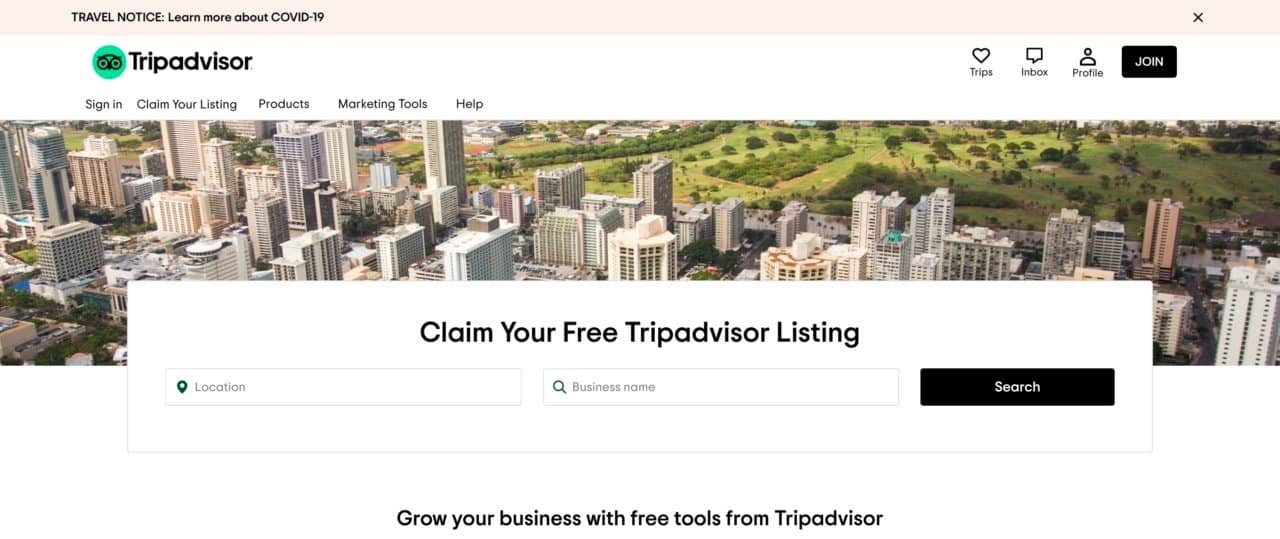 If your business appears in the search results, it means your listing or Tripadvisor page already exists. To claim, click on your business name and click the "Claim Your Business" option to sign up for Tripadvisor's Management Center.

If your search doesn't produce a result associated with your business, you can start the process of creating a new listing by visiting https://www.tripadvisor.com/GetListedNew.
On this page, you have to choose your business type from one of three categories: Hotels/Accommodations, Restaurants, or Attractions.
Adding a New Tripadvisor Business Listing
The process for adding your business and creating a listing on Tripadvisor is pretty straightforward, regardless of whether you're representing a hotel/accommodation, a restaurant, or an attraction. The differences lie in the details required in your application.
Step 1: Fill Out the Form
Fill out a form that asks basic information about you. Make sure that this information is correct and updated because Tripadvisor will send a message to the email address listed here when the business listing is published.
Text fields include your full name, your email address, and your role in the business.
Step 2: Enter Your Business Information
Fill out information about the business, including official business name, country, and address information. (You can change your business name later on Tripadvisor.)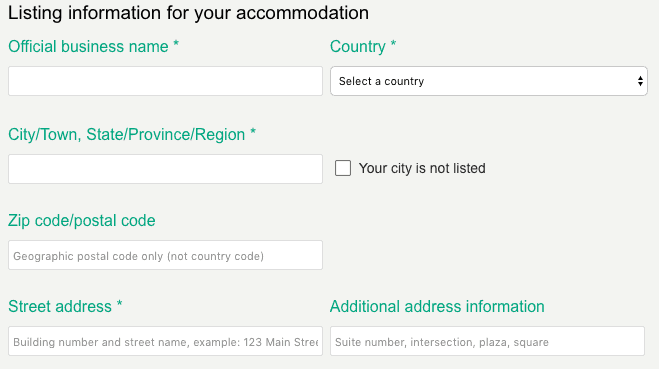 Step 3: Enter Your Map Location
Pin your business' location on a map. Tripadvisor recommends you drop the marker as close as possible to the entrance of the business. If it doesn't have an entrance, drop the marker at its "geographic center." Businesses that deal primarily in tours should drop the marker at the tour's starting location.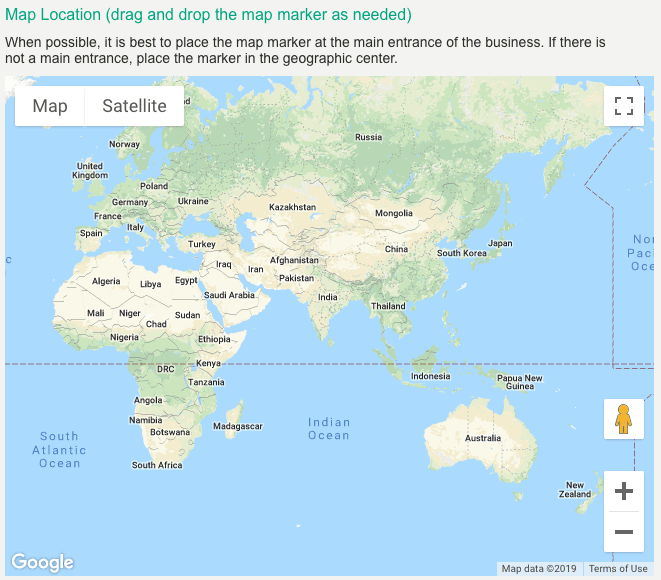 Step 4: Add Your Contact Information
Add the company's website and phone number. Tripadvisor uses this information to verify the business information in the previous step so make sure that all of the information entered above is correct and up-to-date.
Step 5: Provide Property Details
Enter your property details. This can differ depending on the business type, but Tripadvisor uses this information to ensure that the listing is categorized correctly and includes as much relevant information as possible.
If you represent a hotel or accommodation, provide information on:
Total number of rooms

Price range

Minimum stay requirements

If you have on-site staff and security

Details on front desk staffing

If bathrooms are en suite

Included amenities
If you represent a restaurant, provide information on:
Cuisine type

Pricing

Other special features
If you represent an attraction-related business, provide information on:
Length of visit

Pricing information

Amenities
Step 6: Describe Your Property
Add a property description. This short entry should help users learn more about the business. It must be written in the local language, and it shouldn't contain HTML code, contact information, or text in all caps.
Step 7: Add Your Profile Photo
Upload your business profile photo. This image will be displayed on the listing and serves as the first impression for users.
Tripadvisor guidelines state the photo should be in a JPG or GIF file format and have a maximum file size of 100 KB. The image shouldn't contain borders or logos.
Step 8: Hit "Submit"
Submit the application. Verify that you are a representative of the business by clicking on the box at the bottom of the form. Then click the "Submit" button to send the application.
Tripadvisor editors will then verify the details and send you an email to confirm that the "property meets the guidelines for the business type" you selected at the beginning of the application. This part of the process takes about five business days to complete.
Successfully adding or claiming your business gives you access to Tripadvisor's Management Center, where you can update your business information, manage and respond to Tripadvisor reviews, answer users' questions, and upload photos and videos. (Management Center can also be accessed using the Tripadvisor owner app.)
Accommodations and restaurants can also boost their page or listing performance on the site with additional Tripadvisor advertising tools that are available for a fee.
Tripadvisor also accepts listings for "Vacation Homes," which allows anyone to list their home as a place to stay for travelers. You can find out more information about claiming a Vacation Home listing on the Tripadvisor Rentals page.  
Now, let's talk a little bit more about the Tripadvisor Management Center.
Using the Tripadvisor Management Center
With a listing up and running, it's time to manage it efficiently with Tripadvisor's Management Center.
You can use this hub to control every aspect of the listing along with other features such as:
Updating listing information

Implement a booking button for reservations

Access to free marketing tools

Additional support through the Help Center and Owners' forum
Signing up for Management Center requires you to claim a listing first. Once the listing is up, you can then return to the Tripadvisor Owners' page and type in the business name in the search bar.
Selecting the business from the search bar's drop-down menu will take you to another page. Click on the "Register for this business" link. You will then have to fill out another registration form and click the "Sign up" button within it to finish the process.
Tripadvisor will also need to verify your relationship (by phone or with a credit card) with the listed business before you get access to the Management Center.
Those who opt for verification by phone will need to make sure that the number displayed on the verification page is for the business and not your personal phone number. If the phone number is incorrect, you can click the "Request Update" link at the bottom of the page and follow the instructions to update the number.
If the number is correct then you can choose to have Tripadvisor send a verification code by calling the number or through SMS text messaging. Enter the code sent by Tripadvisor into the empty text field on the verification page.
Another option is to verify with a credit card. Tripadvisor will place a $1 hold on the card, but no charges will be processed. Tripadvisor just needs the hold to confirm that the card and your identity are valid. To verify by card, you will need to present the following information to Tripadvisor:
The country where the card was issued.

Card type (Visa, American Express, Mastercard, etc.)

Credit card number

Cardholder name

Expiration date

Security code on the back of the card

Billing information (this should include your name, address, postal code, your country's dialing code, and phone number)
There is a third verification option through email. However, there are some unknown qualifications set by Tripadvisor that allow you to verify your identity by email. If you do qualify for email verification you should see an option for it when you sign up for the Management Center.
How Much Does It Cost For A Business Listing on Tripadvisor?
There aren't any costs associated with claiming a business listing on Tripadvisor. There are even some free tools that come with a listing, which you can find in the "Manage Listing," "Respond to Reviews," and "Promote Your Property" tabs within the Management Center.
However, there are some additional tools for specific listing types that you'll have to pay for. For instance, accommodation listings can subscribe to "Business Advantage" for more exposure or utilize "Instant Booking" and pay either 15 or 12 percent commission for bookings generated through their Tripadvisor listing.
Restaurant listings can also subscribe to "Tripadvisor Premium" to better highlight their offerings or pay for "Tripadvisor Ads" for better listing exposure throughout the site.
Logging In as an Owner on Tripadvisor
The easiest way to log in is by clicking on the "Sign in" link on the top-right of the Tripadvisor home page.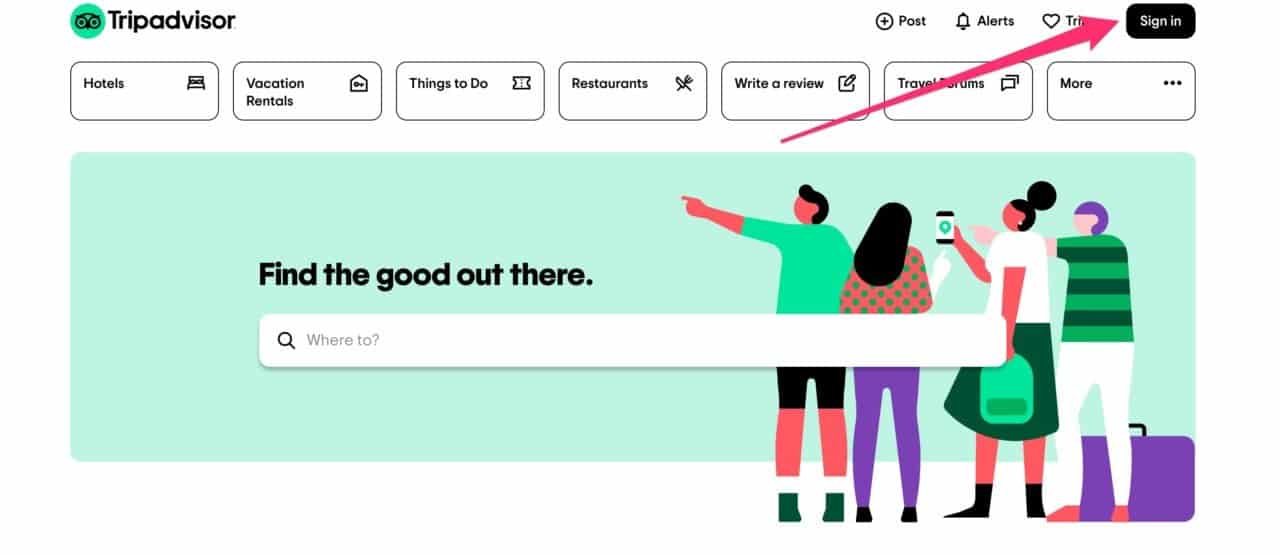 From there:
Type in your email address and password.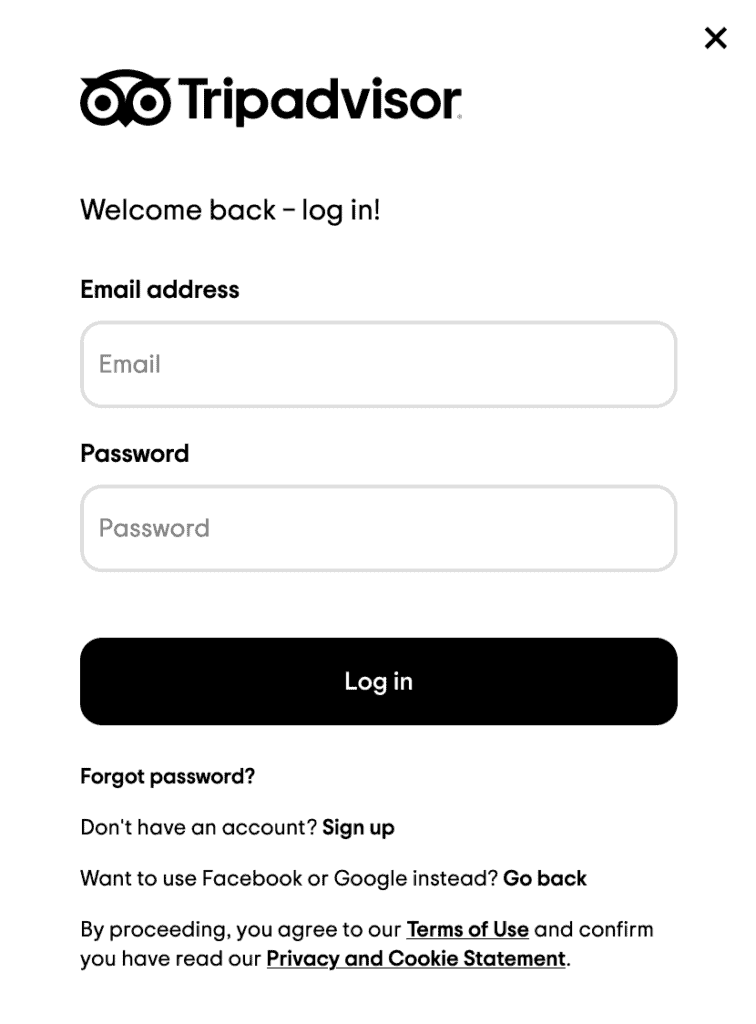 How To Change the Business Name on Tripadvisor
Logging in as an Owners automatically takes you to a listing's Management Center where you can edit and update the listing. To change the listing name:
Step 1: Go to the "Manage Listing" or "Profile" tab in the top menu and click on the "Name & Description" section within the menu.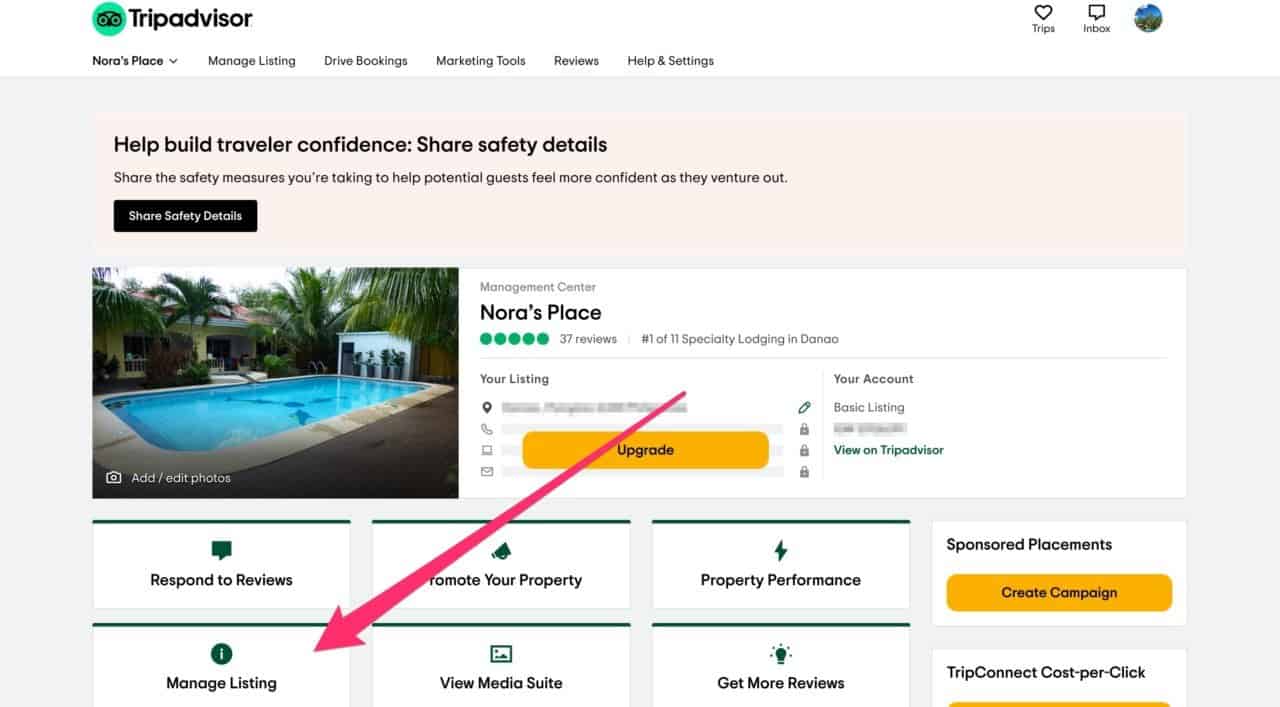 Step 2. Change your business name in the "Property Name" text field.
Adding Photos and Videos to a Tripadvisor Business Listing
Photos and videos on a listing are a great way to stand out from the competition. The right content can attract customers to a business and highlight the food, drinks, and experiences you want your customers to try.
Once you upload a photo it will show up in a few locations:
The photo carousel, which is the photo section at the top of a listing.

The media viewer, which people can find when they click on the "All Photos" button or an album on the right side of the photo carousel.
The "Photos" section of a listing page. This is only available for accommodation listings.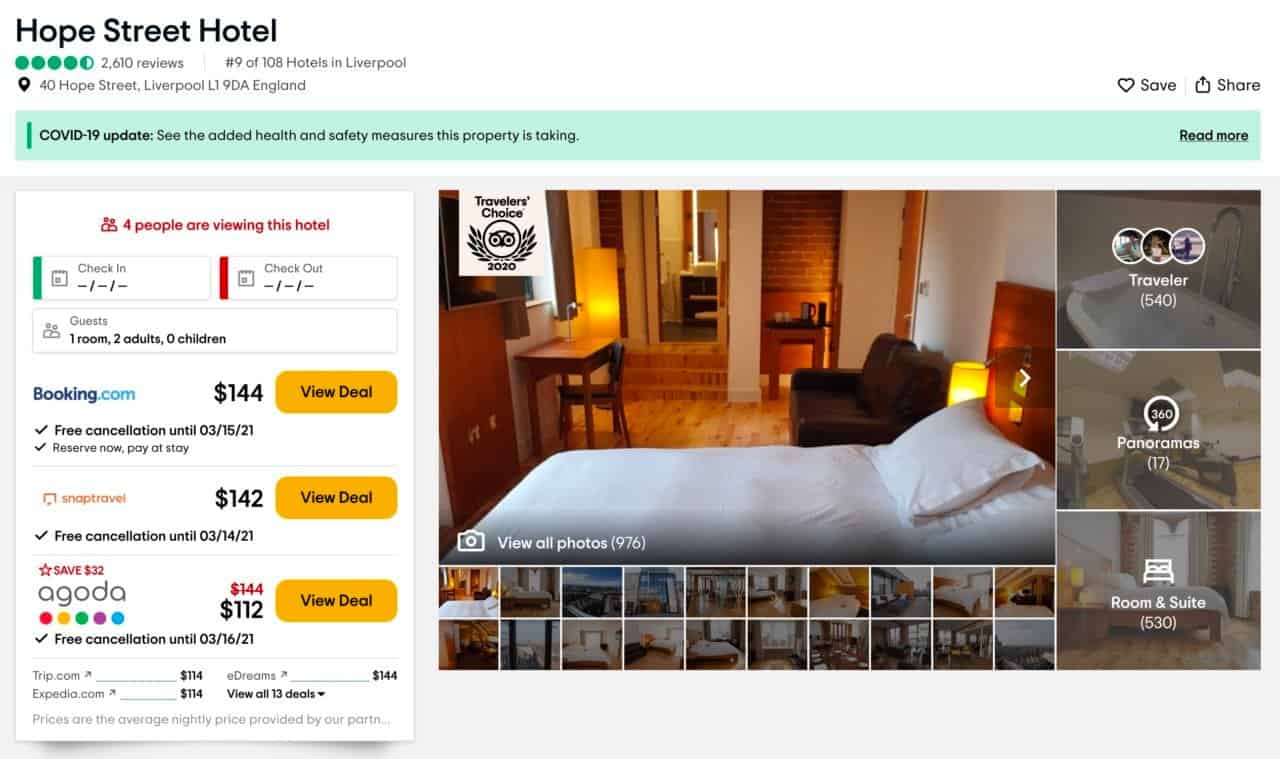 To upload any photo:
Step 1. Click on "View Media Suite" within your Management Center.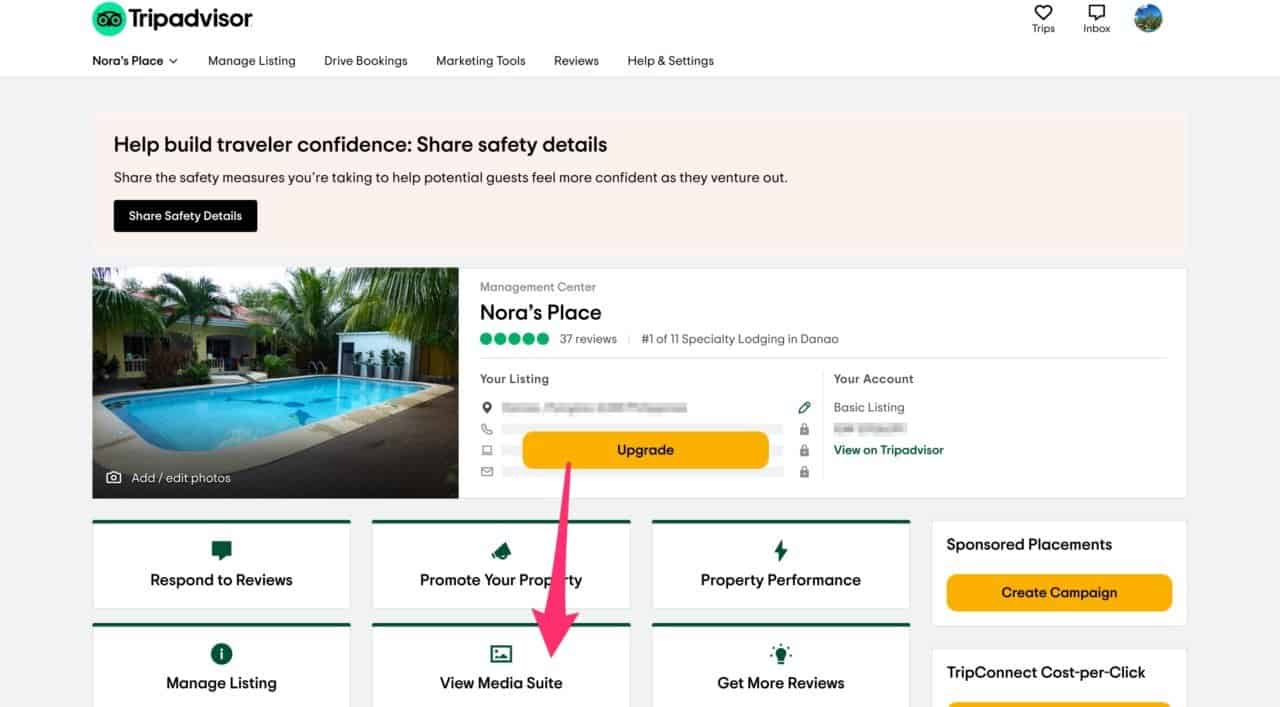 Step 2. Click the "Add More Photos" button on the top right portion of the page.
Step 3. Choose to add a photo by selecting specific files or dragging them to the empty field that pops up.

Step 4. Click the "Upload" button to finish the process.
Photos must have a maximum file size of 10 MB (15 MB for accommodation listings), and it must be in a .gif, .jpg, .bmp, or .png file format. In general, Tripadvisor says that landscape photos look better than portrait-oriented images so long as they are between an aspect ratio of 1:1 and 4:3.
Currently, only Business Advantage subscribers have the ability to upload videos to their Tripadvisor listing. They can do so by going to the "Manage Listing" option at the top menu of the Management Center. From there, they can click on "Property Videos" where they can add, remove videos.
Each video should not exceed 500 MB in file size and must be in .mp4, .mov, or .m4v format. The aspect ratio must also be optimized to 4:3.
All in all, there are eight types of media content available for each listing.
Primary photo: This serves as the first impression for customers. This will be the main image in your photo carousel and on search results pages throughout Tripadvisor. To set it up:
Sign in to Management Center and click on "View Media Suite" on the main menu.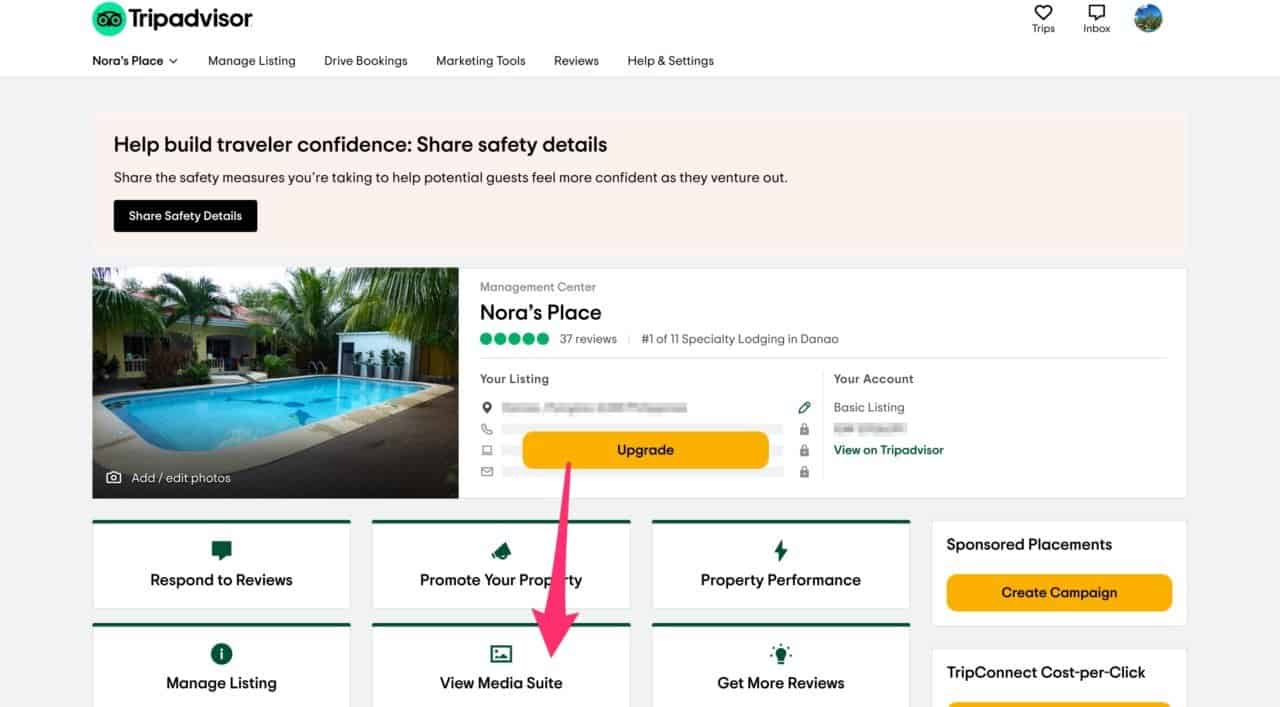 Click on the "Primary Photo" section.


Choose a new primary photo from the available options. Tripadvisor recommends a landscape photo that is 1,200 pixels wide by 628 pixels tall that is not a photo montage and doesn't include watermarks or text on it.
Management photos: These are images that you or another verified Tripadvisor in the business uploads to the listing. There is no limit to the number of uploaded management photos on a listing.
To add images:
Step 1. Click on "View Media Suite" on the main menu.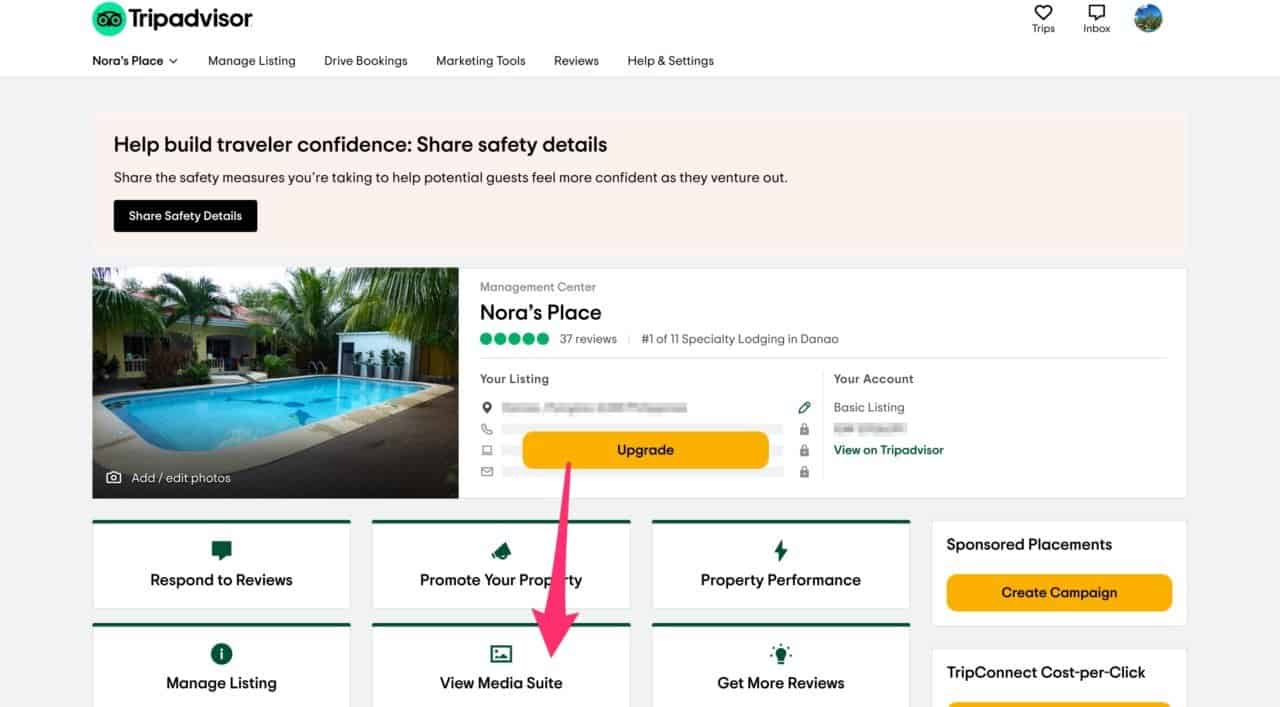 Step 2. Click the "Add More Photos" button on the top-right corner of the page.
Step 3. Check the box to confirm that you are a representative of the business listing and have the right to upload photos.
Step 4. Click the "Upload" button to finish the process.  
Traveler photos: Images uploaded by Tripadvisor users. These are mixed in with management photos for restaurant and attractions listings. Those managing accommodations listings can organize these photos into categories based on their subject.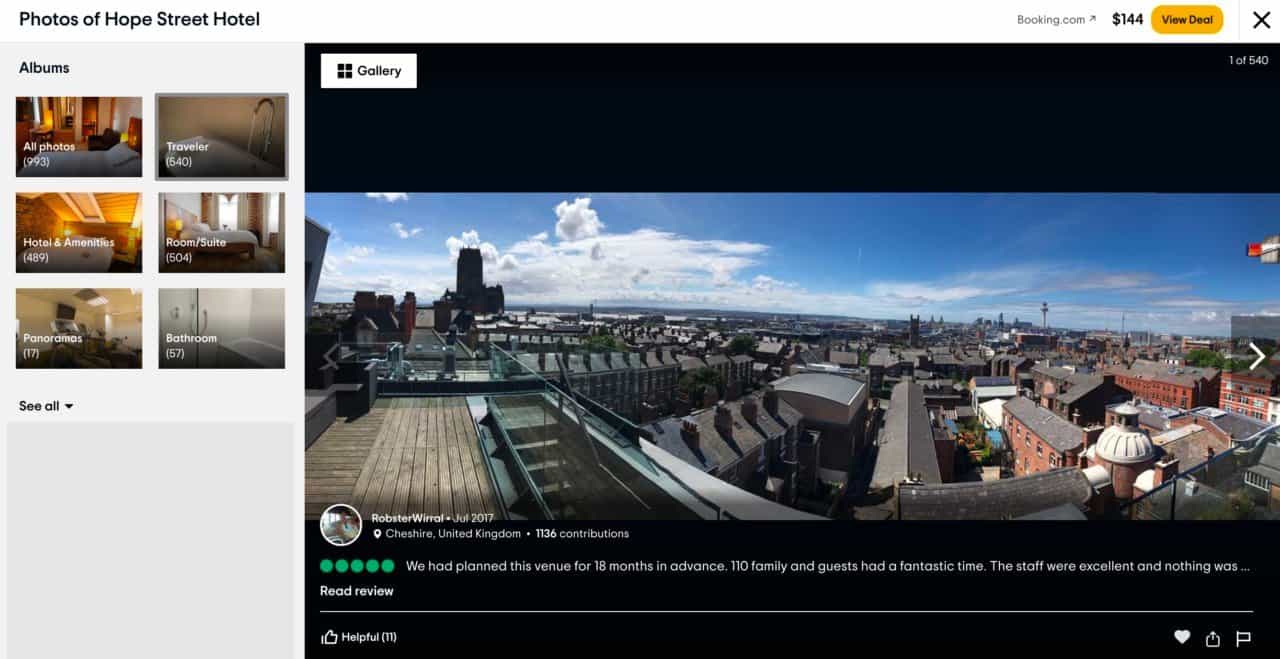 Professional photos and panoramas: In some cases, Tripadvisor will have a photography team contact a business so that they can take professional pictures, which will appear as part of the listing's photo carousel. However, it's unclear as to how these businesses are picked by Tripadvisor.
Favorite photos: Listings with Business Advantage subscriptions can use this feature to highlight specific images of a business. Favorite photos will appear in the photo carousel as well in a separate tab in the media viewer.
Cover photos: This is another feature available to Business Advantage subscribers that allows them to pick specific photos as a cover for numerous albums on their listing. These will appear in the "Photos" section of a listing for better exposure to customers.
Property videos: These are the main videos available to Business Advantage subscribers. They can supplement the collection of management photos with any video that shows off the business.
Storyboard: Another media feature available only to Business Advantage and Tripadvisor Premium subscribers. This is a high-quality video that combines management photos, keyword tags (in multiple languages), and review snippets.