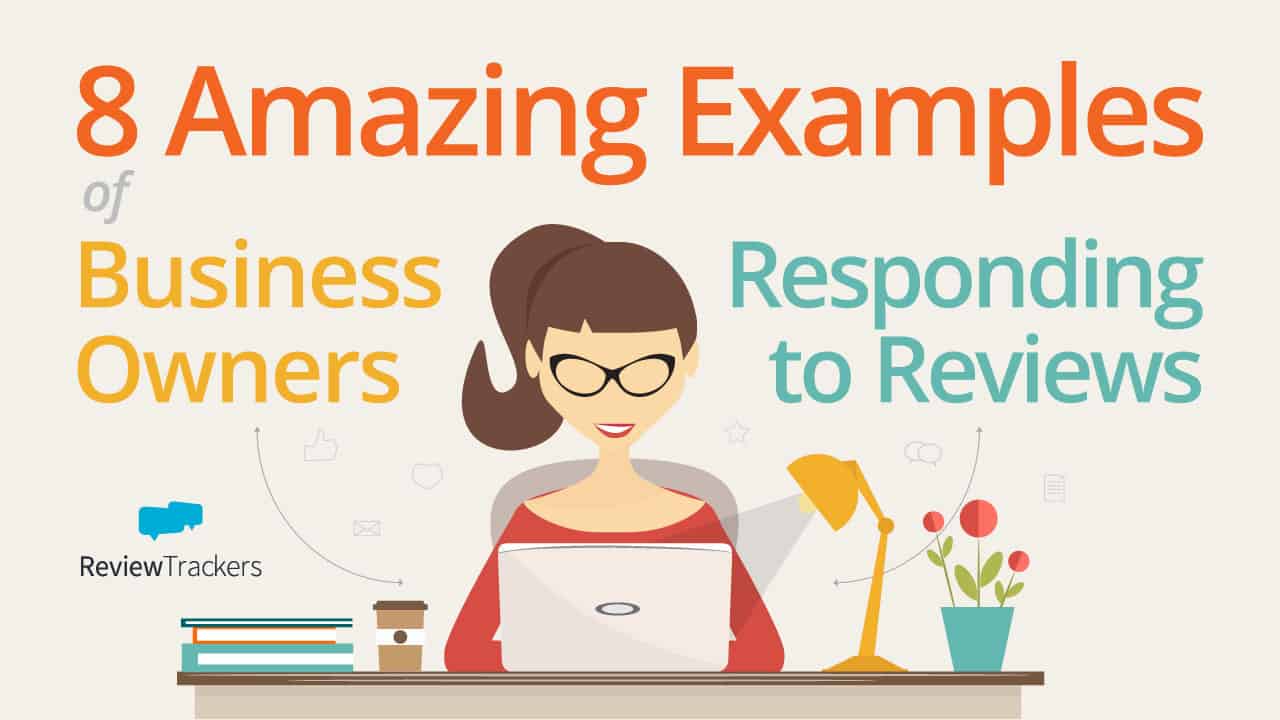 Online reviews on sites like Yelp, TripAdvisor, Facebook, and Google give people a way to share their customer experiences not only with businesses but with fellow consumers, too.
And consumers rely on these reviews in order to discover businesses and brands that provide the best customer experience.
That's why monitoring and responding to reviews is an important part of managing customer feedback and protecting your brand reputation.
If you aren't doing this yet, take the time to respond to and communicate with your happy and unhappy customers — on all the review sites and feedback channels where they may be talking.
ReviewTrackers

found

that 52 percent of customers expect to hear back from brands within 7 days of writing an online review, particularly one that's negative or critical. 1 in 4 customers are more demanding, expecting a review response within 3 days, while 21 percent expect brands to have a response time of 24 hours or less.

78 percent of consumers

say

that seeing management respond to online reviews makes them believe that the business cares more about them.
Need inspiration for navigating the (sometimes treacherous) waters of online customer reviews and feedback?


8 Amazing Responses to Online Customer Reviews
1. Resolve issues and offer a solution
JetBlue Airways' Twitter account serves as one of the company's main customer service channels. When a customer named Esaí Vélez complained (politely) about his backseat TV not working, JetBlue responded within minutes.
2. Reinforce positives in the customer experience
Yelper Cassandra I. had good things to say about her "amazing" experience at the Kréme de la Kréme Nail Lounge in Long Beach. But for her, the nail salon's services were a little bit too pricey: hence, the 3-star rating.
The salon's manager responded by thanking Cassandra for the positive feedback. She also explained why Kréme de la Kréme was more expensive than the competition. Note the subtle, effective way her response turns the negative into a positive: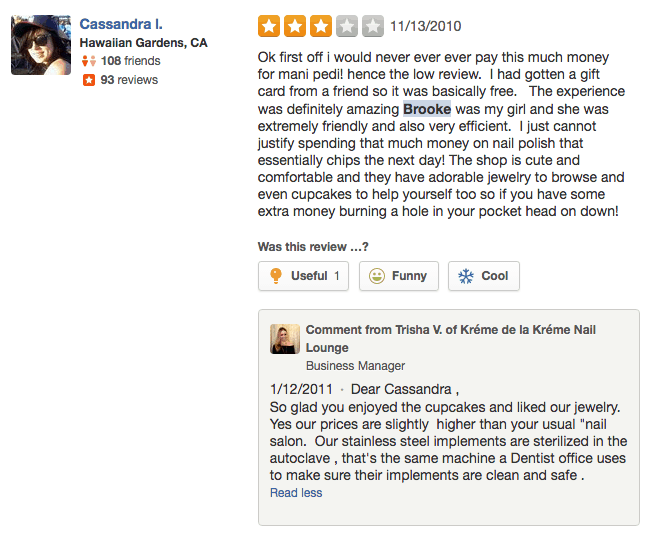 3. Recognize the staff and share customer success to the team
A positive review is obviously great for your brand reputation. But it's also a great booster of employee morale. Check out how Hard Rock Cafe Hollywood's short, simple response to this Yelp review painted a picture of a happy team of employees committed to customer success:
4. Compliment the customer
Always say "thank you" to customers who leave positive reviews. When you write back, though, don't be lazy. Personalize your response and show genuine appreciation for customer feedback.
We love this amazing review response by Jessica Lavin of Hotel Monaco in Philadelphia. She even managed to pay hotel guests a sweet compliment.
5. Issue a sincere apology
One of the guests at the Stamford Plaza in Brisbane posted a negative TripAdvisor review of the hotel, citing noisy rooms and impolite staff. Manager Philippe wrote a very professional and thoughtful response to the review, apologizing for the guest's experience and providing reassurance that the business was already working on improvements.
6. Be considerate
Sometimes, a customer will raise tough issues in their review. Tackle these without losing your cool or sounding like you've been wrongfully accused (even if it were indeed the case).
Kareo CEO Dan Rodrigues understands the value of reviews and feedback left by his employees and he responds to reviews on Glassdoor with amazing thoughtfulness. Here's an example of his responses:
7. Highlight company values
Veterinary medicine and care is a tough industry. Emotions run high and in times of emergency and crisis, pet parents can be extremely vocal and opinionated — which can then easily translate into what they write in online reviews.
For example: there will always be people who are going to be convinced that their vets are just "in it for the money" and don't really care about the welfare of their animals. In response to one such review, Forest Grove Veterinary Clinic posted a classy response that highlighted the company's values while also directly addressing the customer's experience.
8. In special cases, fight back and protect your brand reputation
Once in a while, an angry and unreasonable customer will "Yelp" your business or even issue legal threats simply in order to get what they want. How you should respond will depend on a case-by-case basis — although we do recommend that you don't do anything that stirs the pot or causes bigger controversies. If the review violates the review site's content guidelines, flag it or send a report. Act in order to protect your brand reputation, instead of inflicting further damage on it.
This last example isn't necessarily what we would tell other business owners to do, but it's still pretty amazing how this restaurant in Kansas City responded to a nasty Yelp review:
Do you have more examples of amazing responses to online customer reviews? Feel free to share them in the comments section below.