A sound employee retention strategy reduces turnover hassle and saves your company from productivity losses. 
The need for it is more crucial than ever. With the pandemic leading many to reconsider what people value most in their jobs, companies must focus their investment priorities on managing their employer brand and improving employee retention.
This isn't simply a matter of updating salary structures, expanding your list of employee perks, or adding a few more bring-your-pet-to-work days on the office calendar. As the pandemic clouds lift, the key to attracting and retaining talent is your company's ability to manage its employer brand.
What Does "Employer Brand" Mean?
Your employer brand describes your company's reputation as a place to work as well as your employee value proposition — as opposed to the more general corporate brand reputation and your value proposition to customers. 
During these times — when the percentage of Americans actively looking for new opportunities is higher than ever — the success of your employee retention strategy depends heavily on the way you manage and influence your reputation as an employer.
Here are a few employer brand stats you need to consider:
When making a decision on where to apply for a job, 84% of job seekers say that a company's employer brand reputation is important.

93% of job seekers believe it's important to be thoughtful and informed about all aspects of a company prior to accepting a job offer.

Companies with positive employer brands get twice as many applications as companies with negative brands. They also spend less money on employees.
Simply put: if companies aim to keep and grow a happy and productive workforce, they must take a proactive approach to employer branding.
Employer Branding and Employee Retention Strategy: Keys to Success
According to Inc, a staggering 95% of workers are looking to change jobs right now. The pandemic accelerated new trends in the labor market and set several long-term changes in motion. How companies adapt to these trends and changes could impact their employer brand for a long time. 
Depending on the size or type of your organization, you may not necessarily be able to hire dedicated experts to help drive employee retention. But there's no reason you can't build a compelling employer brand. 
Let's break things down and examine some best practices to get you started. 
Demonstrate Workplace Flexibility
As the economy reopens and more businesses staff up, inflexible employers will inevitably struggle to find workers. That's because the pandemic's greatest impact on employment has been the adoption of remote work, as well as employees gaining more flexibility in how, where, and when they work. 
This shift goes to show that people demand workplace flexibility. Employers that rigidly stick to pre-pandemic work arrangements are less likely to retain employees.
According to LA Times:
66% of Gen Z and 73% of millennials will switch jobs to get more control of their schedule.  

More than 60% of both groups want to find new jobs for a chance to work remotely.
These numbers have clear implications that employers should embrace the notion of a hybrid work model. 
It may have taken a pandemic for persistent change to happen, but this type of workplace flexibility has always been tied to the idea of work-life balance, which, according to Glassdoor, 85% of employees expect their employers to support.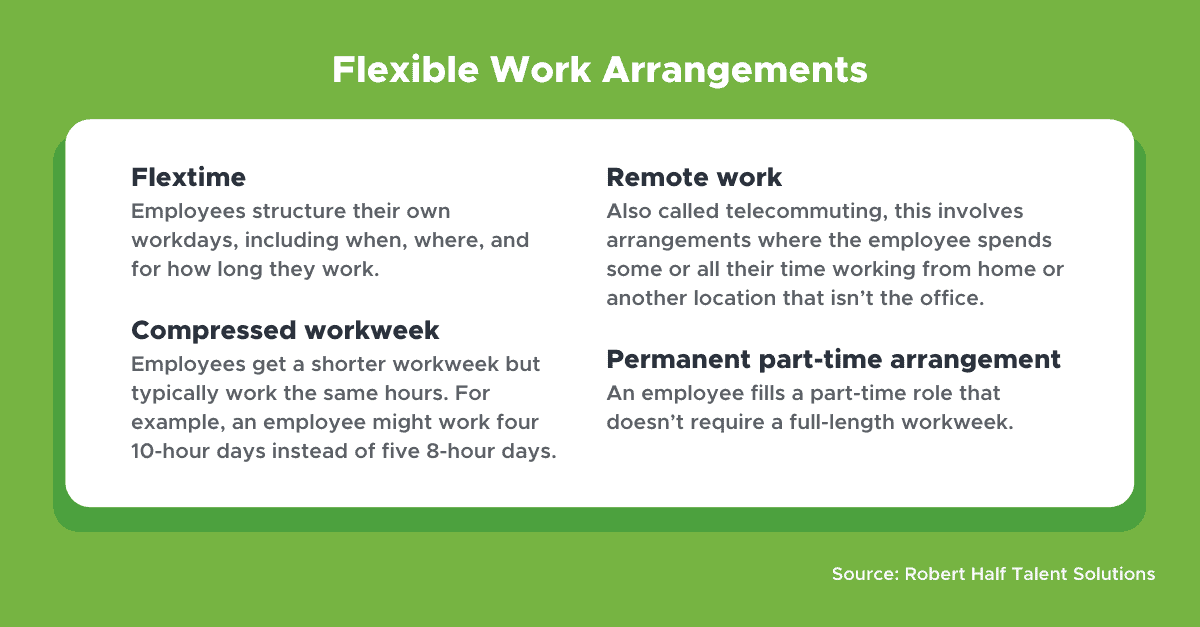 Craft Your Value Proposition
Your employer brand's value proposition is a strategic statement that defines how your company wants to be perceived by its employees. 
It's important to craft a value proposition that is based on things other than solely compensation. These could include your workplace culture, innovative technology, team diversity, remote work opportunities and flexible hours, behavioral health support, and your list of office perks and benefits.
According to reports, an increasing number of workers are leaving their jobs in favor of entry-level positions elsewhere — jobs that often pay less, but offer more benefits, upward mobility, and compassion.
Conduct an objective assessment and ask yourself: what are the values shared by the people in your organization? What makes employees stay and what makes your company a great place to work?
One of the ways firms gather this data is by using survey tools to engage with employees and get feedback that can help them improve operations. ReviewTrackers' Employer Brand Monitoring feature, for example, helps employers capture candid feedback, then use this information to refine their employee retention strategy.
With the pandemic causing an upheaval in the labor pool, the way you support your workers — how you prioritize their health, safety, wellness, and security — is also inevitably going to be part of your value proposition as an employer. After all, healthy and happy employees are the backbone of any business. 
91% of employees who feel they have high well-being say they intend to stay at their employer, versus 55% of employees who have low well-being. (

Glassdoor

)
Identify and Correct Problems with the Employee Experience
Every employer and HR executive has to navigate this strange new world in which people are resetting their priorities and forcing policymakers to do the same.
It's important to view this as an opportunity to adapt to evolving employee expectations and deliver better employee experiences. Find high-impact pain points that workers have communicated and get them out of their way.
Get started where your employees leave their feedback. 
Whether this comes from Glassdoor reviews, survey forms, one-on-one Zoom consultations with leadership, employee interviews, performance reviews, or pieces of paper dropped in your office's suggestion box, employee feedback should provide the data you need to power a successful employee retention strategy.
Depending on the systems you have in place, you may apply analytical techniques to find hidden patterns and trends in sentiment within your data. 
For example, your HR team may discover that 99% of your Glassdoor reviews mention how incredible the organizational culture is. But close to 70% talk about how there's room to improve workplace flexibility or your company's PTO policy.
Taking this analytical approach saves your company money. Employers are also less likely to incur productivity losses if they can spot employee issues before they become full-blown reputation disasters. 
Harnessing employee feedback this way also aids in the discovery of positive features that you can highlight with top candidates, as well as prepares you for times when a candidate might ask probing questions about the employee experience.
Manage and Respond to Employee Reviews
Leaders of productive companies understand that online reviews posted by employees have a significant impact on their ability to keep and grow their workforce.
84% of job seekers say the brand reputation of a company as an employer of choice is important. (

Glassdoor

)  

83% of job seekers are likely to research company reviews and ratings when deciding on where to apply for a job. (

Glassdoor

)

7 out of 10 people surveyed changed their opinion about an employer after the company replied to a review. (

G2

)
These numbers go to show that your employer brand reputation is measured in the currency of reviews: what your workers say and how you respond to their feedback.  
By investing in employer brand monitoring and managing employee reviews, you can more accurately understand the perceptions that current and potential employees have of your organization.
Encourage Employees to Become Brand Ambassadors
Another interesting way to boost your employee retention strategy is to nurture employee talent and develop brand ambassadors on your team. 
This involves building a culture based on open and honest communication, transparency, candid feedback sharing, and employee recognition. When workers are recognized and their successes are celebrated, your company will be rewarded with their loyalty.
According to a bonusly.com survey, 63% of employees who say they are regularly recognized also say they are very unlikely to look for a new job. (

Inc

)
It's not hard to imagine why employees might enjoy their own time in the spotlight. As the stat above suggests, investing time and effort to recognize your workers will pay dividends in productivity and retention. 
Consider a strategy in which you proactively ask employees to share their reviews on sites like Glassdoor and Indeed. Not only is this a great way to capture and understand the voice of your workforce; it's also an effective method for identifying potential brand ambassadors: people who will represent your organization ably to those outside the company's walls.
Final Thoughts
The trends in today's labor market should provide the disruption needed for your company to innovate and invest in efforts to manage your employer brand. 
By demonstrating workplace flexibility, managing employee reviews and feedback, and fostering an organizational culture that promotes shared values, you can supercharge your employee retention strategy and grow a happy and productive workforce.