The Importance of Google Reviews
Google is more than the world's number 1 search engine. It has also become the fastest-growing website for customer reviews of businesses.
According to industry research:
Google is the review site of choice, with

64 percent

of consumers saying they're likely to

check online reviews on Google

before visiting a business — more than any other review site.

21 percent

of

consumers agree

that Google reviews are one of the most important factors in their search for a local business, ranking them as more influential than price estimates, proximity, and search engine results page (SERP) performance.
These trends have not gone unnoticed by Google. The company has explicitly stated that reviews equate into how they determine search rankings of businesses.
Industry experts also believe that reviews are one of the top local SEO ranking factors, heavily influencing which businesses get into the prestigious "local 3-pack."
Why Respond to Google Reviews?
Businesses need to learn how to respond to Google reviews in order to make the most out of their business presence on Google (Google Maps and Google Search).
Responding to reviews, on Google or on any other review website, can also help businesses protect their online reputation and improve business performance.
The truth is: how you respond to what people are saying online will have a bigger impact on your reputation than what is being said in the first place.
If you haven't had the chance to read this Cornell University study, here are some highlights:
Revenue

increases as the number of review responses increases.

Failure to respond to reviews is costly.

Organizations that do not acknowledge or respond to reviews and customer feedback experience

lower review scores and overall ratings

.

Responding to critical reviews and negative customer feedback benefit overall ratings more than responding to favorable comments and positive reviews.
Simply put: if responding to online reviews, in general, can have this kind of impact, imagine how impactful and important it really is to learn how to respond to Google reviews: reviews on the world's top review site.
How to Respond to Google Reviews
Where can I see my Google reviews?
Online reviews on Google are posted by Google users, who have to be signed in when they rate and write about your business. The reviews appear in multiple places on the Web (via desktop and mobile devices), such as Google search results, Google carousel search results, and Google Maps.
Your online reviews on Google can be monitored and managed using your Google My Business (GMB) account. (If you don't have one yet, read our Complete Guide to Google My Business.)
Once you're logged in to GMB, click on the Reviews tab.
You'll be taken to your Reviews page, where you are also allowed to filter reviews by "replied" or "haven't replied."
You're probably not going to be looking at your GMB account 24 hours a day, 7 days a week — unless you have pinned Google My Business as a tab on your browser.
That's why it's important to know that Google My Business notifies you of new reviews via email. The email notification includes useful review information like the reviewer name, star rating, a portion of the review text, and a link to the review on Google. Here's what the email looks like:
Most GMB users can get notifications whenever a new review appears on their listing. However, those notifications are automatically disabled for GMB accounts that have over 100 locations for a single business.
For these brands, there is review management software available that provides notifications for all new reviews and the ability to respond to reviews on Google from a single dashboard.
How to respond to Google reviews, step-by-step
Monitoring and responding to your Google My Business reviews is an important part of managing customer feedback and protecting your brand reputation. If you aren't doing this yet, take the time to respond to and communicate with your happy and unhappy customers!
To respond to reviews on Google, log into your Google My Business account, select the location you'd like to manage reviews of, and click the Reviews tab on your Google My Business home page.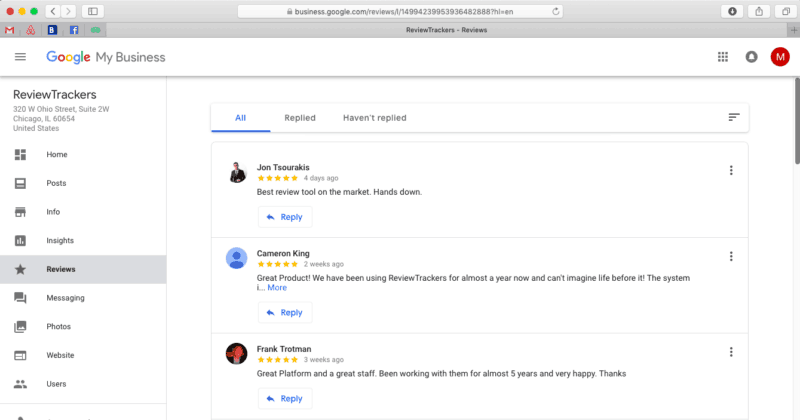 When you land on the Reviews page, you'll see each individual review that has been posted on your business listing, organized, by default, by date. From there, you can respond to each individual review by clicking Reply.
Please note that your reply will be displayed publicly on Google and must comply with Google's local content policies. Once you've responded, you can edit your response to clean-up typos. The review will appear with a new "View and edit" button on your reviews page:
Responding to reviews notifies your customers
Google recently launched email notifications that inform customers when a business responds to their reviews. The notification contains a link to a page with the business owner's response to the Google review.
The business' response is published immediately and the email notification is sent to the customer 5 minutes later. The 5-minute delay allows the business to edit or make any corrections to their response after initial submission.
Best Practices for Responding to Google Reviews
With all the reviews coming in it's only inevitable that a negative review will pop up at some point. But don't let it be discouraging. It's what you do with it that will determine if a business can attract more customers.
Respond to Negative Feedback
A few statistics tell us that it's in your best interest to respond to negative feedback. Consider this: 45 percent of consumers say they are most likely to visit a business if it responds to negative reviews. Responding also tells 80 percent of customers that a business cares about their feedback, regardless of the review sentiment.
However, the main reason for responding to reviews is that it puts businesses ahead of the competition.
Surprisingly, 63 percent of consumers say that a business never responded to their review. That's a large percentage of customers that you could retain just by responding to feedback.
Learn from the Pros
However, you shouldn't just reply to negative reviews. It's also important to thank those who wrote positive feedback. In either case, it's important that your response is natural and not something that was copied from a prescribed script.
You can check out our post that features real-world response examples to get an idea of how you can communicate with customers.
Every Google Review Response is an Opportunity
Google reviews are more than just a customer's thoughts on a product or service. They're a barometer of the business' performance.
Overwhelming positive reviews and ratings mean that the current workflow is optimal while negative reviews can reveal major pain points.
Responding to both review types shows that a business cares deeply about each person's opinion of the customer experience. Treat each response with equal weight, and you can get better customer engagement and brand awareness.