Today's consumer has three major expectations when looking for a business online: accessibility, ease of interaction, and instant gratification.
Fortunately, today's businesses have the means to meet these expectations and further elevate the relationship between brand and consumer thanks to business review sites like Google, Bing, Yelp, Facebook, and Tripadvisor. These sites empower consumers to conveniently reach businesses in a number of ways: click-to-call, GPS directions, on-demand ordering, and booking capabilities.
The power of these local listings ensures that consumers easily get the information they crave in real-time, and businesses are reaping the benefits of increased conversions.
Why You Should Manage Your Local Listings
When done right, effective local listing management enables business growth in the following ways:
Local SEO

When a business has accurate and consistent online information (such as name, address, phone number, category, and operating hours), it can help create a boost in local business SEO, which helps increase the chances of the business listing appearing in front of searchers. In fact, citations are one of the top five signals search engines take into account for ranking in the local pack and in localized organic ranking.

Build Trust

Accurate listings build trust with today's consumers, who are easy to lose if you have incorrect or outdated information. Consistent listing data enables a seamless interaction between the potential buyer and the brand while inconsistent information leads to frustrating experiences, which results in lost opportunities.

Drive Revenue

Ultimately, local listing management will lead to increased revenue. Taking this step will help increase local business SEO, which can help expand your online presence. Delivering customer-first experiences will give you a better chance of winning more business than your competitors. Brands are trying to find ways to stand out online and accurate listings are an easy win.
Taking Control of Your Online Reputation
By taking control of your local listings, you shape your brand's online reputation and influence the customer journey from initial search to purchase. Even though review signals account for 20 percent of how Google ranks a business, NAP (name, address, and phone number) consistency is also a major factor.
By maintaining your online reputation in conjunction with your local listing management strategy, you increase your business's ranking, which allows for greater brand visibility and opens the door for a more effective customer acquisition strategy.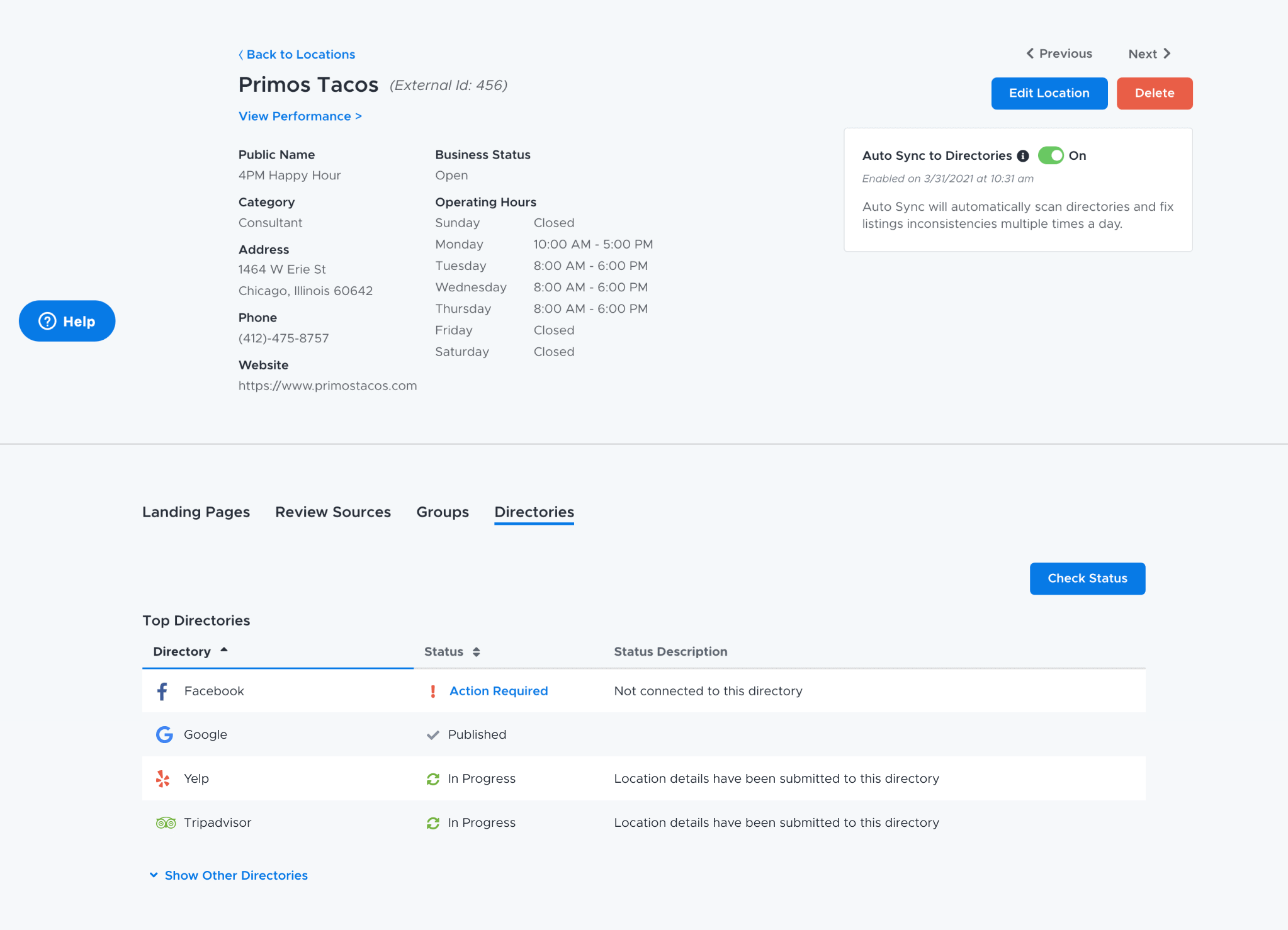 Manage Local Listings with ReviewTrackers
Utilizing ReviewTrackers' Local Listings Management solution ensures business locations are accurately and consistently listed on major directories and enables stakeholders to keep a close eye on customer feedback.
Implementing both features in one place enhances your ability to stay in control and improve your online reputation. Leverage the simplest platform to make the largest impact on your business with ReviewTrackers.