Thanks for reading
Share your info to continue reading this guide and get access to all premium ReviewTrackers content.
Retail Brand evo Puts Customer Experience at the Forefront with ReviewTrackers Technology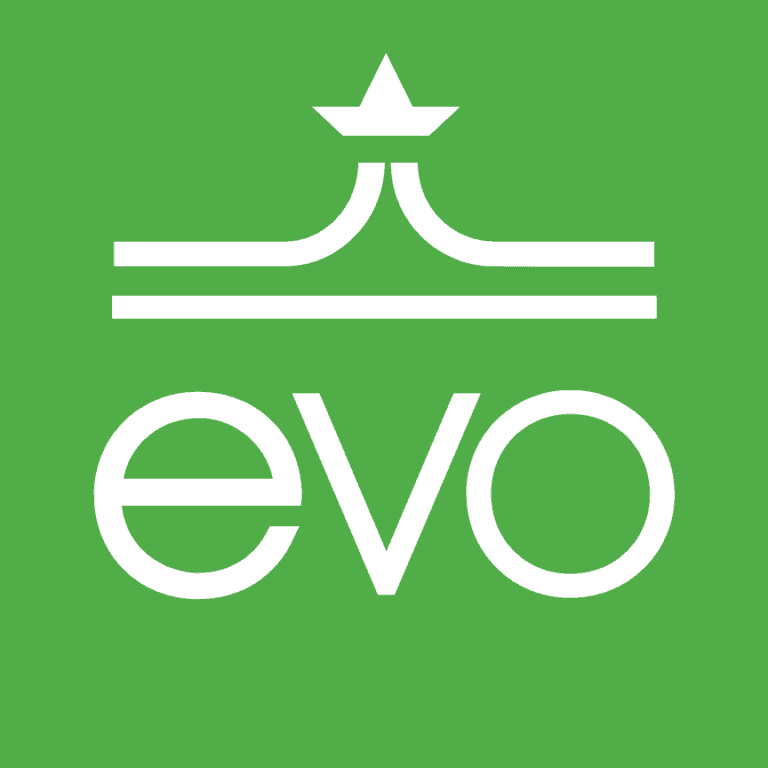 Locations
Seattle / Portland / Denver
Industry
Retail
Challenges
Address the lack of visibility into negative reviews, which resulted in repetitive negative customer experiences
Monitor and respond to business location reviews without manually logging into individual review sites

Find efficient ways to internally capture customer feedback and manage the customer experience
Inspire consumer confidence on the evo website and location pages
Solutions
Utilize the Smart Response feature to streamline review response workflow and ensure brand-compliant messaging
Implement Ask Tool campaigns to proactively solicit feedback from customers, accelerate review coverage, and enhance social proof for evo's brand and retail locations
Use the Amplify review widget suite to dynamically display online reviews and star ratings on individual location pages
In Retail, Reviews Help Drive Traffic and Sales
evo — a leading online retailer of outdoor gear and fashion apparel with locations in Seattle, Portland, and Denver — fully recognizes the importance of online reviews in retail. 
However, beyond managing and cultivating reviews of the products it carries, the company also sees tremendous value in reviews of evo's retail locations.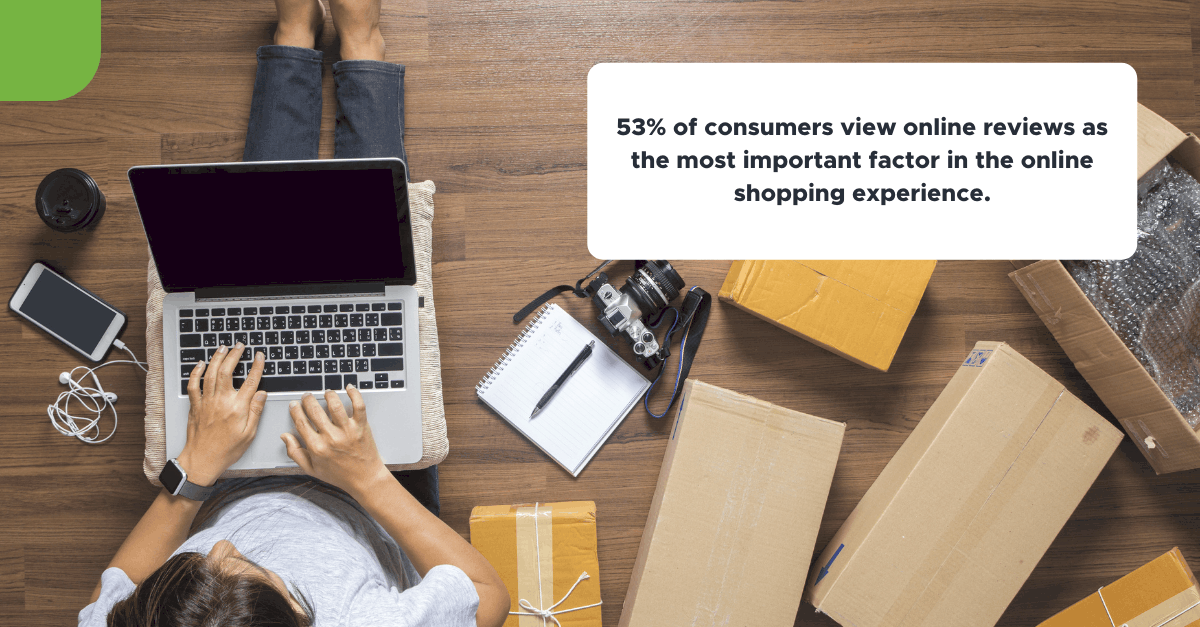 Location reviews deliver important benefits to independent retail brands, helping them hold their own against larger retail chains. For a digital-first organization like evo, reviews equip consumers with key business information and serve as marketing assets for strategies that improve sales and bottom-line revenue. 
For its winning online review management strategy, evo partners with ReviewTrackers.
Effortless Monitoring of Reviews, Reputation, and Customer Experience
ReviewTrackers makes it easy for evo to monitor online reviews and achieve a more complete understanding of the customer experience at each of the company's locations.
To keep the fingers of stakeholders and decision-makers on the pulse of the company's reputation, evo has a total of 18 users signed onto the ReviewTrackers platform. Each receives a unique set of customized review alerts, which deliver timely email and SMS notifications on a daily, weekly, or monthly basis.
The company also leverages ReviewTrackers' partnerships with select business review sites (e.g., Google, Facebook). 
With 80% of evo's reviews being posted on Google, it makes sense for users to connect evo's Google My Business (GMB) account to ReviewTrackers and respond quickly to reviews — without having to manually log into GMB or risk losing unanswered reviews in the shuffle. 
In early 2021, evo expanded its efforts beyond product and service reviews and added employer brand monitoring to its ReviewTrackers account. The company now has access to employee reviews and feedback sourced directly from evo's Glassdoor and Indeed profiles. 
All this data shows that evo has consistently demonstrated customer experience excellence. Almost all its reviews are positive — 87% have 5-star ratings — and the company's online reputation easily surpasses industry benchmarks.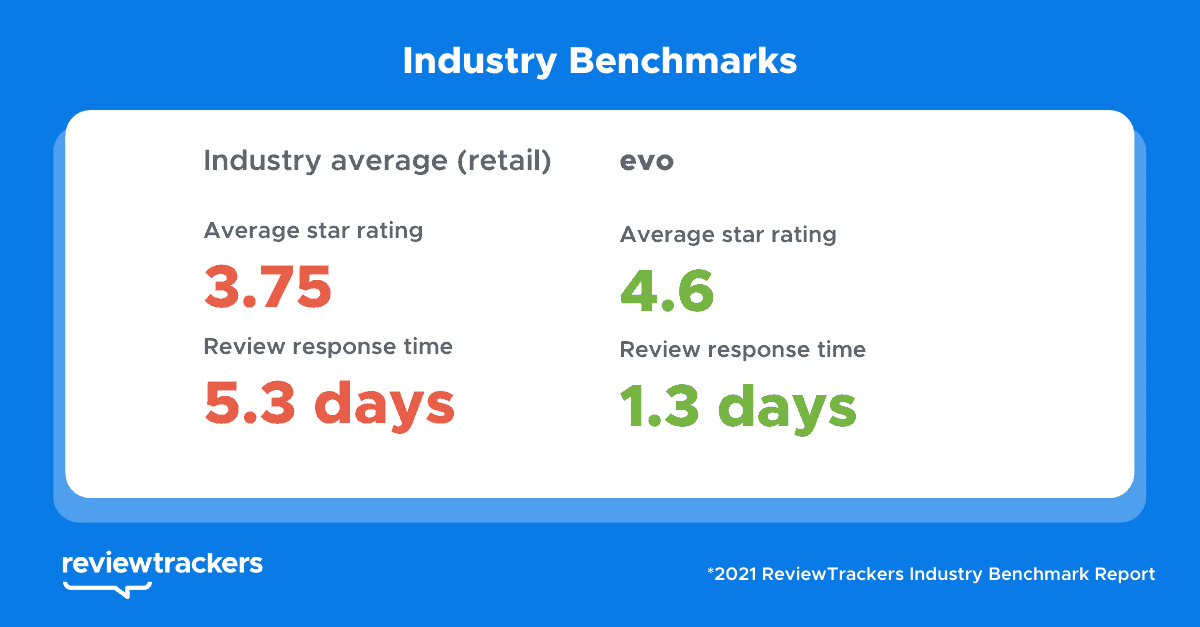 Download the 2021 Report on Industry Benchmarks and Online Reputation Analysis for free.
Smart Response: The Fastest Way to Activate Promoters and Recover Detractors
So far, ReviewTrackers has collected over 6,160 reviews of evo across its Seattle, Portland, and Denver locations (plus reviews of evo's employer brand). 
The arrival of all this precious feedback is followed by swift action, enabled by powerful tools on ReviewTrackers.
First, evo makes a point of responding to reviews ASAP. ReviewTrackers makes this process easier with the Smart Response feature, which lets users select from dropdown templates, personalize their content, and pre-approve response language consistent with the evo brand. 
evo has Smart Responses for positive reviews, reviews that require a location manager's followup, and ratings-only negative reviews that don't have text content.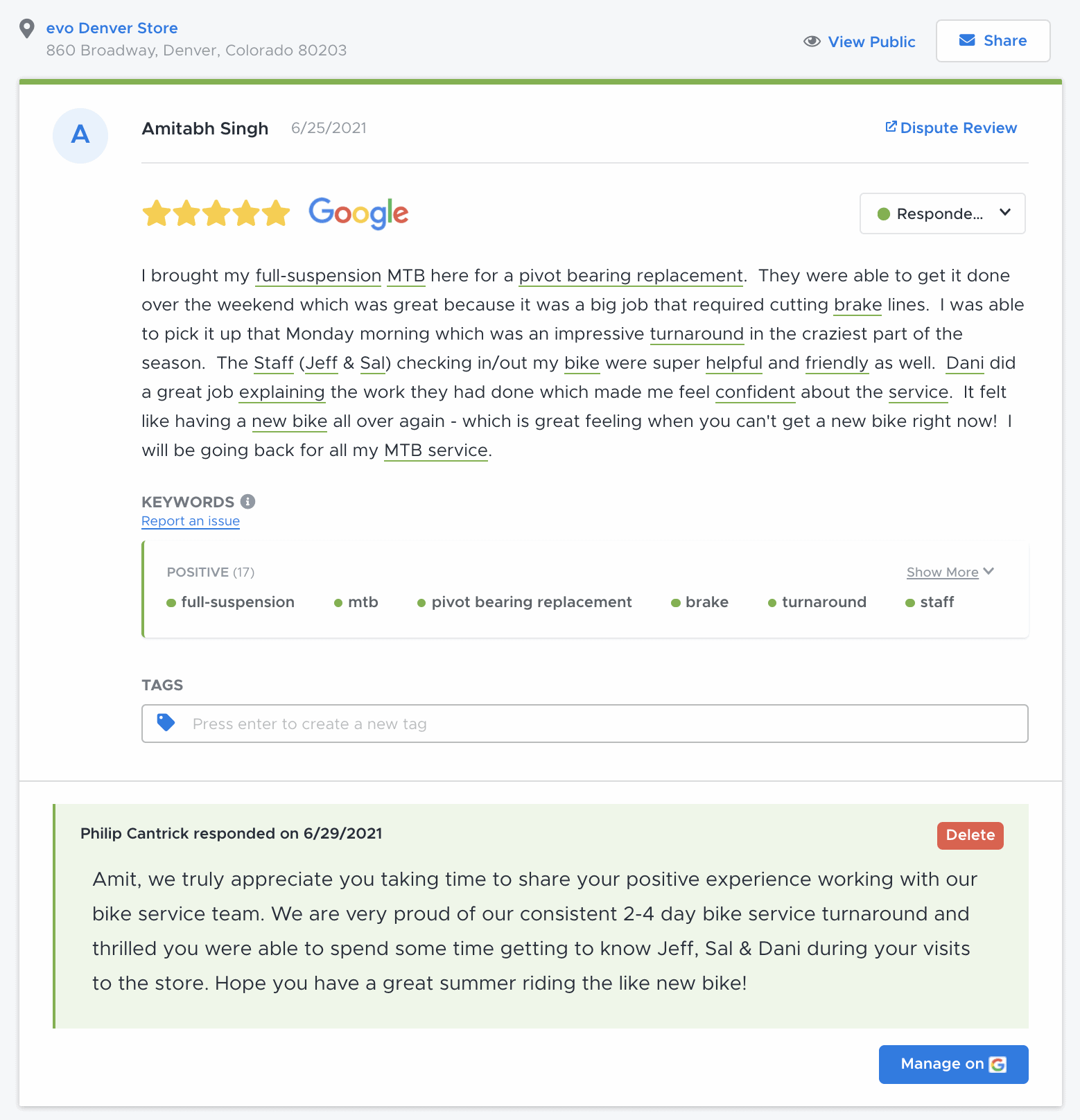 With ReviewTrackers, evo is performing well above industry standards. The average response time is more than 5 days for most retail brands. evo's average is 1.33 days. In the last 6 months, the company has also improved its response time by 38%.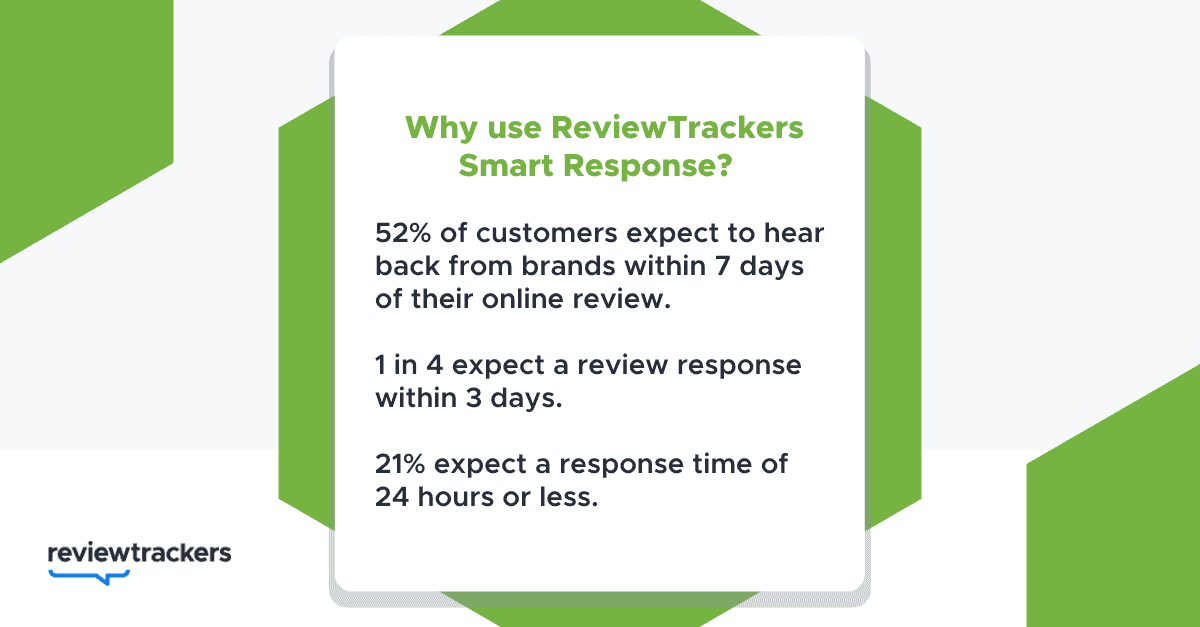 Related: Read the guide on how to respond to negative reviews as well as positive customer feedback.
The Ask Tool + Amplify = Winning Brand Reputation
Apart from streamlining responses, evo also uses ReviewTrackers to capture customer feedback outside of what's found in online reviews. 
This is where the Ask Tool comes in handy. It allows evo's users to send SMS messages and emails designed to collect the kind of first-party customer feedback essential to achieving a better understanding of the customer experience.  
The company gets to know customers up close and learn about their experiences using the Ask Tool's built-in survey capabilities, campaign performance metrics, and natural language processing technology. 
This type of commitment to customer experience management is paying off. 
Based on customer experience analytics technology by ReviewTrackers, customer sentiment for evo — across multiple categories such as product, service, location, and value — is consistently positive. evo locations are also surpassing customer experience benchmarks by 12%.
evo also leverages online reviews of its locations as digital marketing assets on its website, helping inspire consumer confidence and trust. 
Using Amplify, ReviewTrackers' review widget suite, the company is able to showcase the best of what customers have to say about each business location. evo's widget of choice for its website location pages is the Star Snapshot, which shows a real-time overview of a location's overall star rating across all review sites.
Here's an example of what this looks like on evo's Portland location page:
More than ever, consumers rate and judge companies not by the quality or price of their products and services, but by the experience they build around these offerings. 
The entire evo organization understands and acts on this. Following its success with ReviewTrackers, evo is opening new satellite store locations in Snoqualmie Pass, WA and Hood River, OR, plus a new concept called Campus Salt Lake, which includes another flagship retail location in Salt Lake City.  
Similarly, review coverage is critically important to support evo's fastest-growing product categories such as mountain bike and surf.  Highlighting customers' experiences purchasing these products helps others discover evo as a destination for these newer categories, and underscores evo's credibility.
Hand in hand with ReviewTrackers as its technology partner, the company is putting customer experience at the forefront and garnering 5-star reviews along the way. 
Talk to ReviewTrackers to learn how to develop online review management strategies that accelerate the growth of your retail brand.
Explore Highlighted Products