Getting your brand featured in the coveted Google Maps Pack can bring you more store visits and sales while also significantly increasing your online traffic and revenue.
There are several ways you can improve your local SEO performance on Google as well as gain greater visibility in Google Maps search results. In the world of search marketing, the ultimate reward is to rank as one of the three featured businesses in the Google Maps Pack for all search queries relevant to your business.
What is the Google Maps Pack?
The Google Maps Pack is the most prominent and sought-after position in Google's local search results. Also commonly known as the "Google local pack" or the "Google 3 pack ranking," it's a set of three highlighted Google-Maps-based results (it used to be seven) featuring the most highly ranked businesses based on the factors that determine local rankings.
When consumers search for businesses on Google, results come in different shapes and sizes, and they are displayed in various ways across Google Maps and Search.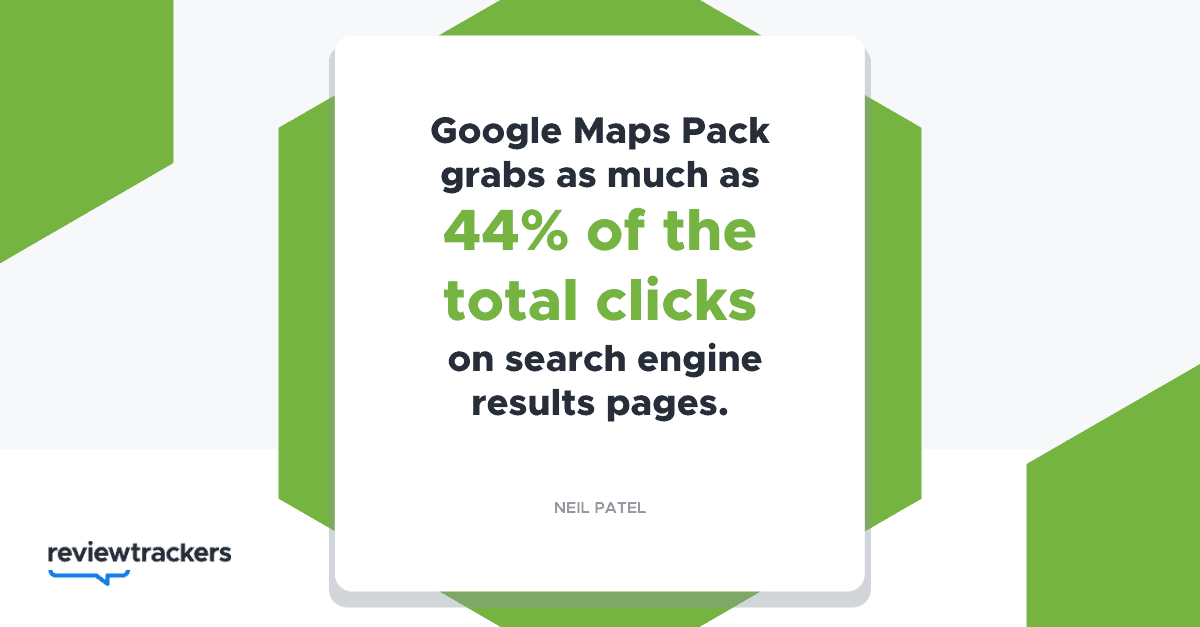 For example: if you search for "Japanese food" using your phone or laptop, local results appear, offering a list of Japanese restaurants that rank for businesses "near me" local searches. The ones in the Google local pack will be featured underneath the Google map.
Here's what it looks like: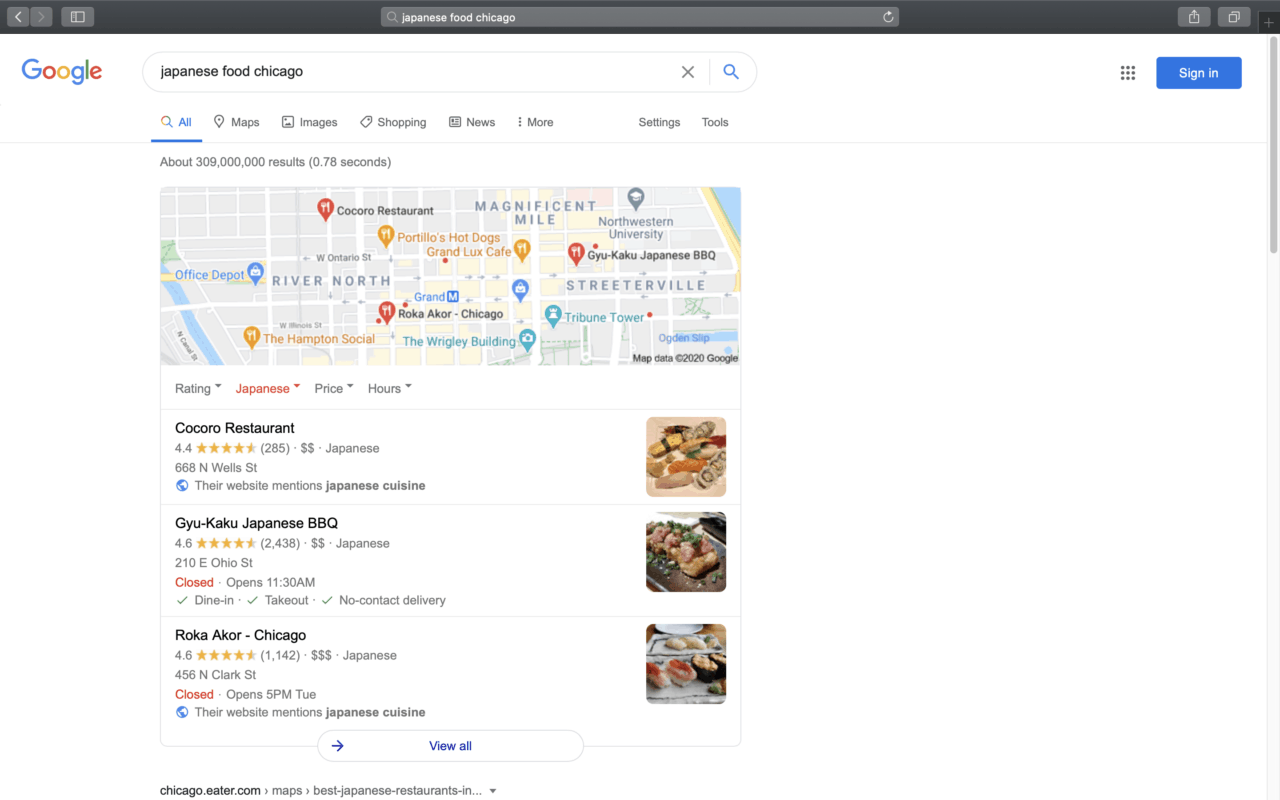 Up to three businesses are featured in Google Maps Pack results, but sometimes, you'll see a sponsored result displayed alongside or above the three organic ones.
Other results on the page may point to the Google Business Profiles or Google My Business (GMB) listings of highly-rated Japanese restaurants in your neighborhood. They may also lead to third-party listings on local directories and business review sites, such as a Yelp business profile, a Facebook local business Page, or a Tripadvisor listing. 
Google provides crucial information about each of the businesses organically featured in the Google Maps Pack: Google reviews and overall ratings, a short business summary, location address, business hours, price range, and a featured photo on the right side, just to name a few.
The Google local pack is also displayed above traditional text-only or links-based search results, making it one of the most valuable pieces of online real estate across any platform. According to research, the Google Maps Pack grabs as much as 44% of the total clicks on search engine results pages.
You can utilize a local search rank checker to track your local rankings and see whether or not any of your business locations are featured in the Google Maps Pack for relevant search queries.
How Do I Appear First on Google Maps Pack Results? 
The factors and algorithms that determine the featured Google Maps Pack businesses are always evolving, so there is no surefire way to get your business listed as one of the top three results for all relevant searches. 
However, there are steps you can take to improve your local search ranking in general on Google, which can improve your chances of being featured in the Maps Pack, as well as attract more searchers and drive more business to your location.
Have a Winning Google My Business Listing
One of the fundamental ways you can position your business to appear as part of the Google local pack is to claim your business listing on Google and manage your information using Google My Business, now known as a Google Business Profile.
If you're wondering, "What should I do after I use Google to verify my business?" here's a checklist of steps you can take to help you polish your GMB listing.
Use your actual business name, but don't stuff it with keywords or your city name.

Correct inaccuracies or errors in your data, and get rid of any duplicate listings.

Be as detailed as possible when entering your business information. Include your business name, category, map location and service area, phone number, website URL, hours of operation, etc.

Write original and compelling copy for your Google My Business description.

Avoid address variations. Meaning: if your location is at "72 Southwest Road," then stick to that way of spelling it, instead of using, say, "72 SW Rd." or "72 Southwest St."

Use a local number instead of a toll-free number.

Upload high-quality

Google business photos

to enhance the visual appeal of your listing. (These often appear in search results, too.)

At all times, make sure your information on GMB is correct, complete, and up-to-date.
Remember: Google Business Profiles or listings that have been claimed and are regularly updated on Google My Business — and which also boast strong Google reviews and ratings — are the ones most likely to rank at the top of local search and be featured in the Google Maps Pack.
Whether it's managing one listing or several, manually ensuring that each entry is correct and up to date takes up considerable resources. Local listing management software from ReviewTrackers can make that process easy, allowing you to focus on other aspects of your online presence.
Leverage the Power of Online Reviews
Consumers depend on online reviews to find great businesses from local searches. That's why reviews are heavily factored into the way Google approaches search and rankings: they add another dimension of trustworthiness to a business.
According to online reviews statistics, people don't really trust businesses with lower than 4-star ratings. 80% of consumers say the star ratings they trust the most are 4.0, 4.5, and 5 stars.
With all else being equal, a business with more (and better) reviews on Google and other review sites is more likely to be featured in the Google Maps Pack than a business with fewer or no reviews.
Ask for More Reviews and Respond to Feedback
Generating new reviews has become a go-to Google Maps Pack strategy for any brand. Apart from the impact that they can have on search rankings, strong Google reviews and high ratings also help create powerful social proof for inspiring consumer confidence, converting organic search traffic, and driving sales. 
Simply put: reviews help your brand get noticed, while also encouraging searchers to click on your listing in search results. It makes business sense, then, to make review generation a key part of your online review management strategy.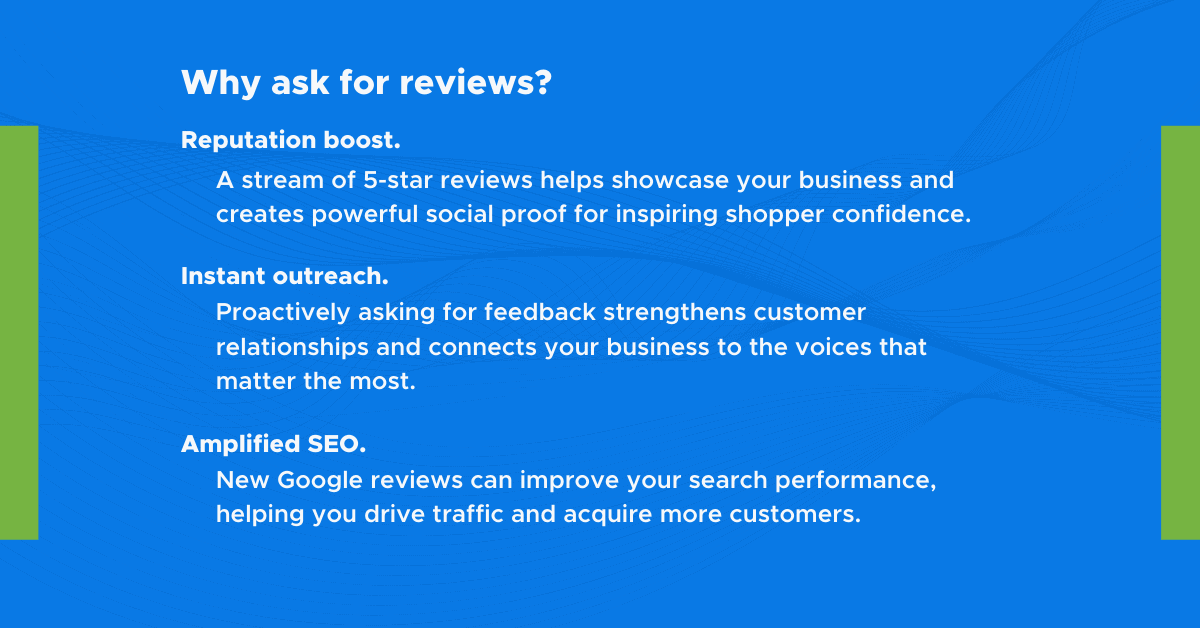 Apart from asking for reviews, you should also learn how to respond to negative reviews as well as learn from positive review response examples.
Local searchers and customers care about being responded to. According to customer reviews research, 53% expect a review response within 7 days, but as much as 63% say that they have never heard back from a business after leaving a review.
Your review responses can immediately improve consumer perceptions of your business. On the other end of the spectrum, not responding can be seen as actively ignoring the voices that matter the most: your customers.
For more tips, check out Google Reviews: The Complete Guide for Businesses. You can also read our blog post on effective ways you can get Google reviews.
Build Citations to Improve Your Google Maps Pack Chances
"Citations" are mentions of your business name on the Web, along with other key information, with or without a link back to your website. Citations include your business listings in multiple places including: 
Online directories like the Yellow Pages and Citysearch

Social media sites like Facebook, Twitter, and LinkedIn 

Local search engines like Google, Bing Places, and Yahoo Local 

Online review websites like Yelp and Tripadvisor

Local blogs highly associated with a particular city or geographic location
Consistency in the way you provide listing information matters. It's one of the secrets to successful citation work. If you're managing a brand with multiple business locations, investing in a local listing management solution can help you claim listings and build citations more efficiently.
Improve Your Website's Location and Local Search Signals
Chances are that you have already applied basic optimization techniques to your website, but gaining better Google Maps Pack positioning through on-site SEO is another story.
If you're managing only one business location, it's useful to structure and expand your website in ways that improve your local search signals.
For example, you can try to make sure that your business Name, Address, and Phone Number (NAP) data is present on every page of your website.
You can also add unique and relevant local content such as: 
Your location's unique business description 

Operating hours, an "About Us" section 

Local news, deals, and promotions 

Information about the team or staff 

Online reviews and testimonials of your business location 

Trivia or historical information about your city or local neighborhood.
You can also embed a Google map on your site. Many brands place this on their Contact page or About Us page. This is another way to tell Google that your business is correctly located online. Remember to use the exact same address that you have on your Google My Business listing.
Final Thoughts
Taking the above steps to optimize your brand presence for the Google Maps Pack search results is one of the most effective ways to attract nearby customers in your area. Indeed, there is no better place online for a business to be found than in the Google 3-pack ranking, which will drive customers to your business on a consistent basis.