Your Google Business Profile (formerly known as Google My Business or GMB) can serve as a powerful tool to help generate leads for your brand. According to customer reviews data:
Google holds a 73% majority share in the search engine market

Google hosts 58% of all

online reviews

Approximately 63% of consumers check reviews on Google before visiting a business.
These numbers demonstrate that Google is a top source of potential leads. How do you tap into it? Fortunately there are a few ways to use your Google Business Profile to generate leads and get more information about your ideal customers.
Connect Google My Business with Google Analytics

Track leads through GMB Insights

Optimize a listing for lead capture
For more about your Google Business Profile and the other factors that can make it easier for you to attract and retain customers online, check out the video below.
Use Google Analytics with GMB
To measure the effectiveness of your Google My Business listing, you can use urchin tracking module (UTM) codes to accurately track how much traffic comes from your listing to the main domain on your business website. Here's how to set it up.
List a website for each location on a GMB listing. Users see this as that "Website" button on a GMB and map listing. Here's an example: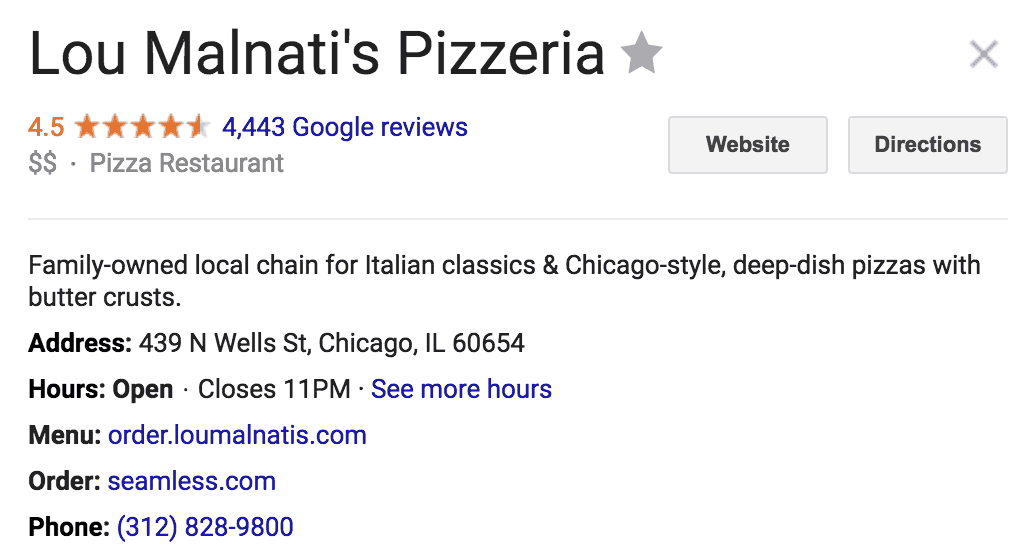 Some marketers use this to link back to the brand's homepage. Don't make the same mistake.

Link to the page for that location and include a UTM parameter, which looks like this:

www.example.com/locations/city/?utm_source=google&utm_medium=organic&utm_campaign=GMB
With that URL, you can segment any traffic that comes through the listing and see its effectiveness by the number of triggered Google Analytics goals. Some example goals include the number of reservations, menu views, and take-out orders placed. 
GMB users can create these custom URLs through the Google Campaign URL Builder, then add the new URL through the GMB dashboard.
The benefits of tracking this behavior are huge. Analyzing the traffic, leads, and conversions referred to a brand's site through its GMB listing provides a rich vein of marketing data that can help optimize a business.
For example, if you see that traffic from your GMB listing has a high bounce rate, think about adding a local-focused lead capture to a location page. Add calls to action like "get directions," "book an appointment," and "visit us." Not only does this put the onus on the user to take an action; it also reduces friction during the research process, making it easier for people to learn more about your brand due to its easy access.
Test these new initiatives, and do whatever you can to get that low-funnel traffic to convert.
Use GMB Insights to Track Customer Actions
A GMB account is more than a place where business listings are created for Google Search and Maps. It's also used to get directions, ask questions, and make a reservation. These actions are recorded by Google and provided in the Insights section of the Google My Business dashboard.
How to Use Google My Business Insights to Understand Customer Actions
Looking at the Insights section provides a better understanding of trends that show how potential customers interact with a listing.
Insights can tell GMB users what a customer does after they view a listing. A graph chart – which views data over a week, month, or quarter – will show how many users perform actions like visiting the business website, getting directions, calling the business, or sending a message. Marketers should look at the number of people who are getting directions to their locations each month and its overall trend.
Those actions are all points of "conversion" that rank at different levels within the conversion funnel, and some of them are no-brainer leads that everyone should track. Other metrics worth tracking for your Google My Business lead generation strategy include: direction requests, starting location data, and website clicks. 
Direction Requests (and Starting Location Data)
When these new leads ask for directions to the business, Google tracks their starting point, which GMB users can see on Insights. This type of location information shows the starting location zip code for your leads.
This is helpful for marketers because it shows where to refine marketing and product efforts in order to target potential customers in prominent areas. For example, if a restaurant chain gets plenty of traffic from suburban areas, a business can optimize its advertising strategy to hit those areas.
Website Clicks
Similar to the UTM method above, Google also provides data on the clicks to your website from your listing, which can help provide insights on the current health of your listing. However, it's important to note that this metric only tracks clicks that originate from the listing. If you want to see traffic to your website from other sources, you will need to implement UTM parameters.
Still, this is a valuable tool for teams. Gaining information about the effectiveness of your listing can lead to data-based changes that knowingly affect the user experience. This can include elements such as new photos, updated contact information, or even a better description of what your brand can offer to customers.
Optimize a Google My Business Listing for Lead Generation
Data gathering isn't the only way to get leads. GMB users can also make improvements to listings to make sure they show up in more search results. When they do appear in local searches, these optimizations also make listings primed for conversion, and they can easily be accomplished with powerful local listing management software.
On top of data, you can also have the following items on your GMB listing:
Manage, Respond to, and Request Online Reviews
Customer reviews research shows that 63.6% of people are likely to check Google reviews before they visit a business location. These reviews are essential social proof for influencing purchase decisions. Moreover, 78% of consumers will need to read at least 7 reviews saying the same thing before they believe what's being posted online. 
By asking for reviews, a business will see a massive influx of feedback. This can be difficult to manage for those with multiple locations, but you can use a reputation management software solution like ReviewTrackers to help with online review management and ultimately prepare you for learning how to respond to negative reviews.
You can also read our popular guide on how to get Google reviews for your business listings. 
Enter a GMB Business Description
Adding a detailed description on Google My Business not only tells Google more about a listing; it provides better matches for search queries. People looking for specific places can use these descriptions to decide whether or not a listing is worth their time. Stick to common terms that people would use on a regular basis to describe your business.
Add Categories and Attributes
Using the right keywords to talk about a business can help a listing fit into the right category.
For example, a restaurant focusing on Asian fusion cuisine might not find it beneficial to fit into the "Asian Restaurant" category. The best option might be to actually use the "Asian Fusion Restaurant" category as the primary choice. Be as specific as possible.
This idea of specificity is also why it's important to have additional attributes in a listing. Things like a price range, hours, menu items, and amenities all answer questions that potential customers might have about a business.
Engage with Customers by Answering Questions 
In some cases, interested prospects can quickly become leads and immediately purchase from you if you're able to answer their questions or concerns in a timely manner. To make this easier on brands, Google recently added the Business Messages feature, which allows customers to directly message you when they see your listing on Search or Maps.
While it's nice to always have a personal touch to each conversation, you can also save some time with these messages by adding a quick reply message to specific queries like "Senior Hours" or "Curbside Pickup." You can even display simple yet appealing informational cards in the message to make it easier for people to find specific information. You can also use Google My Business appointment URLs to make it easy for profile visitors to take action.
Google also has some partnerships that make it easier for larger brands to bring in customer service experts to help those with niche issues with their products. By staying attentive to activity on these features, you can easily convince prospects to become bonafide leads and future loyal customers.
Final Thoughts: How to Get Leads From Google My Business
It might take some time to fully take advantage of Google My Business as a means to generate more leads, but the payoff is worth it in the long run. Customer reviews data shows 53% of consumers who use Google for local search will visit a business within 48 hours, and 14% of people in that group are looking for a business to visit immediately.
By continuing to optimize the usage of Insights, Google Analytics, and GMB as a whole, any business can use Google to capitalize on leads, bring in more customers, and gain more revenue.