Here's a quick win to acquire more customers: add a Google My Business (GMB) appointment URL, or "local business URL," to your listings.
These Google appointment URLs appear on your business listing and link to specific actions like online orders, reservations, or appointments, making it easy for customers to take action directly from Google Search or Maps. Think of it as a "call to action" link or button.
Using Google My Business, you can add appointment URLs for specific actions, including:
Booking an appointment

Placing an order

Making a reservation

Searching for items

Viewing a menu or list of services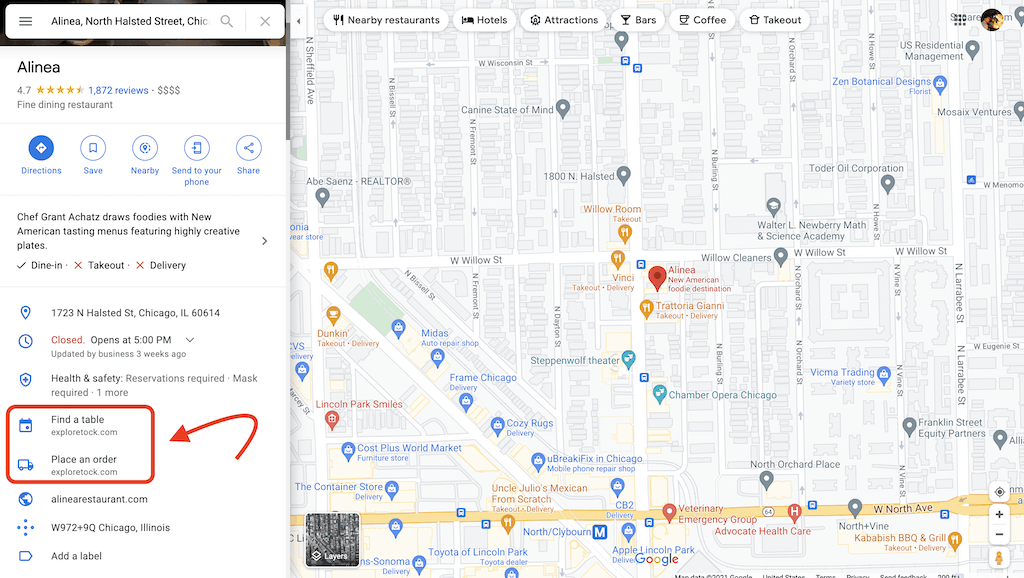 In some situations, the Google appointment URL comes in the form of a button at the top of a listing that encourages customers to "Find a table," "Book a room," "Place an order," or "Schedule an appointment."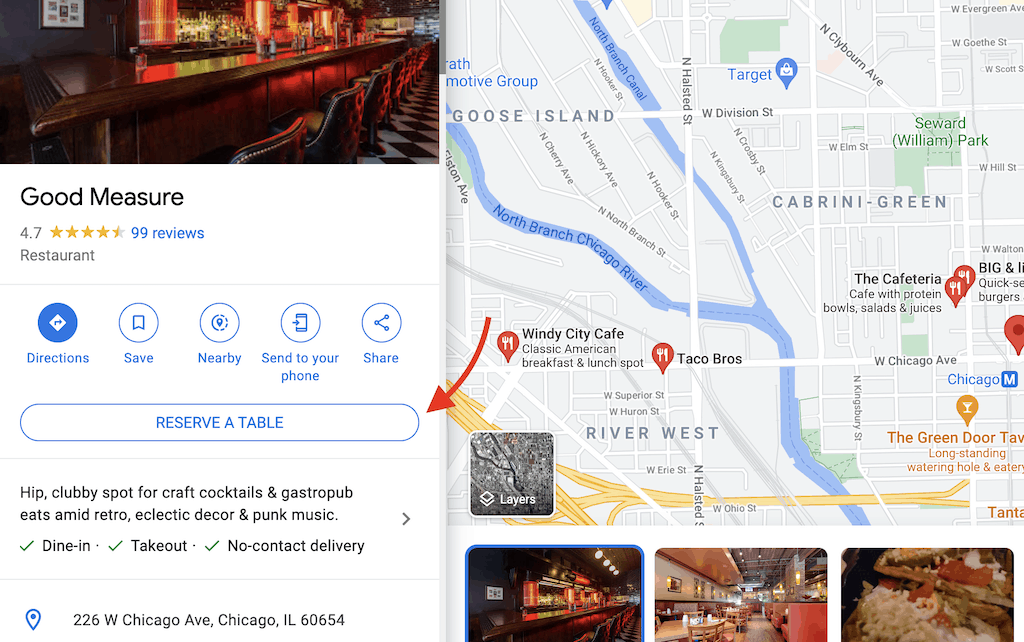 How to Add a Google My Business Appointment URL  
Learning how to add an appointment link in Google My Business is one of the simplest and most effective customer acquisition techniques you can implement right now. Doing so helps attract searchers to your business locations, helping improve your brand visibility and drive conversion. 
Here's how to add Google appointment URLs to your listing: 
Step 1: Sign in to GMB
Your company or business location must be listed on Google My Business and verified by Google. Those without an account can learn the basics of GMB by reading this comprehensive guide to Google My Business.
Companies or brands with multiple locations that have been listed on GMB using the Google My Business Bulk feature will have to click on a specific location to manage, add, or update their appointment URLs.
Step 2: Add the URLs
The next step is to click on the URL section, which is marked by a small icon of the Earth. A series of empty text fields will appear. 
Here, you can add URLs from third-party sites. Hit the "Apply" button when you're finished. Among these links, you can choose a preferred link that displays at the top so customers can easily find it. To set a preferred link, click the Star next to the link you chose. 
In this example, Homeslice chose "Reserve a Table" as its preferred link. 
The number of available URL slots will vary depending on your business category. (Keep in mind that links to certain third-party booking services might automatically appear on your listings. These links can't be edited in Google My Business.)
How to Use Reserve with Google to Create a Local Business URL
Apart from adding URLs to GMB, restaurants, activities and event providers, and beauty and fitness locations can take advantage of the Reserve with Google service. This allows customers to book appointments directly through the Google business listing.
In order to join the program, you need to add and update your business information using any of the third-party reservations or scheduling sites that have a partnership with Google. 
There are currently hundreds of websites that have Reserve with Google partnerships, including Bookatable, Booksy, Zomato, and Appointy, among many others.
Why Your Google Appointment URL Appears Automatically
In some cases, some businesses will see an appointment URL added automatically to their listing. This is a result of one of two things: 
Google has a partnership with a third-party service provider 

Your business has a partnership with a third-party provider 
If your Google My Business appointment links are added and updated automatically via third-party providers, you won't be able to remove or edit the links through GMB. Instead, you should contact the support or technical teams of the third-party provider to remove or edit information in your Google appointment URL.
Example of Google Partnership with Third-Party Provider 
One of the major Google partnerships is with OpenTable, one of today's top restaurant review sites. Businesses with an OpenTable listing can allow customers to make reservations directly from Google Search or Maps.
Depending on their choice of OpenTable's products, businesses might have to pay more for each reservation if it's placed on Google instead of OpenTable.
Example of Business's Partnership with Third-Party Provider
GMB local business URLs can automatically appear if a business has an established relationship with a third-party provider: for example, an online reservations platform or an online appointment booking system.
Examples are often seen in hotel listings on Google, where customers can book a room when searching for a specific hotel. Typically, Google shows different prices taken from various third-party providers, local directories, and business review sites.
Boost the Performance of Your Google My Business Appointment URL
Just because the "Find a Table" or "Book a Room" is on your listing doesn't mean that people will immediately click it. You need to do more to attract customers.
For example, you should always add as much information to your listing as possible. Include detailed descriptions and categories so that Google can better understand the business and provide better matches for search queries on Maps and Search.
Adding photos can also make a listing more attractive. The right photos for a business can bring more customers. Prominent businesses might even include photos from past customers in their listings.
Online reviews are perhaps the most important factor in any listing, especially on Google. 63.6% of people will check reviews on Google before visiting a business location. Here are some best practices you can apply as part of your online review management strategy on Google:
With great reviews, photos, and other information readily available on your listing, customers can make an informed decision when they visit, engage with, and take action on your Google My Business appointment URLs.