In today's digital age, diners quickly become online critics on restaurant review sites. With their words, they're making personal recommendations not only to their friends and family but also to the whole world.
To stay competitive, you must cook a great meal and be savvy outside the kitchen by engaging with online with customers, protecting your business reputation, and monitoring what diners are saying about your restaurant and restaurant locations. 
Key Stats on Restaurant Reviews
Whether you like it or not, you must acknowledge the impact of online restaurant reviews and play a more active role in managing these reviews. Here are some numbers that show how online reviews and ratings have shaped the restaurant industry.
A Harvard Business School study

shows that a one-star increase in your Yelp rating can lead to a 9 percent revenue increase.

According to findings from our survey on

restaurant star ratings

, 33 percent of restaurant-goers stated that they would not eat at a restaurant with an average 3-star review on online restaurant review websites such as Yelp, Google, and Facebook.

People are

25 percent more likely

to consult reviews from other diners than professional critics.

68 percent of restaurant owners in the US actively monitor and manage reviews on multiple review sites, and 57 percent of consumers say they will avoid a business that has negative reviews and ratings.
Best Practices: Restaurant Review Sites
As you claim your listing on these restaurant review sites, make sure you follow these simple tips and tricks to protect your restaurant reputation and improve your business performance. 
Submit complete and correct business information
When you can, add as much information about your business: business name, category, phone number address, cuisine type, hours of operation, etc.
It's extremely important that your listing contains information that is complete, correct, and up-to-date. Each site will have options for editing your listing in case you made operational changes or moved to a new address.
This process might take some time when you do it manually, but there are some online citation tools available that can make the process faster and easier for you.
Manage restaurant reviews
Be active in monitoring and reading restaurant reviews posted by diners. It's a great way to find out what they love about your business, as well as what they think you can improve on.
Also be sure to respond to reviews professionally, promptly, and politely. This shows that you're a business owner who values customer feedback, and that your establishment takes the time to listen to what customers have to say.
Need inspiration? Here are some great examples of how to respond to reviews.
Stay responsive to customer needs
Restaurateurs who keep their fingers on the pulse of evolving diner demands and expectations are the ones most likely to succeed. Carefully manage your customer feedback, then make adjustments based on what you learn. This can spell the difference between dining experiences that delight and experiences that don't. 
List of Restaurant Review Sites You Should Track
If you're just getting started on your restaurant's online reputation, let us help. We made a list of the restaurant review and rating websites your business should use know about, along with information on how to claim your business profile or listing on each of the sites.
If you're managing multiple business locations, our restaurant review software can help you track, respond to, and generate reviews across all these websites.
1. Yelp
Founded in October 2004 in San Francisco, California, Yelp is the go-to site for diners looking to discover great places to eat.
The site has a wide range of business categories. But food, restaurants, nightlife, and bars are the sectors where Yelp has made its name.
A well-managed Yelp listing also brings in more revenue as well. Research shows businesses with new listings see an average of $8,000 in annual revenue from their Yelp page alone.
How to claim your restaurant on Yelp:
To claim your Yelp for Business page, visit https://biz.yelp.com/. For further details, visit the ReviewTrackers guide on claiming your Yelp page.
2. OpenTable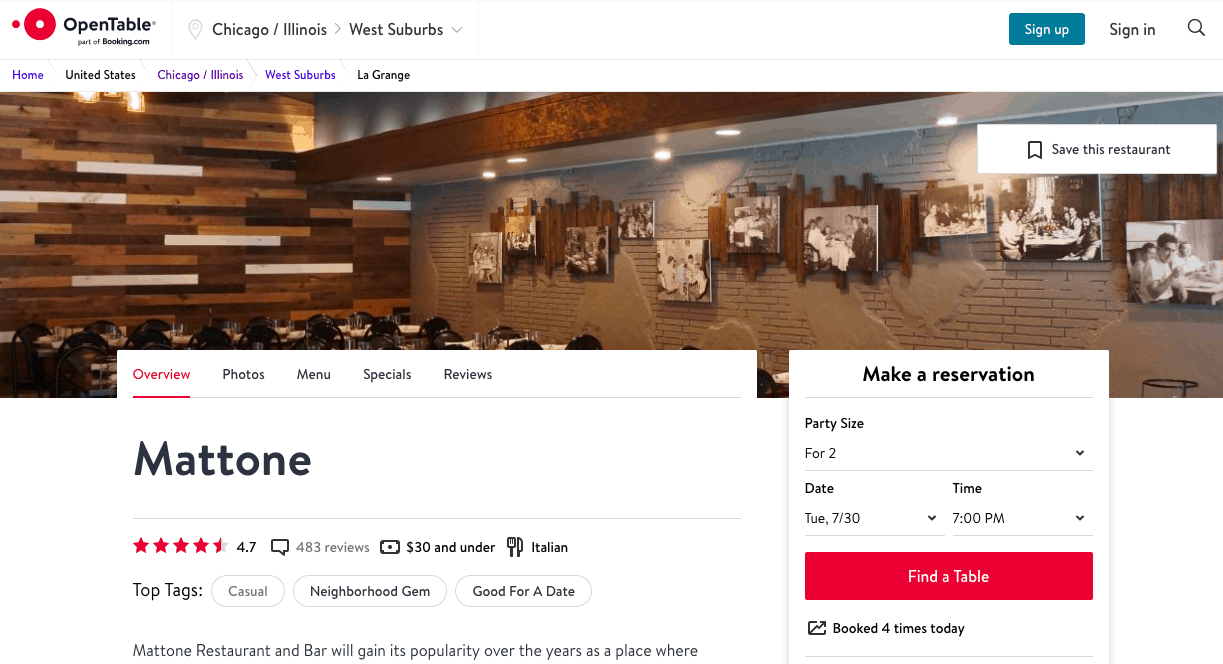 A subsidiary of Priceline.com, OpenTable is one of the leading online restaurant reservations platforms today.
But it's not just for hungry diners looking to book a table. It's also for those who haven't yet decided where to eat, and who'll thus turn to restaurant reviews to guide their decision.
Every month, 21 million OpenTable diners write more than 850,000reviews, and its network connects diners with more than 40,000 restaurants worldwide.
How to claim your restaurant on OpenTable:
You can join OpenTable by visiting http://www.opentable.com/opentable-restaurant-management-system#/join_us_form. You can also read the complete guide on how to claim and manage your business on OpenTable.
3. Google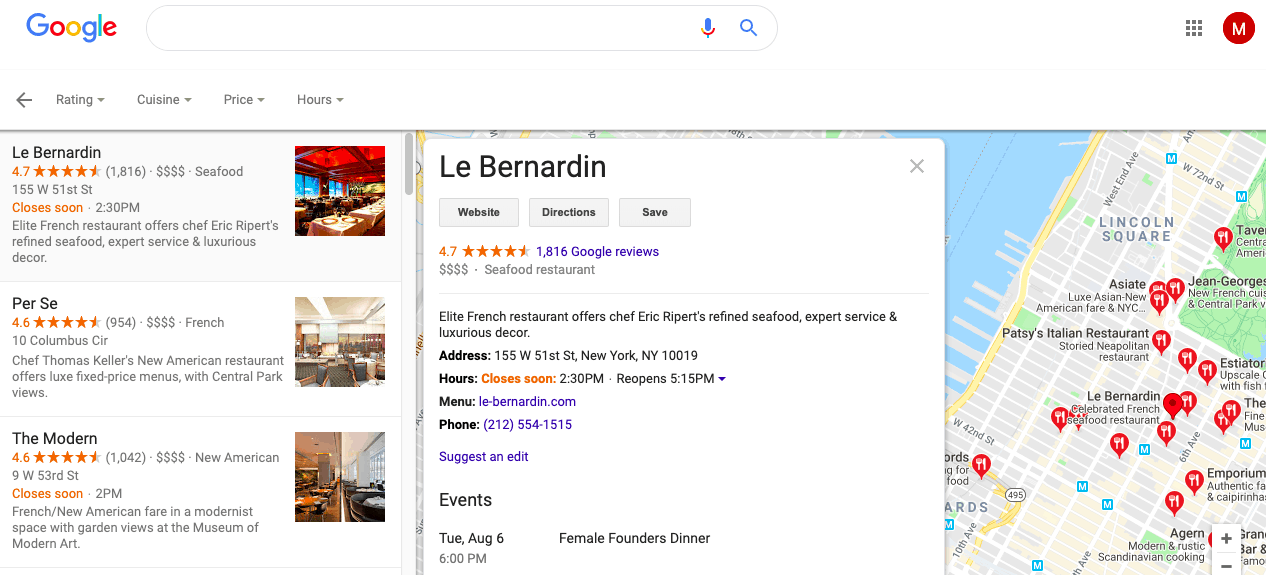 Google is the world's biggest search engine. It has also quickly become one of the most powerful restaurant review websites, thanks to the rapid growth of Google reviews. In fact, 63 percent of consumers will go to Google to see reviews before visiting a business.
With services like Google Maps, Google Search, and Google My Business, Google connects millions of hungry diners with restaurants and local businesses every month. It also publishes Google restaurant reviews and ratings on its own platform.
How to claim your restaurant on Google:
To create or edit your restaurant listing on Google, just visit the Google My Business page at www.google.com/business. You may also read this handy guide on how to manage your restaurant business on Google.
4. Facebook
The world's leading social network is also home to hundreds of thousands of restaurant reviews. In the last couple of years, Facebook has polished and enhanced its review features, making it easy for users to rate their favorite restaurants or find new ones to visit.
Facebook is also popular among customers when it comes to choosing a restaurant. Research shows that 72 percent used the platform to make dining decisions, which are based on comments and images.  
How to claim your restaurant on Facebook:
Check out our guide to Facebook Reviews and Recommendations for information on how to manage your restaurant's Facebook page. You can also read our more comprehensive guide to Facebook Business Manager.
5. TripAdvisor
TripAdvisor, the world's biggest travel site, has made an indelible mark on the hotel and hospitality industry. But it's also making an impact on restaurants.
About 490 million monthly unique visitors go to TripAdvisor every month. The site features 730 million user-generated reviews and recommendations of places all over the world. TripAdvisor also features multiple-category restaurant rankings as well as an online reservations platform.
How to claim your restaurant on TripAdvisor:
To get started on claiming your restaurant's TripAdvisor listing and start getting TripAdvisor reviews, go to http://www.tripadvisor.com/Owners. You can also check out this guide on using TripAdvisor for your business. 
6. Grubhub and Eat24
https://www.grubhub.com and http://eat24.com/
Eat24, formerly owned by Yelp, was a leading food delivery and pickup service with a network of over 30,000 restaurants in over 1,500 cities.
A few years ago, online food ordering and delivery service Grubhub bought Eat24 from Yelp. Most of the listings that were part of Eat24, along with these listings' restaurant reviews and ratings, are now on Grubhub.
How to claim your restaurant on Grubhub and Eat24:
You can join Grubhub by visiting https://get.grubhub.com/.
7. Seamless
Seamless is an online food ordering service that allows users to order food for delivery and takeout from restaurants through their web site or suite of mobile apps. The company is also owned by Grubhub, which features over 115,000 businesses across 2,200 cities in the U.S. and London
If Seamless users have opinions about any restaurants listed on the site, they can leave restaurant reviews and ratings. Selected reviews will be posted to the site.
How to claim your restaurant on Seamless:
You can join Seamless by visiting https://get.grubhub.com/.
8. Gayot
Named after the French food critic who coined and promoted the term "nouvelle cuisine" in the 60s, Gayot is an international and professional guide to dining, hotels, travel and lifestyle, including spas, movies and automobiles.
It has professionally written reviews of local businesses, but the site also allows consumers to leave their own restaurant reviews. Gayot evaluates restaurants on a specific rating system based on a 20-point scale. The rating is seen on every restaurant page, with comments about décor, service, ambience, and wine detailed within each review.
How to claim your restaurant on Gayot:
Unfortunately, business owners currently do not have the ability to claim their restaurant listings on Gayot. You can, however, sign up to pay for advertising in order to gain greater visibility on the site.
9. Zomato (previously Urbanspoon)
New Delhi-based restaurant portal Zomato, which acquired Urbanspoon, offers online restaurant reviews from professional food critics, bloggers, and diners. The site reportedly features over one million restaurants spread across 24 countries.
Zomato also offers the ability to filter searches according to restaurants' neighborhood, cuisine type, special features (BYOB, gluten-free menu, etc.), price, and nearby locations.
How to claim your restaurant on Zomato:
If you don't yet have a business listing on Zomato, visit: http://www.zomato.com/business#add. Or if you already have a listing and would like to claim it as your own, visit: http://www.zomato.com/business#ads. You can learn more about optimizing your listing by reading our Zomato Business guide.
10. MenuPages
MenuPages, also a Grubhub brand, is one of the go-to sources for online restaurant menus. It has a collection of 50,000+ restaurant menus in 1,000+ cities, along with restaurant reviews and recommendations from its community of users.
How to claim your restaurant on MenuPages:
To get your restaurant and menu listed on MenuPages, just visit https://get.grubhub.com/.
11. Zagat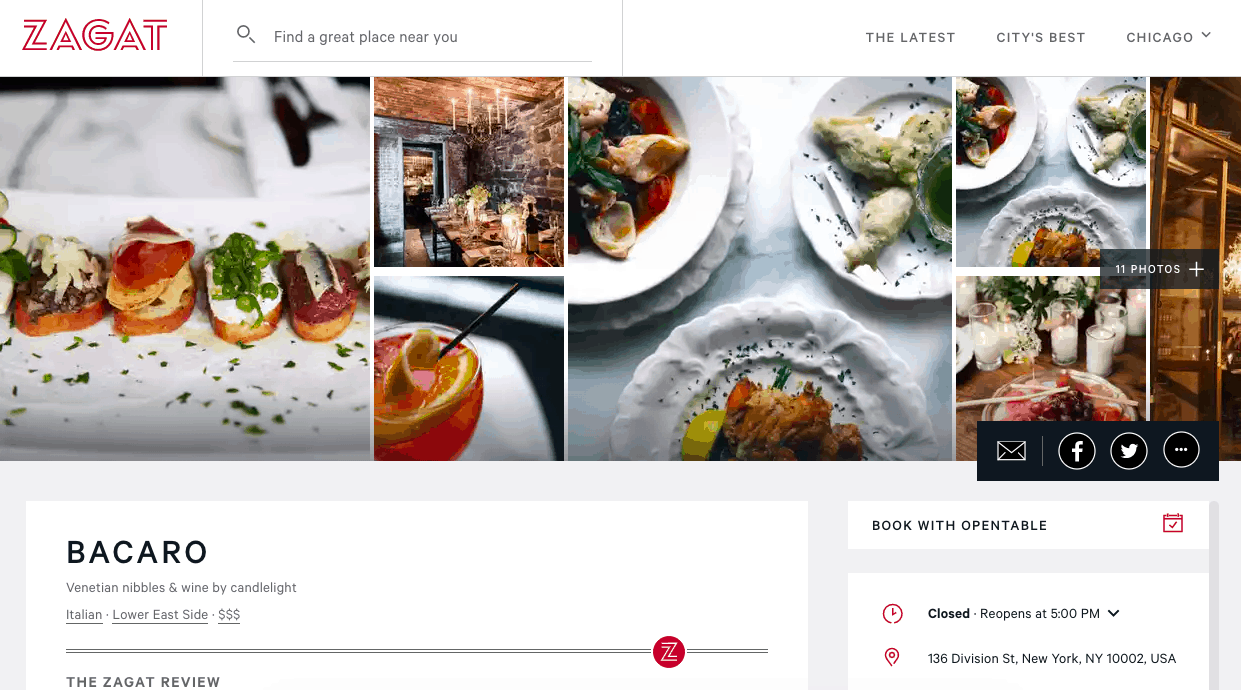 One of the first-ever companies to collect restaurant reviews and ratings, Zagat – founded in 1979 – is among the top restaurant review sites today.
The website curates the best restaurants and nightlife spots in 18 major cities worldwide. It was acquired by Google in September 2011, whereupon Zagat's data became tightly integrated into the search engine giant's services.
The site is best known for its 30-point rating scale. This scale covers various aspects of the dining experience, including food, décor, service, and cost.
Zagat also has a dedicated mobile app (for Apple iOS and Android) that's integrated with Google services like Google Maps and Google Street View.
How to claim your restaurant on Zagat:
To take control of your restaurant on Zagat and manage your ratings and reviews, you have to claim your listing via Google My Business. Also, be sure to check out Zagat's guide for business owners.
12. Foursquare
Once a popular location-based check-in service, Foursquare has evolved drastically into a powerful restaurant reviews and discovery platform. 
More than 50 million people are using Foursquare, discovering great local businesses by turning to location-based reviews and recommendations. Over 1.9 million businesses have already claimed their locations to connect with their customers.
How to claim your restaurant on Foursquare:
To claim yours, visit http://business.foursquare.com/claim. Once you've claimed your listing, you can add your business name, category, hours of operation, photos, links, and other helpful information.