As of January 2019, Statista reports that the global social network penetration rate is at 45 percent— meaning nearly half of the world's population is using social media.
At any moment, a significant portion of that group might be talking about your brand in multiple ways, but checking your company's Twitter or Facebook isn't enough to catch all of those conversations. That's why businesses should look into Hootsuite reputation management strategies in order to get a more comprehensive look at their social media channels.
However, monitoring social media isn't enough to properly maintain a positive online reputation. To have an effective Hootsuite reputation management plan, you'll need an additional extension within Hootsuite.
Hootsuite Reputation Management through Social Media Monitoring
Out of the box, Hootsuite lets you add multiple accounts so that you can see your business's entire social media presence in one place. Specifically, you can create different feeds or "streams" for each account.
Tracking Mentions
Creating the right streams is incredibly useful especially when it comes to mentions. When people drop your brand name on their posts, they're asking for your attention. With a dedicated Hootsuite stream for mentions, you'll be able to notice these posts faster and provide assistance when necessary.
The idea of reaching out to brands via social media for customer service is becoming more frequent, and it's an opportunity for you to meet the demands of your customers. Research from Statista showed a global consumer average of 59 percent who have a more favorable view of brands that respond to complaints or customer service questions via social media.
By tracking mentions, you not only resolve customer complaints faster—but also improve your reputation with bystanders on social media who judge your brand based on how quickly, fairly and friendly you respond.
A Pulse on the Conversation
Mentions aren't the only way to gauge your online reputation on Hootsuite. You can track even more specific elements such as keywords and hashtags or even look at conversations on social media from a specific location.
This type of monitoring is helpful for any businesses that want to know how consumers around the world or in a specific town perceive their brand when the conversation isn't directed towards them in posts. The Voice of the Customer is especially loud in social media, and these insights help you find ways to improve customer service and experience as well as create posts that are more aligned to current customer sentiments.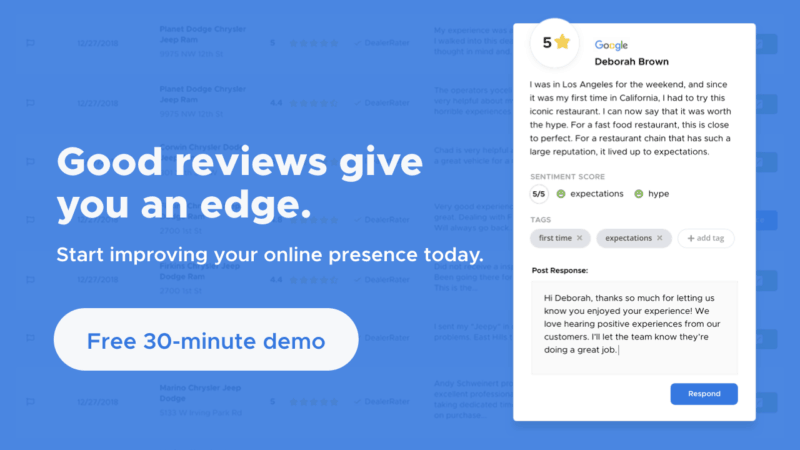 Hootsuite Reputation Management through Online Reviews
Social media channels are important to online reputation management, but the crux of any reputation management strategy involves constant monitoring and engagement through online reviews. But just how important are reviews?
Consider this: 94 percent of consumers said that an online review convinced them to avoid a business, and reviews are one of the top three ranking factors in local search.
Fortunately, Hootsuite users can also see online reviews on their dashboard by adding the ReviewTrackers extension to their Hootsuite plan. With the extension, you can create multiple streams on Hootsuite that track positive and negative reviews as well as feedback by review source.
Responding to Reviews via Hootsuite
Aside from actively monitoring feedback, review streams on Hootsuite allow you to quickly respond to customer reviews.
Online review survey data showed that 63 percent of customers never get a response to their reviews, which is a missed opportunity for any brand. Customers are writing reviews to be heard by both other consumers and by management.
With the ReviewTrackers extension, you can view customer feedback from more than 85 review sources and provide responses to any and all of your reviews in real time through the Hootsuite. These responses build trust, show that you care about any and all feedback, and tell others that you are willing to engage with any customer regardless of their overall review sentiment.
Submitting well-written responses, especially to those who submitted a negative review, can even be a benefit for you. The same online reviews survey showed 45 percent of consumers are more likely to visit a business if they respond to negative reviews.
Using Hootsuite to Show Off Reviews
On top of review responses, you can Hootsuite and ReviewTrackers together to show off your best reviews. After sending a "Thank you" response to the reviewer, show off the feedback via a post to your followers on social media. Include compelling elements, such as a picture or call to action, to make it even more appealing to consumers.
When done correctly, these types of posts serve as valuable social proof to prospective customers. They want to know that other people visited your business and had a great time. Research shows that 23 percent of consumers will look at up to four reviews from multiple sources before they make a purchase decision. Why not make your social media channel one of those sources?
A Strong Strategy with Hootsuite Reputation Management
Reputation management starts with comprehensive monitoring, and Hootsuite offers a comprehensive solution. With the ReviewTrackers extension, any brand can stay on top of the latest social conversations and reviews about their business from a single dashboard. With the right responses to customer queries and feedback, you can boost your reputation to bring in more customers and revenue.