Download 43 free review response templates for negative and positive reviews
Get the templates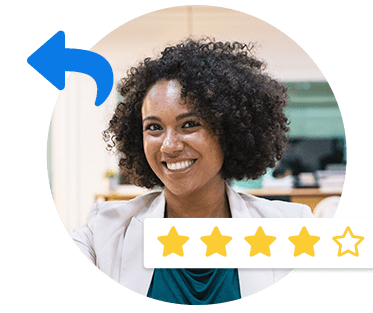 There are certain established rules that dictate the ways businesses engage with customers. For lawyers and legal professionals, however, the rules are different.
Social engagement, client-generated lawyer reviews, and public forums add a layer of complexity to the reputation management of law firms or solo practitioners. While restaurants, hotels, plumbers, electricians, builders, and online stores can engage in online dialogue and present their side of the story with very few restrictions, attorneys – and, to a certain extent, physicians – are held to a higher standard and are subject to guarding the privacy and confidentiality of their clients and patients.
Online review sites drive a significant amount of business to legal professionals. However, they do present the risk of a negative or unfair review, tainting the professional reputation of the practitioner and leaving a feeling of helplessness – since they might not be able to defend their side of the story.
(Check out: "Here are the Online Review Sites that Lawyer-Seeking Clients Trust the Most")
Ironically, when it comes to reviews, attorneys are left with their hands tied and they are unable to do what they do best. Attempts have been made in the past to tackle review websites by suing them for defamation. These attempts have been frequently unsuccessful. Lawyers and law firms cannot and should not present a persuasive argument saturated with evidence to defend their own reputation.
With this in mind, there are still several avenues of marketing that can ensure the best possible results when it comes to managing online reputation for lawyers, law firms, and legal professionals.
Set the stage for excellence
When it comes to online reputation, the best and most effective approach is prevention. In the case of legal practitioners, the bulk of customer complaints and concerns posted on review sites are not necessarily related to the results of a particular legal procedure. Most clients understand that attorneys can and will do their very best, but at the end of the day a legal decision rests solely in the hands of a judge or jury panel. Complaints expressed in online review sites for attorneys  and legal professionals are often related to issues of customer care.
Know and understand online review sites
In an effort to reduce the friction created by clients expressing their discontent online, a number of review sites for law professionals limit their display to score-based ratings that do not disclose specific opinions.
This system simply shows the scores given in different categories – for example: communication, responsiveness, quality and value. A great example of this format can be seen at Lawyers.com. Generally speaking, websites dedicated exclusively to the rating of law practitioners have put safeguards in place to protect attorneys from the back-and-forth of consumer opinion. The most common websites for reviewing attorneys include: Avvo, Super Lawyers, Best Lawyers, and Lawyers.com.
In addition to the lawyer-specific websites, it is imperative to keep careful track of more generic and better-known online review websites, such as Yelp and Citysearch. Having a full picture of your online review landscape will help you address the root problems, setting the stage for future positive reviews and high ratings that help you minimize the impact of negative opinion.
If your negative review is homed in a more generic site like Yelp, consider reaching out to your client and seek remedy, if you are able to recognize the details of the case. Again, it is vitally important that you and your team refrain from a tête à tête engagement in a public forum. It will not benefit your business, and it can result in disciplinary action from your state bar.
By implementing a proactive review management strategy specific to the legal segment, you can greatly improve your online scores and reputation and begin reaping the benefits of review websites as lead generators for your business.