Download 43 free review response templates for negative and positive reviews
Get the templates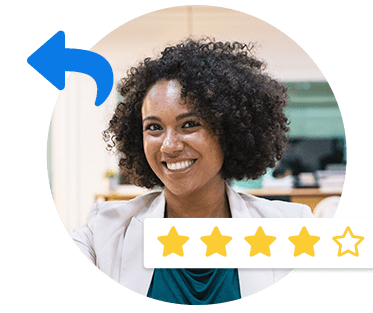 An unfair negative online review can cost a business as much as $46,000 a year.
That's the estimate from a study of companies in the UK that have had to deal with reviews on Yelp and TripAdvisor, as well as negative customer feedback on social media sites like Twitter, Foursquare, and Facebook.
In the US? Expect the average to be similar, if not much higher.
With the popularity and influence of online review sites on the rise, research studies estimate that over 12 million businesses in the US are looking to engage with consumers on review sites and customer feedback platforms, fueling a market that's expected to spend approximately $5 billion this year alone on reputation and online review management.
Reviews can cause "severe reputational damage"
The UK study, which was reported by the Telegraph, also revealed that 51 percent of business owner respondents had experienced unfair reviews or received reputation-blemishing negative comments from "trolls".
Of these, 14 percent admitted that they wouldn't know what to do in order to tackle the problem. In fact, approximately 25 percent of those surveyed were forced to take legal action to remove offending content.
"The proliferation of social media sites means that reviews and posts can be easily shared, causing severe reputational damage," wrote the Telegraph's Rebecca Burn-Callander. "Gauging whether a post is 'unfair' is a subjective art, but (more businesses spend) on their efforts to control malicious online comments, whether through external reputation management agencies, in-house social media managers, or cash spent on legal fees."
The trend mirrors what's happening in the US, where many cases of local businesses suing review-writing customers have been documented in recent years.
Just a few months ago, a shades and blinds company filed a lawsuit against a husband and wife for writing a negative review on online review site Yelp. Also recently, Texas realtor Jeremy Wages filed suit against Yelp user Lin L for defamation and asked Yelp to reveal the identity of the reviewer. And in 2012, housing contractor Dietz Development LLC sued Jane Perez of Virginia for a critical Yelp review.
Online review management tips
Still, taking legal action is not necessarily the most effective of online review management tactics. It can backfire, such as what happened to this guesthouse owner and this Florida apartment complex.
If your business receives an unfair negative review posted by "trolls," best industry practices include the following:
Flag the review. If you have reason to believe that the content of the review is false and malicious, follow the procedures and submit a report to the host review site. If the review is in violation of the site's terms of service and content guidelines, you can expect that proper action will be taken.
Don't fight back. Most savvy consumers will be able to discern whether a review is fair or unreasonable. So avoid fighting back and writing an angry review response that might spread – instead of extinguish – the fire.
Generate new positive reviews. While waiting for the host review site to take action on an unfair review, spend some time requesting feedback and reviews from happy customers. This should help you strengthen your brand reputation and minimize the impact that any negative comments may have on your business – more so than a lawsuit can.