45 percent of customers say they're more likely to visit businesses that respond to their reviews
Online Reviews Survey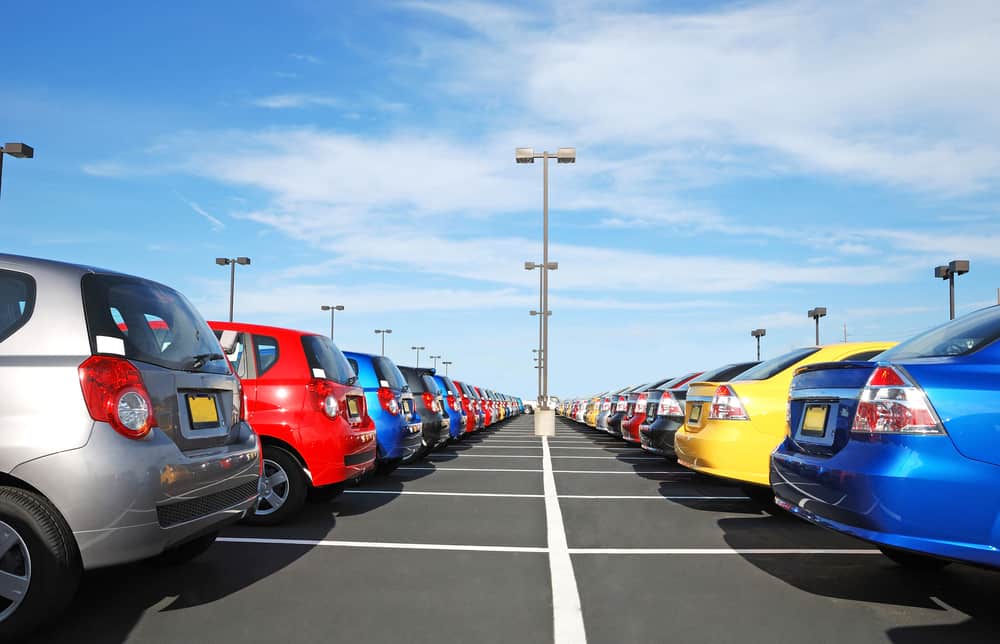 In a post-recession economy, car dealerships and manufacturers are faced with a business climate that demands clear thinking and sound strategy. The average number of new cars that Americans will purchase in a lifetime keeps sliding, not only influenced by economic trends, but also by the very thing that makes a car manufacturer competitive: quality.
Manufacturers make better vehicles today than in decades past. Modern vehicles last longer and sell better in the used vehicle marketplace, resulting in a change of consumer behavior that is here to stay. According to Polk, Americans now purchase an average of nine vehicles in a lifetime, down from 13 prior to 2008.
Accelerated Feedback Cycle Means Better Products
Correcting a widespread opinion regarding the quality of manufacturing and design of particular brands is a long-term challenge that demands great commitment on the part of car manufacturers. The fact is, they can't turn on a dime, and they are subject to the annual cycle that dictates revisions in design and mechanics of vehicles.
Up until a decade ago, information regarding customer satisfaction and performance of a particular vehicle originated from four sources: professional reviews such as Edmunds, mechanic shop feedback, selective surveys, and anecdotal word-of-mouth knowledge.
(Check out: "70 Percent of Car Buyers Influenced by Online Dealership Reviews")
The fast proliferation of digital engagement has added a fifth element to the equation, and is equipping car manufacturers with a larger sample of feedback with a quicker upstream flow, giving them a better, more accurate assessment of how their products fit and compete in the market. The feedback made available via consumer-generated automotive review sites is priceless and is equipping designers to implement revisions at an unprecedented speed. Consumer opinions are generated in volumes that may appear unmanageable, but with a little planning and the right online reputation management tools, it is possible to identify and implement metrics that will truly make a difference as far as product improvement. Data mining done right is giving some car manufacturers an unbeatable competitive edge.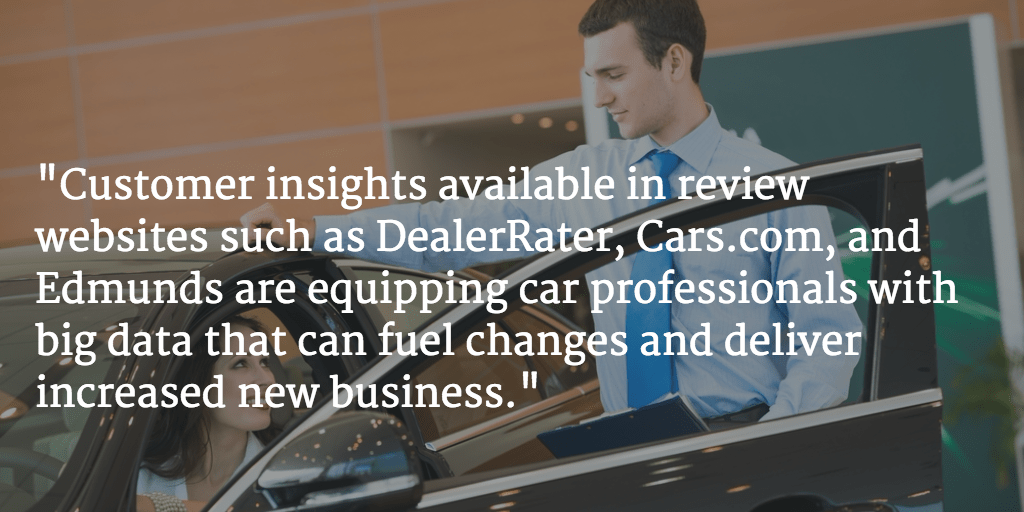 Dealership Deep Dives
Aside from the purchase of a home, a new vehicle is one of the largest investments made by consumers, and one that is taken very seriously. Generally speaking, potential car buyers walk into a car dealership with mixed feelings of utter excitement and fear.
The first part of the equation plays in favor of any dealership. The second one is rooted in a tradition of high-pressure sales and is far more complex. The business of car sales is competitive, and it reflects in its tactics, but more and more successful dealers with a drive for innovation are learning from their customers and tailoring their services, tactics and products to deliver a sales-conducive positive experience.
Customer insights available in review websites such as DealerRater, Cars.com, and Edmunds are equipping car professionals with big data that can fuel changes and deliver increased new business.
A dealership deep dive, when conducted correctly, will allow dealerships to identify customer service issues, engagement level challenges, and potential deal breakers. Additionally, online feedback can help dealers learn about the behavioral nuances of top performers, and then help them transform that knowledge into training for new sales professionals.
Competitive Edge
With the greater mobility and growth in urban centers, dealerships not only compete across brands, but also within their own brand. When your offering is the same in terms of product, creating positive differentiators in customer experience and ongoing service is essential to tip the scales in their favor. By working to analyze and track business reviews, smart dealerships will no longer have to resort to mystery shops, and they will have a significantly larger sample to help them understand what it will take to take the lead.
Incorporating online review analysis to car dealership strategy is simple and can mean the difference between mediocrity and turbo-powered growth. With the right tools, this is a virtually painless enhancement that will add measurable value to your performance metrics.