Download 43 free review response templates for negative and positive reviews
Get the templates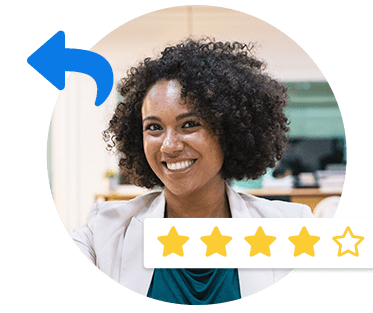 Receiving a one-star review can be discouraging for any business, but it is particularly devastating for small- to medium-sized businesses with limited marketing budget.
In a study published by Harvard Business School in 2011, a one-star bump had a direct correlation with increased revenues. Both anecdotally and through lead-tracking, corporate leaders know that one-star reviews are bad for business.
If you have been hit with a one-star review, you need to apply certain review management tactics and take the necessary steps to deal with it with precision, promptitude, and positivism. (Take a look at this case study that explores responses to negative reviews.)
Overcome Your One-Star Review with Precision
Do everything in your power to find out the facts before you respond to a one-star review. Be precise in your choice of words, and be proactive in offering a remedy, when it makes sense to offer it.
Don't cop out by ignoring the review. It will not go away or become invisible. By taking your time to provide a polite response that tackles the grievance in a customer-centric fashion, without setting aside the facts, you set the stage for resolution for the customer while promoting the quality of care provided by your venue to potential customers exposed to your response.
Overcome Your One-Star Review with Promptitude
When it comes to responding to a negative review, time is of the essence. Don't leave the customer hanging. Indifference doesn't help your online reputation.
By not providing a prompt response, you are likely to reaffirm the customer's grievance and purport lack of respect for the customer's opinion. However, before you rush into responding, let's not forget the delicate balance between precision and promptitude. Check the facts, make sure they're accurate, and then reply as quickly as possible.
Overcome Your One-Star Review with Positivism
Criticism, even when based on truth, can make us feel defensive and even angry. Don't allow your response to be a reflection of your personal feelings. When you are writing for your business, you are the voice of your brand. Personify excellence, convey positivism, and use a one-star review as a platform for improvement.
When a one-star review comes knocking on your door, be prepared to deal with it with a flexible perspective. Understand that the greatest business lessons are born from less-than-perfect circumstances. One-star reviews happen to the best of us. The way we play our cards in handling them will determine the impact on our online profiles.
In addition to the tips we have shared with you, and regardless of the nature and score of your reviews, one of the best things you can do for your online business reputation is put processes in place to encourage and generate more positive reviews. If you are reviewed often by a large pool of your customers, chances are your overall star rating or score will average out, creating a true reflection of the quality of products and services you and your team are able to deliver. (Check out: "Cornell Study on Hotels: More Reviews, Higher Ratings")
Make it your goal to turn a one-star review into a great display of excellence in review management and remedial customer care. Well-managed customer complaints often convert upset customers into loyal evangelists for your business.