See customer feedback from over 100 review sites in one place
Request a demo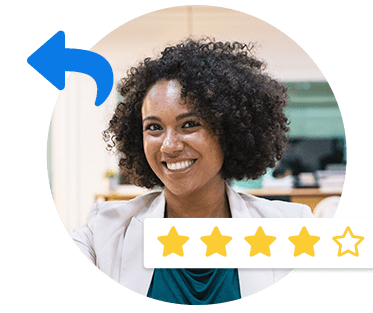 Walk into a restaurant without checking the menu on Zomato or MenuPages or reading online reviews on Google or Facebook.
Go crazy on your next vacation and check into a random hotel without visiting TripAdvisor.
Next time you catch the flu (knock on wood), book an appointment with a local doctor without reading other patients' recommendations on Vitals or RateMDs.
Sounds like you'll be flying totally blind, right?
Online reviews, without question, have become a major factor in consumers' buying process. Equipped with smartphones and empowered by unprecedented access to information, consumers are, more than ever, harnessing the opinions and feedback of others in order to discover great businesses, shop with confidence, and validate their purchase decisions.
If you're a business owner, you definitely don't want to just brush aside your customers' online reviews. They have a very real impact on your business — and can spell the difference between attracting new customers or driving them away.  
How Consumers Use Online Reviews
A recent report by online review community Trustpilot sheds light on how exactly consumers today use online reviews. Here are some interesting findings from the company's first-ever U.S. consumer-focused survey:
(Nearly) everyone reads reviews. Trustpilot found that 89 percent of consumers at least "sometimes" read reviews whenever they shop.
Reviews matter at multiple stages of the consumer journey. 19 percent read reviews before visiting a company's website, 25 percent read reviews right when they get there, and 47 percent read reviews on the site, just before adding an item to their shopping cart.
Consumers make use of various review signals. 50 percent cited overall rating as the most important factor when reading reviews. 20 percent considered the recency of reviews as the most important factor, while another 20 percent viewed quantity of reviews as the most relevant review signal of all. (Read more about how review signals help shape your brand.)
They also demand trustworthy reviews. As much as 84 percent say it is "somewhat" or "very" important that online reviews are authentic. 80 percent trust independent third-party reviews as much as, or more than, customer feedback posted directly on a company's website or on social media.

"Consumers are becoming increasingly reliant on online reviews to research companies and make purchase decisions," said Fred Mather, Trustpilot's GM of the Americas. "Because consumers are interacting with these online reviews throughout the entire shopping experience, it's important for businesses to make sure that customer feedback is easy to find and showcased throughout every step of the process."
They Like to Write Reviews, Too — Especially When Asked
Trustpilot's report also offers some insight into consumers' review-writing behavior. While only 14 percent of consumers say they are "very likely" to write a review independently — without being prompted by a business or company — 29 percent are "very likely" to write a review if they are asked to.
These findings further strengthen the case for businesses having a "review request" program in place. This can involve something as simple as handing out post-transactional comment cards to customers and asking them to rate their experience on a review site of their choice. Or you can send e-mails and include a link to a page where they will be able to leave a review.
These techniques do work; and you might even be surprised by the willingness of your own customers. In fact, previous research by PowerReviews asserts that as much as 70 percent of reviews actually come from review request e-mails.
Simply put: encouraging customers to be more vocal and share their feedback through reviews is one of the most effective ways to generate the kind of social proof that helps drive sales.
Requesting customer feedback? Here are 8 simple tips to help you generate more 5-star reviews.
Key Business Takeaways
Make online reviews and customer feedback easy to find. Your customers are more likely than not to read reviews before making a purchase decision. Be helpful and give them what they're looking for. Share your best reviews and customer testimonials with a review widget that embeds these reviews on your site. Claim your listings on all relevant review websites and promote your business presence on these places. Incorporate reviews into your website.
Respond to negative reviews. Strive for 5-star reviews, but don't worry if the occasional customer gives your business a less-than-perfect rating. Remember: consumers demand authenticity, so instead of trying to delete negative reviews, work instead on responding to feedback, resolving issues, and recovering even your harshest critics. (Besides, bad online reviews can be good for your business.)
Ask customers for their feedback. Sometimes, a great business that offers excellent service and delivers an amazing customer experience won't automatically generate 5-star reviews. That's why it's important to reach out to your happiest customers and invite them to share their feedback. You'll be surprised by how many would be willing to recommend your business — if you simply asked.
Use feedback to continuously improve customer experience. The most helpful reviews contain useful information that you can use as a tool to improve your brand, products, services, and overall customer experience. Reviews can also be your gateway to achieving a more accurate and complete understanding of your customers.
At the end of the day, how you approach online reviews can determine the kind of impact they will have on your business. By listening and responding to what customers have to say, you can more effectively cater to their needs and expectations — and gain a competitive advantage over the long term.