Thanks to the growth and popularity of websites like Yelp, TripAdvisor, Google, and Amazon, online customer reviews now have the power to make or break a business.
Great reviews can lead to improved visibility in search, better sales, and increased revenue. They also serve as the kind of social proof essential to inspiring consumer confidence and fostering customer loyalty.
That's why it can be tempting to buy reviews, especially for companies with negative reviews and one-star ratings. Buying reviews may seem like a quick fix for burying negative feedback and for improving ratings across all the popular review sites.
This explains why there's an increasing market for businesses looking to buy online reviews.
How to buy reviews
Here's how it usually works: a business finds a service provider that offers "5-star review services," promising "quality work" with "fully completed review profiles and realistic photo-attached accounts."
Whether the business is looking to buy Google reviews, buy Facebook reviews, or buy Yelp reviews, the service provider will typically advertise the reviews as being written by "100% real people or real users," from more than tens of thousands of different cities around the world, with local IPs and native users and multiple languages to choose from.
A bought review can cost as little as $5 to $10 a pop. Once the business completes a service order, fake reviews will be posted on its business pages, local listings, and review website profiles.
If you've ever searched online for how to "buy reviews", you may have seen tens or hundreds of websites with pages like this (yes, they can pay their fake reviewers but not, it seems, their web designers):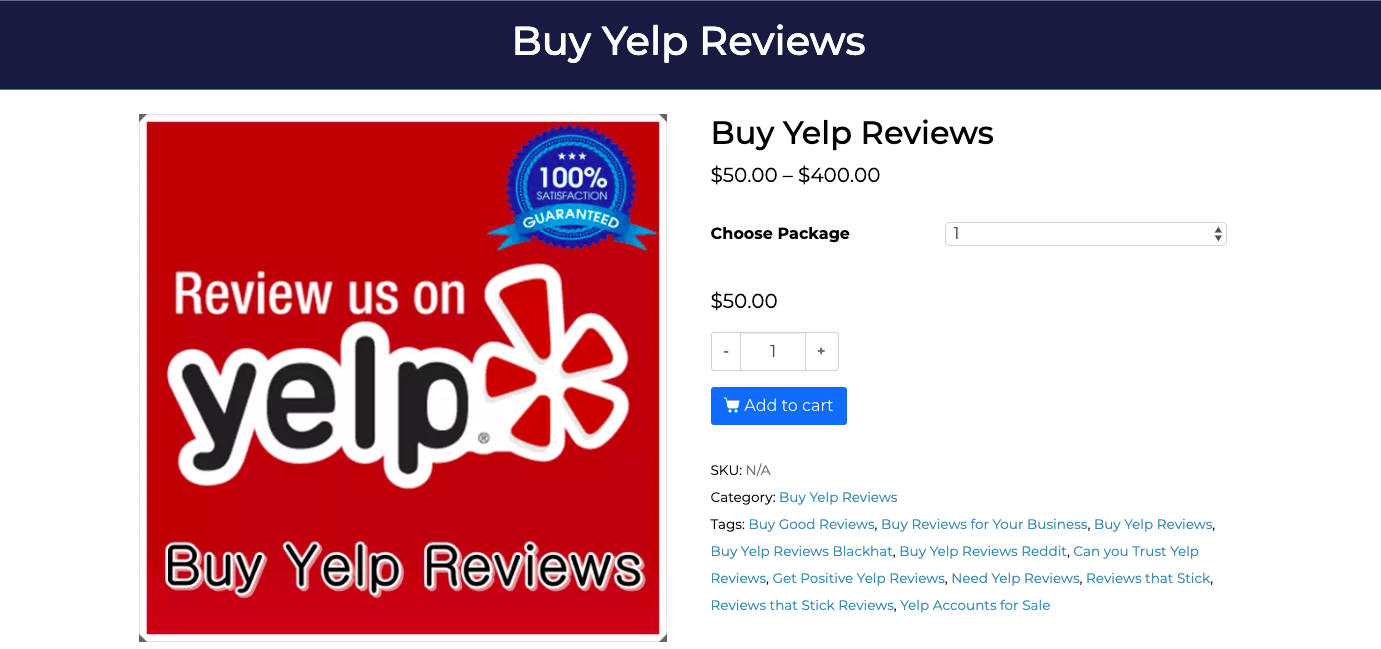 Should you buy Yelp reviews?
Yelp is a website that prohibits business owners from asking for Yelp reviews. So you can imagine what kind of position it takes in situations where businesses are trying to buy Yelp reviews.
Yelp's terms of service strongly advise against buying online reviews, since this practice leads to deceptively biased content.
Don't think that Yelp's team won't catch you. According to the company, it has a dedicated team that monitors message boards, classifieds, forums, etc. for those who buy reviews or conduct other suspicious Yelp-related activity.
If caught, you may find that your Yelp business page has been slapped with Consumer Alerts. These alerts are Yelp's warning to consumers that someone is attempting to mislead them through review manipulation like paying for fake 5-star reviews or spamming their own pages with positive reviews.

Buying Yelp reviews may also result in the exact opposite of what you are trying to achieve: it will most certainly hurt instead of help your Yelp ratings.  
The businesses that perform well on Yelp are the ones that play fair and provide a 5-star customer experience to everyone who walks in the door, without any expectation or encouragement that they write a review.
Should you buy Google reviews?
If you're thinking of buying Google reviews, you have to first consider the risks and consequences of doing so. While it sounds like a great, cost-effective solution for propelling your business to the top of relevant search results, buying Google reviews will almost certainly do your business more harm than good.
First of all, buying Google reviews is against Google's guidelines. Google has made it clear that review content should reflect a person's genuine experience at a business location. Review content "should not be posted just to manipulate a place's ratings. Don't post fake content, and don't post content for the same place from multiple accounts."
Also, buying Google reviews will probably lead to the regulators going after you. In the last several years, regulators have been cracking down on fake online reviews and other review manipulation practices.
The Federal Trade Commission executed "Operation Clean Turf" in which they caught and slapped hefty penalties on companies buying fake reviews as well as companies writing or creating fake reviews (as part of their "reputation enhancement services" offering).
If you have difficulties collecting reviews on Google, follow these tips on how to get Google reviews. If you're running a business with multiple locations, look into deploying a review generation platform that makes it easy for you to proactively collect reviews, while also operating in compliance with guidelines across multiple review sites.
Don't buy online reviews, earn them
From everything that's been said, you'll come to an understanding that it is not okay to pay for or buy reviews in any way. There are better, more ethical, less harmful, and more effective ways to collect great reviews for your business.
Run email campaigns. One of the most effective ways to generate new reviews is through review request email campaigns. According to research, as much as 70 percent of reviews come from post-transactional review request emails.
Ask customers for reviews and know where to do it. Some review sites — Yelp, for example — frown upon businesses asking customers for feedback. Other sites — like Google and TripAdvisor — are the opposite, even providing free tools for companies to reach out proactively for reviews.
When you ask customers for reviews, make sure that your efforts are in compliance with each individual review site's guidelines. You want to be rewarded, not penalized, for your asks.
Promote your business presence on online review sites. Let your audience know they can find and rate your business on Yelp, TripAdvisor, Google, and other review sites. Not only does this help improve your online visibility; promoting your presence on review sites also demonstrates your company's openness to customer feedback.
Use review management software. We here at ReviewTrackers have developed a solution that's compliant with the policies of today's top review platforms, as well as responsive to the ever-increasing demand for transparency and authenticity in online reviews.
The software allows you to generate new reviews through email campaigns, SMS, on-site kiosks, and customizable landing pages, giving your brand higher star ratings and a bigger presence on local search.
Make your customers happy. The easiest, most effective way to get more (and better) reviews is to consistently deliver excellent customer experiences and create "wow" moments with customers. Companies that buy reviews are unlikely to have developed the ability to do just that. Don't follow their example: buying reviews may destroy the credibility that you have worked so hard to build.