Earlier this month, Facebook rolled out a series of visual changes and feature tweaks to local business Pages.
A major part of Facebook's latest update is the departure from traditional customer reviews and ratings and the introduction of "Recommendations."
What are Facebook Recommendations?
For years, local business Pages on Facebook were able to feature customer ratings and reviews. Now, with the update, and following the trends set by Netflix and YouTube, Facebook has ditched the 5-star rating system in favor of Yes/No Recommendations.
This means that there will no longer be any new star-based reviews coming into your Facebook Page / Facebook Business Manager account. Your customers will rate your business simply by choosing whether or not they recommend it.
Similar to a thumbs-up/thumbs-down rating system, Recommendations are designed to be much simpler, and could potentially increase the number of ratings/recommendations logged by Facebook users.
According to Facebook, 2 in 3 users visit the Page of a local business at least once a week.

Also, 1 in 3 people on Facebook use the platform to look for Recommendations and reviews.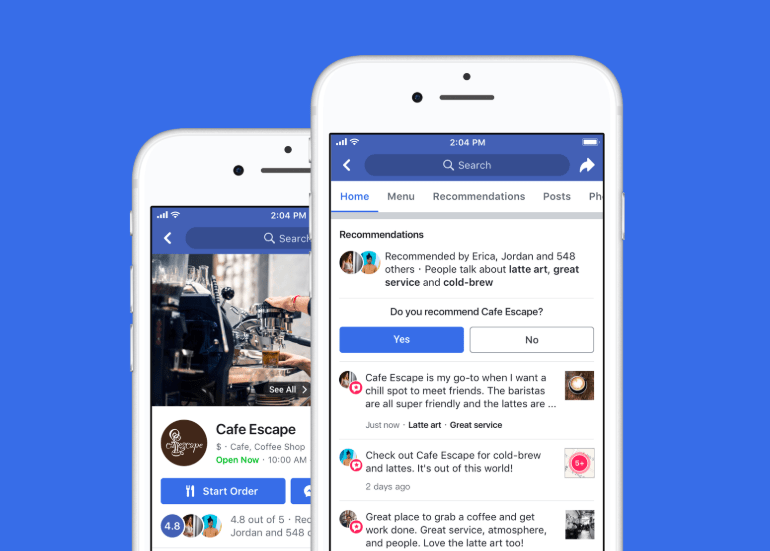 All local business Pages will eventually be switched over to Recommendations by August 23.
Why change the system to Facebook Recommendations?
Well, the field of online customer reviews is a competitive one, and the update is perhaps Facebook's latest move in a match being played by the top review websites and local business discovery platforms.  
Not long after data analysts at ReviewTrackers found that Facebook reflected the highest growth rate in reviews — with new reviews coming in at a pace that was 4 times faster than on other review sites within the restaurant category — Google gained momentum and took the title of being the No. 1 overall review site in the 2018 Online Reviews Survey.
Facebook Recommendations enables richer feedback through a more structured and guided process
Facebook also updated reviews to Recommendations so that users can share (and read) richer feedback about businesses. After they make the choice of recommending a business or not, users will then be asked to provide additional details using tags, text, and photos.
Selecting a tag will allow common themes to emerge, making it easier for potential customers to see what your business is known for.
The simpler interface of Facebook Recommendations also seems designed to encourage users to provide richer, more detailed information about their experiences with a local business.
Facebook Recommendations encourages longer, more detailed reviews
In fact, it has been reported that, in the Recommendations open response text field, there is a character count minimum that users have to meet in order to successfully post their review.
The character minimum is likely a move to combat review fraud and the trend of shorter reviews. In 2010, the average length of a review was 600 characters. Eight years later, as discovered in the Online Reviews Survey, reviews have gotten 65 percent shorter, with the average review now coming in at just over 200 characters, about the size of the newly expanded tweet.
Essentially, Facebook wants Recommendations to be as authentic, high-quality, and useful to its community of users as possible. The character minimum requirement should allow for longer, richer, and more detailed and authentic feedback — while also making it harder for bots and spammers to game the system.
Don't worry, your ratings are not going away
If your business has managed to compile a fair amount of Facebook reviews with high rating scores, don't worry: your ratings are not going away.
As for how Facebook calculates your overall rating moving forward, it's going to be a mixture of reviews based on the past 5-star rating system and the new Yes/No Recommendations.
And yes, your overall rating will still be displayed on your page, along with your Facebook Recommendations. But they won't be confined to your local business Page.
According to Facebook, this information is also going to be discoverable across Facebook when people are searching for or talking about your business. Because people trust the opinions of those they know most, Recommendations will be surfaced most prominently.
Facebook Recommendations: A few other things that have changed
It's now easier for users on the Facebook mobile app to interact with local businesses. With big new call-to-action buttons, users can make a reservation at a restaurant, book an appointment at a salon, view Stories, see recent photos, upcoming Events, and Offers.

There's also a new "Local" section in the Facebook app, plus a new standalone Facebook Local app (available on

Google Play

and

iOS

) designed to help users discover places and things to do recommended by their friends.
Recommendations and all the other updates and tweaks made to local business Pages are ultimately geared towards making your business more discoverable on Facebook.
Reviews and Recommendations are bound to grow, feedback left by your customers is going to be richer and more detailed, and your local business Page is about to become more engaging, especially for mobile consumers on the go.
Questions? Have additional information to share? Join the conversation on Facebook Recommendations via the comment section below.