Download 43 free review response templates for negative and positive reviews
Get the templates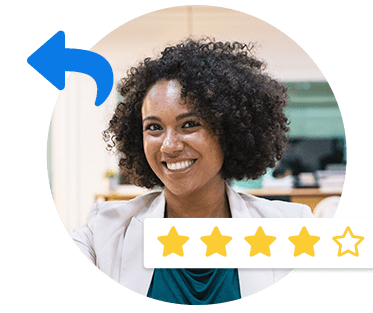 The outlets available for expressing our opinions, thoughts and ideas were once limited. Before the Internet, our words had to be published in print, or we needed to have a talk show on the radio or on a television network to be heard by someone else other than our family, friends, coworkers and acquaintances.
Today, we have the ability to easily create our own blog, publish our words on social media, or write reviews about a specific business.
Maybe you go to a restaurant for lunch, and the service and food are just so outstanding that you can't wait to go home and tell your husband about the place because you want to go back, and you want to go back very soon. After you tell him about the burger you ate – a delightful creation, the perfect ratio of cheese to beef – you might go on OpenTable and write a review.
Why? Because you can. It's another opening – another opportunity – to express your thoughts.
This expression is rooted in us as an essential part of being human. Let's take a look at the breakdown of three types of online reviews using one Chicago Italian restaurant with creative dishes.
First, in order to better understand online reviews, it's important that you know the one number for growing your business and helping your brand flourish: the Net Promoter Score. The NPS is an index by which customers can gauge customer satisfaction and loyalty. The score categorizes customers into promoters (highly loyal customers), passives (satisfied customers) and detractors (highly dissatisfied customers).
Read more about how to use NPS in driving brand advocacy.
How do online reviews compare to the Net Promoter Score?
Promoter 
Five-star reviews are from customers that will keep coming back: the promoters. For example:
"I can't believe I haven't been here until now!" wrote Noel S. about Nico Osteria in Chicago. "So disappointed that I've been missing out. I heard some mixed reviews, so I've been hesitant but I can definitely say this place is a new favorite and I can't wait to come back…"
Noel S. gave Nico Osteria five stars.
This positive feedback shows Noel liked his experience and Nico Osteria knows they have a returning customer.
Detractor
It can be argued that negative reviewers are the detractors on the Net Promoter Score, the ones who are very dissatisfied and who can be a risk for your business, like Jeremy A, another reviewer of Nico Osteria.
Jeremy gave the restaurant a one-star rating. He wrote, "For its exclusive location, beautiful décor and elevated pricing, this venue fell far short. After sitting for 15 minutes at the bar with the entire staff passing right by us, we returned to the hostess to find out how to get noticed. 'We apologize. Your server is too busy with her other tables.' We ordered two bloody Marys. 'Sorry, we are out of Bloody Mary Mix.' Enough said."
While this may sound absolutely terrible, the highlight of Jeremy's review is the great detail in which he wrote about his not-so-pleasant experience. Why is this good? Because customer feedback is essential for the business owner to improve operations. Nico Osteria might not have known about this particular situation if Jeremy did not write this review.
Neutral 
Neutral reviewers are the passive customers, the ones who might come back or stray away. Let's check out a simple and neutral three-star review of Nico Osteria on Yelp, written by Julie G.
"Although the service is good, I think this place/food is overrated."
While her review is not as detailed as Jeremy's, it's worth responding to Julie for the chance that she may come back to the restaurant.
Responding to Reviews in 18 words
As long as people will leave reviews, majority of businesses will respond in a knee-jerk way. We react when prodded, especially when it is something as personal as the public opinion of your business.
It's extremely important to respond to negative reviews so you can minimize an undesirable impact on your business.
One-star reviews can drive away customers who might be interested in your business. In an effort to get those customers to stay and keep them from turning away, businesses must respond to bad reviews.
It only takes about 18 words for a business to respond to a negative review. The way you create the response will depend on the situation, on the review the customer has written, and on how you plan to go about the issue.
An example response looks something like this:
We're sorry. It was an uncommon instance. We'll do better and hope you give us another chance. John.
The statement reflects one of the most important principles in reputation management. The words "we'll do better" implies that you are taking responsibility for what is perceived by the customer as a negative situation.
Saying "sorry" implies that you care about your customers. Always apologize, even if the cause of the unpleasant review is not your fault. Do not fight back, or hold a grudge. By writing "give us another chance," you are offering the customer an invitation to come back, so you can change the conversation.
Finally, using your first name ("John") shows that you are a real human being – not a business entity, or a public relations firm, or a group of faceless people in suits and ties, or some random third-party group hired to pay lip service.