Download 43 free review response templates for negative and positive reviews
Get the templates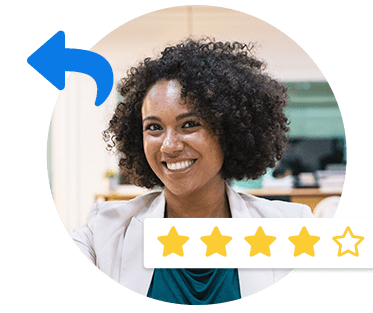 Marketers and businesses of all kinds and sizes have embraced online review management as an important part of their strategy.
These days you'll see local business owners becoming active and engaged on Yelp or TripAdvisor. Or enterprise execs and CMOs drilling down their review data and third-party feedback to improve customer experience.
Even marketing agencies, reputation managers, brand strategists, and search marketers are getting in on the act, crafting new ways to build a 5-star presence across multiple review sites.
Why? The answer is simple: online reviews are the new word of mouth.
5 findings that prove reviews are the new word of mouth
Whether businesses like it or not, reviews are pretty powerful. They serve as a source of referrals – or a cause of customers churning. They also give voice to those who want to share their experiences, opinions, and feedback online – ready to be read by fellow consumers.
If your organization doesn't yet have a review management strategy in place, consider these stats:
87 percent of potential customers won't consider a business with negative reviews and low ratings
A new report on Search Engine Land demonstrates just how reviews can sway purchase decisions. According to the report, only 13 percent of consumers will consider buying from a business that has a 1- or 2-star rating.
This means that, for the remaining 87 percent of your potential customers, a low rating or bad review is akin to having a sign on your storefront that reads, "Don't come in."
Researchers from University have even gone so far as to describe these unfavorable reviews as a "condemnation to death" – especially for young local businesses that are just starting up and may not yet have collected a lot of reviews.
"At its early stages, a business is at the mercy of the subjectivity of its customers," wrote researchers Oussama Fadil and Jake Soloff. "In theory, some businesses could die simply because they were first approached by the wrong customers; others could be overrated by similar mechanisms."
Star ratings are important
The Search Engine Land report also asserts that star ratings are the most important review factor for consumers.
This shouldn't come as a surprise: a recent survey by ReviewTrackers explored how diners perceived – and were influenced by – restaurant reviews and ratings. Here's the key finding: as much as 33 percent of restaurant-goers wouldn't choose to eat in a place that's rated below 4 stars.
Star ratings seem to hold the same weight for consumers reading reviews of other product or service categories. Check these numbers out:
Only 13 percent of consumers will consider buying from a business that has a 1- or 2-star rating.
Local businesses with 3-star ratings will be considered by 57 percent of potential customers.
And 94 percent of consumers will consider local businesses with a 4-star rating.
Any less than 3 stars – and majority of customers will literally ignore you.
It's obvious that these star ratings are a major factor in influencing purchase decisions, making it critical for business owners and marketers to go beyond merely tracking and responding to reviews – and expand their efforts to include proactively collecting customer feedback, measuring satisfaction and engagement levels, investing in customer support and employee training, and generating positive new reviews.
Only 8 percent do not read reviews
Sometimes people looking for information about your business may not necessarily end up visiting your website or watching your ad or clicking your landing page. But they actively seek out reviews, which is how they end up reading and sharing content on sites like Yelp, TripAdvisor, and Yahoo Local.
What do other customers say about your business? What kinds of customer experiences are they sharing online? Does the general customer sentiment make your brand look attractive or unappealing?
These are only some of the questions that your business has to address. Why? Because reviews – like it or not – shape to your brand reputation. And they're more popular and accessible than ever.
According to the Search Engine Land report, as much as 92 percent of consumers read online reviews of local businesses to determine whether these businesses are good or not.
Of these, 73 percent read reviews using their PC (laptops or desktop computers), and 38 percent and 29 percent read reviews using their mobile phones and tablets, respectively.
Responding to all of these reviews is tough, but important. We've curated a list of the top Reputation Management Companies.
New reviews matter
If your organization doesn't yet have a strategy for generating new reviews, it's time to craft one. Otherwise, you'll get left behind. The latest research shows that, for consumers, newer reviews matter, and review content may in fact have a shorter lifetime than expected, at least in terms of relevance and usefulness.
The Search Engine Land report found that:
69 percent of consumers agree that reviews older than 3 months are no longer relevant.
The more recent the review, the better. 15 percent actually say that the only relevant reviews are the ones written within 2 weeks. Others – 69 percent, to be exact – are a little more flexible, saying that a review must be written within 3 months for it to be considered relevant.
Getting started on your review generation strategy? Here are 8 simple tips to help you generate more 5-star reviews.
80 percent think reviews are as trustworthy as personal recommendations
Back then, recommendations made by friends and family were the kind of word of mouth that consumers trusted and valued the most.
Then the review revolution happened.
According to the Search Engine Land report, approximately 80 percent of consumers now consider reviews as trustworthy as personal recommendations. That's right: the words of anonymous Yelp or TripAdvisor users may carry as much weight as that uttered by close friends and loved ones.
This echoes earlier findings from a research study on the travel industry, where reviews and review sites were shown to rank ahead of traditional guidebooks and social media as a travel planning resource. A Forrester Research report, meanwhile, detailed how US consumers now place more trust on reviews than on natural search engine results, advertisements, and direct marketing messages.
With all these new findings, it's certainly worth exploring how businesses might invest their efforts in review management – as much as, if not more than, in social media marketing and management. Another report, this time by Gallup, showed that majority of consumers do not engage with and are not influenced by brands on Facebook, Twitter, and similar social media channels, with 62 percent saying that social media had no influence at all on their purchase decisions.
"You have to care about online reviews," wrote digital marketer Travis Balinas. "Positive reviews can help bring in customers, negative reviews can turn people away, and not having any online review presence can cause someone to feel like doing business with you would be a gamble."
How does your organization manage online reviews? Do you have any tips and hacks to share with fellow local business owners?