How to Claim Your Business on General Review Sites
How to Claim Your Business on Citysearch
Citysearch is an online city guide that provides information about businesses in the categories of dining, entertainment, retail, travel, and professional services in cities throughout the United States.
To claim your business:
Search for the business on

Citysearch's home page

.

If the correct listing appears, click on the name. You should see the "Own this Business?" link below the listing's contact information.


Clicking on the link should take you to a page where you can enter information to create a CityGrid Media account. If you already have an account, you can click 'Sign In' to log in instead.
How to Claim Your Business on Consumer Affairs
ConsumerAffairs.com is an independent consumer news and resource center. It also includes recall information and, of course, consumer reviews.
Companies with an existing page on the site can sign up at the Consumer Affairs for Brands page to respond to reviews for free.
Click the "Free Demo" button to sign up for Consumer Affairs for Brands.

Someone from the ConsumerAffairs.com team will contact you shortly after you fill out the form.


With a Consumer Affairs for Brands account, you can receive specific information regarding consumer reviews and complaints as well as the option to respond privately or publicly to the consumer.
How to Claim Your Business on Customer Lobby
Customer Lobby offers a platform that helps businesses collect first-party feedback that can be turned into online reviews. Customer Lobby also promotes verified reviews for local businesses so they can get more repeat customers and build their online reputation.
As a paid service, Customer Lobby currently offers plans that range between $129-$999, but you can sign up for a free trial that allows you to create a custom branded review page for a business.
Navigate to

https://www.customerlobby.com/

. Scroll down and look for the orange "Get Demo" button.

Fill out the form with the required information, which includes the company name, website, email, and phone number.


Click "Request Demo."

After submitting the form, a representative of Customer Lobby will contact you in order to assist with your Customer Lobby account.
How to Claim Your Business on Demandforce  
Demandforce is a marketing automation and reputation management tool designed to help businesses build, extend, and protect their brand reputation with satisfaction surveys, online reviews and customer referrals.
Its reputation management solution lets you drum up reviews on major websites and search engines in addition to templates that link directly to Yelp, Google, and more.
Demandforce also offers a paid solution that feeds up-to-date business information to popular consumer websites.
Go to the

Demandforce home page

 and c

lick the "See a demo" button on the top right of the page.

You'll automatically scroll the bottom of the page. 

Fill out the form with your business name, phone number, and email address. A representative of Demandforce will get in touch to help you get started with your business account on Demandforce.


How to Claim Your Business on eKomi
eKomi is an independent provider of transaction-based reviews and ratings. As a Google worldwide partner, eKomi gathered & published over 40,000,000 reviews for customers, which were integrated directly within the website.
Customer reviews are displayed via a widget along with an overall score and star rating. Product reviews are shown on the product page in order to increase conversion rate and SEO rankings. Real-time statistics are also available in the customer login area.
Because it's a subscription-based software platform, eKomi does not gather or publish reviews of companies that are not eKomi clients. To join the network, follow these steps:
Go to the

eKomi home page

and click on the "Book a Demo" button on the top-right corner of the screen. You'll go to another page where you can set up a time to see a demo of the platform.


Fill out the form with your information, including your name, email, phone number, business name, and website. Click "Submit".

A representative of eKomi will contact you for details on the demo, pricing, and the process for getting started.
How to Claim Your Business on Facebook
Facebook is a top platform for companies hoping to build and enhance their social media presence. With Facebook Pages, businesses can connect with consumers, share news and announcements, and set up Call to Action buttons that drive engagement.
Facebook recently added Recommendations, which allow consumers to recommend (or not) local businesses on Facebook.
Recommendations and reviews on Facebook continue to be increasingly crucial in influencing the purchase decisions of consumers.
Once you're logged in to Facebook,

follow this link

to start creating a page.


To manage a Facebook page that includes Recommendations, you have to select Local Business or Place as your category. Please keep in mind that not all Facebook pages can enable and display recommendations, reviews, and ratings.

Once you select a category, you'll have to submit business information, such as the page's secondary category, the business or place name, address, and phone number. Make sure that the information provided is complete, correct, and up-to-date.

To make sure that your Facebook page is review- and recommendations-ready, you have to choose Local Business as your page category, which means that you'll also have to specify a physical address or location. You then have the option to narrow this page category down to, say, a restaurant, a café, a hotel, a hospital or healthcare facility.
To change your page's category to Local Business:
Go to the About tab on your Facebook Page and click Page Info.

Select Local Business as the page Category.

Select a more specific category such as restaurant or café.

Save the changes.
To add your business' physical address or location:
Click Page Info on the About tab of your Facebook Page.

Click Address to enter your business' physical address, and fine-tune your location by dragging the pin on the map.

Check the box next to Show map and check-ins.

Save the changes.
How to Claim Your Business on Foursquare
Once a location-based check-in service, Foursquare evolved to become more like Yelp, Tripadvisor, and Google, allowing users to enjoy more personalized local search experiences.
The new Foursquare is now a more effective platform for researching and discovering great local businesses that is complete with venue pages featuring information such as location, ratings, menu items, and photos.
If you are the authorized to be the rightful manager of a listing on Foursquare, you can claim a listing as your own. As a manager, you'll be able to make edits to your listing and keep information up-to-date to the minute. You'll also be able to add photos, create and manage specials and ads, and view customer statistics.
To claim between 1 – 9 listings:
To claim 10 listings or more:
To gain instant management access when claiming a listing requires a one-time fee of $20 USD, charged to your credit card.
After you finish this step, you will have immediate access to all of Foursquare's business tools. To access your manager tools, log onto foursquare.com/accounts and select your business to bring you to your "Manager Home" page.
From here, click "Manage your listing" to access tools that will enable you to add photos, edit social/web links, and map location.

If any of the listings have the label "pending", connect them to your page as either "individual locations" or "part of a chain".
To make a new listing:
You have to create a Foursquare account.

Once your personal account is activated, you will be prompted to add a business. Enter basic information about the business, such as its name, complete address, and phone number.

Pin the establishment on the map provided by Foursquare. Indicate if it is located inside another business or within a private home. Make sure that you acknowledge that you have permission to list it.

Select the category and subcategory that best fits the venue from the dropdown profile.

Include an image, which can be a logo or a photo that effectively portrays the storefront.
How to Claim Your Business on Google (via Google My Business)
Apart from being a search engine giant, Google also happens to be one of the most popular review sites because of products like Google Search and Google Maps, which displays business information alongside reviews and ratings.
You can claim a listing with Google My Business, a dashboard that streamlines the management of business information across multiple Google sites, services, and products.
Here's a step-by-step guide:
Visit

https://www.google.com/business/

to sign in or create a Google account for a business.



Once logged in, you can search for a listing by typing the business name and address in the search box. Results will appear in a list as well as on the map.

If none of the results match your business, you can click "Add Your Business." You will then choose the business type: storefront (restaurants, hotels, etc.), service area (taxi service, delivery, etc.), or brand (products, brands, causes, etc.).

The next step is

verification

. Just like when you

claim your Yahoo Local listing

and Foursquare, you'll have to verify to Google that you own or represent the business listing. The verification code will be mailed to you – this takes one to two weeks – and once you've entered the code into your account, then you'll finally be able to start managing your local business information on Google.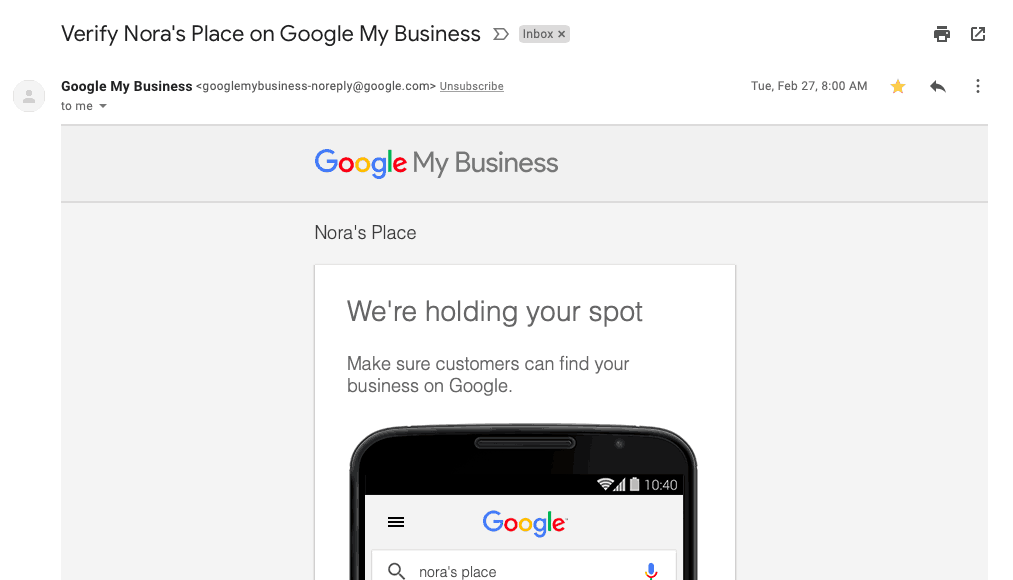 If a business has ten or more locations, you can sign into your account and add them all at once using the bulk upload tool. See our guide to bulk Google My Business uploads to learn more. 
How to Claim Your Business on Judy's Book
Judy's Book is a local search word-of-mouth online community that allows friends and groups to swap recommendations about businesses.
The site currently features 4.5 million reviews, over 11 million business listings in the U.S., and one million monthly page views.
The stats show that claiming a listing on Judy's Book can expose a business to new customers, but take note: claiming a listing isn't free.
Select the plan you would like to enroll in – Basic or Pro – depending on the features that best fit the business size, type, and needs. Plans start at $29.99 monthly.
View the Terms and check the box indicating that you have read and understood the terms.

Click the "Claim it" under the paid plan of your choice.

Complete the form with your information and click "Subscribe".
How to Claim Your Business on MerchantCircle
MerchantCircle is a social network for local business owners who offer services like free online business listings, marketing tools, and online advertising.
Businesses can use MerchantCircle to upload pictures, write blogs, create coupons, and send online newsletters through the network. Consumers can use MerchantCircle to leave reviews on listing pages, which businesses can respond to from their MerchantCircle account.
Here's how to create or claim your business listing on MerchantCircle:
Complete the "Own Your Page" form, choose the "I'm a merchant" option, and enter the required personal and business information. When you're done, click "Create my account".
How to Claim Your Business on Pissed Consumer
Pissed Consumer allows consumers to share their experience about products and services. Businesses can also use the site to resolve any major customer issues.
Business premium options include the Plus and Enterprise plans, which offer comprehensive tools for managing content on PissedConsumer. You can also claim a business listing, get it verified, and receive new reviews with a free business account.
Choose the plan that best suits your needs. Then, depending on your plan, click "Apply for Free," "Try for Free," or "Request a demo."

Complete

 the application form. 

You will also need to verify the listing by uploading a copy of the business' Internet, electricity or phone bill (this should show your current business address); as well as a copy of the business license, seller's permit, business card, or IRS issued FEIN assignment letter.
Once the files are uploaded, click Apply.
How to Claim Your Business on ResellerRatings
Reseller Ratings is a merchant review platform that lists over 68,000 merchant brands and.
The site was designed to establish consumer trust in major syndication channels like Google, Google Shopping, AdWords, Facebook, Microsoft adCenter, Bing Shopping, and a business' own site.
To get listed and receive and leverage reviews, you'll have to sign up for Reseller Ratings' service.
Visit the

Merchant Signup page here

.

Fill out the form, which includes a username, business email address, password, first and last name, and phone number.
Click the CAPTCHA box, which should allow you to then click on the "Please contact me right away" button. This will tell the company that you want to get a demo of the ResellerRatings platform.
How to Claim Your Business on SuperPages
Superpages allows users to find local business information such as phone numbers, ratings and reviews, address, and hours of operation.
A button at the bottom of the Superpages home page will take you to a contact page. Here, you can call Superpages at (844) 805-2506 to add, edit, or review a listing. However, you can fill out an online form instead.
In the "What Are You Contacting Us About" dropdown menu select "Add, Edit, or Remove a Listing."
Fill out the required information on the form, which includes a full name and email address. You can also a phone number as well as the business name and its published phone number.

Under the form is a large text field where you can write your message.

Click on the CAPTCHA to prove that you're not a robot and then hit the "Send Message" button.
How to Claim Your Business on Yahoo! Local
Yahoo! Local features local business reviews, top rated services, and events. It's integrated with other Yahoo products and services (including Yahoo Search) and includes interactive maps, driving directions, and user reviews and ratings.
Business owners can manage their information on Yahoo! Local using the Localworks platform.
To begin the process of creating or claiming your business listing on Yahoo Local, follow this step-by-step guide:
Click the result that matches your business name and address.

Fill out the form that appears on the next page, which will generate a free report on the business listing, as well as the next step on verifying the listing.
Keep in mind that you have to pay to use Yahoo Localworks. With Localworks, your content won't be replaced by publisher suggestions unless you specifically approve it. However, managing the publisher suggestions feature ensures that the public facts about the business are accurate.
It also provides access to features and tools that will optimize listings so that they stand out and have a better chance of exposure.
How to Claim Your Business on YP.com (Yellow Pages)
YP.com or YellowPages' local search platform connects users to over 19 million local businesses. It offers multiple types of information, including business listings, phone numbers, maps, email addresses, website links, and local business reviews and ratings.
You can create or claim a business listing on YellowPages or YP.com, and there's also an option to advertise and give the listing premium visibility on the site.
On the

home page

, scroll down to the "Claim Your Business" section and click on the "Get Your Free Listing" button. Alternatively, you can call YP.com at (888) 573-9922.
The button will take you to another page where you will type in the business' name and phone number. Click the "Get my free listing" button to continue.
You should see a form where you will need to provide information to create a business profile. The required fields include the business name and address, phone number, the business owner's name, email address, and the business category. You can also input additional information such as a business website and a brief description.

Click on the "Continue" button to finalize the listing.
How to Claim Your Business on Yelp
Founded in 2004, San Francisco-based Yelp has collected approximately 102 million crowd-sourced reviews of businesses in a wide range of categories — from restaurants and hotels to dentists, boutiques, and mechanics.
Studies have shown that 82 percent of Yelp users visit the site when preparing to spend money. Also, 93 percent of Yelp users go on to make purchases at the business they looked up and researched on the site.
Business owners can manage and respond to reviews via the Yelp for Business dashboard. You can also read ReviewTrackers' guide to claiming your business page on Yelp.
Before you create a Yelp business profile make sure that another user hasn't already added the business. Once that's confirmed, visit https://biz.yelp.com/claiming.
Click on the "Claim my Business" button.
Yelp will prompt you to enter the name of the business and its geographical location. For added accuracy, or if the business is part of a chain, enter the specific street address.

Yelp will conduct a query and will show you a list of businesses with similar names to help you see if a listing already exists.

If a listing exists click on it and you will be prompted to follow additional steps to claim it and to validate the claim.

If the listing is not available, then you will see a query that asks you to add the business to Yelp. Click on it, and enter basic business information.

Yelp validates the business entry through email. This reduces the number of fake profiles created by malicious individuals.
Once you receive the validation email, you will be able to access the full Yelp profile.