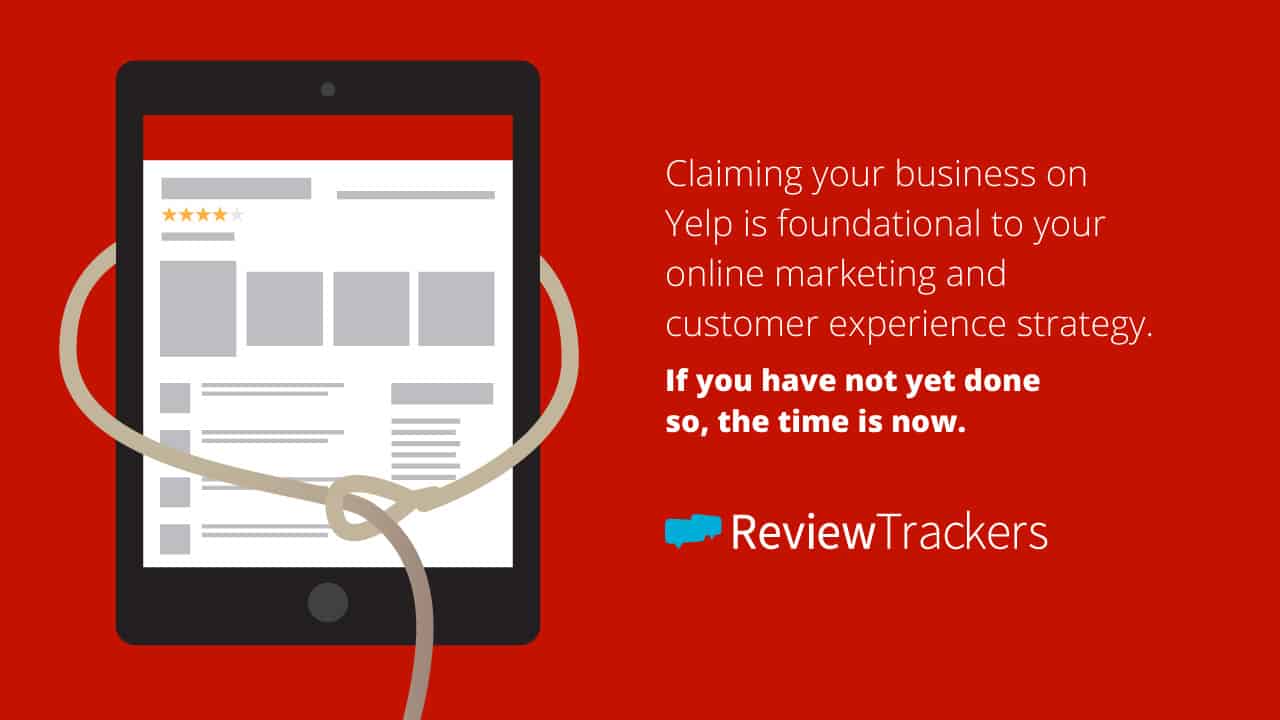 How to Claim Your Business on Yelp
If you have been wondering how to claim your business on Yelp, let us take you through the process one step at a time. Claiming your business on Yelp is foundational to your online marketing and customer experience strategy. If you have not yet done so, the time is now.
Intimidated by Yelp? Relax. 67 percent of Yelp reviews are actually 4- to 5-star reviews.
Your business may already be on Yelp
If you have been open for business for a while, and you are finally getting around to setting up your social and customer feedback channels, chances are someone may have already beat you to the punch. Your business may be already listed as well as reviewed on Yelp and other review sites.
If this is the case, then consider it good news. It means the buzz has begun, and upon claiming your profile you can begin managing your business information and engaging with your reviewers (as well as those using Yelp to find businesses in their local communities).
Ensure accuracy of information on your Yelp page
If your business is listed already, it would be sensible to review the accuracy of the information associated with the listing, since user-generated profiles often have limited or inaccurate details. Be proactive! The earlier you take control of your Yelp profile, the sooner you will be able to get Yelp reviews that fully reflect all that your business has to offer.
Setting the stage for a great Yelp profile
Taking over your business Yelp profile or activating a new profile, if your business or shop is not listed, is a very simple process.
Having said that, there is a right and wrong way to set it up. The truth of the matter is that you will be promoting your business in a platform where competition is fierce, and only the best businesses benefit from the bulk of the leads and local searches.
Get your website ready. Prior to taking over your Yelp profile, you may want to have your business website ready. Even if your website is very simple, it will help by providing Yelpers expanded information about your business that is framed in a look and feel that best conveys what you have to offer.
Add photos. In addition to having your website ready, consider having high-quality photos to add to your Yelp profile. Most shoppers are visual, and great pictures can persuade potential customers to pick you over a business with similar qualities but less appealing multimedia. Check out "Yelp Tips: Get Your Page and Business Noticed by Adding Photos".
Claim your Yelp business page: step by step
The first step to taking over your Yelp business profile is to conduct a search query to see if a user has already added your business. Begin your Yelp profile activation by visiting: https://biz.yelp.com/claiming. Now follow these steps to locate and claim your business on Yelp:
1. Click on the "Claim my Business" button.
2. Yelp will prompt you to enter the name of your business as well as the geographical location. For added accuracy, or if your business is part of a chain, enter the specific street address of your location.
3. Yelp will conduct a query and will show you a list of businesses with the same or similar name as yours, to help you see if you are already listed.
If you identify your business among the listed businesses, click on it and you will be prompted to follow additional steps to claim it and to validate your claim.
If your business is not yet listed, then you will see at the bottom of the query a prompt to add your business to Yelp. Click on it, and be ready to enter basic business information.
4. Yelp validates your business entry by sending you an E-mail. This reduces the number of spammy or fake profiles created by malicious individuals.
Once you receive your validation E-mail, you will be able to access your full Yelp profile.
Optimizing Yelp for Business Owners
Yelp profile activation gives you a very basic profile that provides Yelpers with a Google map that displays your location and basic information, such as your business hours, phone number, and website.
Clearly, from a branding perspective, this type of profile is weak and not conducive to engagement or conversion. Now is the time to make your Yelp business page as good as or better than your own website experience.
Lead with a great exterior photo. Your Yelp profile provides you with superior online real estate that should not go to waste. Uploading a great exterior photo of your business serves a dual purpose: first, it reinforces branding and speaks to the quality of your facility; second, it provides potential customers with a visual that may be helpful for navigational purposes the first time they visit your venue.
Share socially. If you are already active on social media, such as Facebook, Google+, Instagram, and Twitter, then consider doing a social search of your new Yelp page. Keep in mind that you are not to solicit reviews from your customers. The purpose of your share is to showcase your new profile and make your followers aware that you are now active on Yelp.
If you already have reviews, engage with your reviewers. Be a smart reputation manager and take time to engage with reviewers. Provide review responses that address negative issues, expand on positive feedback by providing additional information to empower the reviewer for future visits, and educate other Yelp users about your business in a way that may influence them to make you their next selection.
Tips for Supercharging Your Yelp Business Page
Add your complete, comprehensive, and up-to-date business information
While Yelp's success is driven by user-generated content (specifically, customer reviews of local businesses), it doesn't mean you have to relinquish full control of your Yelp business listing to the temperaments of your customers and reviewers.
Yelp business owners can supercharge their listings by generating their own content and filling their business Yelp page with all relevant information, as completely and comprehensively as possible. Here's a checklist to help you get started:
Business name
Business category
Address, neighborhood, ZIP code, and map location
Operating hours
Phone number
Website and contact e-mail
Price range
Menu (for restaurants, bars, and food and beverage establishments)
Delivery and take-out information
It's also useful to indicate if your business:
Is good for kids
Accepts credit cards
Has parking slots (and how many)
Takes reservations
Has a strict dress code
Has Wi-Fi
Optimize the "About This Business" section
Next to the tab that displays your Yelp reviews, you'll notice an "About This Business" section, which you can also fill out and edit in order to provide more information about what you do and what you can offer.
Feel free to share your business or company's history, list down your specialties and recommendations, and add a short bio about the business owner.
Here's a bonus tip (that doesn't require you to have an SEO rock star on your team): Conduct a little bit of keyword research to find out what potential customers are typing into their search boxes in order to find you (or your competitors).
The results of this research should help you tweak the content of your "About This Business" section in ways that, hopefully, will have your keyword-rich (but not keyword-stuffed) listing pop at the top of both Yelp and Google search results.
Add high-quality photos to your Yelp business page
Not so long ago, we wrote a post about how adding photos on Yelp can help get your page and business noticed. Recent research showed that people searching Yelp for local businesses spend 2.5 times more time on a Yelp listing with photos than on a listing without photos.
So here's what you should do: check out Yelp's free business tools, upload high-quality photos, and use these images to enhance the visual appeal of your Yelp business listing. Don't forget to add captions, too.
Be as creative as you can with the photography, and go beyond taking pictures of your storefront. If you're not sure what else you can take pictures of in order to optimize your Yelp for business page, try snapping shots of:
Your products, specialties, and recommendations – complete with descriptions and pricing
Your employees and staff members
Your reception or welcome area (this works especially well for restaurant and hotel review sites)
Images of your flyers, special promotions, and deals
Events you've hosted in your business location
Check the accuracy of your map location
Existing and potential customers who search for local businesses using Yelp and Google will typically see a map as part of their search results.
As a business owner, you want to be seen on that map – and be part of the top results – in order to get more people to click and visit your website or business' Yelp listing.
Work on making your business information and map location as accurate as possible. Having great reviews on Yelp is one thing; having great reviews on Yelp that actually show up in maps and search results is another.
Customize your Yelp business URL
We recommend this great tip to owners with lengthy or hard-to-remember business names, as well as to those who have not yet customized their Yelp for business URLs.
By creating shortened custom links that lead to your Yelp listing, you make it easier for people to find you, remember you, and give you a review.
An excellent tool is bit.ly, which, apart from creating custom URLs (bit.ly/HoraciosTacosChicago, for example), also lets you analyze link stats like number of clicks, social media referrals, and geographic information.
Another bonus tip: apart from sharing your custom Yelp business page URL across your website, blogs, and social media profiles, you can also have it printed on your advertising and promotional materials: posters, flyers, brochures, business cards, press kits, what-have-you.
It goes without saying that lots of people are already carrying their smartphones and tablets wherever they go. Cater to these people by making it easy for them to find, remember, and visit your Yelp listing.
Understand your Yelp metrics
To support your Yelp review management and monitoring efforts, visit the Yelp for Business Owners center and check out the data being tracked by the review site for you. Stats and charts measure several kinds of information about your business page (like traffic, mobile check-ins, number of calls, number of bookmarks created and deals sold, etc.), and from these you can gain insights on how to improve your local search performance.
Download the Yelp for Business App
Developed for Yelp-listed, on-the-go business owners, the mobile app can help bolster businesses' review management and customer experience strategy. It offers real-time mobile notifications of new Yelp reviews and messages, the ability to respond to reviews, and access to important data on a business owner's Yelp business page activity, like number of user views and customer leads generated over the past 30 days.
You can also use the app to flag Yelp reviews, messages, and photos. Sometimes, other people abuse Yelp and use the site to post fake or spammy reviews, messages, photos, and other forms of content that are in violation of the site's terms of service and content guidelines.
With the updated "Yelp for Business Owners" app, you can ping Yelp's support team with a flag option and request for the evaluation and removal of the review, message, or photo in question. So stay on top of your reputation on Yelp and keep an eye out for spammers and trolls!
You'll also like these additional Yelp for business resources: