Learning how to add your business to Apple Maps is a great way to improve your local search rankings, drive more traffic and sales, and increase your revenue. 
While Google — for its Maps and Search services — remains a top priority for businesses looking to build their online presence, Apple's own navigation tool is becoming business-critical, too. Here are some of the reasons why you should add your business to Apple Maps. 
According to

Statista

, Apple Maps attracts 23.3 million users a month. 

Every Apple device — iPhones, iPads, Macs — comes with Apple Maps built in.

Apple Maps is integrated with Siri. The app also features crowd-sourced information about businesses, such as

online reviews

, ratings, deals, photos, and turn-by-turn directions.
Apple Maps is expected to rely less on data providers like Yelp, Tripadvisor, and Foursquare as sources of reviews and photos of businesses and other points of interest. Now, users can improve the map by rating places they visit and sharing photos to help others.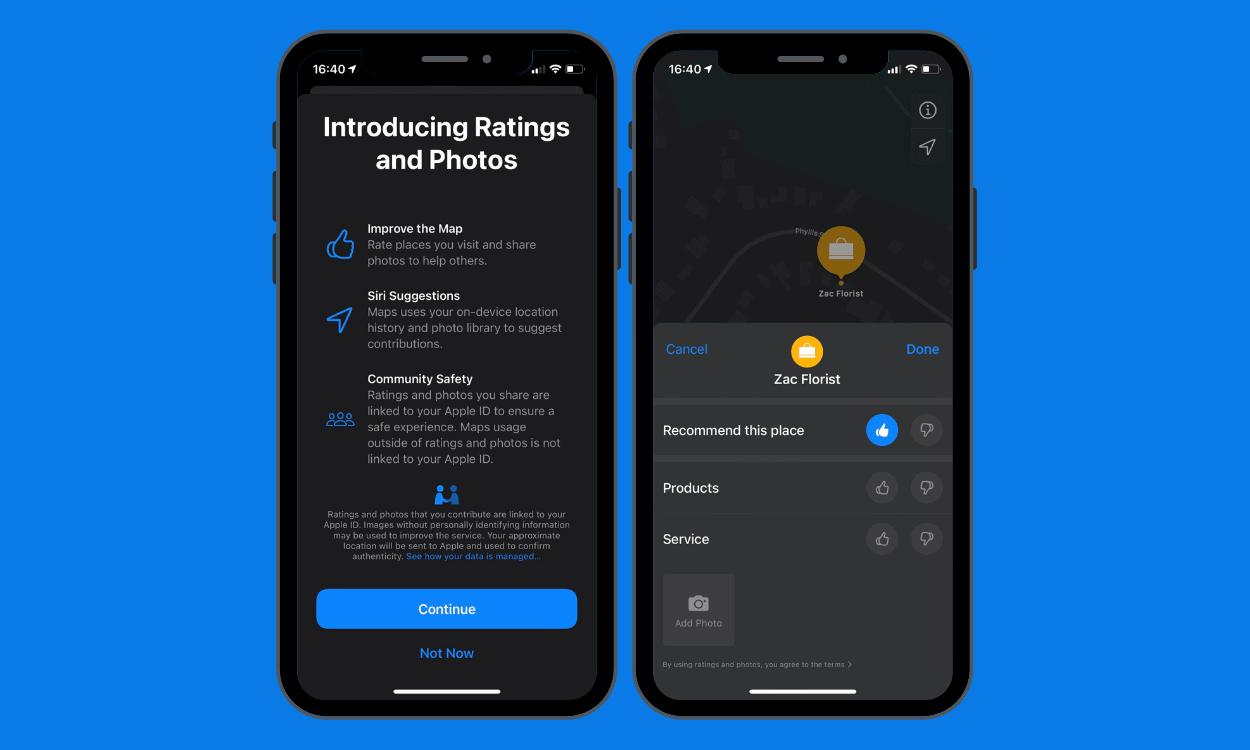 Is your business on Apple Maps? If not, it makes sense to get listed as soon as possible. After all, you want your business to show up in search results or when a user says, "Hey, Siri, find me the closest Filipino restaurant," or "Hey Siri, what are the best hotels in New York?" 
Even though Google is still the top navigation tool for consumers, there are many benefits to balancing your business presence across multiple platforms, online directories, business review sites, and maps services. 
How Do I Add My Business to Apple Maps?
As a business owner, you can use the Apple Maps Connect website to add or update your business information that's shown in Apple Maps.
Step 1: In order to use Apple Maps Connect, visit the Apple Maps Connect website and log in with your Apple ID. (Visit this page if you don't have an Apple ID.) 
Step 2: After logging in, you will be taken to a page where you can find and claim your business using a search box. If your business does not appear in the search results, click on "Add new place."
Step 3: Fill out the form that appears on the page with your business information. This includes your place or business name, place status (open, moved, or closed), country, phone number, business category, and information on whether or not your business accepts Apple Pay. Click "Next" once you have completed the form.
Step 4: You'll be prompted to allow Apple to call your number and give you a code for verification. (You can also choose to "Verify later.")
Step 5: After verifying your phone number, you'll be asked to provide your business location details, including your street address, building name, town, postal code, and state and province. Click "Next" once you have completed the form.
Step 6: A map will appear, and you'll be asked to provide the exact location of your business by moving the red pin to your building, near the main door. Click "Next" once you're done.
Step 7: You'll be asked to specify your hours of business. You'll also have the option to indicate if and when your business is open 24 hours. Click "Next" once you're done.
Step 8: You're nearly done! Just fill out the next form with links to your business website, Facebook page, Yelp page, and Twitter profile. You can also add a link to your official app on iTunes, if you have one. Click "Next" once you're done.
Step 9: That's it! All you have to do is review your business information. Apple will notify you if there's an issue with what you provided, but if there isn't any, you can click "Submit for review."
If additional verification is required, Apple will contact you. If everything is in order, you can expect to see your business added to Apple Maps within a week or so. 
The New Apple Maps Ratings Explained
Recently, Apple pushed a series of software development and updates on Maps. Most notably, the company rolled out a feature (first seen in a beta version of iOS 14) that enabled users to submit ratings and photos of places. 
The new Apple Maps Ratings feature suggests that Apple is set to remove dependencies on third-party apps like Yelp, Tripadvisor, and Foursquare as sources of information about businesses. Eventually, users who want to rate places they visit or share photos can do so using the Apple Maps app instead of visiting third-party apps. Their contributions will be linked to their Apple IDs. 
How Do Ratings on Apple Maps Work?
According to reports, Apple Maps users who tap a marker for a place on the map that they physically visited will have the option of recommending a place using a thumbs up / thumbs down rating system. This is similar to Facebook Reviews and Recommendations.
The system also enables users to rate different aspects of the customer experience. For example, your business might receive a thumbs up rating for "Products" but a thumbs down for "Service." Apple Maps ratings are powered by machine learning technology so that the app only requests ratings from users who have physically visited the location or business.
Add Your Business to Apple Maps and Grow Your Online Reputation
The continued growth and development of Apple Maps — along with the introduction of Apple Maps ratings and user-submitted photos — is bound to boost the importance of getting your business listed on the platform. Tapping into this can put your business in front of customers at critical points as they make shopping decisions. 
With ratings and reviews being a major local SEO ranking factor, the way your business appears on Apple Maps can also have a major impact on your online reputation. It is certainly worthwhile to add your business to Apple Maps, at the very least, and to prepare to adapt to the navigation app's upcoming changes and updates.
(Image credit: 9to5Mac)