The Problem: Your Yelp Reviews Have Disappeared
Yelp is one of today's most popular and influential review sites.
Reviews and ratings on your business page have the power to shape your brand reputation, influence consumer behavior, and even improve your search engine visibility.
Sometimes, though, these reviews go missing from your Yelp business page.
This can be frustrating. Imagine a Yelp user arriving at your business page without being able to read a positive review posted by one of your most loyal customers.
Has this issue affected your business? Don't panic. We've got you covered.
"My Yelp Reviews Disappeared!": Why This Happened
There are a number of reasons why a Yelp review has disappeared. Let's break down some of the most common ones:
The review is fake.
The most obvious reason for Yelp removing a review from a business page is that the review is fake.
While the site does not typically take sides in factual disputes, Yelp moderators can independently verify questionable reviews that have been flagged and reported. For reviews deemed by moderators to be fake, the result is removal of the review from the Yelp business page.  
The author deleted the review.
If the author deleted the review, you will not be able to get the review back, regardless of whether it was positive or negative. The only way you can have it displayed again on your Yelp page is if the author writes the exact same review.
Yelp removed the review because it violated content guidelines.
Yelp's guidelines include:
There should be no threats or hate speech in any review.

There should be no conflicts of interest in a review. So if a consumer posts a review on a relative's business site, for example, then it's against Yelp's content guidelines.

There should be no promotional content found in a Yelp review.

Review content should be relevant to the business.

Review content shouldn't violate another person's privacy. For example, a review shouldn't contain a photo of other customers without their permission.

The review must be original.
So what kind of reviews does Yelp accept? "The best reviews are passionate and personal," according to Yelp. "They offer a rich narrative, a wealth of detail, and a helpful tip or two for other consumers."
Yelp filtered the review.
Yelp filters reviews if the review is considered "not recommended." The Yelp review filter was built to make sure reviews are as unbiased and organic as possible.
According to Yelp, "Every review is automatically evaluated by Yelp's recommendation software based on Quality, Reliability, and User Activity."
The review could be filtered if:
The reviewer does not have a complete profile

The reviewer does not have social integration

The reviewer has only positive reviews

The review was submitted from an IP located somewhere else

The reviews are originating from the same computer

The reviewer does not have Yelp friends
Yelp says that it regularly evaluates the reviews caught by its filter, so that a filtered review can still be reinstated once it's proven to be legitimate and written by a trustworthy Yelp user. That's why, if you're monitoring the reviews on your Yelp listing's review tab, you'll notice some come and some go. The order of reviews can even change, depending on the trustworthiness of the Yelp users who've written a review of your business.
Yelp's review filter should not dissuade your business from trying to garner great reviews by offering excellent products and services, and engaging with your audience by promptly responding to online reviews.
Keep in mind that asking for Yelp reviews is discouraged. Instead, we recommend you spend time engaging with prior reviewers via review responses and building a business rooted in excellence in order to earn your reviews fair and square.
Yelp Reviews Disappeared: What You Can (and Can't) Do
While it's hard to say exactly what you can do to make sure Yelp does not remove or filter reviews, we know what you should not do.
If we look at Yelp's content guidelines, there are a few rules you can follow that will prevent problems of Yelp reviews disappearing from your business page.
What not to do
Don't use promotional content on your site.

Don't ask for reviews from friends or family.
Make the effort to engage with your customers on Yelp. Respond to their reviews. Listen to their concerns. If you talk with your Yelp community and build relationships, then you'll get reviews from reviewers who are consistently active on Yelp, who have complete profiles that link to social accounts, who post negative and positive reviews, and who have friends in the Yelp community.
As a business owner, you should also feel free to use your Yelp business account to publicly or directly respond to any inaccuracies in the review.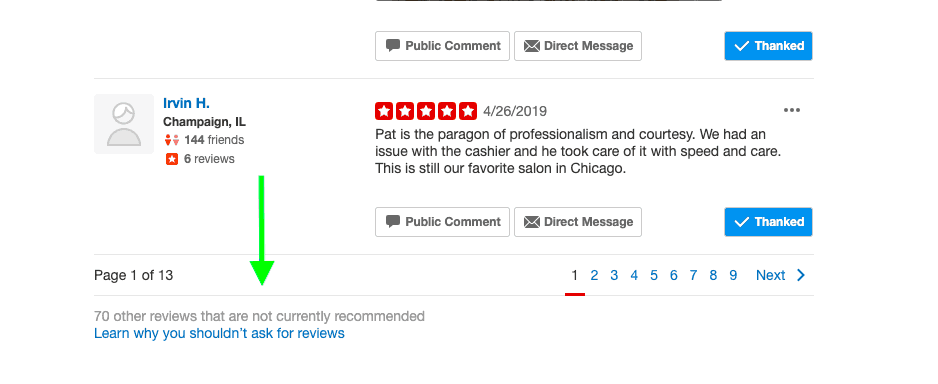 Click the line of gray text to find your filtered reviews. Then identify the positive ones that you'd like to display publicly on your Yelp business page.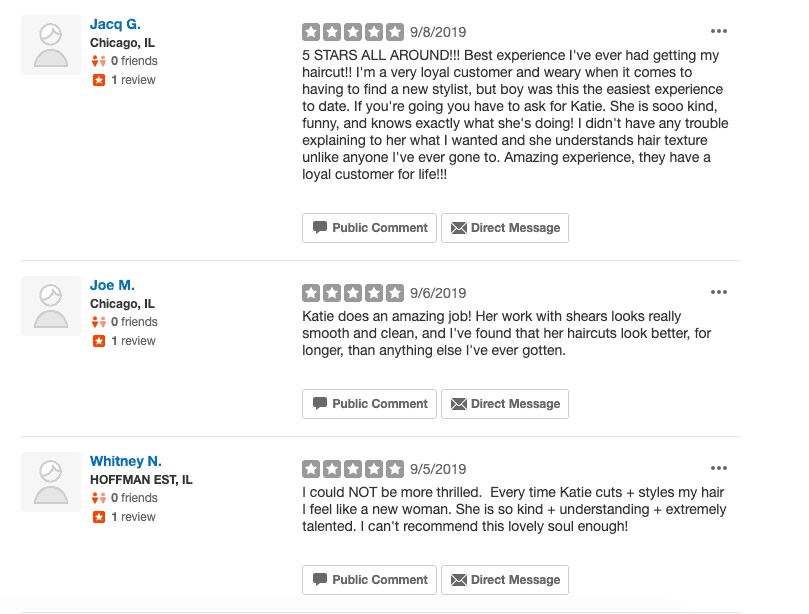 Interact with these reviews by leaving a public comment or sending the customer a direct message. You can also visit the customer's profile page to add them as a friend, follow their reviews, compliment them on their feedback, and tag their reviews as either Useful, Funny, and/or Cool. 
Again, these steps can go a long way in legitimizing your customers as valued and trusted members of the Yelp community.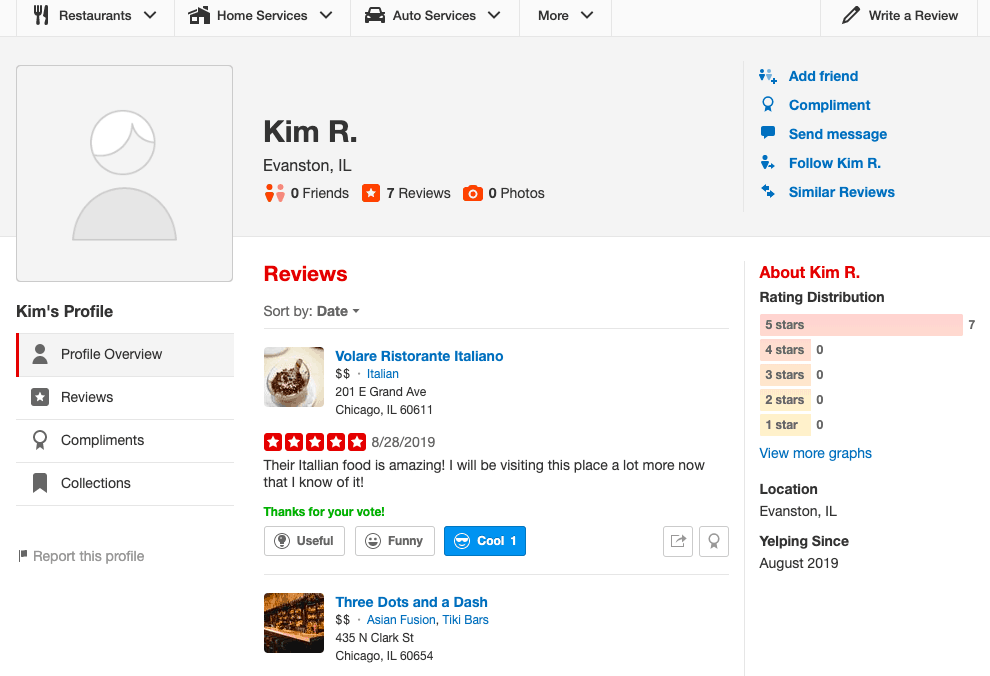 Follow the Rules
You should also consistently follow Yelp's content guidelines to prevent Yelp reviews from disappearing on your business page.
Don't use promotional content on your site.

Don't ask customers to review your business on Yelp. 
For more information and insights, check out our ultimate guide to Yelp for Business.