Download 43 free review response templates for negative and positive reviews
Get the templates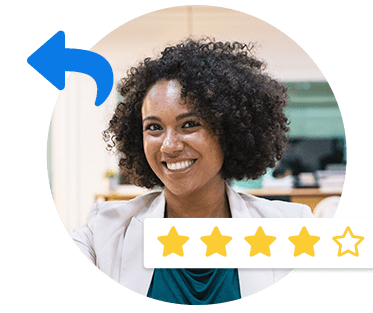 Consumers today are no longer just eating at restaurants; they're also checking in at restaurants. They're no longer just taking pictures; they're also tagging these pictures with geographical information on where the shots were snapped. They're no longer just checking into hotels at the reception desk. They're also checking in from their phones via Foursquare or Facebook or some other location-based app.
You get the point. Checking in has become a part of modern consumption behavior.
For business owners, the check-in also represents a great way to increase online visibility. Whenever a customer checks in, the brand or business name gets displayed for that customer's followers and friends to see. Moreover, a check-in that's accompanied by a status update can also serve as a business tool for generating more customer reviews, attracting more potential customers, and enhancing online reputation.
(Check out: "8 Awesome Tips on How to Handle Bad Online Reviews")
So: how do you get customers to check into – and post status updates and reviews of – your business? Here are 6 great tips and tricks to help you:
Offer free Wi-Fi. It's a small, simple, but effective investment that even small business owners surely will be able to afford to make. Your customers may have their own data plans – but that still costs money. And it's not always as reliable or as fast as Wi-Fi. So, why not provide the technology for your customers to go online and check in? It's a great way to quickly generate buzz and start online conversations about your business.
Post check-in offers. Doing so will enable you to connect people's online habits with their offline, real-life experiences. Reward check-ins: it doesn't matter what your offer is – a welcome drink, a free appetizer or cupcake, a special discount, whatever. What's important is that you're able to encourage a growing clientele, satisfy your most loyal customers, and create positive, rewarding customer experiences for everyone who checks in.
Use the Foursquare window cling. If you use Foursquare for business, we're pretty sure you already know what we're talking about: these cute clings. Post them on your entrance window or door to remind customers that they can fire up their phones and check into your venue via Foursquare.
Get your staff to check in, too. A happy workplace – or even just the impression of a happy workplace – is one of the best, most effective ways of enhancing your business reputation. Get it started and set the example for the rest of your staff by checking into your own business.
Claim your business listings and online review site profiles. There's no use trying to encourage your customers to check in if they can't even find you online. That's why it's so important to claim your business listing – not just on Foursquare and Facebook, but also on other directories, review sites, and apps like Yelp, TripAdvisor, Google+ Local/Google Maps, OpenTable, YellowPages.com, and Citysearch, among many others.
Ensure correct data. This is related to the previous point: you have to make it easy – not difficult – for customers to find you online and check into your place. Do you know that about $10.3 billion worth of potential annual sales are lost because of wrong, missing, or incomplete local data? To maximize exposure, ensure that your listings and profiles are always correct and up-to-date.