Download 43 free review response templates for negative and positive reviews
Get the templates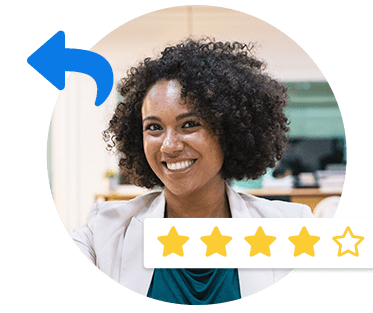 It's easy for your small business to be terrified of online review sites.
Yelp, Google My Business, Foursquare, TripAdvisor, Expedia, and what-have-you: these review sites continue to enjoy increasing popularity and impact, making it more challenging for you to manage your online reputation, keep an eye on all your new review alerts, and respond to what customers are saying. One bad review, a ratings decrease, or a negative comment about your business may be all it takes to turn off a number of your potential customers.
There's no reason to fear these online review sites, though. Instead of turning the other way, we recommend that you embrace the challenge. Good or bad, the reviews generated online by your customers represent a great opportunity to build and grow your small business. Here are five reasons why:
Global + local + social connections
Review sites like Yelp and Google+ Local are terrific platforms for extending your reach. If, previously, you only used to have the yellow pages and neon-lit signages as your tools for leading potential customers to your door, now you have a much wider range of options for strengthening your presence and getting people to find out about you and discover what you have to offer.
(It's also pretty neat that most of these review sites are integrated with social media sites like Facebook, Twitter, and Google+, thus maximizing the word-of-mouth potential of your small business.)
A smartphone-carrying consumer, for example, is more likely to visit your place once he or she sees that Yelp friends have checked in recently. Just as easily, an itinerary-planning tourist who is in the neighborhood can simply look at a Google map, read the awesome reviews on your Google+ Local page, and decide to visit your location.
The point is this: online review sites make it easier, faster, and simpler than ever to connect with your customers. So it can only do your business good to have a review management strategy in place.
Easier evaluation, greater awareness of customer issues
If you have resisted claiming your business page/listing on the most relevant review sites, you're denying yourself the opportunity to find out what your customers love, hate, think, and feel about your brand.
Sure, you may have a Facebook Page and a Twitter profile. But the number of "likes," "mentions," and "retweets" that you get do not give as good an idea of your customers' sentiment as actual reviews, recommendations, comments, and complaints. They also probably do not provide the sharp, specific insights that you need to be able to evaluate what you're doing right and what you're doing wrong.
If you really want to engage in real conversations about your business, claim your pages/listings ASAP and use a review alerts tool like ReviewTrackers to listen, resolve, respond, and be heard. Do this and, in no time, your online reputation will be a winning one.
Local SEO
Every business owner would love to appear at the top of every relevant search engine results page. With all the local information delivered by online review sites, you're no longer defenseless against bigger businesses with multiple locations.
Why? Because conversation rates for potential customers who search locally – who perform location-specific search queries – have shown to be higher than those who perform global or national searches.
This means that if a nearby Yelp, Google+ Local, or TripAdvisor user decided to look for a restaurant, hotel, or café like yours, the odds are that he or she will find your business page first before reading about other restaurants, hotels, and cafes on the other side of town.
Made for mobile
You may not have a website that cost $20,000 for a design agency to build, but if your business is on all the review sites you should know about, you're in a great position to get discovered by smartphone and tablet users, who happen to represent an increasingly huge chunk of today's Web traffic.
Yelp, Foursquare, Urbanspoon, TripAdvisor, Expedia, Google+ Local, etc. all have their own mobile apps (for smartphones and tablets). If your customers can't find your website, it would be great if they can at least find your business page or listing on their preferred review sites.
Ease and Cost
As you probably already know, joining today's most popular review sites is typically free. All you have to do is sign up, list your information, and have your small business verified. (There'll be no need to match what big businesses with multiple locations are spending.) It's a great, cost-effective way to enhance your visibility on the Internet and manage what customers are saying about you. Add a review alerts solution for extra efficiency, and you'll save yourself more than enough time to do what you do best: run your small business.
Still intimidated by online review sites? Don't be. Hopefully, with the five reasons listed above, you'll embrace the unique power of user-generated content and manage online reviews in a way that helps your small business succeed.