Download 43 free review response templates for negative and positive reviews
Get the templates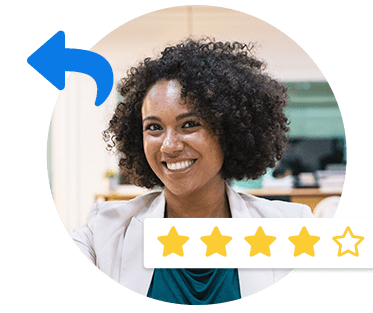 Customer feedback is important for a business to really grasp the successes their customers have and the problems they have along the way. The phrase itself represents a paradigm shift for many industries, and means different things to different people. What are we really trying to convey when we talk about feedback from the customer?
"Isn't feedback the noise you hear when a microphone isn't working?"
The most important aspect of customer feedback is the advancement we've seen in the past few years. We've seen feedback become more common with the rise of social media, and it seems like everyone is giving their opinion. Make no mistake about it, this is a good thing.
How Customer Feedback Shaped ReviewTrackers
For starters, customer feedback is making businesses better. The people receiving feedback are able to change their methods to improve the customer experience and enhance commerce for everyone. This translates to happy shoppers and more successful businesses. A specific example of this in action can be found here.
Here at ReviewTrackers, we've had this happen on more than one occasion. We are always looking for ways to improve our platform for our customers. This information is crucial to the success of all software platforms.
We've rolled out entire features based on feedback from our customers, stuff that we would have never thought of without feedback. But if we turned our backs to this valuable information, we would have stalled innovation and lost customers.
Why Businesses Turn Away Customer Feedback
Much like any criticism, the perception and attitude of the dialogue can be ungraceful. Many customers are quick to rudely pass judgement, and finding the feedback through the trees can be emotionally difficult for a business to pick up. Most customers leave reviews in a moment of haste.
The fourth level of Maslow's Hierarchy of Needs is the need for approval, and a negative review can be damaging to a customer success-focused business. It can damage motivating factors, and leave the business feeling as though they have failed professionally. This will certainly impact the businesses decision on customer feedback next time it is given.
Why is Customer Feedback Important?
Customer feedback is important because it provides businesses with new insights which can improve their products or services and help to measure the customer experience. When a customer speaks to a brand on social media, they are taking the first step towards committing to a brand they are interested in purchasing from.
Within the customer experience management cycle, feedback is used to develop new products and services and enhance those already being offered. Historically, this "feedback loop" technique is commonly used by successful organizations to stay apprised of customer concerns. With the advent of social media, businesses are able to collect and analyze this customer data to better enhance the customer experience from beginning to end.
Meeting The Customer Needs
Any customer satisfaction measurement will help determine whether or not a product or service hits the benchmark of customer expectation. On online review websites, there's a lot of data that is just now beginning to be tapped into, for the betterment of customer experience. At the same time, the process of customer loyalty is becoming more challenging. Measuring customer experiences is a great way to ensure your customers return, refer to a friend and stand you apart from your competition.
As a two-way channel, customer feedback offers direct communication with a customer. Because of this, a business is able to measure true customer happiness and avoid loss of business. A business decision rooted in data will always supersede one based on instinct.
After all, a happy customer is a loyal customer.