Download 43 free review response templates for negative and positive reviews
Get the templates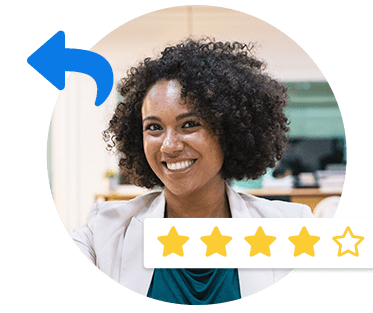 The dreaded negative customer review has set itself at the heart of today's online reputation management landscape.
Business organizations and marketers are constantly on the lookout for ways to avoid it. If they can't avoid it, they devise strategies to minimize the repercussions of it. And while the reality is that over half of reviews and customer feedback posted online are rated three stars (out of five) or higher — on Yelp, 67 percent of all reviews are actually 4- and 5-stars — it's human nature to fear negative feedback. It's certainly not uncommon for a business owner to think that, in the face of a one-star review blemishing an otherwise overwhelmingly positive Yelp page or TripAdvisor listing, the negative will stand out like a sore thumb, destroying the positive brand reputation they have worked so hard to build.
If you're one such business owner, it's important to recognize that negative reviews can also be good for your business and even create key opportunities that support your growth. After all, customer feedback (both negative and positive) serve as one of the best and most valuable business intelligence resources for your organization.
Let's take a look at a few of the ways you can turn bad reviews and negative customer feedback into quick wins for your business.
Catch negative feedback before it goes online
Every business is going to get negative customer feedback, so it's best if you get it in your own terms. Set up a natural channel for escalations through, say, a Net Promoter Score survey or a post-transaction feedback form. This spares you the pain and economic losses associated with having a customer post a negative review of your business on a popular review site like Yelp, TripAdvisor, or Facebook.
By giving your customers a way to voice their concerns privately, you can, also privately, address these concerns and improve their satisfaction levels, without the whole thing being dragged onto Yelp or some other review site. A 60-second survey like NPS works as life insurance for your online reputation. Give it a try!
Have a system in place for monitoring and responding to reviews
Don't walk around with blinders on or allow negative reviews to remain unanswered. Have a system in place for tracking online reviews and responding to customer feedback as they happen.
You can also reduce the potential negative impact of a bad review by taking care of the customer right away. Did you know that 51.7 percent of customers expect a response to their negative reviews in seven days or less? If you're not on top of your customer feedback, you won't be in a position to fix your customer experience issues. And if you don't respond, those other potential customers who can read the negative review won't be able to hear your side of the story.
"Respond as fast as possible, assuming your response is thoughtful and accurate," says Chip Bell, customer service expert and best-selling business author. "In the customer's mind, the clock starts when he or she posts a negative review and your reputation drops with every hour you delay providing a response. Be honest, be apologetic, and offer the aggrieved customer an easy way to access you. Bad reviews that remain unanswered signal to other customers you are disinterested. It also fuels the perception that the negative report by an angry customer was probably accurate. In the social media world, you are assumed guilty until your response alters public perception."
Indeed, your ability to track and respond to your reviews and feedback can transform the way your entire organization handles (and prevents) a reputation crisis.
Analyze the feedback to foster service improvements
Don't discount the feedback conveyed in negative reviews. Even if sometimes you don't believe that these reviews give a fair assessment of what you do as a business, it's important to treat them as a valuable source of insight that will help you improve and stay ahead of the curve.
Make it your goal to extract at least one actionable insight from every negative review, and find ways to introduce operation or service improvements based on that insight. The most successful organizations are quick to identify and resolve customer experience issues as raised in online reviews. By recognizing negative feedback as a valuable asset (instead of something to be afraid of), your business can begin to do the same.
Read MORE: "Improve Your Entire Organization with Actionable Customer Feedback"
Align your review responses with overall brand objectives
When you post a response to a negative review on a site like Yelp or TripAdvisor, be aware that a multi-dimensional audience will likely be following what you have to say. Respond to the reviewer and tackle his or her concerns with customer retention in mind, but also write in a way that reaches out to a wider audience and supports the goals of your brand.
Your responses should instill confidence in future customers. Look for ways to provide responses to negative reviews that resolve, expand, and inform not only the reviewer, but also everyone else who reads the review.
Be flexible, and not just receptive, to customer feedback
Did you get a bad review because your portions are too large? It literally takes seconds to revise a menu to include half-portions as part of your offering. Did happy guests took a half-star out of their rating because of your spotty Wi-Fi? Invest in a speedier connection or make room for a service upgrade in next month's budget.
Simple changes like these can speak volumes about your business' responsiveness and flexibility to customer feedback. By listening to the voice of the customer and making changes where you can, your business can turn negative reviews into quick wins that contribute positively to the customer experience.