No one should be scared of Yelp.
Sure, online review sites have an increasing impact on the revenue of a company—a 9 percent increase in revenue with each additional star rating—but don't take that as something that is out of your control, but rather as a tremendous business opportunity and a challenge.
Why does it matter? A ReviewTrackers survey found that 94 percent of consumers have been convinced to avoid a business after reading a negative review. Ouch. But by responding to a negative review, you can convince consumers that you care and take all complaints seriously.
With that in mind, here's how you can do damage control and respond to negative reviews:
Organize the response before the reviews come in.
Know your review sites.
Don't immediately give compensations as a means of appeasing.
Don't just respond to the review. Resolve the issue, too.
Alright, so let's get into the details. You can watch our video below, or read on for a few tips and tricks – provided by real business owners on Yelp (also below).
You are free to approach every Yelp review – good or bad – using your own approach, but it's useful to read on and understand why these examples of responses to negative reviews are very effective.
Anna L. wrote a negative review of Samovar Tea Lounge on Castro in San Francisco. She also gave the establishment a one-star rating (which can potentially shoo away Sannovar's prospective customers), saying that, among other things, "the thoughtless execution threw off the balance of textures and made for a bland eating experience."
Here's the response of Jesse J. of Samovar:
WHY IT WORKS:
Owning up to your mistakes goes a long way.
Accidentally overcooked the veggies? Say so. And say sorry. Which is exactly what Samovar did.
The tea lounge also explained all the possible reasons why the salmon might not have been up to standards when Anna L. came in, or how broth sauce that's off could ruin the tea soup. The key insight here is: Samovar addressed specific issues raised by the Yelp reviewer – and let her know that they are already working on these issues to remedy and improve the customer experience.
The terrific response is also capped off by an open invitation for the reviewer to reach out to the business owner / manager directly, with the encouragement to sound out more questions and comments.
Joan C. of Brooklyn, New York and her friends made a reservation at Anella in Brooklyn. Unfortunately, the rest of her party was "lost somewhere" in the Greenpoint neighborhood. With the restaurant applying a strict rule about not seating incomplete parties, Joan did not come away happy and thus wrote this one-star Yelp review. Below it is the response of Blair P., the owner of Anella.
WHY IT WORKS: In her review, Joan C. didn't hold back, even going so far as to use the phrase "uber bitchy" to refer to Blair P. This, of course, is not the fairest way to react to a lost reservation: indeed, if Joan C. had to get mad at anyone, it had to be her friends. Blair's response just goes to show that if a Yelper makes an unfair point and writes an unfair review, don't hesitate to tell your side of the story. ("Let's be honest, Joan: you and two of your friends arrived at 9:15 for your 9:00 reservation.") In the real world, customers aren't always right. But if they don't think they wrong, and if they use this as a basis for making personal attacks, always keep calm and never let your emotions get the best of you while you write out a response.
Kréme de la Kréme Nail Lounge is the recipient of dozens of positive reviews on Yelp. Angela T., the business owner, takes the time out to thank Yelpers who put in these good words for her. Whenever a bad review comes along – like this one from a honeymooning reviewer – Angela T. responds, too, in a way that just shows how seriously she takes her customers' comments and critiques.
Check out these examples: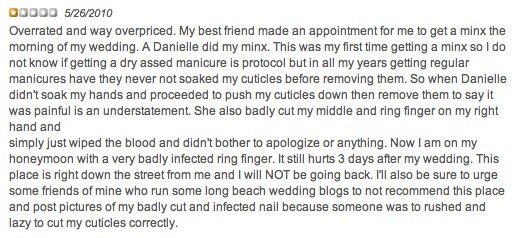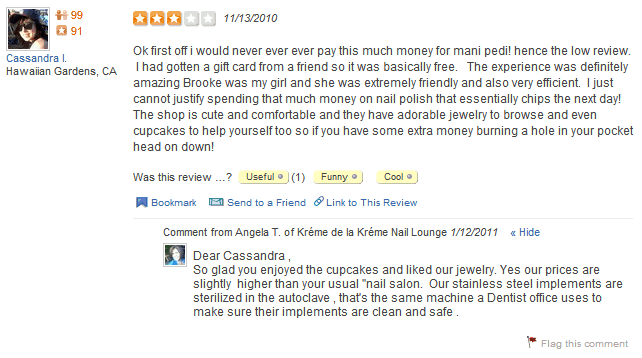 WHY IT WORKS: Sometimes all a customer needs to know to want to return to your place is that your business cares. Ignore the snarky conclusion of her first response, and you get the sense that Angela T. is really serious about compensating customers who have had genuinely bad experiences at Kréme de la Kréme. It's not just about admitting a mistake, but correcting it.
Like Jesse J. of Samovar, Angela – as involved a business owner as any – also addresses specific issues, and works toward resolving these issues. Check out the second set of review and response, in which she explains why the nail salon's prices are slightly higher than that of her competitors. Cassandra I. did not exactly leave an unkind review, but Angela nonetheless found a way to describe to her the great lengths the business goes to in order to provide quality services and products.

Some bigger restaurants and businesses have a PR agency or Internet marketing firm backing them up with online review monitoring, customer support, and full-blown reputation management. But not all businesses can afford to do that, so a lot of owners and managers themselves act as the primary spokesperson for their own businesses.
Seastar Seafood Restaurant and Raw Bar in Bellevue has Chef John Howie. And Chef John Howie's responses to Yelp reviews are not on Yelp, but on YouTube. Check it out by clicking the link below the screenshot.
Chef John Howie responds to Yelp reviews
WHY IT WORKS: Why stop at leveraging the power of one major Internet player? By choosing the world's most popular video site – YouTube – Seastar Seafood Restaurant and Raw Bar is able to expand their reach and show not just Yelpers, but YouTubers, too, just how much they value their customers' comments and feedback.
By adding a video element to the responses, Seastar Seafood Restaurant and Raw Bar is also able to humanize their brand, and lend a face – a personality – that existing and prospecting customers can identify or at least engage with. Having the chef himself respond to the reviews, moreover, establishes the credibility and authority of the responses.
Meatball Sandwich Place…. Somewhere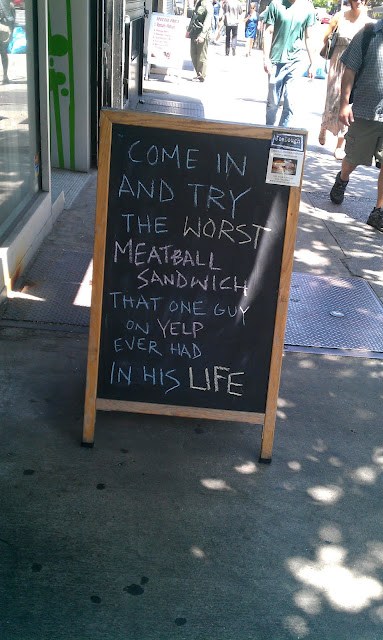 WHY IT WORKS: Lighten up. It's Yelp. Don't let a bad review take away your sense of humor. At the end of the day, the success of your business depends not on what one customer says – but rather on what you do, how you choose to respond, and what kind of attitude you take when addressing customer issues. This passive-aggressive response to a bad review, which you won't see on Yelp, is funny, creative, passionate, and extremely catchy. And it went viral recently. You know what that means: tons of free publicity.
How to Respond to a Negative Review
Every business gets a bad review. It doesn't matter if you're a large enterprise-level organization with thousands of employees or a small business at the heart of the local neighborhood: no matter the size or kind of your business, there'll always be someone saying something unfavorable about your product or service.
No need to panic, though. No need to get into a state of shock. When your business gets slammed on a local review site – fairly or unfairly – you must respond. You can't just ignore it. And be sure to keep these tips and tricks in mind as you go about responding to negative reviews online.
1. Organize the response before the reviews come in.
The best way to respond to a bad review is to make sure you're prepared for it. Set a target response time (say, 24 to 48 hours), decide who on your team should take ownership of the response, determine the steps to follow for resolving issues, and always make sure you have a way of documenting the incident (for records or for future staff training).
2. Know your review sites.
You won't find out what your customers are saying if you don't know where they're talking. We here at ReviewTrackers previously posted about the review sites your business should know about. Familiarize yourself with the most popular and most relevant review sites (relevant to your business), visit them regularly, and learn how to use and respond to the reviews.
Of course, you can also use a review monitoring tool like ReviewTrackers to collect all the reviews in a single dashboard.
3. Don't immediately give compensations as a means of appeasing.
It's fine if you realize – and admit – that you made a mistake. But there are cases when you can't and shouldn't shoulder the blame for a negative review.
Some customers may simply have had the wrong expectations, or were misinformed about something or another. Always see first if you can resolve the issue without having to settle or reward a customer with an unfair review.
4. Don't just respond to the review. Resolve the issue, too.
A timely, well-worded response to a bad review is a good start, but don't think there won't be work left to do after that. Analyze what the customer said to identify the bigger or deeper issue at hand, then put this issue under control. So, for example, if a customer complained of his or her experience with your rude sales representative, don't just respond and pay online lip service.
Supercharge your review response strategy by downloading these free review response templates (in Excel format) so you can get back to your customers ASAP.