Download 43 free review response templates for negative and positive reviews
Get the templates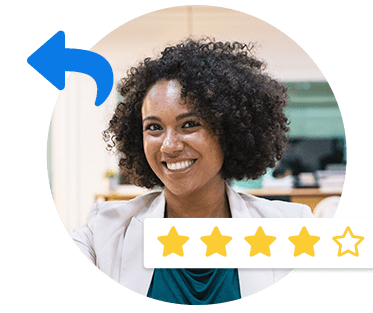 Thanks to the influence of review aggregators like Yelp and TripAdvisor, your customers can now quickly become your online critics. The reviews they post – good or bad – can either make or break your business, and affect your online reputation in ways that did not use to be possible. In fact, according to a study by Forrester Research, 71 percent of online shoppers read customer reviews before making a purchase decision. That's close to three out of every four!
That's why it's more important than ever to monitor your online reviews, listen to what your customers are saying, and leverage the positive word-of-mouth potential of genuine, positive reviews.
Here at ReviewTrackers we've talked extensively about how to manage criticisms, one-star ratings, and negative reviews. This doesn't mean you shouldn't also manage all the great stuff that happy customers are saying about your business. Let them speak for you! So, next time you get a five-star review or a glowing customer testimonial, here's a list of where you can post them.
(Check out: "Managing Bad Reviews: What Else You Can Do After Writing a Response")
Your company website. Do you have a business website? If yes, consider it the perfect place on the Web to post your positive online reviews and customer testimonials. A quotable quote from a happy customer will do. Not only does this help you stand out from your competitors; it also establishes your business' trustworthiness and reliability. A review widget can streamline how your post these testimonials.
Your blog. Running out of ideas while trying to come up with entries for your company blog? Don't hesitate to make a story out of a customer who has written a good review about you on a reviews aggregator like Yelp or OpenTable. Don't just copy and paste the text; add a personal touch to your story by giving your own account of how the positive customer experience went down.
Your product / service catalog. One of the best ways to increase your conversion rates is to let existing customers – existing happy customers, that is – sell your product or service for you. By adding quoted reviews and testimonials to your product / service page, you get to leverage the power of online "word-of-mouth" and, in the process, drive your business' sales performance.
Facebook, Twitter, and social media sites. If you're a socially savvy business owner, you have likely established your company's social networks on sites like Facebook, Twitter, LinkedIn, and even Pinterest. That's great, but it's best not to bombard your community of fans and followers with your own self-promotional content (tweets, status updates, pins, links) all the time. Let your audience hear it from your happy customers and reviewers with an occasional quotable one-liner or two – and let the authenticity shine through.
E-mails. Are you implementing an E-mail marketing campaign of some sort? Don't forget to add snippets of positive reviews and customer testimonials to your message. Trust us: this will make your E-mails that much more powerful.
Videos. Remember "Real Actors Read Yelp Reviews"? They've been quite a big hit. Now it's time to make your own series. With today's advanced smartphone cameras and affordable camcorders, it's easier and simpler than ever to collect Yelp reviews of your business (or reviews from some other side) and read them out loud for the online-video-watching world to see. By using video, you get to add a "face" to your voice – and reward your most loyal supporters by putting the spotlight on their reviews.
Online advertising. If you're running an online advertising or PPC (pay-per-click) campaign, you may want to consider adding review snippets or customer testimonials to your ad copy options. Copy usually can't be longer than two or three lines, so anytime you can get a willing customer speak up for you and attest to how awesome your product or service is, take the opportunity!