Asking for reviews from customers is one of today's most powerful customer acquisition and retention strategies. That's because online reviews can do wonders for your company. 
They help build your online reputation, bring a lot of brand credibility, and provide the kind of social proof needed to influence consumer behavior.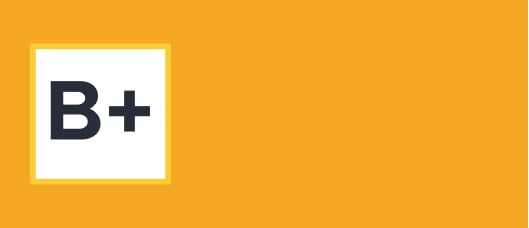 Find out your brand's online reputation score
Take the guesswork out of your strategy. Instantly generate your brand's online Reputation Scorecard, complete with review highlights, ratings, keyword trends and more.
Downloaded the report? How to Interpret Your Reputation Score
Having more reviews is much better than having fewer reviews — unless, of course, most of your reviews are negative. Having a few reviews is better than not having any at all.
According to Online Reviews Statistics,

4 in 5 Americans read reviews before making a purchase decision.

79% do so to make sure the product or service is good, 61% read reviews to make sure the product or service works, and 53% read reviews to make sure they don't get ripped off.

83% of shoppers

discover new products

every month through reviews. Moreover, 7% of consumers need to read at least 20 reviews before they put enough trust in a company.
Reviews are also one of the biggest factors influencing a company's local SEO performance. 
From this perspective, it makes business sense to learn how to ask for reviews from customers and ensure a steady stream of more and better reviews. After all, when you're already delivering experiences that customers love, they won't hesitate to vouch for you. All you have to do is ask. Often, this is the best way to get more reviews.
This online review management tactic holds true whether your starting point is zero or if you already have a hundred reviews. Asking for reviews from your customers — assuming you're not doing it in an overly aggressive way or in exchange for a reward (quid pro quo) — is a strategy that can benefit businesses of all types and sizes.
Benefits of Asking for Reviews
Reputation boost. A stream of 5-star reviews from customers helps showcase your business and creates powerful social proof for inspiring shopper confidence and driving sales.
Higher ratings. According to consumer shopping decisions research, the average rating of reviews generated from review requests (businesses asking for reviews) is 4.34 stars out of 5: higher than the average rating of unprompted reviews (3.89 stars out of 5).
Brands that know how to ask for reviews also tend to produce reviews that have a higher percentage of 5-star ratings; these are likely to remain steady over time. Unprompted reviews, on the other hand, claim a larger share of 1-star ratings; over time, the overall rating tends to drop.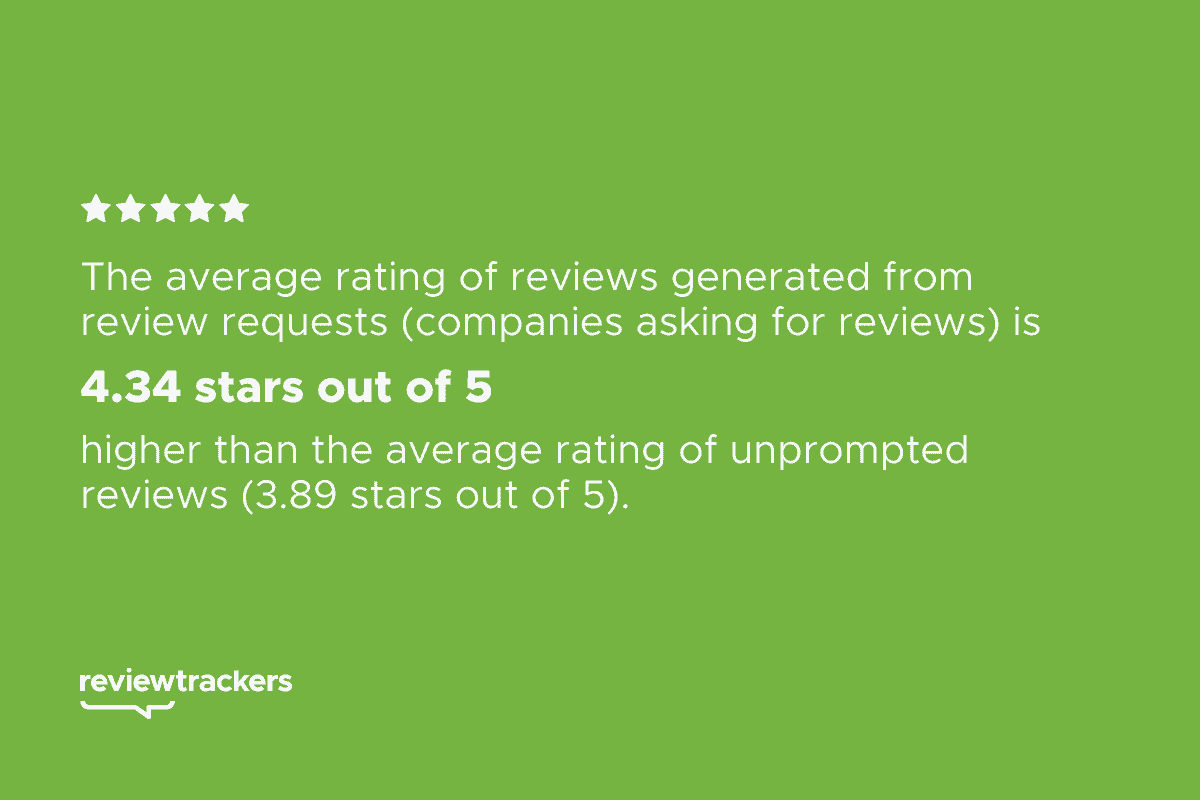 Instant outreach. Proactively asking for feedback helps strengthen customer relationships — and connects your business to the voices that matter the most.
Knowing when and how to ask for a review can also activate your brand promoters. By encouraging them to write reviews, you can convert your happiest, most satisfied customers into vocal promoters and word-of-mouth catalysts who'll put in a good word about your company on business review sites on the top business directory list. 
Amplified search presence. Google and industry experts say that a company's review signals — such as review count, ratings, and review text — are factored into organic and local search rankings. This means more reviews will help you rank higher in search results, making it easier for potential customers to find your brand.
Research also shows that an increase of 1 to 8 reviews can lead to significant improvements in conversion rates. If review volume increases by 8 to 100 reviews, you can expect an increase in natural search traffic.
Longer shelf life. Like tweets and Facebook posts, customer reviews can be used as data assets for your marketing efforts. Reviews, however, have a longer shelf life.
18 minutes is the median lifespan of a tweet. 75% of engagement with a Facebook post occurs within the first 5 hours. As for reviews' shelf life? It's around 3 months. 69% of consumers believe that only reviews older than 3 months are no longer relevant.
Simply put: what customers said on Yelp or Tripadvisor two weeks ago is likely to carry more weight than what another customer said on Twitter or Facebook two days ago.
If you're already trying to monitor social reviews and engaging with social media users in conversations about your brand, you might as well learn how to ask for reviews, too. Given their long shelf life and unique ability to expand your digital footprint, reviews should serve as an integral part of your marketing infrastructure.
How to Ask for a Review: Keys to Success
So, what's the best way to reach out to your customers and ask for a review? Here are the keys to success, along with best practices and techniques, to help you achieve the best results and optimal response rates.
Ask for Reviews via Email
One of the most effective ways to generate new reviews is through review request email campaigns.
The campaigns usually take on the form of customer surveys. Other times, the email message is much simpler and more straightforward, containing a link to a page where the recipient can write a review.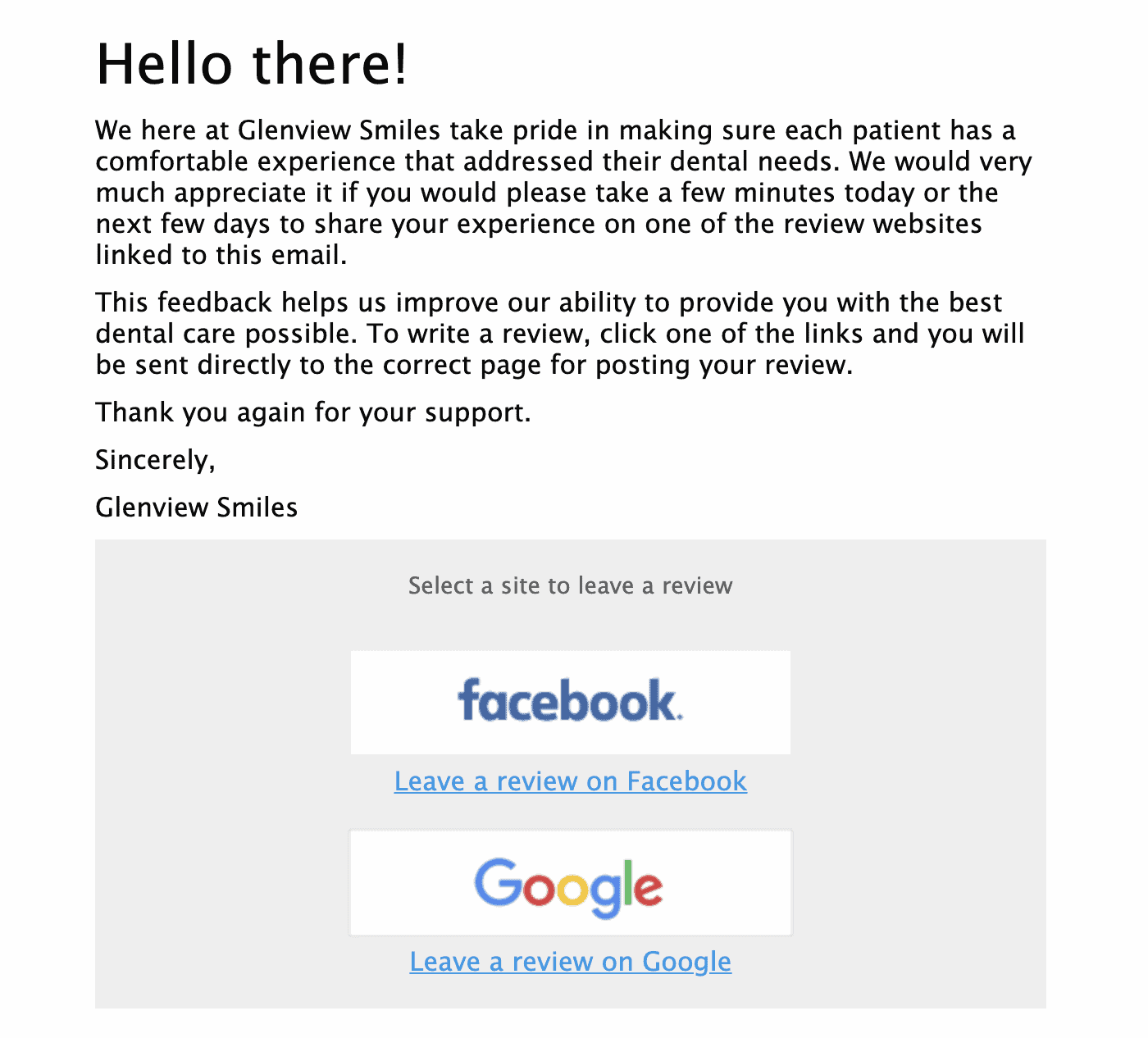 If you're just getting started with asking for reviews, email should be at the top of your list of channels. According to customer reviews research, as much as 70% of reviews come from post-transactional review request emails.
Asking for reviews via email also means you can tie your reviews to transactions that actually happened (transactions through which you are able to collect customer email addresses) — lending valuable authenticity to your reviews.
Moreover, email requests for reviews enable you to evaluate customer loyalty and satisfaction levels, as well as identify customers who are likely to recommend your business to others versus those who aren't.
Best Practices: Asking for Reviews through Email
Know your goals. What do you want to achieve apart from generating new reviews? Are you trying to measure loyalty? Or do you want to get feedback on how you're doing with customer service? Only by identifying your goals from the very start will you be able to ask the right survey questions and collect the right information.
For a more comprehensive guide, read our post on the best customer feedback questions examples you can ask in these types of surveys.
Personalize your email. Put careful thought into your review request emails and write them in a way that individually acknowledges each recipient. You can design the most dazzling email in the world, but you won't achieve high open rates and response rates if the message feels cold and impersonal from the start.
Keep it short. When was the last time you took a 30-minute survey? Probably never. If your own review request email or survey takes too long to complete or even read, you run the risk of respondents abandoning it before completion.
Keep your message short and simple. Avoid unnecessary questions or phrases that your customers are unlikely to understand. If you would like them to review your business on a specific website, say so explicitly and provide clear instructions on how to do it.
If you're going to ask for a rating, ask right away. Some companies leave it until the end before they ask for a review score or star rating. But this isn't ideal. Why? Because it's a crucial question or request that practically demands a gut reaction, and if you're going to ask for a rating after a 5- to 10-minute round of less important questions, there's a chance that you might invalidate the customer's response.
Have middle options. If you're using a rating scale in your review request campaigns, provide a middle category or neutral option. It gives respondents a kind of "out" if they are not sure how to answer or if they happen to have mixed feelings or sentiment. More importantly (and this is backed by research studies), middle options result in better, more accurate data.
If you're not using scales, you should stick to "Yes" or "No" questions, or provide pre-selected / multiple-choice answers. Even if your questions require responses that are a little bit more elaborate, provide pre-selected answers that are easy for respondents to understand and choose from.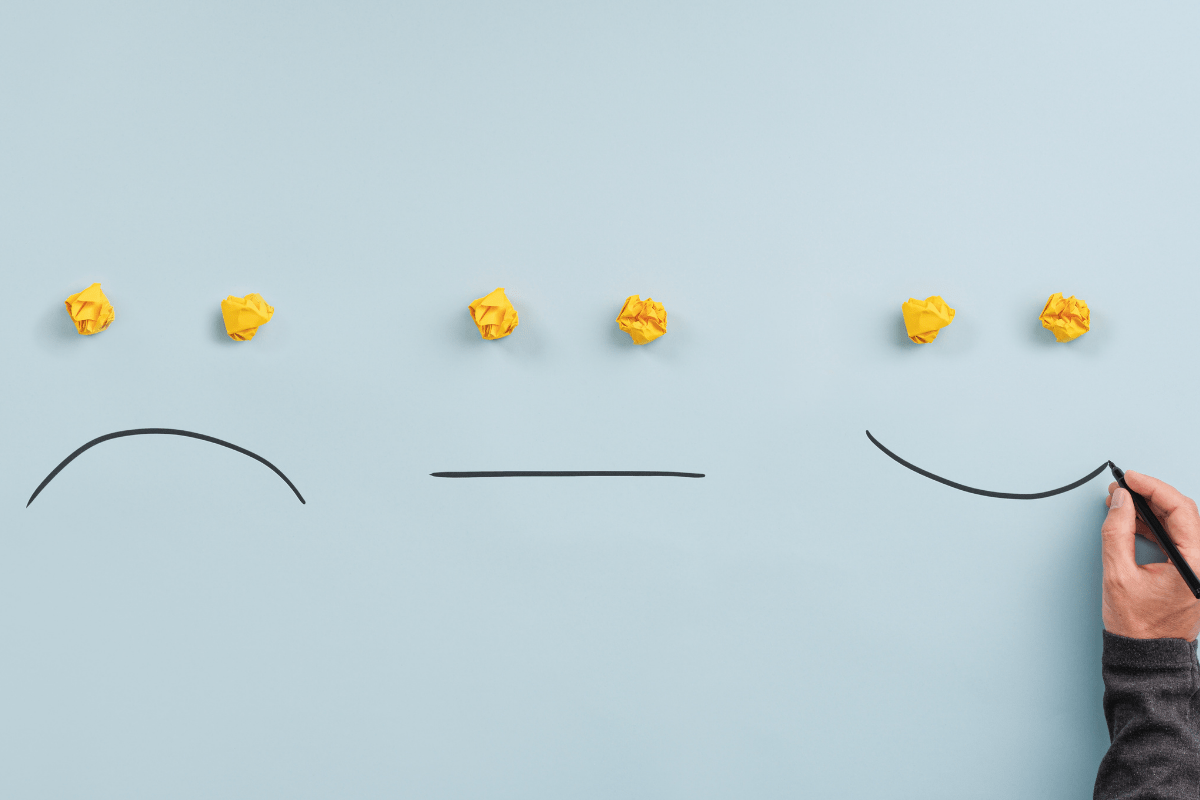 Respond immediately if necessary. If you receive negative feedback after asking for reviews from customers, act quickly and respond to let them know you are working on the issues they pointed out. Whether you're making a phone call or sending an email, do so in a timely manner; otherwise, you run the risk of leaving an unhappy customer stewing and potentially deciding not to visit your business again.
Test, measure, and adjust. You can't ask for reviews and launch a review request campaign then leave it running untouched for the next several months. Test, measure, and adjust to achieve the best response rates and collect the most useful feedback. Today's customer-driven market is a dynamic one, and, as previously mentioned, people's interactions and experiences with your company will inevitably vary, especially over time.
How to Ask for a Review: Use These Templates for Email
Not sure what to write in your review request messages? Here are some subject line and message ideas that hopefully will give you some inspiration. 
Subject line templates and examples
"How did we do?"

"We'd love to hear your feedback!"

"Got a minute to share your experience with (Company Name)?"

"We want your feedback."
Message templates and examples
"Hi (First Name of Customer), Thank you for visiting (Business Name)! It was our pleasure helping (service you provide). Reviews help our business build an online presence and helps others learn about us. Would you be willing to take a few minutes to leave us a review? You can click this link (direct URL to your review website profile) to leave us a review. Thank you in advance for taking time to share your experience. We appreciate your business!"

"Hello there, (First Name of Customer)! I hope that your recent visit to (Business Name) exceeded your expectations. We would appreciate it if you would take a few minutes to share your experience on one of the review websites linked to in this email. Your feedback helps us improve our ability to provide you with the best service possible. To write a review, click one of the links below and you will be sent directly to the correct page for posting your review. Thank you again for your support. (direct URLs to your review website profiles)"

"Hi (First Name of Customer)! Thank you again for choosing (Business Name). It's our priority to continue providing top-notch service to customers like you. Please leave us a review on our profile on (review site, with direct URL to review website profile). It will only take a minute, but your valuable feedback will help us improve and make a huge difference to our company. Thank you!"
Bonus content: Visit this page to download even more review request templates for your marketing team and location managers to use.
Request Reviews via SMS
Did you know that 56% of all online reviews are posted from mobile devices?
It's not a big mystery why. The age of voice dictation typing and tweet-sized reviews has also ushered in the ability for consumers to engage with brands and write reviews straight from their phone or tablet.
If you send customers a text message survey or a review request via SMS, there's a better chance they'll click on that link than emails. Text messages are opened at a 98% rate, whereas email typically has a 40 to 50% open rate. Additional research shows that 90% of SMS messages are read within 3 minutes.
Still, crafting your review request for SMS requires careful thought — perhaps even more so because of this channel's character limitations. Here are a few review or feedback SMS templates to help you achieve high response rates.
How to Ask for Reviews: SMS Templates
How to ask for a review with a text message? Here are some actionable feedback SMS templates to inspire your text surveys and review request campaigns via SMS.
"Thank you for being a customer." This basic template is great to help you get started. It doesn't require your customer to give up a lot of data or make a big effort to post a review. "Hey (First Name of Customer), thank you for visiting (Business Name) today! To help us best serve you and others, could you click on this link (review website profile link) to answer one question about your experience today? Thanks!"

"Will you review us on (Review Site)?" This template helps you increase your reviews on a specific online review website where you might be performing poorly. "Hi (First Name of Customer), thank you for doing business with us. Do you have 1 minute to leave a review on (review site) about your experience with us? Just go here: (review website profile link). Thanks for your help!"

"Review our location." Thank your customers for visiting your outlet or local branch and ask for a review as well. "Hello (First Name of Customer), thank you for your recent visit to our location in (City). We here at (Business Name) want to provide you with the best experience possible! To help us, please take a moment to leave your feedback. Click here (review website profile link) to review. Thank you."

"Your opinion matters." Establish a stronger relationship with your customer by allowing them to feel like they have a voice. "Hello (First Name of Customer), your opinion matters to us. Could you take 1 minute to leave us feedback on your visit to (Business Name)? This link will take you to a quick survey with 3 questions. We appreciate your help!"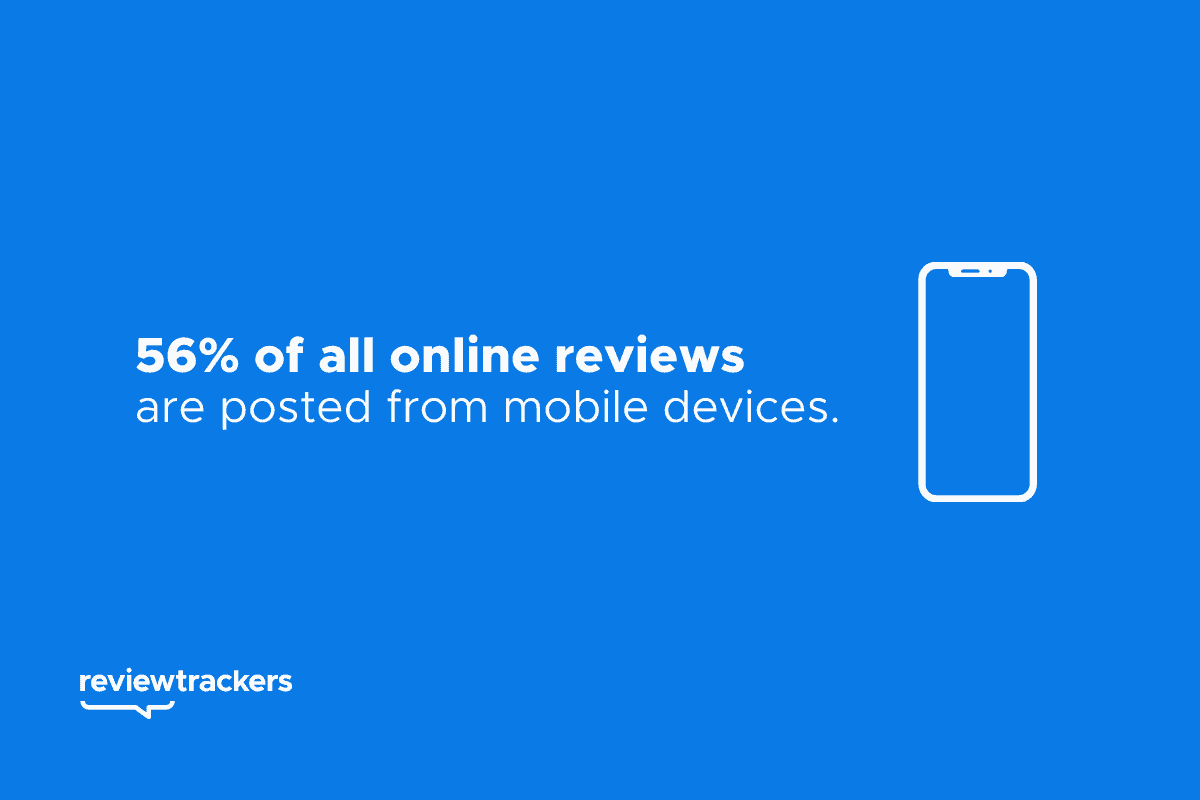 Bonus content: Visit this page for more SMS templates for requesting reviews. 
Design Landing Pages for Collecting Reviews
In order to generate new reviews, improve their customer experience management efforts, and collect valuable feedback, more and more companies and marketers are creating their own dedicated landing pages for reviews.
It's a great way to encourage customers to be more vocal about their experiences. These landing pages can be facilitated through the use of review generation / local SEO software, survey forms, an embedded reviews widget on your company website — or you can also build one on your own.
Once you have set it up, identify key touchpoints at which you can most effectively drive customers to the page. You can even share the link to the page across your social media profiles or give customers a friendly reminder in post-transactional situations.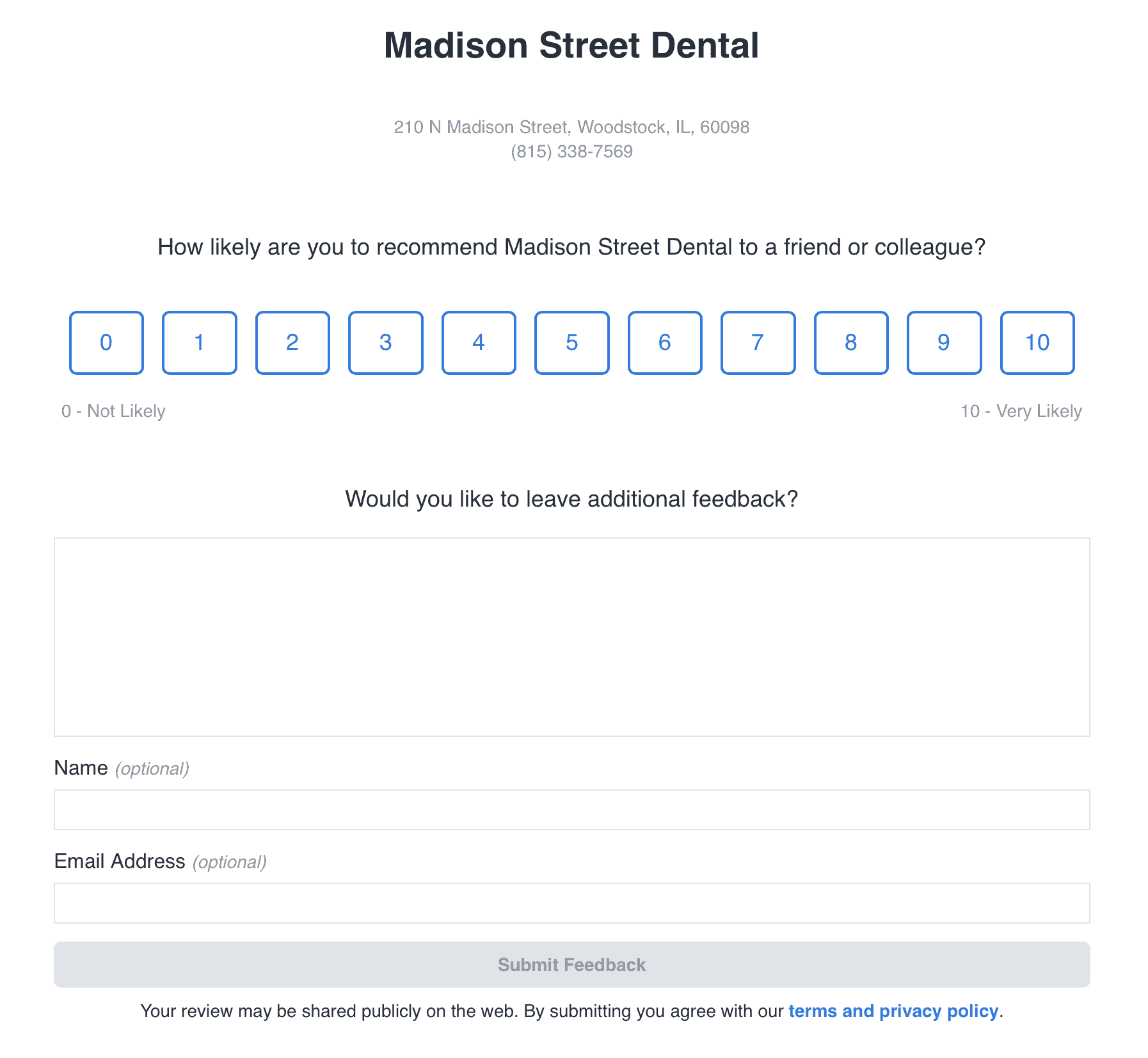 Learn How to Ask for Reviews at the Point of Sale
A more immediate, personal, and direct way to ask for reviews from customers is to make the request at the point of sale or care.
Picture this scenario: during checkout or towards the end of a customer's visit, you hand over a device, like an iPad or tablet, to your customer so that they can fill out a short form. Any feedback they share through the form can then be set up to be published as an online review.
Asking for reviews at the point of sale is a great way to capture actionable reviews and customer insights just moments after the crucial sales or care experience. It's also a valuable opportunity for your business to strengthen your customer relationships. Not to mention, it's a useful review request tactic in situations where you don't yet have your customer's contact information.
Pro tip: When using a device to request feedback at the point of sale, avoid asking customers to log into their personal review website accounts and getting them to write their review on the spot. Instead, stick to a simple form with only a few blank fields to fill, or use a "kiosk mode" program that lets you send the actual review request later, through SMS or email.
This strategy minimizes privacy and security concerns, while also preventing reviews from being generated using the same IP address as your business location. It also lets customers act on the request at their own convenience, using their own devices.
Use Review Request or Review Generation Tools
If you're managing a company with multiple business locations, an efficient way to ask customers for reviews is by using review request or review generation tools commonly found in reputation management software.
The Ask Tool from ReviewTrackers, for example, allows you to ask for reviews through email campaigns, SMS, on-site kiosks, and customizable landing pages, all of which you can customize to fit your branding and messaging style.
The tool also comes with a new Microsurveys feature, which helps companies get a quick, accurate glance at the customer experience.
Specifically, brands can create up to 5 specific questions on top of a required rating or NPS score from the consumer. With these questions, your team can get the data they need to accurately gauge the current state of the experience and make the necessary changes that attract, delight, and even retain more customers.
Automate Your Review Requests
For the efficiency-minded, a little automation can help get more review generation work done faster. Customers who automate their review requests can often double or triple their review volume — minus the time and resources spent on manual work.
If you already have a developer team in place, see if you can find ways to integrate your organization's customer relationship management (CRM), support ticketing, social media listening, or sales commerce platform with whatever process, tool, or workflow you have for requesting reviews from customers.
For example: you can automate sending review requests after a closed Salesforce opportunity or a solved Zendesk ticket.
Or take it to the next level by harnessing the power of automation platform Zapier, with which ReviewTrackers has an integration. For example: anytime a new customer enters Salesforce, Zapier can trigger a review request email to be sent using ReviewTrackers.
Case study: Read how DecisionOne Dental Partners grows its online presence by creating customizable review request campaigns delivered automatically via email and SMS.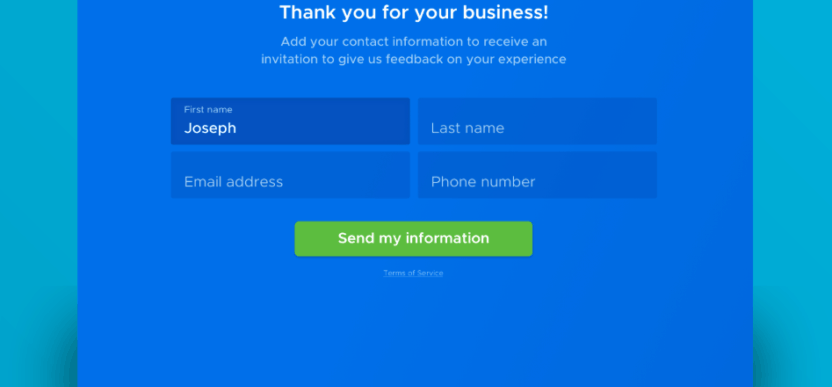 How to Ask for Reviews on Specific Review Websites
If you're looking to grow your brand presence on specific review sites, it makes sense to let your customers know. A hotel chain, for example, may have enough reviews on Tripadvisor, but not quite enough on Google or Facebook. Read on for guidelines and best practices in how to ask customers for reviews on specific websites.
How to Get More Google Reviews
According to Online Reviews Statistics, Google is outpacing other business review sites like Yelp, Tripadvisor, and Facebook in terms of growth in online reviews. This is why proactively requesting customers for Google reviews has become a go-to marketing strategy for top brands and businesses.
Here are some helpful tips on how to get Google reviews. 
Create a Google Business Review Link
Creating a unique link and sharing it with your customers encourages them to review your company on Google. For detailed instructions, read this blog post on how to create your Google review link.
Once you have your Google review link, you can share it on your social media profiles, in email campaigns, printed receipts or customer feedback surveys, or whenever and wherever customers are likely to leave a review.
Use Google Review Stickers
Another simple way to get more Google reviews is to use Google review stickers. These stickers can be found in the Google My Business Marketing Kit, a free resource that lets you create, download, and print personalized marketing materials and turn your reviews and business information into ready-to-use social posts, stickers, posters, and more.
The messaging in these materials centers around promoting your company using testimonials, or requesting customers to find your business on Google and share their photos and reviews on the site.
On the GMB Marketing Kit website, you'll find a search box where you can enter your business name.
If it's already listed, you'll then be taken to a page with your personalized "Review Us on Google" marketing kit — posters, window stickers, table tents, social media posts, and other creative assets — which you can then request for by mail or download for easy printing and sharing.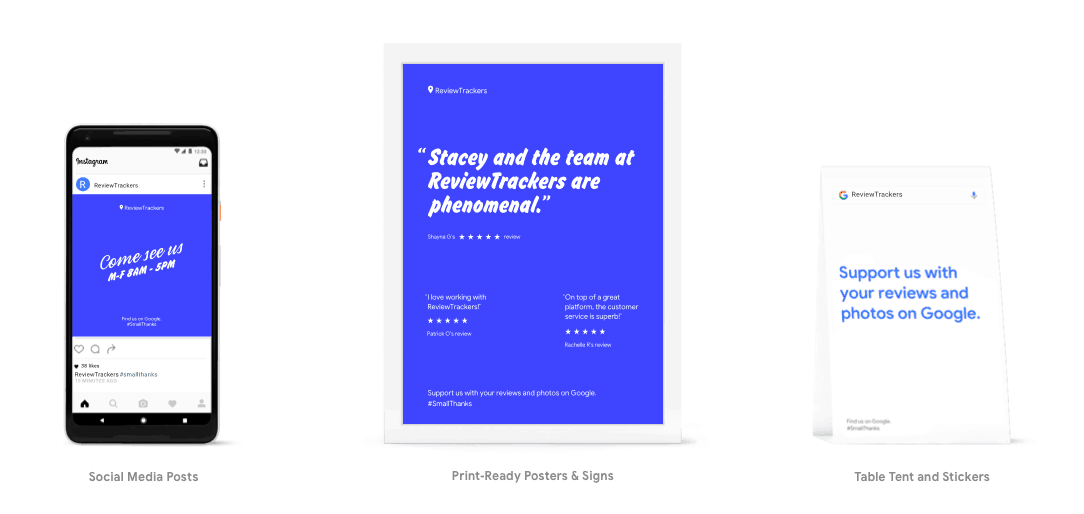 If you aren't yet listed on Google, you can get started by claiming your business listings using Google My Business. Alternatively, a local listing management solution may be appropriate for larger organizations and companies with multiple business locations.
Important Note about Review Gating or Review Solicitation
Google doesn't want businesses to discourage or prohibit negative reviews or selectively solicit positive reviews from customers.
This practice is commonly referred to as "review gating", and it's normally done by sending customers a feedback or survey form — be it through email, SMS, landing pages, or social media. Based on their form responses, customers are then asked to either post a review on Google if they had a positive experience — or share details of their feedback privately if they had a negative experience.
Google review policy strictly forbids review gating. So don't do it, and don't do anything that can be interpreted as review gating.
If you're unsure about whether or not your online review management and generation strategy is compliant with the policies of today's review platforms, it's best to first consult with your legal or PR teams, or work with a review technology company like ReviewTrackers.
Don't Buy Google Reviews
Another growing trend to watch out for in the online reviews space is businesses trying to buy Google reviews. This is an attempt to game the system.
In the current market, service providers left and right are offering "5-star review services," promising "quality work" with "full completed (Google) profiles and realistic photo-attached accounts." These providers also say that the "review accounts and profiles are always USA, UK, CA, or AU."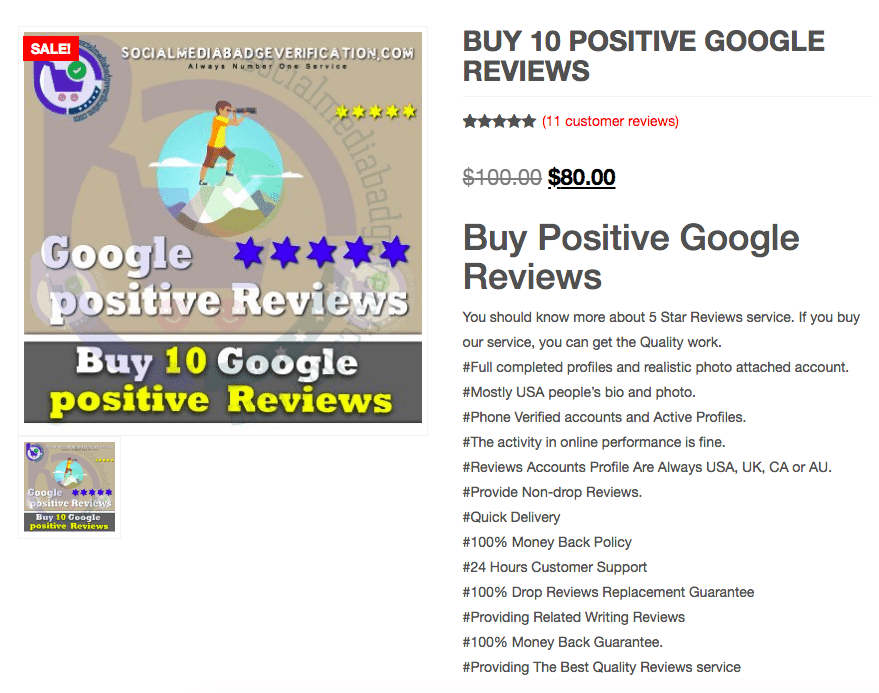 While it sounds like a great, cost-effective solution for propelling your brand to the top of relevant search results, buying Google reviews will almost certainly do your business more harm than good.
The practice is against Google review guidelines. The FTC and regulators will also surely come after you. Companies that were caught have been slapped hefty fines and penalties for attempting to buy reviews; same goes for the providers selling these services as part of their "reputation enhancement" offering.
Instead of buying Google reviews to improve your rankings and drum up business, make the commitment to earn authentic reviews and candid feedback on Google.
How to Get Yelp Reviews
Unfortunately, unlike Google, Yelp's review policies and content guidelines prohibit businesses from asking for reviews from customers. 
As stated on the review website: "The businesses that do best on Yelp are the ones that provide a great customer experience to everyone who walks in the door without any expectation or encouragement that they write a review. Your best bet to get high quality and unbiased reviews about your business is to provide a memorable and amazing customer experience — not by asking your customers to post on Yelp."
What you can do is promote your business presence on Yelp and actively engage with its users.
Let your audience know they can find your business locations on Yelp. Add links to your Yelp business pages in emails, newsletters, and printed literature. Download Yelp stickers and place these collaterals in your business locations.
For more tips on how to improve your business performance on Yelp, read our comprehensive Yelp for Business guide.
Important note: If you're not quite sure about what is allowed and what isn't on the sites that you'd like to request reviews for, work with a technology partner like ReviewTrackers. Our team can share in-depth knowledge and best practices to help you stay in compliance and achieve the best possible results for your review generation efforts.
How to Get More Reviews on Tripadvisor
Unlike Yelp, Tripadvisor allows businesses to ask for reviews. The travel site even provides free tools that you can use to promote your brand presence on the site and drum up more reviews. Tripadvisor stickers, for example, can help drive traffic and conversions for your business. They're also great for encouraging reviews on Tripadvisor.
Most listings on the site are eligible for a standard set of Tripadvisor stickers, which provide basic information or calls to action. Examples include:
Hours of Operation

Free Wi-Fi

Review Us on Tripadvisor / Leave Us a Review on Tripadvisor
Depending on factors such as the listing type, available features, and overall rating, some listings can also get access to other stickers such as:
Book Us on Tripadvisor

Featured, Rated, or Recommended on Tripadvisor

Certificate of Excellence award
You can see which stickers are available for your business listing by typing your business name in the search bar of Tripadvisor's Sticker Request page.

How to Increase App Reviews
If you're working in the technology sector, you can also harness the power of online reviews to bring attention to your app or software and build your community of users.
Remember: app reviews aren't merely a crucial source of information for smartphone- and tablet-brandishing users looking to download their next productivity tool, game, image editor, recipe book, multimedia companion, what-have-you. They're also one of the main factors influencing where a developer's app ranks in app store search results.
Asking for Reviews: Request Templates for App Reviews
Here's a template that you can use to get started with increasing app reviews.
"Hello there, (User Name)! We noticed that you have been using the (App or Software Name). If you are enjoying your experience, we would appreciate it if you can take some time to leave your feedback on one of the review websites linked to in this email. As we continue to release new updates for our app or software, your feedback will help us improve our ability to provide you with the best experience and service possible. To write a review, click one of the links and you will be sent directly to the correct page for posting your review. Thank you again for your support. (direct URLs to your review website profiles)
When to Ask for Reviews
If you're trying to get more reviews, you'll want to optimize exactly when you ask for reviews from customers. To help you, we looked at a sample of over 150,000 reviews collected by ReviewTrackers. Here's a summary of our findings: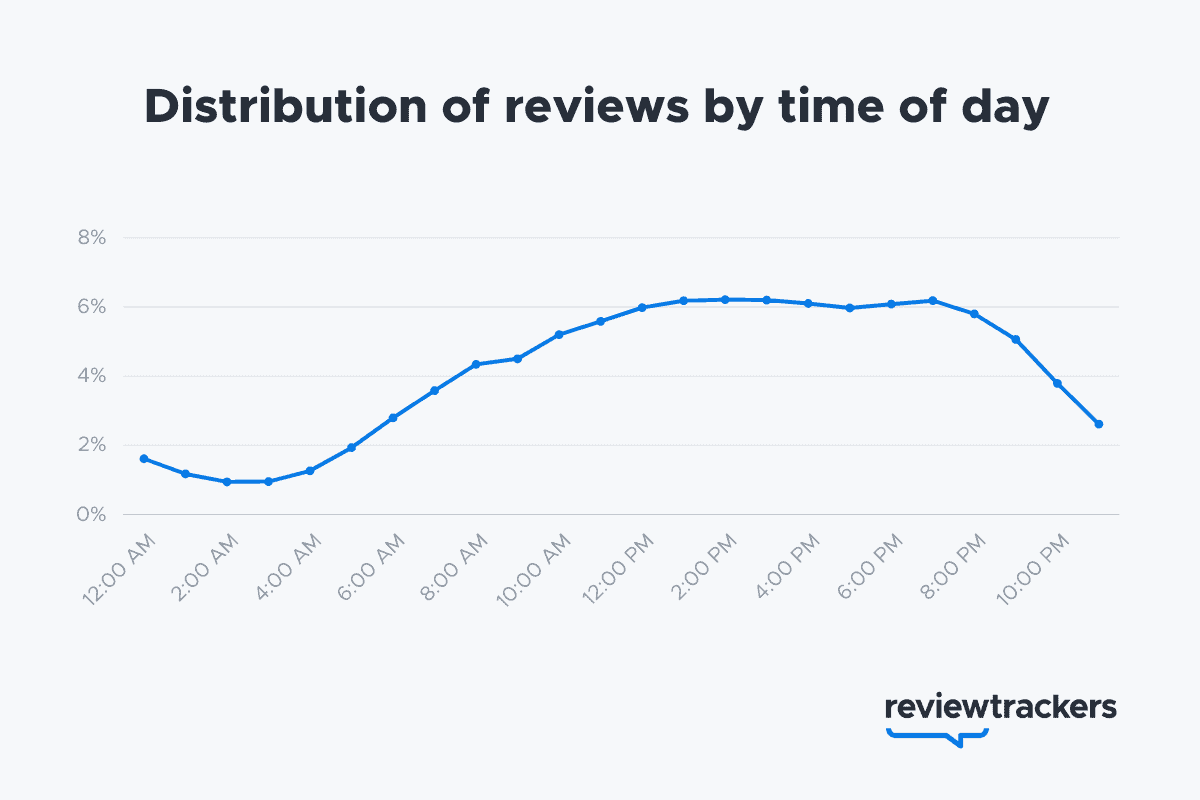 The two best times to ask for reviews are between 2-3 PM and 6-7PM. These are the times consumers are most likely to rate a business on Google, which makes sense. People are often visiting businesses during their lunch break or after work, so these hours are the exact times that consumers are reflecting on their experiences.
When not to ask for reviews? Based on ReviewTrackers data, hardly anybody is writing reviews from the dead hours of 2 AM to 3 AM. This is just common sense (although it's a little weird that more nocturnal creatures are writing reviews from 3 AM to 4 AM). But what's interesting is that in the morning, from the time people wake up (say, 6 AM to 7 AM) until lunch time (anywhere between 12 NN to 1 PM), review generation is pretty slow, at least relative to the amount of review-writing activity that occurs after lunch.
Hopefully, these findings help you plan accordingly. It's always best to test, measure, and adjust. But if you stick to sending your review requests out in the afternoon or time them so they occur shortly after a transaction, you'll put your review request campaigns in a strong position to generate the most reviews.
Other Things to Keep in Mind When Asking for Reviews
What other considerations should you make as you learn the art of how to ask for a review? 
Know Where You Can Request Reviews
Identify review sites where your company is actually allowed to encourage customers to post reviews.
As mentioned earlier, some websites like Yelp frown upon businesses asking customers for reviews or feedback. Other sites — like Tripadvisor and Google — are the opposite, with some even providing free tools for companies to reach out proactively for online reviews.
As you craft your review request and review generation strategy, ensure that your efforts are in compliance with each individual review site's guidelines. You want to be rewarded, not penalized, for asking for reviews.
What to Do After Successfully Getting a Review
Say thank you. Show customers that your business appreciates and values feedback. And remember to always say thank you when you respond to reviews (even the bad ones) that you receive.
Spread the word. Have you successfully generated reviews after asking customers? Amplify their feedback. Go social. Share their experiences across your social media profiles. Tweet it. Put it on your Facebook Page. Upload a screenshot of the review as part of your business' Instagram Stories or photo stream.
Review sites are influential enough, but remember that a whole lot of people, too, research information about businesses, products, and services using social media platforms like Facebook, Instagram, and Twitter.
Net Promoter Score (NPS) Methodology
One of the most important considerations your organization should make is what exactly you're going to do with the customer feedback you collect from your review requests. One helpful way to make this data useful is by connecting it with your Net Promoter Score.
The NPS is a widely used management tool for companies looking to gauge customer loyalty. Using NPS in a survey involves asking the question, "On a scale of 0 to 10, how likely are you to recommend this business?"
The results enable firms to categorize respondents into Promoters, Passives, and Detractors. To calculate your Net Promoter Score, simply subtract the percentage of Detractors from the percentage of Promoters.
Promoters

(score 9-10) are loyal enthusiasts who will help fuel your growth by buying and referring other customers to your business.

Passives

(score 7-8) are satisfied customers, but their lack of enthusiasm may render them vulnerable to offerings from your competition.

Detractors

(score 0-6) are dissatisfied, unhappy customers who may impede your growth and spread negative word of mouth.
In the context of your review generation strategy, the NPS methodology enables you to achieve a big-picture view of the customer experience. 
You can keep your survey results internal and leverage these to address specific issues and foster operational improvements. If you have healthy NPS scores, you can determine your level of confidence in expanding your review "asks." If customers are willing to recommend your company, asking more customers to review your business may lead to stronger online reviews and higher ratings for your business.  
Never Buy or Incentivize Reviews
We already touched upon buying reviews on Google (or other review sites like Facebook, Yelp, etc.). But if you're wondering about how to incentivize reviews, our best advice is: don't.
Asking customers to review your company on Yelp or Google doesn't mean you should reward those who do. It's a trick that might have regulators coming after you.
The Federal Trade Commission (FTC), for example, considers positive third-party reviews as endorsements, and according to the agency, if there is any form of incentive or compensation or close relationship between an individual giving an endorsement and a business receiving it, this should be made explicit.
Keep in mind that the FTC also considers it illegal to incentivize reviews even if there's no requirement that the sentiment of the review should be positive.
Make Customers Happy
At the end of the day, the best way to get reviews is to consistently deliver excellent customer experiences. Focus on providing what they want and need. The 5-star reviews and testimonials may come even without the need for you to ask. Just remember that it doesn't hurt to try.
Partner with ReviewTrackers and get more out of your reviews. Request a demo today to learn more about how our team can help.