See customer feedback from over 100 review sites in one place
Request a demo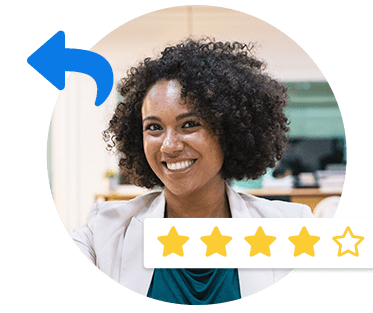 A customer lifecycle is the progression by which a business engages with the customer, as the customer considers their brand options, purchases a product or service, develops an interest in or affinity with a business, promotes a brand, and engages in loyal behavior.
Marketing analysts Jim Sterne and Matt Cutler have divided this process into five distinct steps:
reach
acquisition
conversion
retention
loyalty
Optimizing each of these stages of a customer experience is essential to the shaping of a business. To better serve customers, the business needs to clearly understand the customers' needs, wants, and preferences.
In the past, this was achieved through complex and pricey mechanisms such as surveys, focus groups, mystery shoppers, and usability testing.
Now, thanks to the quick advances of online customer engagement, businesses have access to key data to help them understand customer expectations, without having to break the bank.
Among the most valuable and most affordable business intelligence resources, online customer reviews are a great resource for actionable data captured with sufficient regularity, and at volumes high enough to fully establish the marketing buyer persona.
Another example, provided by Forrester Research in the figure below, shows the entire lifecycle as a closed-loop. When you reach the end, start back at the top. In this example, a "voice of customer analysis" is review management.
Review Management as a Customer Feedback Strategy
Businesses that have already implemented a strong review management strategy are able to extend their learnings and efforts to improve how they serve customers at every stage of their lifecycle.
Here's how online reviews can substantiate a customer experience strategy.
Review site profiles amplify your reach
Let's talk value. A simple Google search validates the importance of having a strong presence in third-party review websites. Chances are that a Yelp profile will rise to the top of a category-based search significantly faster than the homepage of a business.
With minimal monetary investment, your business is able to participate in the big leagues and create a name for itself by simply making certain all your ducks are in a row across all relevant review site profiles.
High quality, accurate, and engaging content paired with good customer reviews will quickly push your business out of obscurity, and set the stage for expanded reach across segments and audiences that would not otherwise be available, or would be too costly for your small business to access on a limited marketing budget.
From the very start, a well-managed online reputation will improve the odds for your business to have sufficient reach to maintain a healthy ecosystem of new and repeat customers. The ROI for reputation management tools and resources is huge and well worth exploring.
Review site presence accelerates customer acquisition 
Marketing strategists know that the best approach to sustainable customer acquisition rests in having a strongly diversified approach to marketing and brand development.
Combining online and offline marketing campaigns is a proven method to accelerate customer acquisition. With dozens of review sites with a low or no entry cost, businesses can access a variety of audiences and secure initial business opportunities from sub-segments that would not otherwise be available.
Review sites have the potential to help businesses acquire new customers willing to give a venue a chance based on the assessment of those they consider their peers. Making sure your business is putting the best foot forward is key in securing the highest number of potential leads from any given review website.
Review-based feedback facilitates relevance and improves conversion
Leads are only as good as their conversion rate. If customers are calling you but not booking or visiting your venue, then a lead has no value whatsoever.
By painting a clear and accurate picture of a business and by providing both descriptive brand and narrative content, online reviews help increase relevance and point leads to business venues that are more likely to convert.
In addition, the careful study of customer feedback allows your business to refine products, services, and processes, creating a cycle of constant improvement that results in improved conversion.
Responding to reviews improves retention
Reducing customer churn rate is always a top priority for business organizations. The more customers engage with a business, the less money needed to invest in replacing one-time customers.
One of the most valuable tools available on review sites is the ability to connect with customers who may feel wronged or short-changed by their experience with a business.
In short, a negative review empowers business organizations to have one more chance to recover a relationship, and potentially strengthen the likelihood of a customer to give the business a second chance to deliver a great experience.
The careful, deliberate, and well-planned delivery of customer remedy can mend a relationship that would otherwise be unrecoverable, and provide insights to other potential customers on how much a business values each individual customer, even when things do go as planned.
Putting together a review management strategy aimed at recovering the trust of a customer who has submitted a negative review can be a game-changer when it comes to fostering increased customer retention.
Engaging with customers triggers loyalty
Repeat business is great, but loyalty and advocacy is even better. Reviews equip business organizations to understand the needs of their customers and connect with them at a personal level through interacting on social channels or review sites.
Platforms like Google+ and Yelp not only facilitate the acquisition of customer reviews, but they also aid in helping businesses connect with their customers and gain multidimensional insights of their preferences, networks, and online engagement level.
Such platforms help businesses launch promotional opportunities to deepen the level of connection of their most loyal fans, allowing the relationship to evolve from reviewer to loyal brand advocate.
Key Metrics Derived From Customer Feedback
Reviews can equip businesses with highly nuanced feedback that provides insights into people and processes, but "highly nuanced" experiential feedback provided in the form of a narrative is very difficult to convert into usable metrics.
When customers provide feedback via solicited or unsolicited product or service reviews, they can potentially convey infinite facets of business, some being more valuable than others. Because each customer might tackle an aspect of a business in a slightly different fashion, it is essential that business owners understand the important of measurability across all online reviews.
Measurability, as it relates to customer feedback, is the ability to parse fuzzy data and identify metrics across all reviews that can be compared in the same dimension. Thankfully, in addition to free-form text, many review sites and aggregators make it a point to capture very valuable standardized metrics with a high potential of aiding a business in implementing functional process or product improvement strategies.
By combining these metrics with sound analysis of free-form text, businesses stand to gain a significant competitive advantage as they revise their business approach. For the majority of enterprises, these four metrics will yield the highest overall value as it relates to their improvement strategy: service, value, quality and engagement.
Service drives your people
Even if a company has a flawless product, the attitude of those delivering the product is the driver that shapes corporate culture. Measuring and tracking the positive behaviors from a team that has an impact on customer experience has the potential of snowballing into something great. Organizations getting the most from online reviews are usually the ones that make it a point to capture and share moments of excellence, as reported by customers, with their team while encouraging a culture of constant improvement. The key is to share both successes and shortcomings in service, and incentivize teams to engage in behaviors that will generate superior customer feedback.
Value directs your revenue
Most review sites, particularly those heavy in service-based businesses, offer reviewers the opportunity to provide an assessment of value or price perception. Tracking value equips a business to direct its pricing strategy, by understanding its comparative set (comp set).
If a business within a certain comp set conveys a ratio of high overall ratings to low price/value ratings, its level of engagement and traffic is likely to increase. This data, if tracked well, can help a business draft its pricing and promotions strategy.
Quality defines your brand
Quality is an overall score that merges people, processes, and goods, but since we have already discussed the importance of measuring and tracking staff behavior, we will now tackle quality as it relates to product.
The nicest, most effective staff in the world will not compensate if the product offered does not meet expectations. Tracking quality for the purpose of product improvement can be achieved by observing overall scores and doing data analysis based on queries for specific products, such as menu items or specific product names.
Customers are more likely to become promoters if they identify with a product. By delivering high quality products, businesses reinforce their brand and set the stage for viral sharing. When a customer feels affinity toward a product they will not hesitate to become brand ambassadors.
Engagement draws your traffic
Tracking the speed at which you receive reviews, analyzing the ratio of reviews to overall customer volume, and seeking ways to increase your positive review velocity, will result in immediate increases in online views and potential traffic to your brick and mortar location.
Businesses with more and better quality reviews move to the top of search when customers are seeking parameters, such as popularity, overall scores, or simply doing keyword-based searches. Understanding and improving engagement may just result in a game-changing traffic boost. To assess engagement it is essential to take a look at the whole picture. Without the right tools you might just be missing key review websites with the potential to generate additional engagement.
What tools does your business use to collect and analyze customer feedback? Let us know in the comments below!