Download 43 free review response templates for negative and positive reviews
Get the templates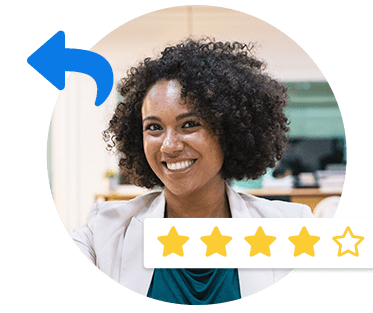 From buying a car to eating out, American consumers exemplify a consumer culture that has developed over time – with a long history of different customer experiences. To pinpoint when the customer experience actually "began" can be argued extensively, so let's start at the turn of the century, when life for Americans was in the process of transformation.
Transportation
This story starts after the industrial revolution when the United States became the world's economic giant. The standard of living began to improve because of technological and transportation innovations – like the mass production of the automobile and the invention of the radio.
But the explosion of the production of goods caused more than a higher standard of living. It was a turning point for the American culture.
"Commodities gave people a sense of freedom, sometimes serving as a substitute for the independence of the shop, craft, or farm that was disappearing as Americans joined the industrial work world." This comes from Gary Cross' book, An All-Consuming Century: Why Commercialism Won, which tells the history of the influential role of market goods in American life between 1900 and 2000.
"Consumer goods gave people the means to establish new personal identities and to break with old ones without necessarily abandoning family, friends and the common culture," writes Cross. "For example, children of immigrants used amusement parks, new foods and fashionable clothing to distance themselves from their parents without breaking with them."
The car is a perfect example of an early 20th century consumer good. Of course, once for the rich, Henry Ford's Model T was an affordable car that completely changed the way Americans lived their lives. Produced by using the assembly line, 15 million cars were sold, and at first, the Model T was only available in black. The automobile gave Americans living in more rural parts of the country freedom and easy access to cities.
"What Ford did for manufacturing, Richard Sears did for retailing," writes Cross. Sears distributed catalogs to secluded American towns – 3.8 million catalogs in 1908.
Hotels
The hotel industry boomed at the turn of the century. As more railroads were built after the Civil War, connecting the country and changing the way Americans lived, this convenient form of transportation made it easier to build hotels in distant places.
But before we get into the hotels, let's first briefly talk about "installment buying" and its role in the customer experience.
When department stores first offered payment options on a monthly plan, giving consumers the option to pay later, it was part of a new customer service, according to Land of Desire: Merchants, Power, and the Rise of a New American Culture by William Leach. Moreover, customers could return items – so they could go to multiple stores in one day and have their goods delivered for free, then decide which ones to return. The option of delivery and returns was part of a vamped customer experience – treating the customer as a guest and making their shopping time enjoyable. This idea of serving customers as guests – all in pleasant surroundings – was picked up by hotels and restaurants.
"Lucius Boomer's Waldorf-Astoria hotel provided liveried servants, bellhops, and electric room buttons to 'call up' food or drinks at any time of day," Leach writes. The front desk staff was told to check on guests to find out if customers needed anything, such as breakfast or champagne.
He adds that when Ellsworth Statler opened the Statler Hotel in 1907, he believed guests should be left alone to enjoy their experience – a different opinion from Boomer's. Private bathrooms were installed in every room of Statler's hotel, and for the first time in the history of hotels, water circulated in each hotel room. Another significance was the installation of closets in all the rooms – lights included.
Restaurants
The number of restaurants in the United States tripled during the 1920s. Before World War I, the customers in restaurants were mostly upper-class men, with "all-male bar-cafes" in an atmosphere of cigar smoke, according to Revolution at the Table, a story about the "transformation of the American diet" by Harvey Levenstein.
Prohibition had a major impact on the customer experience. For one thing, before prohibition, French cuisine was extremely popular but slowly declined during the 1920s because it was tough to cook French food without wine. Hotels and restaurants had a customer base that enjoyed fine French food.
"Within two years of Prohibition, most of the French chefs who had flocked to New York, Chicago, San Francisco, and the other major cities in the pre-war days were on the streets, looking for non-existent jobs, or at the steamship office, booking their passage home," Levenstein writes.
In addition, lunch breaks became shorter and cities grew, so a new type of restaurant, the lunch counter, served necessary hot meals quickly. During prohibition, a market for one-hour lunch restaurants emerged as saloons and bars closed down. Here's when we see the emergence of the "soda fountain," a place for soda jerks rather than bartenders, and the bars that converted to soda fountains were no longer just for men.
Levenstein goes on to write about tea rooms, which were trendy at the beginning of prohibition. The team rooms served three or four-course meals, and it was now acceptable for men to go into tea rooms with their wives because of prohibition. But Americans started craving lower prices and faster services.
The self-service cafeteria became popular but served heavy meals, so customers left cafeterias in shadows by the 1920s, preferring restaurants that offered lighter meals. Americans became more health-conscious, opting for lighter meals rather than hot lunches, and restaurants catered to this need – finding ways to make profits without serving large meals, which were very profitable for restaurants in the past.
Dining rooms in hotels and high-class restaurants had to make changes to cater to American consumers' new eating habits or be left behind. Understanding what customers wanted was the key to the survival of these restaurants during Prohibition.
Stay tuned for the next story of the customer experience, when we'll talk about roadside diners and the postwar economic boom.