Download 43 free review response templates for negative and positive reviews
Get the templates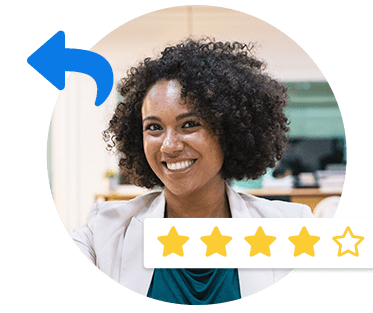 Have you ever thought about how customer feedback can be leveraged in ways that build your online reputation, enhance the customer experience, and improve the bottom line? If so, you'll probably be interested to see how other business organizations are responding to this very challenge.
The hospitality sector is a competitive sector where a growing number of properties and destinations have begun to embrace the power of customer feedback.
Here's an example. There's a resort town in Colorado with a rich history of skiing, and is even nicknamed "Ski Town USA." Steamboat Springs is home to Steamboat Ski Resort on Mount Werner, and it has been rated by Ski Magazine as No. 10 in their "2015 Top Ski Resorts" report.
From the magazine: "It's pretty simple. You guys love the town, the friendly locals, the snow, the trees, the overall vibe of the place."
Steamboat Springs has a laid back atmosphere with a "unique mix of warm sun, cowboy boots and friendly locals," as described on the resort's website. Steamboat is known for world-class skiing and its location is 160 miles northwest of Denver. It's safe to say that this resort town is an appealing vacation spot.
Leveraging NPS to Foster Service Improvements
Steamboat Springs wasn't always this popular. In 2013, visitors didn't enjoy their experience enough to recommend the town to friends and family, which is interesting since the town has such a famous reputation. This isn't to say that Steamboat isn't as great as people say, but that even a town – with plenty of businesses and as renowned as Steamboat – can still be improved.
The town definitely knew something needed to improve when they found out that their Net Promoter Score was 68, short of expectations. (A score of 80 would mean their guests were promoters of the resort.) Net Promoter Score is based on the question, "How likely is it you will recommend the company to a family or friend?"
The New York Times' Ian Mount wrote a story in 2014 about Steamboat Springs' effort to improve customer service – and to do so based on the kind of feedback and experiences existing customers had shared. Tom Kern, chief executive of the Steamboat Springs Chamber Resort Association, decided to give the whole town training in customer service.
A few years earlier, Steamboat Ski & Resort Corporation hired a consultant to improve conversion rates of sales calls coming into the resort. The telephone agents at Steamboat were taught how to connect with potential customers. The consultant, Ed Eppley, taught the agents skills to have personal conversations with the callers. This way, the agents could provide packages to fit callers' interests. The initiative was a success, triggering the idea for the town makeover in customer service.
Using Feedback to Improve Customer Experience
Another ski resort, Copper Mountain in Colorado, also effectively uses customer feedback to improve the customer experience. And it successfully stays tuned in to customer-driven conversations happening on various social media channels.
Stephanie Sweeney, communications manager at Copper Mountain Resort, said, "We had a guest commenting and sending us messages on Facebook saying, 'Hey what's going on with the grooming on this (one) trail, we've been here all week, I don't understand what is going on.'"
Sweeney said the guest was upset at first, but the feedback the guest provided was forwarded to Copper Mountain's slope maintenance department, which then engaged directly with the guest.
"They basically looked at their grooming schedule and talked to this guest directly and gave her the information she needed to understand why the grooming was happening this way," Sweeney said. "They (the maintenance department) took that as advice as 'hey, maybe we should groom this at a different time or differently.'"
Like many successful brands that are committed to the customer experience, Copper Mountain understands its role by listening to what customers are saying online.
"We get a lot of feedback via social media," Sweeney said. "We take that information and use it and send to the appropriate departments and make them aware and say hey this something we may want to look into in the future."
The National Ski Areas Association (NSAA) conducted a Model for Growth analysis, first proposed in 2000, to understand where the ski industry was headed. According to the analysis, there are a number of variables preventing the growth of skiing as a sport, including climate change and the rapid rise of alternative leisure activities that take time away from families who could be traveling to ski resorts.
Added Sweeney: "We try to work with organizations like NSAA and within our Ski and Ride School and things like that to really try to encourage people try out the sport and do so in a way that makes it as easy as possible for them."
Copper Mountain also has a mobile geo-targeted application for an insider skiing experience. The app is called Sherpa, which provides the skier with information such as where to find the best views.
A Model for All Businesses
By using customer feedback and thoughtful customer service to improve the customer experience, ski resorts and other types of hospitality businesses (like hotels, restaurants, local attractions, and entertainment destinations) can keep guests coming back for to their locations, while also attracting new customers who care about how businesses monitor and respond to feedback.
The story of Steamboat Springs, Steamboat Ski Resort & Corporation and Copper Mountain is a model for all hospitality businesses. An improved customer experience is what will lead your business to success.
In fact, guests travel for the experience, culture and adventure, and 69 percent of global travelers plan to try something new this year, according to the 2016 TripAdvisor TripBarometer survey.
One way to improve the customer experience is to use customer feedback as a tool, and monitor what your customers are saying online.