How to ask customers for reviews, the basics:
For starters, always have explicit permission before soliciting feedback via email, SMS or social.
The optimal time to inquire is a few days after the transaction.
Within the request, use casual language so anyone understands what you're after.
Make sure they know how long the process will take, i.e. "…a few minutes."
Encourage transparent feedback, not blanket satisfaction. The value of the review isn't in the rating, it's in the feedback.
Express your heartfelt gratitude for their patronage and reiterate the importance of feedback.
---
DISCLAIMER:

Don't offer incentives for online reviews. It is unethical and against many review websites terms of service. The FTC wrote about this back in 2009, explaining that the reviewer must disclose any endorsement or kickback from the review. If you do it wrong, you could get fined.

It's against Google's guidelines. If you're caught, Yelp will publicly shame your business. Plus, you will ruin the authenticity of your customer data. It's not worth it.

In reality, you should encourage more customer feedback, especially negative feedback. It's full of valuable data that can actually improve your business, unlike that fluffy 5-star stuff.
---
We've entered the era of Customer Experience.
Close to 75% of online shoppers read customer reviews before deciding to make – or not make – a purchase.
This new, online-to-offline customer experience is changing the way we, as marketers, think about digital marketing, sales, social media and customer service.
Customers have always had the power.
Luckily, they are freely providing unstructured feedback in the form of online reviews.
Data which can prove you're marketing to the correct audience.
Data that can inform your operational team of issues within your organization.
Customer experience data found in online reviews is extremely valuable.

That's why it's important to start asking for reviews from your happy customers: they just might turn out to be your best sales reps. Here are some tips to help you get started.
Example of Asking Customers for a Review
Most times, you won't get it if you don't ask. Don't be shy, but don't be too aggressive, either. A good idea is to start with your existing customer base. You can make the request for a review by way of a simple and short E-mail, or through your business' social networks on Facebook or Twitter.
Below is a great example of asking your customer for a review.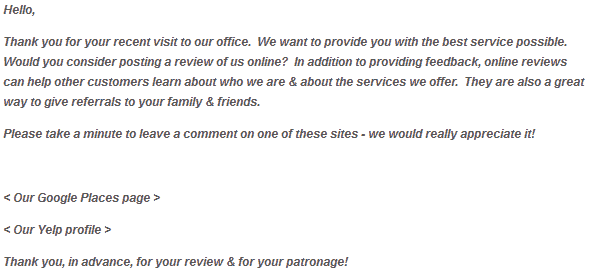 Best Practices for Review Requests
Have a review form.
If your business has an actual physical location, it's a good idea to prepare sheets of paper with a request for a review. You can hand these out after the transaction, or just before your customer is about to leave. If you ship out products or services to people, don't forget to include your review forms. If the customers love what they receive, they just might drop in plenty of good words about your business.
Setup a custom URL to review websites. 
This is a great way to make it foolproof for your customers to find the location where they are supposed to talk about their experiences. Most review websites have a "view profile as public" option, so be sure the link you're using does not require an administrative login to the website.
A great example in action can be seen here from a Toyota dealer in Ohio: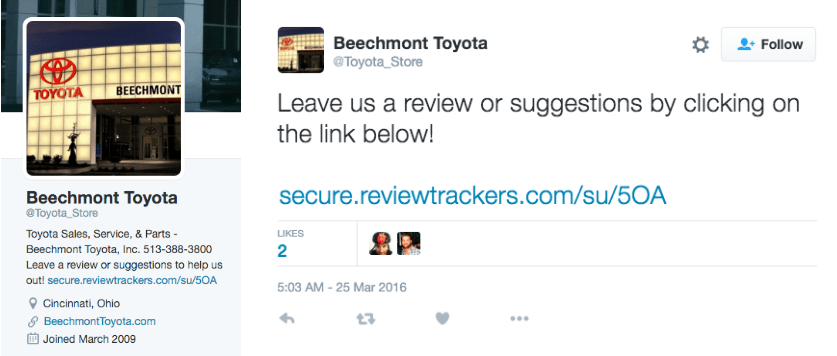 Add a review widget to your website.
If your business is entirely online, you can still ask your customers for reviews. On your official website or company blog, you can add a sidebar or widget which customers can click and use for posting on your business' most relevant review sites.
Look for places where customers are already writing reviews.
You can find almost anything on the Internet. Just use Google Search. Even if you're not selling anything online, your business still might have a number of existing reviews from customers. To make the job easier, sign up for a review generation solution like ReviewTrackers to ask your customers for review though email, SMS, or at the point of sale and care.