Asking customers for a review generally yields higher ratings (4.3 stars) than otherwise (3.9 stars).
That's because the average customer generally has a better experience than someone who decides to leave a review on their own and may be motivated by a bad experience.
Thus, asking for reviews will generally yield GREAT results for a brand. You'll encourage higher star ratings and, obviously, get more reviews.
Here are 7 ways to ask for reviews and some examples of how to do so.
Have a review form.
Setup a custom URL to review websites. 
Add a review widget to your website.
Look for places where customers are already writing reviews.
Use a review request email template.
Ask for reviews in person.
How to ask customers for reviews, the basics:
Before we talk tactics, let's go over a few basics that will help you optimize your review requests, encourage positive reviews, and make sure you're following all the rules for various reviews sites (like Google, Facebook, etc).
For starters, always have explicit permission before soliciting feedback via email, SMS or social.
The optimal time to inquire is a few days after the transaction.
Within the request, use casual language so anyone understands what you're after.
Make sure they know how long the process will take, i.e. "…a few minutes."
Encourage transparent feedback, not blanket satisfaction. The value of the review isn't in the rating, it's in the feedback.
Express your heartfelt gratitude for their patronage and reiterate the importance of feedback.
---
DISCLAIMER:

Don't offer incentives for online reviews. It is unethical and against many review websites terms of service. The FTC wrote about this back in 2009, explaining that the reviewer must disclose any endorsement or kickback from the review. If you do it wrong, you could get fined.

It's against Google's guidelines. If you're caught, Yelp will publicly shame your business. Plus, you will ruin the authenticity of your customer data. It's not worth it.

In reality, you should encourage more customer feedback, especially negative feedback. It's full of valuable data that can actually improve your business, unlike that fluffy 5-star stuff.
---

We've entered the era of Customer Experience.
Close to 75% of online shoppers read customer reviews before deciding to make – or not make – a purchase.
This new, online-to-offline customer experience is changing the way we, as marketers, think about digital marketing, sales, social media and customer service.
Customers have always had the power.
Luckily, they are freely providing unstructured feedback in the form of online reviews.
Data which can prove you're marketing to the correct audience.
Data that can inform your operational team of issues within your organization.
Customer experience data found in online reviews is extremely valuable.

That's why it's important to start asking for reviews from your happy customers: they just might turn out to be your best sales reps. Here are some tips to help you get started.
Example of Asking Customers for a Review
Most times, you won't get it if you don't ask. Don't be shy, but don't be too aggressive, either.
A good idea is to start with your existing customer base. You can make the request for a review by way of a simple and short E-mail, or through your business' social networks on Facebook or Twitter.
Below is a great example of asking your customer for a review.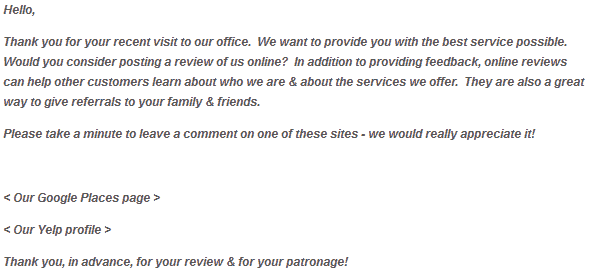 7 Ways to Ask Customers for a Review
1. Automate your review requests.
Automating your reviews is the key to get more reviews and better ratings.
Automating can be simple done by simple "trigger" events. For example, every time a customer swipes their card in your POS system can trigger a review request. Digital marketers can also send simple, mass email campaigns to customers in their CRM
Here are a couple examples of companies that say triple-digit growth in their reviews.
Ziebart, an auto service provider, synced their CRM to ReviewTrackers' API to automatically send a review request to every new customer after they had their car services. The result: a 262 percent increase in reviews.  (Read the Ziebart case study here).
Concourse Sports, a sports equipment retailer, sent blast emails to all customers in their database. In 2 months, they were able to increase reviews by 2,800. (Learn how Concourse Sports increased their reviews by 2,800 percent).
2. Have a review form.
If your business has an actual physical location, it's a good idea to prepare sheets of paper with a request for a review. You can hand these out after the transaction, or just before your customer is about to leave. If you ship out products or services to people, don't forget to include your review forms. If the customers love what they receive, they just might drop in plenty of good words about your business.
3. Setup a custom URL to review websites. 
This is a great way to make it foolproof for your customers to find the location where they are supposed to talk about their experiences. Most review websites have a "view profile as public" option, so be sure the link you're using does not require an administrative login to the website.
A great example in action can be seen here from a Toyota dealer in Ohio: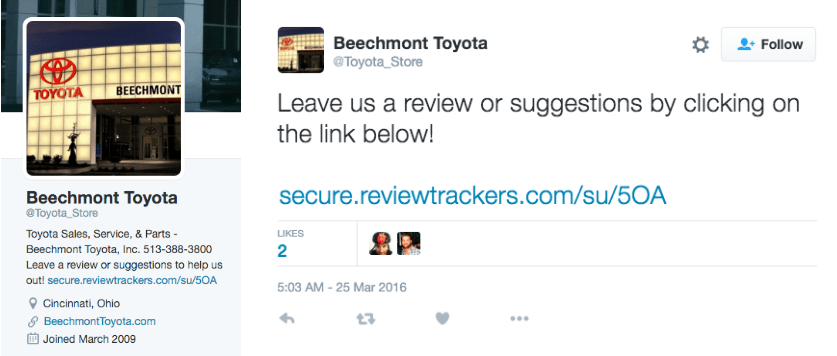 4. Add a review widget to your website.
If your business is entirely online, you can still ask your customers for reviews. On your official website or company blog, you can add a sidebar or widget which customers can click and use for posting on your business' most relevant review sites.
5. Look for places where customers are already writing reviews.
You can find almost anything on the Internet. Just use Google Search. Even if you're not selling anything online, your business still might have a number of existing reviews from customers. To make the job easier, sign up for a review generation solution like ReviewTrackers to ask your customers for review though email, SMS, or at the point of sale and care.
6. Use a review request email template.
Make things easy for yourself by using a review request email template. Realistically, you'll need to send hundreds of these emails, but having a template makes it easier to send campaigns to large batches of your customers at once.
7. Ask for reviews in person.
Sometimes the simplest options are the best. You can always ask people for reviews in person, face-to-face. In our experience there are two great ways to do so:
The low-tech way: an in-person review handout (see our review handout generator)
The awesome high-tech way: a tablet device that syncs to your CRM or POS system.
If you use a review aggregator like ReviewTrackers, you can sync it to whatever customer management system you use. After customers finish a meal at a restaurant, you could present them with a tablet that asks them to review their service. For a more stream-lined process, you can also use the tablet as a way for customers to pay for their experience.
This kind of in-person review request is popping up all over the place. Gas stations may ask you to rate the station at the pump, or your grocery store may prompt you after you swipe your card.
The takeaway: start asking for reviews
If you're not using these methods to ask for more reviews you might want to start soon. Chances are that your competitors are using them already.
If you want to see what full-throttle review requests look like, sign up for a free trial of ReviewTrackers and get access to our email campaign and template tools.