See customer feedback from over 100 review sites in one place
Request a demo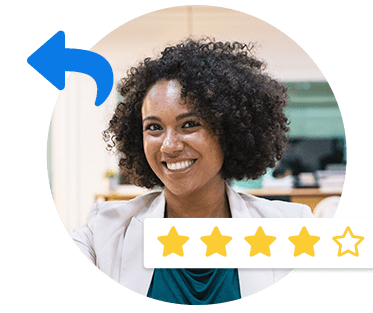 In today's age of customer reviews and online word-of-mouth, brand reputation is shaped not only by what a business says about itself, but also (and probably mostly) by what its customers are saying online about the business.
While this may make you feel like you have little control over how potential customers perceive your brand, you can still actively participate in improving your online reputation. One of the best ways to do so is by monitoring and responding to online reviews.
By taking the time to listen and respond to customer feedback — particularly those posted on review platforms like TripAdvisor, Yelp, Google, and Facebook, among others — you can make a positive impact on your brand reputation and even boost financial outcomes.
Responding to Reviews Results in Better Ratings
A recently published Harvard Business Review study by Davide Proserpio and Giorgos Zervas details how a company's responsiveness to reviews can affect business performance. According to the researchers, overall ratings increase by 0.12 stars when businesses start responding to reviews. They also begin to receive 12 percent more reviews.
Proserprio and Zervas' findings are based on an analysis of tens of thousands of reviews and responses posted on TripAdvisor.
They wrote, "While these gains may seem modest, TripAdvisor rounds average ratings to the nearest half star: A hotel with a rating of 4.26 stars will be rounded up to a 4.5, while a hotel with 4.24 stars will be rounded down to a 4. Therefore, even small changes can have a significant impact on consumers' perceptions. Approximately one-third of the hotels we studied increased their rounded ratings by half a star or more within six months of their first management response."
This is not the first time a link has been established between review response and business performance. In a 2016 research study published by the Cornell University School of Hotel Administration, revenue levels were found to increase as management responses to reviews increased.
Results from the 2016 study also showed that companies that did not acknowledge or respond to reviews experienced lower review scores and overall ratings.
"These analyses suggested that improved ratings can be directly linked to management responses," added Proserprio and Zervas. "Perhaps surprisingly, we also found that when managers respond to positive reviews, it has the same benefits as when they respond to negative reviews."
Responding to Reviews: Best Practices
Don't copy and paste your responses. Customers appreciate substantive, meaningful responses to reviews. It's best to avoid template responses and repetitive thank-you notes; when responding, focus instead on addressing specific feedback and, if necessary, delivering resolutions to specific customer experience issues.
Show that you value feedback. A number of firms are reluctant to embrace the power of reviews, and may therefore react badly to them. When responding to reviews, it helps to let customers know that you welcome their opinions and thoughts. Stay receptive and avoid stifling online criticism.  
Do it quickly. According to the 2018 Online Reviews Survey by ReviewTrackers, 53.3 percent of customers expect businesses to respond to their online review within 7 days. So act fast: review responses posted within a week or less can make a real and measurable difference — not just to the reviewer, but to potential customers who visit your business' review page.